News
By Idoko Salihu
Governor Rochas Okorocha of Imo State on Saturday unveiled a statue in honour of South African President Jacob Zuma.
The event was witnessed by Mr. Zuma and other dignitaries.
Asides the mammoth statue, Governor Rochas also named a road after Mr. Zuma.
Sequel to the unveiling of the statue, Mr. Zuma was on Friday conferred with a traditional title of Ochiagha Imo, by Eze Imo, Samuel Ohiri.
The title certificate was issued by a former President of Nigeria, Olusegun Obasanjo.
In a statement made available to PREMIUM TIMES, Mr. Okorocha said the honour was conferred on Mr. Zuma for his love for education.
"Today, we have decided to honour you for your love for education, though you were deprived in your early days in life but you are working to make sure that every poor child went to School. Your love for education to us is the connection between you and government and the people of Imo State. The only industry we have and we can truly be proud of is education in Imo State. This is another reason why we have chosen to honour you", he said.
Mr. Zuma who spoke after receiving the award charged Africans to come together to address the issues that affect the continent, adding that we are one people.
"Africans must come together to address African problems. We are the same people. We cannot succeed if we handle problems as individuals. We need to recognize that we are one."
The award comes a few days after another Nigerian, Jelili Omoyele, a 35-year-old, was killed in South Africa.
The recent development has created diverse reactions on social media as many have registered their grievances.
Read reactions here:
As if the Mighty Statue was not Enough, a Street was also named after Jacob Zuma by Imo state Governor Rochas pic.twitter.com/KqX05NgBbt
- Osas Cruz (@OsasCruz) October 15, 2017
The Status of South African president Jacob Zuma built by Governor Rochas in Owerri pic.twitter.com/BihHobuFo8
- Osas Cruz (@OsasCruz) October 15, 2017
Dear Rochas Okorocha you're mad for this statue of Jacob Zuma you built in Imo State. pic.twitter.com/Hg2l7Akkd0
- A B D U L-W A S I U (@Uthman_Waxcav) October 15, 2017
How worse can it get?
Despite owing workers, Gov. Rochas spent 520M to erect statue of South African president Jacob Zuma in Owerri
Funke! pic.twitter.com/slsSqhbjQc
- Wale Adetona (@iSlimfit) October 15, 2017
Abdulsalam: make you naa read oh
"Gov Rochas Okorocha just erected a statue of Jacob Zuma in Imo state"
OBJ & Shonekan: pic.twitter.com/druNTorhBZ
- Mr.┏̲O̶̲̅┓̲P ┏̲A̶̲̅┓ (@ogbeni_opa) October 15, 2017
Won't be suprised if Rochas Okorocha brings Jacob Zuma to Abuja and rename Zuma rock to Jacob Zuma rock.
- SUPERHEATED STEAM (@dhe_Mechanic) October 15, 2017
Rochas Okorocha: Imo state people hate this Jacob Zuma statue, let me build one for Nnamdi Azikiwe
His Inner mind: No, build one for Mugabe pic.twitter.com/aLNxaRgsQz
- FAVOUR ONYEOZIRI (@Rouvafe) October 15, 2017
Gov Rochas just erected a humongous statue of Jacob Zuma in Imo.
What next?? Name a Stadium or Airport after Robert Mugabe?? pic.twitter.com/LoET7JrakR
- PRESIDENT OKONKWO (@IkechuQwu) October 15, 2017
I know today is Sunday & this is probably wrong, but Rochas Okorocha is very mad for this statue of Jacob Zuma He built in Imo State pic.twitter.com/5O0JTIY48x
- Tweeter Active (@_Tweeteractive) October 15, 2017
I hereby congratulate ndi Imo home and abroad for this landmark achievement by Gov Rochas Joker Okorowonder pic.twitter.com/h0FcqT8SSY
- IKECHUKWU (@iykimo) October 14, 2017
South African social media platforms have been laughing at us for hours. Rochas Okorocha has disgraced ALL Nigerians not just Imo state pic.twitter.com/NoulrI2WGm
- Mr Stanley Nwabia (@MrStanleyNwabia) October 14, 2017
When people in Lagos & abroad praise Rochas, man, I get so disgusted. Have you seen Imo State? Like real life, not what the media shows you
- Agunwanyi. (@_obuteaku) October 15, 2017
Rochas is owing my aunty, a retired Principal, pension for more than 13 months yet he has money to erect a statue for Zuma. What a man. https://t.co/K7ke1SWIvi
- Whiskey Papi (@tawah89) October 15, 2017
Ur MCM Gov Rochas Okorocha spent 520M 2 erect statue of SA President Jacob Zuma in Owerri while owing workers salaries.
Pray 4 him gidigan
- Mr.┏̲O̶̲̅┓̲P ┏̲A̶̲̅┓ (@ogbeni_opa) October 15, 2017
Rochas looking at y'all complaining about Jacob Zuma's statue in Imo state, knowing that the Devil's statue He's building is 80% complete pic.twitter.com/uHgQlRjQC4
- FAVOUR ONYEOZIRI (@Rouvafe) October 15, 2017
Nigerians: Governor Rochas Okorocha is owing civil servant salaries.
Jacob Zuma: And so ? pic.twitter.com/MsfqtvhNz4
- Mr.┏̲O̶̲̅┓̲P ┏̲A̶̲̅┓ (@ogbeni_opa) October 15, 2017
A statue of SA president Jacob Zuma built by Governor Rochas in Owerri, with a street named after him too.
Corruption erodes brain cells 😩😩 pic.twitter.com/HLHJc93Ikg
- ⚡️DaddyMo ⚡️ (@officialdaddymo) October 15, 2017
First, Rochas made a huge billboard where he had a handshake with Obama.
Now, he has made a giant statue of Zuma
Rochas in one word..FOOL!
- Miz Cazorla (@MizCazorla1) October 15, 2017
Rochas Okorocha should have just stayed a benevolent billionaire. A statue for Jacob Zuma is the height of insanity at a time like this.
- JJ. Omojuwa (@Omojuwa) October 15, 2017
Rochas is owing salary. Used millions 2 honour Jacob Zuma that's hated in S/A & dat turned a blind eye to Xenophobia pic.twitter.com/Lz4jgNUz2i
- Jèfé Juān Jọsé (@Jefe_says) October 15, 2017
By Baher Kamal
Rome — In a world where only 8 individuals - all of them men- possess as much as half of all the planet's wealth, and it will take women 170 years to be paid as men are*, inequality appears to be a key feature of the current economic model. Now a new study reveals that there is also a widening gap in hunger.
In fact, the 2017 Global Hunger Index (GHI) states that despite years of progress, food security is still under threat. And that conflict and climate change are hitting the poorest people the hardest and effectively pitching parts of the world into "perpetual crisis."
Although it has been said that "hunger does not discriminate," it does, says the 2017 Global Hunger Index, jointly published by the International Food Policy Research Institute (IFPRI), Concern Worldwide, and Welthungerhilfe.
According to this study, hunger emerges the strongest and most persistently among populations that are already vulnerable and disadvantaged.
Hunger and inequality are inextricably linked, it warns. By committing to the UN Sustainable Development Goals, the international community promised to eradicate hunger and reduce inequality by 2030.
"Yet the world is still not on track to reach this target. Inequality takes many forms, and understanding how it leads to or exacerbates hunger is not always straightforward."
Women and Girls
The GHI provides some examples-women and girls comprise 60 per cent of the world's hungry, often the result of deeply rooted social structures that deny women access to education, healthcare, and resources.
Likewise, ethnic minorities are often victims of discrimination and experience greater levels of poverty and hunger, it says, adding that most closely tied to hunger, perhaps, is poverty, the clearest manifestation of societal inequality.
Three-quarters of the world's poor live in rural areas, where hunger is typically higher.
The 2017 Global Hunger Index tracks the state of hunger worldwide, spotlighting those places where action to address hunger is most urgently needed.
This year's Index shows mixed results: despite a decline in hunger over the long term, the global level remains high, with great differences not only among countries but also within countries.
For example, at a national level, Central African Republic (CAR) has extremely alarming levels of hunger and is ranked highest of all countries with GHI scores in the report.
While CAR made no progress in reducing hunger over the past 17 years--its GHI score from 2000 is the same as in 2017--14 other countries reduced their GHI scores by more than 50 per cent over the same period.
More on This
World Food Day 2017 - Change the Future of Migration. Invest in Food Security and Rural Development

Food Insecurity and Forced Displacement of People - Where Do We Draw the Line?

Overcoming the Challenges - Securing the World's Food, Energy and Water

Women Are Pivotal to Addressing Hunger, Malnutrition and Poverty
Meanwhile, at the sub-national level, inequalities of hunger are often obscured by national averages. In northeast Nigeria, 4.5 million people are experiencing or are at risk of famine while the rest of the country is relatively food secure, according to the 2017 Index.
Child Stunting
This year's report also highlights trends related to child stunting in selected countries including Afghanistan, where rates vary dramatically -- from 24.3 per cent of children in some parts of the country to 70.8 per cent in others.
While the world has committed to reaching Zero Hunger by 2030, the fact that over 20 million people are currently at risk of famine shows how far we are from realising this vision, warns the report.
"As we fight the scourge of hunger across the globe, we must understand how inequality contributes to it. To ensure that those who are affected by inequality can demand change from national governments and international organisations and hold them to account, we must understand and redress power imbalances."
The study notes that on 20 February, the world awoke to a headline that should have never come about: famine had been declared in parts of South Sudan, the first to be announced anywhere in the world in six years. "This formal famine declaration meant that people were already dying of hunger."
This was on top of imminent famine warnings in northern Nigeria, Somalia, and Yemen, putting a total of 20 million people at risk of starvation, it adds.
"Meanwhile, Venezuela's political turmoil created massive food shortages in both the city and countryside, leaving millions without enough to eat in a region that, overall, has low levels of hunger. As the crisis there escalated and food prices soared, the poor were the first to suffer."
This year's report also highlights trends related to child stunting in selected countries including Afghanistan, where rates vary dramatically - from 24.3 per cent of children in some parts of the country to 70.8 per cent in others.
According to 2017 GHI scores, the level of hunger in the world has decreased by 27 per cent from the 2000 level. Of the 119 countries assessed in this year's report, one falls in the extremely alarming range on the GHI Severity Scale; 7 fall in the alarming range; 44 in the serious range; and 24 in the moderate range. Only 43 countries have scores in the low range.
In addition, 9 of the 13 countries that lack sufficient data for calculating 2017 GHI scores still raise significant concerns, including Somalia, South Sudan, and Syria.
To capture the multidimensional nature of hunger, GHI scores are based on four component indicators--undernourishment, child wasting, child stunting, and child mortality.
The 27 per cent improvement noted above reflects progress in each of these indicators according to the latest data from 2012-2016 for countries in the GHI:
- The share of the overall population that is undernourished is 13.0 per cent, down from 18.2 per cent in 2000.
- 27.8 per cent of children under five are stunted, down from 37.7 per cent in 2000.
- 9.5 per cent of children under five are wasted, down from 9.9 per cent in 2000.
- The under-five mortality rate is 4.7 per cent, down from 8.2 per cent in 2000.
By Regions
The regions of the world struggling most with hunger are South Asia and Africa south of the Sahara, with scores in the serious range (30.9 and 29.4, respectively), says the report.
Meanwhile, the scores of East and Southeast Asia, the Near East and North Africa, Latin America and the Caribbean, and Eastern Europe and the Commonwealth of Independent States range from low to moderate (between 7.8 and 12.8).
These averages conceal some troubling results within each region, it says, adding that however, including scores in the serious range for Tajikistan, Guatemala, Haiti, and Iraq and in the alarming range for Yemen, as well as scores in the serious range for half of all countries in East and Southeast Asia, whose average benefits from China's low score of 7.5.
For its part, the UN State of Food and Agriculture 2017 report, released on 9 October, warns that efforts to eradicate hunger and poverty by 2030 could be thwarted by a thorny combination of low productivity in developing world subsistence agriculture, limited scope for industrialisation, and rapid population growth.
The UN Food and Agriculture Organization (FAO) report also argues that rural areas need not be a poverty trap.
In short, also hunger discriminates against the ultimate victims of all inequalities-the most vulnerable. Any reaction?
*Oxfam International's report 'An economy for the 99 per cent'.
This article is part of a series of stories and op-eds launched by IPS on the occasion of this year's World Food Day on October 16.
Follow @https://twitter.com/Baher_Kamal
By Lakshmi Puri
United Nations — The 16th of October marks World Food Day, a reminder to the international community of the criticality of treating food security as a 21st Century priority if sustainable development, peace and security and the realisation of human rights are to be achieved.
When we think and act on food security we must think and act on gender equality and women's empowerment as women are not only the ones most affected by food insecurity but are charged with the food and nutrition responsibilities for families and communities in the entire food value chain from growing the crops to bringing food to the table.
Rapid population growth, the slowdown of the global economy, commodity price volatility, the speculative aspects of the trade in food commodity futures, and distortive agricultural and trade policies are compounding factors for continuing food insecurity and hunger. The latest estimates indicate that 795 million people were undernourished globally in 2014-2016, with insufficient food for an active and healthy life.
Bio-fuel production with its rising pressure on land and natural resources as well as climate change, are adding to the volatility of food prices and the urgency to find solutions for food insecurity. and for achieving Sustainable Development Goal 2 (SDG 2) on Ending Hunger, Achieving Food Security, Improving Nutrition and Promoting Sustainable Agriculture.
Food security and gender equality and women's empowerment are concomitant and inextricably interlinked.
Women are pivotal to addressing hunger, malnutrition and poverty especially in developing countries. They comprise an average of 43 per cent of the agricultural labour force across the developing world making up the backbone of the agricultural sector and food production systems and the bulk of the agricultural labourers. Eight out of ten agricultural workers in Africa are women and in Asia six out of ten are women. Rural women often represent approximately two thirds of the 400 million poor livestock keepers.
Furthermore, women are on the front line of nutrition as care givers in the family - producing, storing, cleaning, cooking food for consumption - and ensuring that food, when available, reaches children first. Women have a crucial role in ensuring the health of children.
Eight out of ten agricultural workers in Africa are women and in Asia six out of ten are women. Rural women often represent approximately two thirds of the 400 million poor livestock keepers.
Nearly half of all deaths of children under the age of five are attributable to undernutrition. Anemia, caused by poor nutrition and deficiencies of iron and other micronutrients, affects 42 per cent of all pregnant women globally and contributes to maternal mortality and low birth weight.
It is therefore even more inexcusable that women continue to face many barriers and constraints including limited access to assets and resources necessary for food security as well as disproportionately bear the impact of food insecurity. It is estimated that 60 percent of the world's chronically hungry people are women and girls.
Rural ringing women and girls have been found to be impacted disproportionately from food insecurity and experience the triple burden of malnutrition (undernutrition, micronutrient deficiencies, and overweight and obesity).
Women tend to face higher barriers than men to productive resources, economic opportunities, and decision-making, that would help alleviate food insecurity. For farming women, the lack of access to agricultural inputs, services, credit, and markets constrain agricultural productivity growth and agricultural production, making the arduous pathway out of poverty especially difficult.
In sub-Saharan Africa, the productivity levels of female workers in agriculture are between 20 and 30 per cent lower than those of male workers, purely because of the gender gap in access to resources. Moreover, food preferences, taboos and consumption patterns give rise to differential gender outcomes on food security, as men and boys get preferential food access in some contexts. In time of food scarcity, women tend to eat last and least.
Women's participation in decision making processes and in the leadership of rural institutions remains low - which has led to women's rights, contributions and priorities to be largely overlooked by mainstream policies and institutions on agriculture, food security and nutrition.
More on This
World Food Day 2017 - Change the Future of Migration. Invest in Food Security and Rural Development

Food Insecurity and Forced Displacement of People - Where Do We Draw the Line?

Overcoming the Challenges - Securing the World's Food, Energy and Water

Not True That Hunger Doesn't Discriminate - It Does
Also, gender inequalities in the distribution of unpaid care work burden both in developed and in developing countries continue to deprive women from opportunities for paid work, education, and political participation, all of which have a bearing on their food security and nutrition.
It is therefore clear that achieving sustainable development and peace and security will continue to challenge humanity if gender disparities in agriculture, food security and nutrition remain unaddressed.
This year's World Food Day should therefore be a reminder that empowering women and unleashing their untapped potential to increase agricultural production is critical to the achievement of food and nutrition security, in improving rural livelihoods and in generating income and overall well-being of their households and communities.
The inextricable links between gender equality and food security have gained enormous momentum in the international agenda. In 1995 the Beijing Platform for Action recognized that women were key to reducing poverty and ensuring food security.
The Platform for Action called upon Member States and all stakeholders to formulate and implement policies and programmes that enhance women's access to financial, technical, extension and marketing services. It also highlighted the need to improve women's access to and control over land and appropriate financing, infrastructure and technology.
The 2030 Agenda for Sustainable (the 2030) recognized both as sustainable development goals (Goal 2 for food security and ending hunger, and Goal 5 for gender equality and the empowerment of all women and girls), and stressed that both goals are mutually reinforcing and enabling factors in the overall achievement of sustainable development.
Many crosscutting targets in terms of both gender equality and food security include ending hunger and addressing the nutritional needs of adolescent girls, pregnant and lactating women (SDG 2.2), eliminating discrimination against women in laws, policy and practice (SDG 5.1).
Furthermore, the 2030 Agenda recognizes that women's empowerment and control over resources reinforces nutritional health of their children (SDG 2.1). One specific group of women whose rights to economic resources must be enhanced (SDG 5.a.) is small-scale women food producers. Ensuring women's rights and improving their access to land, resources and incomes (SDGs 2.3 and 1.4) will be critical to achieving a number of goals.
The Agreed Conclusions of the 61st Session of Commission on the Status of Women (March 2017) recognized the crucial role that rural women in particular have in food security, particularly in poor and vulnerable households and how it is important to achieve rural women's empowerment as well as their full, equal and effective participation at all levels of decision making. Interventions on the ground aimed at enhancing agricultural productivity must focus on the protagonists of agriculture, who are mainly women in many rural contexts.
The international community is increasingly recognizing not only that women are on the front lines of food security, but that their needs and rights must be placed at the forefront of trade and agricultural policies and investments if sustainable development and peace and security are to be realized.
Today it is more evident than ever that closing the gender gap in agricultural productivity could potentially lift hundreds of thousands of people out of poverty and hunger and address losses in economic growth opportunities.
Bold and decisive action is critical to end the discrimination faced by women not only as a matter of justice and equality; but also to tackle the factors that are holding back agricultural production. Stability in the food market depends on increased investment in agriculture, particularly in developing countries, where 98 percent of the hungry live and where food production needs to double by 2050 to feed growing populations.
Strengthening support and investment in the agricultural sector, should go in hand with acknowledging women's contributions to food security and ensuring their equal rights and equal access to resources, assets and opportunities.
Measures to advance towards this aim include supporting the contributions of rural women and women farmers and ensuring that they have equal access to agricultural technologies, through investments, innovation in small-scale agricultural production and distribution.
This in turn must be supported through policies that improve productive capacity and strengthen their resilience, addressing the existing gaps in and barriers to trading their agricultural products in local, regional and international markets. Better disaggregated data that shows where in the food systems women are, as well as their situation in terms of food security and nutrition is also urgently needed.
Gender differences in land tenure and access to productive resources are particularly relevant as rural women are significant contributors to global food production. We must ensure rural women's full and equal rights to land and inheritance, land tenure security, common property and common resources and equal access to justice and legal support, by designing, reforming and enforcing relevant laws and policies.
Control over and ownership of assets can provide women with greater protection and stronger fallback positions, enhancing their bargaining power within the household and their capacity for economic independence. We must also promote women's involvement in climate-resilient agriculture as farmers, workers, and agriculture and food entrepreneurs.
All these efforts require transformative financing and investment, both targeted and mainstreamed also in terms of advocacy and support from all multistakeholders. Member States, UN agencies, civil society and the private sector should to take new and concrete actions for the full and accelerated implementation of the gender equality international commitments. It is equally as crucial to engage with grassroots women organisations and rural women organisations in the implementation of these commitments.
It is critical to ensuring equal access to and control over productive resources, provision of quality basic services and infrastructure, and support to women smallholder farmers to improve productivity and resilience of food supplies, so that women are able to reach their potential as key game changers to ensure global food and nutrition security.
At the current 72nd session of the UN General Assembly these issues will be addressed by the international community and the global norms, standards and policy commitments to gender equality and the empowerment of women as a precondition and objective of food security for all will be strengthened. The report of the Secretary-General on Improvement of the situation of women and girls in rural areas (A/72/207) highlights the efforts of Member States, the United Nations system and other actors to address challenges faced by women and girls in rural areas, especially the poorest and most marginalized.
The report's recommendations cover in particular economic and social policies, ending violence against women and girls, education, health, land, inheritance and property rights, decent work and social protection, labour-saving infrastructure and technology.
On the battle against climate change, we must recognize and support the potential of women as agents of change for climate mitigation and adaptation, which remains relatively untapped. The upcoming 23rd Session of the Conference of the Parties (COP 23) to the UN Convention on Climate Change (UNFCCC) will recognise the vital role women play in sustainable development and in the implementation of climate policies, including through its Gender Action Plan which is being pushed for finalization at COP 23.
The UN Convention to Combat Desertification (UNCCD) recognizes the role of women in ensuring sustainable livelihoods and by encouraging the equal participation of women in capacity building. The UNCCD Advocacy Policy Framework (APF) on gender recognizes that it is through the full participation of local people, especially women, that efforts to combat desertification can be most effective.
The forthcoming 62nd Session of the Commission on the Status of Women with its priority theme of 'challenges and opportunities in achieving gender equality and the empowerment of rural women and girls,' will also signal the determination to make the universe of food, nutrition and agriculture one that is powered by and is empowering for women and girls.
This article is part of a series of stories and op-eds launched by IPS on the occasion of this year's World Food Day on October 16.
opinion
By Jan-Philipp Scholz
The number of people in Africa suffering from hunger had been receding for some years. But it is now on the rise again. 26 million Africans face starvation. A special series by DW Africa explains why.
It is one of those situation when you really only understand what happened after it is over. A doctor and a nurse try to revive a little child. Sitting on her bed, the parents don't move. After a couple of minutes, the doctor orders all revival efforts to be stopped. A quiet sobbing fills the silence; then a cry. An orderly pulls up a screen to give the parents some privacy. We don't see what happens next.
This incident which took place in a clinic in northern Kenya was the most difficult emotional moment of our research trip through African regions hit by hunger. It made very clear that the 26 million people threatened with starvation are not a statistic and that for many of these people hunger is more than just a threat. The little girl in the Kenyan hospital did not die in an accident or from an incurable disease. She died because she had not eaten for too long.
Hunger doesn't make the headlines
DW reporters crossed many African countries for several weeks to track the hunger crisis. They talked to development helpers, experts, politicians and above all to the people affected to find out more about the reasons for so much suffering.
Some time ago, aid organizations started raising the alarm on hunger in Africa, which is why this series of reports is so timely. They have been warning that an expanding drought could result in one of the most terrible hunger catastrophes of the last decades in Africa and the Yemen. But soon the predicted crises stopped making the headlines - although the situation hasn't really improved. In South Sudan and Somalia, two of the hardest hit countries, 14 million people remain dependent on food aid.
People as the main cause
What led to these dramatic situations? The reports' answer to that is unequivocal: people did, not nature. Worldwide climate change, massive deforestation and one-sided cultivation are making life increasingly difficult for African small-scale farmers.
But political conflicts have even more devastating consequences. Countries most affected by hunger such as Nigeria,South Sudanand Somalia, are either embroiled in a civil war or they are fighting terrorists. In these countries, the state has failed to provide basic needs like providing health services, education or security. In lieu of which small elites are busy filling their own pockets in countries which often have considerable resources.
Cautious optimism
Nevertheless, DW's reporters also came back with stories of hope. For instance, after more than 20 years of civil war, at the start of 2017 Somalia got a new government. This had many observers voicing cautious optimism. And everywhere the reporters met people who grow beyond themselves in exceptional circumstances and do not just give up. Because people are not only the cause of hunger, they are also its solution.
Photo: Addis Standard
Merera Gudina is the leader of the Oromo Federalist Congress.
Appearing in court for the first time after the court's summer recess, Dr. Merera Gudina has pleaded his innocence against all criminal charges brought by the federal prosecutors.The defense team told the court that Dr. Merera's plea of innocence was late by eleven months since the charges were brought against him.
The Federal high court 19th criminal bench adjourned next hearing to begin to hear prosecutor's witnesses for Nov. 03/2017.
It is to be remembered that on July 07, Dr. Merera's defense team had requested the court to get the full list of prosecutors' witnesses. The court then refereed the request to the council of the house of federation for constitutional interpretations.
Today's hearing happened after the decision by the council of the House of Federation, which ruled that witness protection is not in violation of the constitution and that the court can proceed the hearing while protecting the identities of prosecutor's witnesses.
Accordingly, the court will begin the hearing of prosecutor's witnesses on Nov. 03 without having to avail the full list of witnesses to Dr. Merera Gudina's defense team. The court also decided to continue hearing of co-defendant's case in absentia. AS
Photo: Shabelle
The most powerful blast ever witnessed in Mogadishu has killed 276 people and injured 300 others, the country's information minister said early on Monday. The toll was expected to rise.
By Harun Maruf
The death toll from Saturday's massive truck bombing in the Somali capital Mogadishu - the deadliest terror attack in the country's history - has topped 270.
Abdirahman O. Osman, Somalia's minister of information, tweeted that the number killed is now 276, with about 300 wounded. He also laid blame for the bombing on the Islamist militant al-Shabab group.
In other tweets, Osman acknowledged Kenya, Ethiopia, and Turkey for sending medical aid to Somalia.
Angry protesters took to the streets condemning al-Shabab. The militant group, which often claims attacks in Mogadishu, has so far stayed silent. But the Somali government and terror experts strongly believe the group was responsible.
"Whether they claim or not claim makes no difference, we know the act that has happened, it's al-Shabab," former intelligence officer Abdi Hassan Hussein told VOA. "The information we are getting so far shows this is the work of al-Shabab, it has their hallmarks."
Hundreds of residents on Sunday marched to the scene of the attack, condemning the militant group.
"Where is my child, fight against the wicked, to hell with them, my god condemn the evil," said one elderly angry women. Other protesters shouted anti al-Shabab statements like, "We don't want blood thirsty elements".
Some protesters wept as they reached the scene and saw the apocalyptic aftermath of the explosion. The truck bomb turned one of Mogadishu's most beautiful junctions into death and destruction.
US reaction
In Washington, the U.S. State Department condemned the attack "in the strongest terms."
"In the face of this senseless and cowardly act, the United States will continue to stand with the Somali government, its people, and our international allies to combat terrorism and support their efforts to achieve peace, security, and prosperity," a statement said.
Mohamed Yusuf, a doctor at Medina hospital, described what happened when the explosion happened at around 3:20 pm local time on Saturday.
"We were preparing to leave work for the day but then huge blast occurred, we were shocked, within five minutes ambulances brought in the wounded," he said. "We have received many dead people, unlike we have ever seen. The hospital is working, we are lacking intensive care equipment, we get support from ICRC but we are still lacking full capacity."
The victims
Maryan Abdullahi, 21, just finished Banadir University where she studied medicine. She left her voluntary work at Banadir hospital Saturday and was waiting a bus when the explosion occurred. She was killed instantly. He mother Hindo Yuusuf immediately called her number when she heard about the location of the explosion.
"I called her number immediately but someone else answered and they said the owner of the phone died, her body is near the hotel [Safari]," she told VOA Somali.
Abdullahi's father flew from London Saturday to attend his daughter's graduation from the university. He arrived in Mogadishu Sunday morning and attended her funeral instead.
Also killed were five members of the same family who were running a clothing shop.
Aweys Moallim Ali is a cousin to the family. He too was wounded in the attack. He said his relatives own two shops but they gathered into one before the explosion.
"They were doing accounting work about the sales made so far so that they can make zakat [alms] payment, they closed the other shop and were meeting in a shop near Hotel Safari," He said.
VOA reporter
Hundreds were wounded in the attack including VOA reporter in Mogadishu Abdulkadir Mohamed Abdulle.
Abdulle sustained injuries to the neck, hand and burns throughout the body. But he was in good spirits as he spoke about his condition.
"I'm injured in the lower neck, there is shrapnel inside. I have a second injury on the right hand, maybe it's broken, and third, my body is burned in particular on the torso," he said. "I have smaller injuries throughout the body, facial injuries, I had about 4 stitches on the face, I have multiple injuries."
Abdulle recounted what happened at the time of the explosion
"I remember leaving the building near Safari hotel, I wanted to get into my car, as I stepped towards the car the explosion went off, that is all I remember," he said.
'The next thing I know is this morning when I woke up at 10am when I saw people standing around my bed."
The Somali government has called for three days of national mourning and lowering the flag at half-mast. President Mohamed Abdullahi Farmajo has condemned the attack as "barbaric."
Sahra Ahmed, Asha Aden, Jafar Kukay and Kenneth Schwartz contributed to this report.
By Amanda Sperber
Mogadishu — In this Somali village, residents say life under al Shabaab Islamists is safer than when the government controlled the area
In Somalia's Raqayle village, life under al Shabaab Islamists can be brutal, with public beheadings, and bizarre - with edicts about wearing socks - but locals feel safer than when the government controlled the area and violently ousted them.
More than 70 villagers fled to nearby Afgoye town in 2014 when a dozen government soldiers and policemen forced them off a 128-acre farm, which was claimed by an exile returning from Britain.
"They were just terrorising us," said one villager, Hodan, describing how the man from the diaspora sped in with cars full of armed men who smashed in doors with their rifles, looted water pumps and filled a well with sand and debris.
"My sister, who was five months pregnant, was so upset she miscarried," another villager, Warsame, told the Thomson Reuters Foundation in an interview in the Somali capital, Mogadishu, which is about an hour's drive southeast of Raqayle.
Both women declined to give their real names.
Similar stories can be heard across south-central Somalia, where better security is encouraging wealthy exiles who fled in the 1990s to return home - often igniting fresh land conflicts.
Since 2011, United Nations-backed government forces and African Union troops have pushed the militant group al Shabaab out of major towns and cities.
"The federal government is encouraging diaspora to come back," Somalia's information minister Abdirahman Omar Osman told the Thomson Reuters Foundation via email.
"The country needs their skills, knowledge, and expertise."
Osman said conflict can arise when returnees start rebuilding on land which others have lived on for decades.
"There are special committees dealing with all disputes, and if there are serious cases then courts settle them," he said.
RIGHTS BY BLOOD
Resolving tens of thousands of land disputes, some of which date back to the 1970s, is a complex task as the process is unclear, said Kenneth Menkhaus, a political science professor at Davidson College in the United States.
"It's a mess," he said, adding that side with the most firepower, money or influential clan connections usually wins.
"Armed settlers claims on land are illegitimate - they are just a form of land grabbing."
Clans form the bedrock of Somali society and identity, and decisions about most aspects of life are made collectively within them.
"One's claim to land is anchored pretty strongly to one's clan," Menkhaus said by phone. "This is rights by blood."
In Raqayle, the returning exile belongs to a more powerful clan than the villagers, said Ubdi Omar Wallin, founder of the charity Women in Action Against Malnutrition (WAAMO), which took the land dispute to court.
"(He) didn't come to the villagers and say: 'This is my land'," said Wallin, who has lived in the United States since she was 17, when her family fled that part of Somalia.
"He just did all the paperwork by himself and came up with soldiers to destroy," she said, referring to the title deeds acquired by the new owner.
WAAMO had been supporting a group of poor widows, including Hodan and Warsame, who were given a three-acre portion of the 128-acre farm by its owner, who lived in the village.
The charity provided the women with irrigation and a daycare centre in 2013, so that they could grow okra, cucumbers and peppers, selling the excess at a local market.
But the land lay idle after the government militia took over, carrying out regular patrols. They allowed the villagers to return home, but they did not feel secure enough to farm.
The court case stalled as the respondent did not attend.
The villagers of Raqayle only picked up their seeds and tools again after al Shabaab recaptured the area in 2015.
Few Somalis have faith in the judicial system, which is plagued by graft, or in the government, where both the president and the prime minister are diaspora returnees.
Menkhaus said the government should set up a land tribunal or a hybrid commission that included traditional authorities and land experts who are regarded as clean.
"That is where al Shabaab has far and away the greatest advantage on this land issue," he said, as the militants are seen as less corrupt.
The Islamists often bring wrangling parties together to agree on a solution, asking elders to give testimony about the history of disputed plots, the women of Raqayle said.
The villagers now live under Sharia law, which includes decapitation of government collaborators and a fine of bullets and guns for chewing the narcotic shrub khat.
Women were even ordered to wear socks for modesty while washing in the river, until one slipped and got hurt and the edict was revoked, they said.
But, generally, life is peaceful.
"Now, there is no harassment by soldiers," said Shemsa, one of the widow farmers.
"We don't go to (al Shabaab), and they don't come to us."
Reporting by Amanda Sperber. Editing by Katy Migiro.
By Aggrey Mutambo
Western donors want National Super Alliance leader, Raila Odinga, to rescind his withdrawal from the upcoming repeat election, even as they insist on respect for the IEBC.
The move by the Opposition last week may have surprised many of the envoys, after they had pressured both sides of the political divide to let the IEBC do its job and plan for elections.
However, Mr Odinga argued he and his running mate Kalonzo Musyoka were withdrawing from the race because the electoral agency had not heeded their call for reforms.
"We called on all actors to participate and respect the Constitution. We are reviewing the practical implications of this withdrawal," a senior diplomat from the European Union Delegation in Kenya told the Nation, suggesting the Supreme Court may be required to "pronounce itself on this matter."
REGRET DECISION
"We regret this decision and we feel it would have been better if the Constitution, and the Supreme Court ruling, are respected."
Asked on possible sanctions, the EU official said his bloc were considering none at the moment, but said the EU sees a peaceful election as a better pathway to stability.
The EU has been indirectly supporting programmes at the IEBC. Through the UNDP, the European body, the UK and the US, they pumped about Sh500 million for programmes that range from training to civic education.
Recently, the UK called on all parties to ensure the presidential election is held according to the ruling of the Supreme Court.
"The UK has called for a free, fair and peaceful presidential election in Kenya in line with the constitution. We are disappointed by opposition candidate Raila Odinga's decision to withdraw from the contest scheduled for 26 October," a spokesperson at the UK High Commission in Nairobi said in a statement.
VIOLENCE
"We call on all parties to work together to ensure that democratic elections take place in line with the ruling by the Supreme Court. This is in the best interest of all Kenyans."
The UK maintained all parties must work within the Constitution and other Kenyan law warning "anybody engaging in or inciting violence should be held accountable by Kenya's institutions."
"We have been clear that the international community is watching Kenya and every step of its electoral process closely. Action should be taken against any individual engaging in or inciting violence. The UK reserves the right to take our own action at a later date, should it prove necessary, which includes considering the refusal or revocation of visas."
Last week, the US said it respected the decision by Nasa to move out of the race was within their right, but said it is regrettable.
"We respect the right of Nasa presidential candidate Raila Odinga and deputy presidential candidate Stephen Kalonzo Musyoka to withdraw from the Kenyan election scheduled for October 26, but we regret their decision to do so," US Ambassador to Kenya Robert Godec said.
NEW POLL
"It is unfortunate that the IEBC and the political parties could not reach broad agreement on the conduct of the new poll."
Mr Godec maintained the US remains a neutral partner but said it viewed the election as "an extraordinarily important for the future of Kenya.
"We urge all Kenyans to come together to support their Constitution, their institutions, and to work for an election that is free, fair, credible, transparent, and peaceful. We stand with all Kenyans working to hold the best possible election and to deepen democracy, advance prosperity, and strengthen the security of their great country."
The diplomats from US, UK, EU, Germany and Australia had last week warned of unspecified sanctions against trouble makers.
They generally saw both the demands from Nasa and Jubilee as difficult to solve, given the tight schedule.
"Elections should happen as ordered. We had seen some demands from both sides as unreasonable," said the EU diplomat.
"Others are not, but then we have strict timelines by the Supreme Court."
By Allan Olingo
Tanzania's change of mining laws have come to the fore after Africa's richest man Aliko Dangote said that the new laws would potentially scare away investors.
The comments have already drawn a response from President John Magufuli's administration, which termed them as unfortunate given the kind of 'assistance' Dangote's investment has received.
"These policies scare away investors and that once an investor has left it is very difficult to bring that investor back. Tanzania needs to take another look at these new laws. These policies need to be clearly defined and investors need to be reassured that their investments are safe," Mr Dangote, who has a $620 million cement factory in Mtwara, Tanzania, said.
New policies
Mr Dangote, speaking during the Financial Times Africa Summit in London, said that the new policies were harmful, mostly because of the 'backdoor' plan by Tanzania to eventually own 16 per cent of all firms at zero cost.
"The plan by parliament to allow the government to take 16 per cent of an investor's assets for free is basically coming through the backdoor to seize assets.
They can come back in the next few years and take a majority of the shares at their price. It is a wrong policy. Once you chase an investor out, it will be very difficult to bring that investor back. They have scared quite a number and this is not a good thing," Mr Dangote is said to have told the summit.
However, Tanzania's Minister for Investment, Charles Mwijage, defended the administration, terming Mr Dangote's comments unfortunate in the light of the president's ready assistance to the billionaire's cement investment in the country.
"The government's investment policies are clear, transparent and aimed at ensuring that the government also benefits from the country's resources. The "free carried interest" is a requirement for companies operating in the extractive industry that existed in Tanzanian laws even before the recent review. Investors in the extractive industry are obliged to cede 16 per cent free carried interest to the government to ensure the country benefits from its natural resources," Mr Mwijage said.
"Once a company invests in the extractive sector, the government share should not be less than 16 per cent free carried interest. This is not wrong at all as the natural resources are ours," Mr Mwijage said, during an interview with The Citizen.
In December 2016, Mr Dangote ran afoul with policies regarding the use of coal and access to gas reserves, which saw him fly into Dar es salaam to have the issues resolved.
Fraud accusation
In a response to the minister, Mr Dangote maintained that his relationship with President Magufuli remains cordial and hinted that his comments might have been taken out of context.
"Our relationship is okay. I can always call him as I have his mobile number, and he listens to me," Mr Dangote said, adding that sometimes it is just a matter of communication, when describing how investors sort out contractual arrangements with foreign governments.
Miners in Tanzania have in recent months run afoul of the new policies that have affected the operations of Acacia mining and Petra Diamonds.
Two months ago, Acacia mining was slapped with a $190 billion tax demand having been accused of underdeclaration. This saw it scale down operations while its shares listed in London plummeted 50 per cent since the start of the year.
Petra Diamonds also listed in London, was last month prevented from exporting a diamond consignment after it was accused of underdeclaring it by $14.9 million.
It temporarily closed its Williamson mine and on Monday last week, it announced that it would not be able to meet its debt obligations this year and would have to renegotiate with its lenders.
Better Future Foundation (BFF), proponent of Liberia Democracy Sustainability Platform (DSP), has applauded the mass turnout of citizens for October 10, 2017 presidential and legislative elections in the country.
In a release issued in Monrovia, BFF however, expressed regret that such mass turnout could not be translated into an inclusive participation of all registered voters in the polls.
The youth and student advocacy group also described as unfortunate the gross lack of infrastructure in the country to the extent that some of the facilities that played host to the presidential and legislative elections were unfit to serve the mass turnout, leaving many registered voters particularly pregnant women, nursing mothers, elderly, physically challenged among others totally disenfranchised.
BFF also flagged a number of challenges which it said were associated with Tuesday polls including delay with respect to the arrival of election materials to some polling centers, voters identification numbers, late commencement and closure of vote cast and counting as well as the apparent inability of some of NEC polling officers to educate and /or guide voters.
In its release signed by Mr. Augustine Arkoi, Founder and President, BFF also pointed out that several individuals who were in possession of valid voting cards could not cast their ballots when their names and identification numbers could not be traced in NEC's official register at multiple polling centers across the country.
Nevertheless, BFF applauded Liberian electorate who remain above violence during the polls on Tuesday amid various challenges.
Meanwhile, BFF has called on all political parties, presidential and legislative candidates to show not only full compliance to electoral laws and regulations but also ensure that their followers remain committed to non-violence elections.
Windhoek — Ovamba Solutions, Inc. and Microsoft have partnered to develop and produce the first African language driven 'chat-bot' designed to serve the millions of African SMEs that face exclusion from financial services due to the challenges of functional and business literacy. The chat-bot was conceived, designed and created by Ovamba and Microsoft and will be rolled out via Ovamba's mobile app, 'Ovamba Plus'.
Ovamba's president and co-founder, Viola Llewellyn, and chief technology officer, Prashant Mahajan, expressed their innovative ambitions to Josh Holmes, director of Microsoft Partner Catalyst Division at Microsoft's Seattle, Washington campus.
In delving into the challenges of FinTech solutions on the African continent, Viola Llewellyn explained to Microsoft: "Current banking processes and some FinTech solutions are supposed to help the financially disenfranchised. Bank solutions, application forms and contracts assume that all SMES are fully literate, and actually end up further alienating those who may not be able to read or speak French, English, Arabic or any other colonial language. If we don't address this then we are missing the true promise of FinTech and the opportunity to include the informal sector in GDP count."
In response to the opportunity to serve the African continent, Microsoft put a team together headed up by Shawn Cicoria, Lilian Kasem and Claudius Mbemba to help Ovamba create the chat-bot.
Prashant Mahajan led Ovamba's tech team on the project and commented on the potential to help the millions who need support to grow. "Ovamba has been supporting SMEs with 'Growth-As-A-Service®' for the last year and realizes that business training and formal education are a luxury not afforded to some members of Africa's entrepreneurial sector, and are often taught in western languages. We can help them to sustain growth by delivering business support and training in the language that they are most used to."
Claudius Mbemba shared the Partner Catalyst Team's enthusiasm for the project on the Microsoft Developer blog stating, "We plan to continue our work with Ovamba, especially building an African dialect language recognition system to enable application localization and cater to the specific dialects of their customers."
The team added: "We look forward to tackling these challenges and more in our future work with Ovamba."
Ovamba is a US-founded FinTech innovator that develops online platforms and mobile applications to serve small and medium enterprises (SMEs) in emerging markets with short-term funding for growth.
Ovamba raises capital from global investors to fund the SMEs and uses its tech to solve business and functional literacy challenges to promote financial inclusion.
Ovamba's application 'Ovamba Plus' is available for Android phones as a download.
Ovamba was co-founded by Marvin Cole and Viola Llewellyn in April 2013. Ovamba has offices in the USA, Cameroon, India, Mauritius and South Africa. Expansions are planned for Ghana, Senegal, Sudan and other countries in 2018.
Photo: Seychelles News Agency
Belle Vue (La Digue) From 300m high, this view point is situated on the island of La Digue, the third-most populated island of Seychelles. As the name suggest it's a beautiful view of some of islands close by including Ile Coco, Felicite, Marianne, l'Ilot Ave Maria and the island of Mahe and Praslin in the distance.
Eight out of 18 tourism projects excluded from a moratorium on large hotels in Seychelles could be reallocated if the project backers don't begin construction within a year, said a top official of the ministry of tourism.
Maurice Loustau-Lalanne, the Minister of Tourism, Civil Aviation, Port and Marine, said the decision was taken because promoters of the eight projects have taken too long to develop them.
"We are targeting those investors who have obtained approval more than five years ago and still have not done anything. Some have even had up to 10 years," the minister said.
Loustau-Lalanne said that the tourism department is going to write to the respective investors and give them one year to decide if they want to go ahead with their project.
"We think that they will not be able to do anything within the course of one year. Therefore, we will be able to take back 1,300 rooms for redistribution,"
Loustau-Lalanne said.
The moratorium on large hotel projects except those already approved by the government was announced by the Seychelles' former president, James Michel, during the Independence Day celebrations on June 29, 2015.
The moratorium was prolonged to the end of 2020 by the Seychelles' President Danny Faure in his State of the Nation address in February.
Large hotels are defined as those having 25 rooms or more. The moratorium does not include small establishments of 15 rooms or less which are reserved for Seychellois.
Old and abandoned hotels are also to be reallocated and they account for more than 700 which are counted as part of the approximate 5300 existing hotel room quota. These include Reef Hotel and Equator Hotel.
According to statistics from the Tourism Ministry, there are 541 tourism establishments in operation that have 5,849 rooms.
The tourism minister said that when the department did its research, the feedback from tour operators was that there is not enough room to accommodate visitors.
"As Seychelles is experiencing an economic growth in the tourism sector, it is unacceptable to note that there are not enough rooms. This why we also need to redistribute these projects to investors that are ready to develop," said Loustau-Lalanne.
The Criteria for reallocation will be drawn up on a case-by-case basis and once approved these projects will be subjected to environmental impact assessments and the requirements of regulatory bodies such as the Seychelles Planning Authority.
With the addition of the new hotels excluded from the moratorium, an additional 4,000 rooms will be available in the island nation to accommodate visitors.
Commenting on the Grand Police Bay hotel, which has now been declared a protected area by the Cabinet of Ministers, in June, Loustau-Lalanne, said that their number of rooms have been taken back as well and discussion is ongoing with the developers.
Tourism remains the top contributor to the economy of Seychelles, a group of 115 islands in the western Indian Ocean. In the figures released by the National Bureau of Statistics (NBS) in January, over 304,000 visitors came to Seychelles last year, compared with 275,000 in 2015.
By Vincent Opiyo
The national men's football team Harambee Stars has dropped 14 places in the latest rankings released by world football governing body, Fifa on Monday.
Kenya is now ranked at position 102 with 345 points from the initial 88th position it occupied last month.
Neighbours Uganda moved one place up to 70th following their goalless draw against Ghana in the 2018 World Cup qualifiers.
Stars' landslide drop has been occasioned by the 2-1 and 1-0 defeats to Asian sides Iraq and Thailand in international friendly matches last week.
On the continent, Kenya is 25th, eleven places below neighbours Uganda, who lead the Council of East and Central Africa Football Associations (CECAFA) region.
Rwanda, Burundi and Tanzania follow in that order.
Kenya's next opponents in the 2019 Africa Cup of Nations (AFCON) qualifiers. Ghana are eighth in Africa and 52nd globally.
"We need not play friendly matches for the sake of it, I think it's better we go for high quality opponents who can teach a lesson or two," former international Titus Mulama told Nation Sport.
"Our current crop of players are not committed on the pitch but we can't solely blame them if they are not being motivated well enough. During our days, motivation was the key factor. I urge the federation to increase their motivational kitty so that likes of Wanyama (Victor) can't be guaranteed of Shs10 000 after a long journey from England," added the former Sofapaka midfielder, who turned provider for Dennis Oliech's lone goal against Cape Verde in 2003, sending Kenya to the 2004 AFCON.
World champions Germany remain at the helm followed by Brazil, Portugal, Argentina and Belgium. France and Spain are seventh and eighth with minnows Iceland, who qualified for their first World Cup, are placed 25th.
By Tunde Eludini
The Super Eagles of Nigeria made some marginal movement in the latest edition of the monthly FIFA rankings released on Monday by the World football governing body.
The Super Eagles climbed up three places from the 44th position in the world to the 41st spot in the October rankings.
The Nigerian national team are also now ranked fifth on the continent behind the quartet of Tunisia, Egypt, Senegal and Congo DR.
The upward movement for the Super Eagles can be linked to their qualification for next year's FIFA World Cup in Russia following their 1-0 win against Zambia on 7 October.
Meanwhile, Algeria who will host the Eagles in their Group B last qualifying game in November dropped five places from 62nd to 67th.
Cameroon and Zambia who are also in the Eagles' World Cup qualifying group rose from 45th to 42nd and 78th to 77th spots respectively
It is understood that Monday's rankings released by FIFA is quite crucial as it would influence how the World Cup draws that will be conducted on December 1.
From the 23 teams that have already qualified for the World Cup already, Nigeria are the 18th highest ranked team.
The Super Eagles are expected to move further down the ladder by the time the 32 teams billed to compete in Russia are complete and that will likely see Nigeria in Pot 4 for the draws.
As reflected in this latest rankings, Germany are number one, Brazil are number two, Portugal are in third position, Argentina in fourth and Belgium fifth.
In sixth are Poland, France are seventh, Spain eighth, Chile ninth and Peru complete the roster of the top ten teams in the world.
By Ndi Eugene Ndi
Yaoundé — Morocco has been designated to host the 2018 Total African Nations Championship (Chan), the Confederation of African Football (CAF), said in a statement on Sunday.
The statement said Caf's emergency committee met in Nigeria on Saturday and 'unanimously decided' to grant the organisation of the tournament to the Royal Moroccan Football Federation.
The meeting was presided over by Caf president Ahmad Ahmad.
Kenya was on September 23 stripped of the right to host the Chan tournament due to inadequate preparedness and security concerns over a disputed presidential contest.
Equatorial Guinea, Ethiopia and Morocco had officially expressed their willingness to replace Kenya.
"The candidacy of Morocco was preferred to that of Equatorial Guinea, another country to have submitted a valid application," the CAF release read in part.
It said the Ethiopian Football Federation did not provide the government's letter of guarantee, "which is a mandatory document required by the rules of application of the Statutes of the Caf".
Total CHAN, is a competition that brings together 16 national teams exclusively of players featuring in the national championships of their respective countries.
Fifteen countries; Republic of Congo, Libya, Morocco, Cameroon, Nigeria, Zambia, Uganda, Angola, Equatorial Guinea, Mauritania, Sudan, Cote d'Ivoire, Burkina Faso, Guinea and Namibia have all qualified for the tournament which will take place from January 12 to February 4, 2018.
South African tennis star Kevin Anderson is the second seed at this week's ATP Stockholm Open.
Anderson, who lost in the second round of the Shanghai Masters last week, will be looking to make inroads in Sweden as he chases a spot in the coveted ATP Finals in London next month.
Anderson has dropped one position to No 16 in the rankings but remains in the reckoning to qualify for the tour finals, where the world's best eight players compete to finish the season.
Anderson is currently 12th in the race to London, but with Novak Djokovic and Stan Wawrinka already calling time on their injury plagued seasons, the South African No 1 is essentially 10th in the race.
Anderson will therefore be looking to claim more valuable ATP rankings points at this week's ATP250 level event, where Bulgaria's Grigor Dimitrov is the top seed.
Anderson made headlines when he reached last month's US Open final, where he lost to world No 1 Rafael Nadal.
Source: Sport24
Somalia attack: 165 unidentified bodies buried
16 October 2017

From the section
These are external links and will open in a new window

Copy this link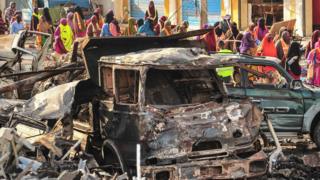 As many as 165 unidentified bodies have been buried after a massive truck bomb attack in the Somali capital Mogadishu on Saturday.
At least 276 people have died and the government news agency Sonna says only 111 of them have been identified.
A Turkish military plane is taking 40 of the injured to Turkey for medical treatment.
It is the deadliest terror attack in Somalia since the Islamist al-Shabab group launched its insurgency in 2007.
Some of the bodies were burnt beyond recognition.
Of those who were identified, one of the victims was a medical student who was due to graduate the next day.
Her father had flown to Mogadishu to attend her graduation but instead witnessed her burial.
No group has yet said it was behind the bombing at a busy junction, destroying hotels, government offices and restaurants.
But President Mohamed Abdullahi "Farmajo" Mohamed blamed al-Shabab, calling it a "heinous act".
Al-Shabab, which is allied to al-Qaeda, and which often attacks Mogadishu, normally claims them fairly quickly afterwards.
On Sunday, some Somalis took to the streets of Mogadishu to condemn the group.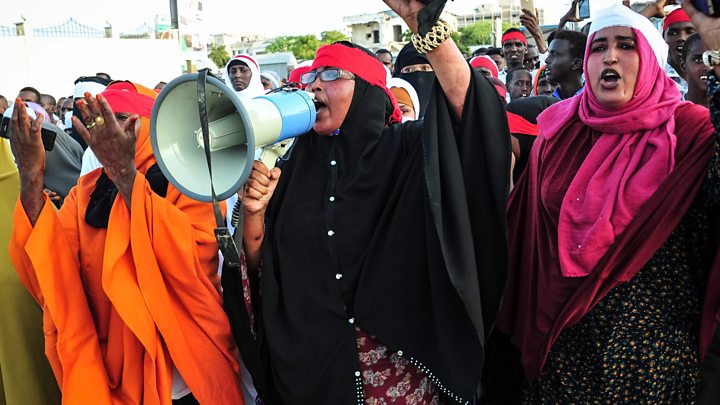 Maryam Abdullahi had been due to graduate as a doctor the following day.
Ms Abdullah's sister Anfa'a told the BBC Somali Service that she was devastated.
"The family is so shocked, especially our father who travelled all the way from London to attend her graduation, but instead he attended her burial."
Anfa'a said she had spoken to her sister 20 minutes before the blast.
"At that time she was in Banadir Hospital where she was working. She told me she was waiting for some files from the hospital and she promised to call back".
A BBC Somali reporter at the scene of the main blast said the Safari hotel collapsed with people trapped under the rubble.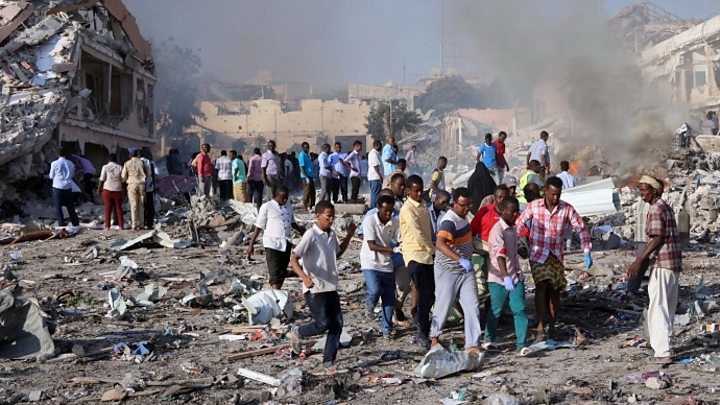 An eyewitness, local resident Muhidin Ali, told AFP it was "the biggest blast I have ever witnessed, it destroyed the whole area".
Meanwhile, the director of the Madina Hospital, Mohamed Yusuf Hassan, said he was shocked by the scale of the attack.
"What happened yesterday was incredible, I have never seen such a thing before, and countless people lost their lives. Corpses were burned beyond recognition."
By Pallab Ghosh
Science correspondent, BBC News, Louisiana
16 October 2017

From the section

comments
These are external links and will open in a new window

Copy this link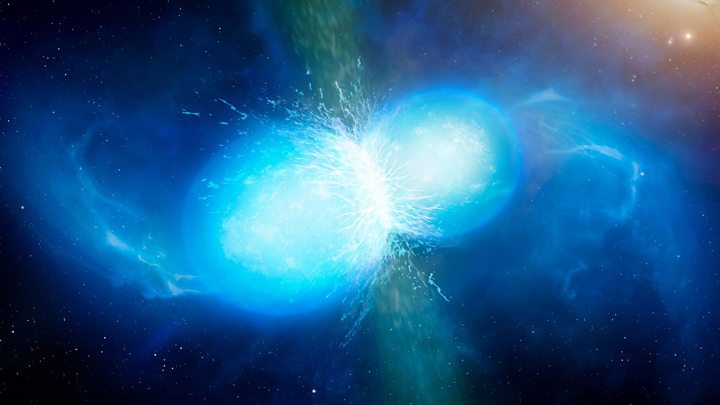 Scientists have detected the warping of space generated by the collision of two dead stars, or neutron stars.
They have confirmed that such mergers lead to the production of the gold and platinum that exists in the Universe.
The measurement of the gravitational waves given off by this cataclysmic event was made on 17 August by the LIGO-VIRGO Collaboration.
The discovery enabled telescopes all over the world to capture details of the merger as it unfolded.
David Reitze, executive director of the LIGO Laboratory at Caltech in Pasadena, California, said: "This is the one we've all been waiting for."
The outburst took place in a galaxy called NGC 4993, located roughly a thousand billion, billion km away in the Constellation Hydra.
It happened 130 million years ago - when dinosaurs roamed the Earth. It was so far away that the light and gravitational waves have only just reached us.
The stars themselves had masses 10-20% greater than our Sun - but they were no larger than 30km across.
They were the crushed leftover cores of massive stars that long ago exploded as supernovas.
They are called neutron stars because the process of crushing the star makes the charged protons and electrons in the atoms of the star combine - to form an object made entirely of neutrons.
Such remnants are incredibly dense - a teaspoonful would weigh a billion tonnes.
In the landscaped campus of one of the laboratories that made the detection, a fountain sprays jets of water skyward which are then pulled back down by gravity, sending ripples across the crystal clear pond.
The LIGO detector, sitting incongruously in the vast woodland of Livingston in Louisiana, was designed to detect the gravitational ripples across the Universe created by cataclysmic cosmic events.
Since it was upgraded two years ago, it has four times sensed the collisions of black holes.
Gravitational waves caused by violent events send ripples through space-time that stretch and squeeze everything they pass through by a tiny amount - less than the width of an atom.
The LIGO lab at Livingston consists of a small building with two, two-and-a-half-mile pipelines stretching out at right angles. Inside each pipe is a powerful laser accurately measuring any change in its length.
I walk along one of the pipes with Prof Norna Robertson, a Scot who used to work at Glasgow University - and more recently helped to design the instrument's detection system.
Prof Robertson's work has helped the LIGO-VIRGO Scientific Collaboration to make the first ever detection of the gravitational waves given off by the collision of two neutron stars.
"I'm really thrilled about what we have done. I started off as a student in Glasgow 40 years ago working on gravitational waves. It's been a long long road; there have been some ups and downs but now it's all come together," she told BBC News.
"These last couple of years, first of all with the detection of black holes mergers and now a neutron star merger, I really feel we are opening up a new field, and that's what I wanted to do and now we've done it."
The detection enabled 70 telescopes to obtain the first ever detailed pictures of such an event.
These show an explosion 1,000 times more powerful than a supernova - a burst called a kilonova.
---
Gravitational waves - Ripples in the fabric of space-time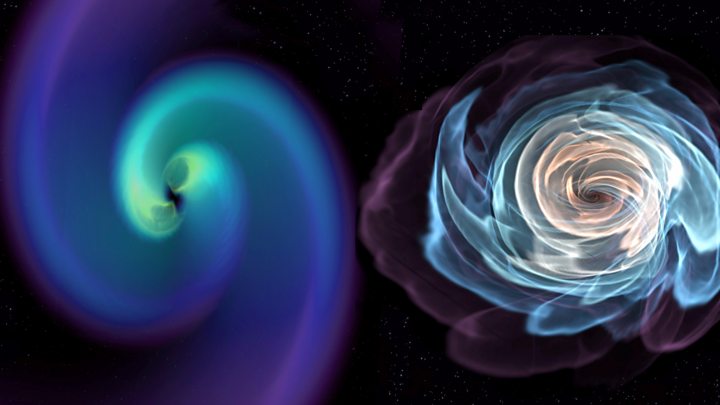 Gravitational waves are a prediction of the Theory of General Relativity
It took decades to develop the technology to directly detect them
They are ripples in the fabric of space-time generated by violent events
Accelerating masses will produce waves that propagate at the speed of light
Detectable sources ought to include merging black holes and neutron stars
Ligo/Virgo fire lasers into long, L-shaped tunnels; the waves disturb the light
Detecting the waves opens up the Universe to completely new investigations
---
Researchers had suspected that this huge release of energy leads to the creation of rare elements, such as gold and platinum.
Dr Kate Maguire, from Queen's University Belfast, who analysed the collision's burst of light, said that the theory was now proven.
"Using some of the world's best telescopes, we have discovered that this neutron star merger scattered heavy chemical elements, such as gold and platinum, out into space at high speeds.
"These new results have significantly contributed to solving the long-debated mystery of the origin of elements heavier than iron in the periodic table."
Dr Joe Lyman, of the University of Warwick said described the observations as "exquisite".
"They tell us that the heavy elements, like the gold or platinum in jewellery are the cinders, forged in the billion degree remnants of a merging neutron star."
Improvements coming
It was also direct confirmation that short bursts of gamma-ray radiation are linked to colliding neutron stars.
By combining information from gravitational waves and the light collected by telescopes, researchers also used a new technique to measure the expansion rate of the Universe. This technique was first proposed in 1986 by the University of Cardiff's Prof Bernard Schutz.
Prof Stephen Hawking of Cambridge University told BBC News that this was "the first rung of a ladder" for a new method of measuring distances in the Universe.
"A new observational window on the Universe typically leads to surprises that cannot yet be foreseen. We are still rubbing our eyes, or rather ears, as we have just woken up to the sound of gravitational waves," he said.
Prof Nial Tanvir, from Leicester University, uses the VISTA telescope in Chile.
He and his colleagues started searching for the neutron star collision as soon as they heard of the gravitational wave detection.
"We were really excited when we first got notification that a neutron star merger had been detected by LIGO," he said. "We stayed up all night analysing the images as they came in, and it was remarkable how well the observations matched the theoretical predictions that had been made."
LIGO is now being upgraded. In a year's time it will be twice as sensitive - and so will be able to scan eight times the volume of the space.
The researchers believe that detections of black holes and neutron stars will become common place. And they hope that they will begin to detect objects that they currently cannot even imagine and so usher in a new era of astronomy.
Syria war: US-backed forces 'control' Raqqa
17 October 2017

From the section
These are external links and will open in a new window

Copy this link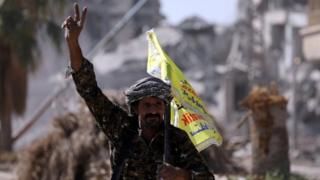 US-backed forces in Syria say they now control so-called Islamic State's one-time capital of Raqqa, with only a few dozen militants remaining in the city.
The Syrian Democratic Forces say they have retaken al-Naim square, where IS once held public executions.
The official declaration that the city has been recaptured is expected soon, a BBC correspondent reports.
Earlier, a convoy of local IS fighters and their families left Raqqa as part of a preplanned departure.
No foreign fighters were allowed to join them, the SDF says.
More than 3,000 civilians have escaped the city in recent days, local forces say.
Raqqa was one of the first large cities IS took over in 2014, and had held control there for three years.
But the SDF, an alliance of Kurdish and Arab militias, has been besieging the city for nearly four months.
On Monday, the SDF told the BBC that about 50 IS fighters remained around the city's hospital and stadium.
The BBC gained access to Raqqa earlier on Monday, and for the first time in months there were no air strikes, shelling or gunfire, the BBC's Quentin Sommerville reports.
At Naim Sq - Paradise Sq - SDF forces posed for selfies. A truck with loudspeaker urged residents to come out and "eat hot soup"

— Quentin Sommerville (@sommervilletv)
End of Twitter post by @sommervilletv
An SDF vehicle has been patrolling the ruined streets with a loudspeaker urging people to come out into the open and "eat hot soup", our correspondent says.
The SDF's earlier decision to allow some of the militants to go out of the city, leaving only a hardcore group of fighters behind, was designed to shorten the battle.
The loss of Raqqa will be seen as another blow for IS, which has been steadily losing ground in both Syria and Iraq over the last two years.
IS, which attracted fighters from across the globe with its extreme interpretation of Islamic law, used beheadings, crucifixions and torture to terrorise residents who opposed its rule.
Malta blogger Daphne Caruana Galizia dies in car bomb attack
16 October 2017

From the section
These are external links and will open in a new window

Copy this link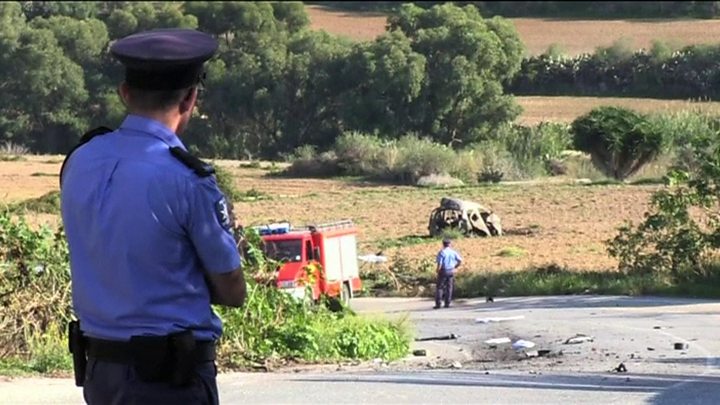 A prominent blogger in Malta, who had accused the island's government of corruption, has died in a car bomb attack, according to police.
Daphne Caruana Galizia, 53, was reportedly killed when the car she was driving exploded shortly after she left her home in Bidnija, near Mosta.
Local media say one of her sons heard the blast and rushed outside.
PM Joseph Muscat, whom Caruana Galizia accused of wrongdoing earlier this year, denounced the killing.
"I condemn without reservations this barbaric attack on a person and on the freedom of expression in our country," he said in a televised statement.
"Everyone knows Ms Caruana Galizia was a harsh critic of mine, both politically and personally, as she was for others too."
But he stressed there could be "no justification... in any way" for such action.
"I will not rest before justice is done."
On Monday evening, thousands of people attended a candlelit vigil in the resort town of Sliema.
Vigil for murdered journalist Daphne Caruana Galizia gets under way in

— Jacob Borg (@BorgJake)
End of Twitter post by @BorgJake
Malta Television reported that Caruana Galizia had filed a complaint to the police two weeks ago to say she had received threats but gave no further information.
Police have opened a murder inquiry.
Newspaper reports said the explosion had left debris from the rental car she was driving strewn across the road and in a nearby field.
Caruana Galizia's death comes four months after an election he called early because of the blogger's allegations linking him and his wife to the Panama Papers scandal.
The couple denied claims that they had used secret offshore bank accounts to hide payments from Azerbaijan's ruling family.
Caruana Galizia's popular blog had also targeted opposition politicians, calling the country's political situation "desperate" in her final post.
A spokeswoman for the prime minister's office told the BBC that although there were rumours the attack could be politically motivated, this would be jumping to conclusions. But no lines of inquiry would be ruled out.
Malta has asked for international help - including the FBI in the US - to find the perpetrator, the spokeswoman said.
Meanwhile, Caruana Galizia's family has requested that the magistrate in charge of the investigation be replaced, the Malta Independent reports.
It said the current magistrate had on a number of occasions been the subject of criticism by Caruana Galizia.
---
Her scathing pen spared no punches
By Herman Grech, Times of Malta online editor
Daphne Caruana Galizia was loved and resented in equal measure in politically divided Malta - but she will go down in the Mediterranean island's history as one of the most influential writers.
Her uncompromising blog and scathing pen spared no punches, hitting out mainly at exponents of the ruling Labour Party and their supporters, but also sometimes criticising officials of the centre-right Nationalist Party, including its newly-elected leader.
Starting off as a columnist for The Sunday Times of Malta, her colourful reportage saw her embroiled in several legal battles along the years, including Malta's prime minister.
But beyond all, even her fiercest critics acknowledge she was an impeccable writer and investigative journalist. Her digital cross-investigation into the Panama Papers, which saw the Maltese government's top officials embroiled, effectively triggered off a premature general election last June.
By Doaa Abdel-Motaal
Oxford, United Kingdom — Milk and cookies, macaroni and cheese, fish and chips. Some foods seem to match perfectly together to the point where one can't go without the other. Food and health, while maybe not as catchy, should be viewed in the same light. Without good food it is hard to maintain good health; without good food growing practices it is difficult to maintain a healthy planet.
It is hard to believe that in 2017, with all the advancements made in agriculture and the food industry, many people around the world still do not have enough to eat. This is a tragedy. There is more than enough food produced to feed everyone, yet according to the UN's Food and Agriculture Organization, more than 800 million people suffer from hunger and more than 2 billion from micronutrient deficiencies.
This will only get worse as the world population is expected to reach over 9 billion by 2050. Conflict, and with it the displacement and migration of people, further compound the food security and nutrition equation. In 2017 alone a number of crises have made millions worldwide severely food insecure.
On the flip side, there are many people going to bed too full across the globe: an estimated 40% of adults and millions of children worldwide are overweight.
We are witnessing an overconsumption of food often coupled with a lower nutritional quality. This is having a major impact on obesity, heart disease and other issues, and is no doubt adding to the looming heath crisis. Obesity tends to affect poorer populations more, suggesting that the issue is not only the availability of food, but the type of food available.
It is becoming increasingly clear that food systems, and diets, are not sustainable. What is urgently needed is a holistic approach to address food and health as well as sustainability along the entire food chain
We are also losing many of the traditional diets found throughout the world in favour of less sustainable diets. Developing countries are moving away from traditional diets high in cereal, green vegetables and fiber to more Western style diets that are high in sugars, fat and animal-source food. This is not only bad for human health, but potentially catastrophic for the environment.
A look at livestock alone and its contribution to climate change demonstrates this point. According to the FAO, the sector emits 7 gigatons of CO2 equivalent every year, representing around 14 percent of all human-induced emissions. Planetary boundaries may well be surpassed if current trends continue. Also, it takes ten times more water and twenty times more energy to produce one kilogram of wheat as it does to produce the same weight of beef, and at present three quarters of the world's wheat is grown to feed livestock.
And while certain agricultural practices contribute to climate change, climate change is also likely to have a serious impact on our food security. Climate models indicate that while rising temperatures may have a beneficial effect on crops in temperate areas, tropical areas may experience a significant reduction in their crop productivity in the long term.
Equally serious will be the impact of climate change on the nutritional content of key crops which could put hundreds of millions of people at risk of vitamin deficiencies. Studies show that higher CO2 levels significantly reduce the levels of the essential nutrients iron and zinc, as well as protein, in such staple crops as wheat, rice, maize and soybeans.
While these crops are relatively low in iron and zinc compared to meat, in poorer societies where meat is not consumed as much as in wealthier nations, they remain a major source of the nutrients needed for children to grow and to develop.
And then there is the waste. Roughly one-third of the food produced in the world for human consumption every year -- approximately 1.3 billion tons -- gets lost or wasted, with fruits and vegetables having the highest wastage rates of any food, says the FAO. This waste amounts to roughly $680 billion in industrialized countries and $310 billion in developing countries. If we are going to meeting Goal 12 of the UN Sustainable Development Goals - to reduce global food waste in half by 2030 - much more needs to be done.
This World Food Day, we have to acknowledge the multiple problems that exist within our food systems and that nutritional problems are escalating. It is becoming increasingly clear that food systems, and diets, are not sustainable. What is urgently needed is a holistic approach to address food and health as well as sustainability along the entire food chain. Awareness raising on what a healthy diet means is also key.
Through the newly established Rockefeller Foundation Economic Council on Planetary Health at the Oxford Martin School, we will continue to find solutions to health risks posed by poor stewardship of the planet. In an era of global environmental change, the food-health connection must be made central to any such investigation.
Over the next 18 months, the Economic Council - made up of world leaders from government, international organizations, civil society, business, finance and academia - will bridge knowledge gaps on the links between economic development, natural systems and human health to compel collaboration across disciplines and coordinated action to address the complex challenges of the 21st century. A century where the food and health connection will need to be viewed inseparably, like an order of fish and chips.
This article is part of a series of stories and op-eds launched by IPS on the occasion of this year's World Food Day on October 16.
press release
Tororo, Uganda — The Tororo 10 MWp plant, with 16 GWh of renewable energy generated annually, will cater for the energy requirements of 35,838 people and help reduce CO2 emissions by 7,200 tons.
Building Energy, multinational company operating as a Globally Integrated IPP in the Renewable Energy Industry, announces the Inauguration of the Tororo Solar Plant, its first photovoltaic system in Uganda. With a capacity of 10 MWp, this plant is among the largest in Eastern Africa. Building Energy was also responsible for the development of the project, arranging the financing, as well as the construction and commissioning of the plant. The beginning of operations has been celebrated on the occasion of the ribbon cutting ceremony in Tororo, in the presence of Matteo Brambilla, MD Africa and Middle East at Building Energy, and Attilio Pacifici, EU Ambassador and Head of the EU Delegation to Uganda.
The Tororo solar plant will generate around 16 GWh of energy annually, catering to the energy needs of more than 35,838 people. In addition, the plant will foster clean industrial development in the town of Tororo and at the same time save atmospheric emissions of more than 7,200 tonnes of CO2 per year. Community Development initiatives are also underway.
The Solar Park was developed under the Global Energy Transfer Feed in Tariff ("GET FiT"), a dedicated support scheme for renewable energy projects managed by Germany's KfW Development Bank in partnership with Uganda's Electricity Regulatory Agency (ERA) and funded by the EU-Africa Infrastructure Trust Fund, the governments of Norway, Germany, and the United Kingdom.
The EU-Africa Infrastructure Trust Fund has provided funds through the GET FiT Solar Facility in the form of a top-up payment per kWh of delivered electricity over 20 years. This financing fills the gap between the generation costs and the feed-in tariff set by Uganda Electricity Transmission Company Limited (UETCL) through a Power Purchase Agreement (PPA).
The overall $19.6 million construction investment at Tororo was financed by FMO, the Dutch development bank which, as Mandated Lead Arranger, coordinated the provision of a $14.7 million term loan facility. Fifty percent of the funding was syndicated to the Emerging Africa Infrastructure Fund (EAIF), while the overall equity contribution of the shareholders was $4.9 million.
Contacts:
Building Energy
Maria Grazia Tiballi
+39-02-49527730
This email address is being protected from spambots. You need JavaScript enabled to view it.
buildingenergy.it
Washington — The Islamic Development Bank Group has affirmed its continuity in support to Sudan and provision of funding for Sudan development projects.
This came during the meeting of the Minister of Finance and Economic Planning, the Governor of the Central Bank of Sudan and the accompanying delegation with the President of the Islamic Development Bank Group.
The delegation also met with the Director General of the Arab Fund for Development, who expressed the bank's readiness to intensify efforts to support and strengthen the Sudan economy.
The Finance Minister and the accompanying delegation also reviewed with the British World Bank's Executive Director his country's role in leading efforts to relief debt on Sudan.
By Savious Kwinika
Johannesburg — THE attainment of the United Nations' sustainable development goals (SDGs) in Morocco has received a major boost after SAP, the global software company, organised its first Social Sabbatical in the North African country. The initiative is ongoing until November 4. The SAP Social Sabbatical, a pilot project in 2012 and now a globally recognized CSR initiative, is a portfolio of volunteer programs in which SAP employees make available skills, expertise and know-how in single, short-term missions. Selected employees dedicate a month of their time to supporting and empowering emerging market organizations in the areas of education and entrepreneurship. The Moroccan leg will have 12 high-level SAP employees working with four local organisations - Enactus Morocco, Moroccan Center for Innovation and Social Entrepreneurship (MCISE), Start-Up Morocco and the United States Agency for International Development Career Centre. The organisations promote innovation, social entrepreneurship, economic growth and employability of young Moroccans. Frederic Alran, Managing Director of SAP Afrique Francophone, said the Social Sabbatical supports and complements the 17 SGDs of the UN by ensuring no one was left behind as the modern workforce prepared to interesting and rewarding jobs. He said SAP adopted the idea that training workers in a digital economy was its corporate responsibility. SAP believes large companies have a moral obligation to initiate people into the world economy, whatever their origins, the executive said. "The launch of social sabbaticals in Morocco perfectly complements our broader social development skills and initiatives in Morocco and provides local organizations with global skills and ideas to stimulate local development," said Alran. "In the globally integrated economy as we know it today, SAP needs leaders and talents who understand the global implications of our world that has digitized at a tremendous rate, adopting the idea of diversity and lifelong learning and committed to embody our vision and leadership principles." Meanwhile, of all countries participating in the SAP Skills for Africa,continental initiative for digital skills development, Morocco is the most committed with more than 165 000 young people. More than half of them women have been trained in basic skills in coding for the year 2016 alone.
press release
An unprecedented international collaboration of telescopes has lead to the first direct detection of gravitational waves – ripples in space and time – in addition to light from the spectacular collision of two neutron stars. The discovery marks the first time that a cosmic event has been viewed in both gravitational waves and light.
The discovery was made using the U.S.-based Laser Interferometer Gravitational-Wave Observatory (LIGO); the Europe-based Virgo detector; and some 70 observatories on the ground and in space observing the event at their representative wavelengths. Square Kilometre Array South Africa's new MeerKAT telescope, still under construction, contributed by observing the location of the astronomical collision on three separate days between 26 August and 17 September 2017. The sensitive MeerKAT observations indicate that on those days the source was very faint, no brighter than 60 micro-Janskys at a frequency of 1.3 gigahertz.
The gravitational wave signal, dubbed GW170817, was first detected by two identical detectors of LIGO, located in Hanford, Washington, and Livingston, Louisiana, on 17 August 2017. At nearly the same time, the Gamma-ray Burst Monitor on NASA's Fermi space telescope detected a burst of gamma rays. The information provided by the third detector, Virgo, situated near Pisa, Italy, allowed scientists to better triangulate the position of the cosmic event. The rapid gravitational-wave detection by the LIGO–Virgo team, coupled with Fermi's gamma-ray detection, enabled the launch of follow-up observations by telescopes around the world.
The LIGO data indicated that two astrophysical objects located at the relatively close distance of 130 million light-years from Earth had been spiralling towards each other. It appeared that the objects were not as massive as binary black holes – objects that LIGO and Virgo have previously detected (and for which the Nobel Prize in Physics for 2017 was recently awarded). Instead, the inspiralling objects were estimated to be in a range from around 1.1 to 1.6 times the mass of the sun, in the mass range of neutron stars. A neutron star is about 20 kilometres in diameter and is so dense that a teaspoon of neutron star material has a mass of about a billion tons. Neutron stars are the smallest, densest stars known to exist and are formed when massive stars explode in supernovae. As these neutron stars spiralled towards each other, they emitted gravitational waves that were detectable on Earth for about 100 seconds; when they collided, a flash of light in the form of gamma rays was emitted and seen on Earth about two seconds after the gravitational waves. In the days and weeks following the astronomical smash-up, other forms of light, or electromagnetic radiation – including X-ray, ultraviolet, optical, infrared, and radio waves – were detected.
The LIGO–Virgo results are published today in the journal Physical Review Letters. The observations have given astronomers an unprecedented opportunity to probe a collision of two neutron stars. "This detection opens the window of a long-awaited 'multi-messenger' astronomy," says David H. Reitze, executive director of the LIGO Laboratory. "It's the first time that we've observed a cataclysmic astrophysical event in both gravitational waves and electromagnetic waves – our cosmic messengers. Gravitational-wave astronomy offers new opportunities to understand the properties of neutron stars in ways that just can't be achieved with electromagnetic astronomy alone."
A separate paper being published today in The Astrophysical Journal Letters includes the results obtained by MeerKAT. It summarises the world-wide multi-messenger observations of the binary neutron star merger heralded by GW170817, which is rapidly becoming one of the most widely studied events in the history of astrophysics. This includes crucial visible-light observations by the Southern African Large Telescope (SALT) one day after the merger event; and monitoring by an international network of radio observatories that included SARAO's HartRAO.
Dr Fernando Camilo, Chief Scientist at the South African Radio Astronomy Observatory (SARAO), says: "The LIGO-Virgo gravitational wave detection and subsequent electromagnetic study of the binary neutron star collision is one of the truly wondrous moments of modern astrophysics. Many of us have dreamt about this event for decades, and it's more wonderful than we could have imagined. It raises as many questions as it begins to answer."
Camilo continues: "Deep understanding in this area will come from continued study of the electromagnetic radiation from the remnant of GW170817, which we expect to evolve over weeks and months; and from the detailed study of more such events to follow in the years to come."
"Currently, the radio waves from this source are too faint for the partially built MeerKAT to detect," adds Camilo, "but our sensitivity at the radio frequency we use is already among the best in the world, and our scientists and engineers in South Africa are working hard on making it even better."
In conclusion, Camilo notes that "the initial observations we're making of GW170817 indicate that we're already contributing meaningfully in this area – in other words, even as we're still building it, MeerKAT has started to do science".
*Adapted from an original press release written by Jennifer Chu, MIT News Office
The large international start-ups like Jumia and Uber may attract the lion's share of the investment but they're not having it all their own way. Craft Silicon launched Kenyan start-up Little to compete with Uber. Russell Southwood talked to Kamal Budhabatti about his ambitions for Little and how it fits into the payment system ecosystem he is building with Craft Silicon.
Kamal Budhabatti launched Little because he thought he could do it better than Uber:"We saw there was an opportunity with the things that were happening on Uber. But the drivers didn't always like what Uber was doing so we wanted to build a product that was appreciated by drivers. It would be an Uber for Africa. We ran a small pilot and it worked out well so we launched 8 months back".
Little takes 15% from its drivers that is probably less than Uber is charging them:"Drivers can withdraw money from their Little wallet at any time. They go to the app and move money to their mobile money account."
According to Tech Loy, it has also said in February 2017 that it will launch a mobile phone-based Savings and Credit Co-operative Society (Sacco). Known as Little Sacco, it would be the first virtual Sacco in Kenya, and on the continent, when launched, and will cover Little's 5,000 drivers.
The Little app works in a very similar way to Uber's but has several significant differences. It can be used on pretty much all phones as it's not just a smartphone app but also can work with USSD by dialing a short code. The call to the short code generates a menu and the call uses adjacent cell towers to triangulate where the rider is. It also has a wallet that comes with the app and this means a rider can pay for a ride and send it to someone else. The rider can also use the app on Facebook Messenger and Little has got an IoT device that you can stick on a fridge and just press a button to get a cab.
Using this combination of smart, feature and basic phone users, it has got to the number two position behind Uber in Kenya. In doing so, it has attracted close to quarter of a million riders. There are two other ride apps in the market: Mondo Ride from the Middle East and Taxify from Estonia. Chinese billionaire Jack Ma has invested in Taxify Kenya's parent company through a ride company he partly owns called Didi Chuxing.
Little's parent company Craft Silicon is probably the second biggest payments processor in Kenya after Safaricom's M-Pesa. Last year it handled US$4.4 billion in payments. It does between 1-1.5 million transactions a day and has 9-10 million active customers.
So how does Little as a start-up fit into this kind of payment processor play?:"We wanted to start building verticals. So we launched Little for rides. We've invested (US$0.5 million) in Eat Out Kenya for hospitality and we'll be launching something in the healthcare space." It also wants to roll out the Little as a fintech product as "a small bank that sits inside the wallet."
Thus far Craft Silicon has self-funded these verticals but it is out in the market looking for US$100 million series B funding to expand Little across the continent. It's already started in Nigeria where it's carrying out tests and will do the same in Ghana before too long. It's also looking at a couple of countries in both Southern Africa and Francophone Africa so that it will then have an 8-10 country presence by mid next year.
As Budhabatti told me, the biggest challenge has been going from a B2B business with Craft Silicon to B2C with the new start-ups:"These are market businesses, transacting directly with customers. So we've had to learn from the experience. You need enough money to promote the product in the right way."
By Maria Macharia
Nairobi — AN expert is encouraged at the uptake of digital innovation in Kenya, among other East African countries. Gilbert Saggia, the Managing Director: East Africa at SAP Africa, pointed out Kenya has made a significant progress in areas like cloud adoption, which were beneficial to the economy. "Kenya, and East Africa in general, is enjoying the positive impact of digital innovation," Saggia said. He said for example, companies like Kenya Electricity Transmission Company had automated their business processes by moving entire infrastructure transmission projects from manual to SAP HANA.
"This is a positive stance to demonstrate that the country need to run smarter and efficient," Saggia said. On the other hand, Commercial Bank of Africa's investment in its workforce is yielding high returns. It started with the integrated SAP SuccessFactors platform, which allows CBA to plan, reward and retain its human capital, track performance against targets and engage in continuous learning and development.
Roopa Karemungikar, Managing Director of Altura, an SAP partner, said the ability to align all business processes across different countries would help CBA reduce paperwork, increase productivity and automate the bank transfer of salaries. With the internet of things (IoT) disrupting the African market, industry analysts, Frost & Sullivan forecasted significant growth within Kenya's ICT market in 2017.
This would be fuelled by connectivity and convergence. Services at the Mombasa port are improving and much faster following Kenya Ports Authority's switch to a new operational system. This has placed the port at 70 percent in the journey towards becoming a paperless port. The African Digitalisation Maturity Report indicates that Kenya has an extensive ICT infrastructure including mobile internet access. The country is more diverse and services centric which helps drives the expansion of digital services. - CAJ News
Photo: Facebook
Facebook founder Mark Zuckerberg at the Co-creation Hub in Nigeria (file photo).
By Stellar Murumba
Zuckerberg-backed start-up, Andela, has raised Sh4.1 billion to boost IT talent in three African countries including Kenya through South Africa-based CRE Ventures.
The amount brings the Africa-based start-up's funding to over Sh8.1 billion with previous support from Chan Zuckerberg Initiative, co-founded by Facebook chief executive Mark Zuckerberg's wife Priscilla Chan.
Andela is a network of technology leaders dedicated to building high-performing engineering teams and companies by investing in Africa's most talented software developers.
The start-up's Nairobi office Andela Kenya said it has supported 300 local engineers since it started work in the last two years. "In the two years since we launched Andela Kenya we've already become home to 300 brilliant engineers who are redefining the meaning of leadership on the continent and building a reputation for technological excellence," said Country Director, Joshua Mwaniki.
Other financers namely DBL Partners, Amplo, Salesforce Ventures, Africa-focused TLcom Capital and existing investors; GV, and Spark Capital have participated in the investment.
The founding partner of CRE Venture Capital, Pule Taukobong said Andela was initiated to meet the global technical talent shortage and has currently hired 0.7 per cent of more than 70,000 applicants from the region. It currently has other offices in Nigeria and Uganda, with plans to open two more offices in the region over the next year - doubling its developer base from 500 to 1,000.