News
By Abu-Bakarr Jalloh
What's behind the new push to introduce a West African single currency, the Eco? A statement by Ghana's finance minister indicates Accra may be making one last attempt to realise this elusive goal.
"The single currency for 2020 vision is: let's find two, three or four countries that are ready. Once they meet up, we follow through with the others cascading in," said Ken Ofori-Atta, Ghana's finance minister, at a meeting of West African ministers in Accra on Wednesday.
Ofori-Atta's statement appears to be clearly directed at Nigeria, the West African region's economic powerhouse that has put up stiff resistance to the Eco.
Eco-skeptic Nigeria
Nigeria, however, is not convinced about the benefit of a single currency to its mega economy, whose Gross Domestic Product (GDP) quadruples the rest of the others combined, with the exception of Ghana.
"How do you ensure that it doesn't look like unfair imposition, especially when Nigeria's economic growth rate improves geometrically better than theirs?" That is what Michael Adedotun said in an online survey by the Nigerian survey portal This Day Live. "That will cause serious bad blood," Adedotun added.
Adedotun's sentiments are echoed across Nigeria. "Nigeria doesn't really need the Eco; what it truly needs presently is to keep its house in order," Lagos resident Patience Eneyeme said in the same survey.
"The idea of a single regional currency in West Africa, though appealing, may not benefit Nigeria in the long run because of the identified issues of corruption and cross-border capital flight across member nations," said Abuja resident Iheanyi Chukwudi.
Chukwudi added that "an Eco may encourage looting and this will be counter-productive to development. Nigeria, which contributes around 75 percent of the region's GDP, doesn't really need the Eco for now; maybe much later when regional integration is better."
CFA Franc against Eco
The year 2000 had ushered in hopes for a single currency. Proponents of the Eco argued that trade barriers would be significantly reduced, if not wiped out completely, and cross border trade would increase.
But Nigeria, whose GDP is nearly 80 percent more than that of the poorest member of the West African economic community ECOWAS, The Gambia, was extremely skeptical.
The West African Monetary Zone (WAMZ) which includes Nigeria, Ghana, Guinea, Sierra Leone, The Gambia and Liberia laid down stringent parameters as a basis for the single currency to be introduced.
ECOWAS' Francophone nations opted out of WAMZ and instead chose to stick with the CFA Franc, whose value is pegged to the Euro and guaranteed by the French Treasury.
WAMZ members, however, failed to meet the criteria of having a single digit inflation rate and a fiscal deficit of no more than four percent annually. As a result, the currency launch had to be postponed on several occasions.
Ghana bets on Eco
Ghana now sees its future in the Eco. "The 350 million market is important to us for our industrialization drive," Finance Minister Ofori-Atta said, referring to the bloc's Anglophone population.
"I think if Ghana positions itself well, we'll be a great beneficiary. The economic activity in the ECOWAS region is improving and most of the large economies are experiencing economic rebound," he added.
Ghana's President Nana Akufo-Addo hopes the meeting will fast track the process of introducing the currency.
"We remain determined to have a single currency, which would help remove trade and monetary barriers, reduce transaction costs, boost economic activities and raise the living standard of our people," Akufo-Addo said at the meeting on Wednesday.
The president's statement indicates that Ghana could go ahead and implement the Eco even if Nigeria doesn't feel ready.
Many users writing on DW Africa's Facebook page welcome the meeting. "It is long overdue," said Bright Y.G. "I pray this time around they stick to the agenda 2020 and implement it eventually."
"They've been talking about it since anyone can remember," said another user Michael A.
Others advised caution. "It will be an economic burden to the bigger countries like Nigeria," said Tony C. "The onus would lie on such countries to maintain the currency while others relax."
"Will it stop corruption in Africa? Will it create employment in Africa? Will it stop tribalism in Africa? Will it stop power lovers in Africa? Will it stop bad leadership in Africa?" asked Paschal C.
"They should think of how to upgrade the income of their people and make Africa a better place to be. That meeting is a waste of resources," he added.
Isaac Kaledzi in Accra contributed to this report
New signing forward Shaban 'Tchabalala' Hussein netted the only goal as Rayon Sports claimed a deserved 1-0 win over a Lydia Ludic Burundi Académic in the preliminary round return leg of the 2018 CAF Champions league at Prince Louis Rwagasore Stadium in Bujumbura to qualify 2-1 on aggregate
Irambona's thunderbolt from a tight angle in the 28th minute with good combination of Shassir Nahimana and Djabel Manishimwe, which helped Olivier Karekezi's side to qualify to the first round of the CAF Champions league.
Rayon Sports defense, marshaled by Thierry Manzi, Faustin Usengimana, Ange Mutsinzi and Eric Rutanga, displayed a solid performance and didn't allow Lydia Ludic Burundi Académic attackers a sniff at Eric 'Bakame' Ndayishimiye's goal until the last minute.
Burundian champions put pressure on Rayon Sports especially in second half by created more scoring opportunities through Moussa Harerimana, Seif Ndizeye, Jules Ulimwengu and Djamal Bazunza but denied by goalie Ndayishimiye.
Rayon Sports chances came through Nahimana, Djabel Manishimwe, kevin Muhire and Shaban 'Tchabalala' Hussein but failed to score.
Rayon Sports went into the return leg knowing that they need a win to seal qualification to the next round while Burundian champions needed a goalless draw to reach to the next round.
In first leg, forward Jamali Bazunza gave the visitors the lead before Burundi international Hussein 'Tchabalala' Shaban equalized for Olivier Karekezi's team.
Rayon Sports will face the 2016 champions Mamelodi Sundowns of South Africa in the round of 16.
By Anita Powell
Sub-Saharan Africa continues to appear at the bottom of Transparency International's annual index, with the violent, chaotic East African nation of Somalia maintaining its 12-year streak as the lowest rated nation on the chart that tracks perceptions of corruption in 180 countries.
The index also found that more than two thirds of the countries surveyed scored below 50 points on the 100-point scale, with an average score of 43. African nations averaged a score of 32. No nation has ever earned a perfect score. New Zealand leads the index with 89 points. Somalia scored just nine.
Transparency International's regional adviser for Southern Africa, Kate Muwoki, described the year in corruption on the continent.
"To put it simply, most African governments are failing to address corruption in the region, although we do have leaders that have invested in systemic responses to build strong institutions and create behavior change," she told VOA from Berlin, where the organization is based. "... So, in terms of some of these rays of hope, at the top of the table we have Botswana, Seychelles, Cabo Verde, Rwanda and Namibia, who all score, currently, over 50 … And then, in terms of the very bottom of the table, there hasn't been much change. We still have the likes of South Sudan, Somalia, right at the bottom, and significant declines from countries like Malawi, Madagascar, Mozambique and Guinea-Bissau."
But Muwoki says things may change, as the African Union and several key African leaders, notably the presidents of the two largest economies on the continent, Nigeria and South Africa, have recently made clean governance a pet issue.
Key resignations
The year 2017 also saw the fall of several regimes long accused of shady dealings.
No fewer than four heads of state accused of major financial crimes resigned in the past year: Gambia's Yahya Jammeh, Angola's Jose Eduardo dos Santos, Zimbabwe's Robert Mugabe and, most recently, South Africa's Jacob Zuma. A high-level corruption scandal also tainted the administration of Ethiopian Prime Minister Hailemariam Desalegn, who resigned earlier this month amid mounting anti-government protests.
But holdouts remain: The Democratic Republic of Congo's entrenched, corruption-accused leader has repeatedly postponed elections, and the leaders of Uganda, Equatorial Guinea, Gabon, Congo, and Cameroon have all long remained in power amid allegations of mismanagement. Corruption investigations continue into current and former officials across the continent.
Rays of hope
Zuma's successor, Cyril Ramaphosa, has made fighting corruption his key issue. The multi-millionaire businessman, this week, called for top government officials to be audited, starting with himself. Several other African heads of state have done the same in recent years.
"Now, if there ever has been anything that many South Africans would like to have line of sight of, it is the lifestyle audit of their public representatives," he said Tuesday. "Now that is something that I believe we have to do, and this will be done starting with the executive of the country, yes, we will go in that way," Ramaphosa said.
And in Nigeria, President Muhammadu Buhari recently announced that all national assets recovered in a recent anti-corruption drive would be sold to benefit the treasury. Buhari is also the chairman of the AU anti-corruption effort.
Muwoki says the global watchdog has noted these new developments, but urged citizens to keep up the pressure by shining light on suspected corruption.
"2018 marks a very important year for the continent," she said. "We have seen this renewed commitment from the African Union and from leaders at the recent summit in Addis Ababa. It is encouraging and we definitely support this … these are some of the things that we would be encouraging civil society and media, and some of these other key stakeholders to hold these leaders to account."
By Chris Agabi
The President of the African Development Bank, Dr. Akinwumi Adesina has made a strong case for increased American and global investments to help unlock Africa's Agriculture potential.
He made the remarks as the Distinguished Guest Speaker, at the USDA's 94th Agriculture Outlook Forum in Virginia on Thursday, on the theme The Roots of Prosperity.
A statement quoted Adesina to have said, "for too long, Agriculture has been associated with what I call the three Ps - pain, penury, and poverty. The fact though is that agriculture is a huge wealth-creating sector that is primed to unleash new economic opportunities that will lift hundreds of millions of people out of poverty."
Participants at the Forum included the Secretary of Agriculture, Sonny Perdue; Deputy Secretary of Agriculture, Stephen Censky; President of the World Food Prize Foundation, Kenneth Quinn; Chief Economist of the U.S. Department of Agriculture (USDA), Robert Johansson; Deputy Chief Economist, Warren Preston; and several top level government officials and private sector operators.
Adesina appealed to the US private sector to fundamentally change the way it views African agriculture.
"Think about it, the size of the food and agriculture market in Africa will rise to US $ 1 trillion by 2030. This is the time for US agri-businesses to invest in Africa," he said. "And for good reason: Think of a continent where McKinsey projects household consumption is expected to reach nearly $2.1 trillion and business-to-business expenditure will reach $3.5 trillion by 2025. Think of a continent brimming with 840 million youth, the youngest population in the world, by 2050" he said.
The U.S government was urged to be at the forefront of efforts to encourage fertilizer and seed companies, manufacturers of tractors and equipment, irrigation and ICT farm analytics to ramp up their investments on the continent.
By Samuel Akapule
Bolgatanga — Teachers will no longer be allowed to use their mobile phones during lesson hours, the Upper East Regional Director of Education, Ms Patricia Ayikor, has warned
According to her, the directive coming from the Ghana Education Service was as a result of the way and manner many teachers are often seen glued to social media by using their phones during contact hours.
The Regional Director of Education announced the warning in a speech read by the Bolgatanga Municipal Director of Education, Madison Amoakese, on her behalf during this year's Catholic Education Week, held in Bolgatanga on Friday.
The theme of the conference, 'Catholic Education- Opening and creating opportunities for the education' was aimed at taking stock of the past activities of Catholic Education and to see how to help improve upon the standards of education.
Ms Ayikor indicated that monitoring visits conducted by her outfit confirmed that many teachers were using lesson hours on the social media at the expense of teaching students and warned that it would not be tolerated.
She, therefore, warned such teachers to always ensure that they put off their mobile phones during lesson hours to avoid any embarrassment and sanctions.
The Regional Director commended the Catholic Church for their contributions toward education and gave the assurance that GES would continue to support them to help deliver quality education in Ghana.
"As Catholic teachers you must endeavour to carry the tabernacle of Christ and the church to the classroom to help bring about greater societal changes so as to help accelerate the development of the region and the nation as a whole," she said.
She explained that as part of measures to help improve upon the educational standards of the schools, the Guidance and Counseling Units of schools were being strengthened and indicated teachers had been selected in each of the school to take charge of that responsibility.
Mr Jesse Joseph Paine, the Chairman for the occasion, who is also a retired educationist, impressed upon teachers to be role models by ensuring that the right values of society were instilled in child upbringing.
The Chairman mentioned corruption, stealing, laziness, drug and alcoholic abuse, disrespect, lateness to work and programmes as some of the worrying trends and called on teachers to help change the trend by imbibing good values in pupils and students they teach.
Whilst lauding the efforts of Catholic teachers for working hard to complement the government's efforts in education delivery, the Regional Manager of the Catholic Education, Reverend Sister Bernardine Pemi, urged poor performing schools to work harder to change the trend.
By Sylvester Kumwenda
Lilongwe — Unicef Malawi has embarked on a campaign of distributing 40 000 liters of safe water on a daily basis to Mitengo community in Lilongwe, after the area recorded 10 cholera cases and ended the life of a 10 year old child.
At Mitengo community, almost all members rely on wells and Lilongwe River as a source of water.
UNICEF Malawi country representative, Johannes Wedening told journalists on a media trip to appreciate the water distribution process and the water sources used by the community that have proved dangerous as their waters are not safe for consumption.
"The cholera epidemic in Lilongwe city is a serious public health hazard and as UNICEF, we believe this is primarily caused by unsafe water and poor hygiene practices.
"Tests have shown that all open wells and many boreholes in Lilongwe city are contaminated and should not be used for drinking. On the other hand, rivers and open wells are not a good source of drinking water.
"Hence, the distribution of the potable water is one way of making sure that people here at Mitengo have safe drinking water to prevent possible future outbreaks," said Wadening.
More on This
However, he said it is everyone's responsibility to make sure they protect their families through practices like regular hand washing and safe disposal of faeces.
Wadening however said the campaign, which is being done with support from DFID is just a short term measure noting that there is need for the Lilongwe Water Board to come up with permanent solutions.
In his remarks, Director for planning and development in the Lilongwe District Council, Douglas Moffat said they are working hand in hand with the LWB so that the area should in the future have piped water.
"Firstly, LWB has helped us since the initial cases were reported by providing us with water bowsers. But for the long term solutions, the LWB has assured us that they will have to conduct a research work to see how best piped water can reach this area," said Moffat.
One of the victims of Cholera outbreak in the village is 38 year old Blessings Kachingwe, who suspects to have contracted the disease from her seven year old daughter.
Kachingwe who both with his daughter made a full recovery said the distribution of water would help in making sure people access safe water and prevent new cases.
However, he said everyone should take precaution in order to fully combat cholera.
"I urge everyone to observe hygiene in everything they do. They should make sure they drink only safe water.
"On the other hand, if they observe any signs of cholera which include vomiting and diarrhoea, they should rush to their nearest hospital for medical attention. Doctors are there ready to help," said Kachingwe.
Photo: The Namibian
Former presidential affairs minister Immanuel Ngatjizeko (file photo).
By Sakeus Iikela
Former trade and industrialisation minister Immanuel Ngatjizeko has retired, two weeks after he was appointed presidential affairs minister.
State House press secretary Alfredo Tjuirimo Hengari said in a statement yesterday that the decision to retire was taken based on a recommendation of his doctor "with immediate effect".
Ngatjizeko had been given the presidential affairs portfolio after his predecessor, Frans Kapofi, was moved to the home affairs ministry.
During a Cabinet reshuffle announcement two weeks ago, President Hage Geingob said he had moved Ngatjizeko to presidential affairs so that he can "look after, and monitor his health".
The former trade minister is the latest top politician to retire due to ill-health this month following the retirement of former vice president Nickey Iyambo, who also quit due to health reasons. Former deputy minister of labour Alpheus Muheua also resigned last month due to health issues.
Geingob yesterday commended Ngatjizeko's contribution to the nation and the Swapo party.
"You have been a model cadre and an outstanding servant to the people of Namibia, and this is evident through your reputation as an admired and respected leader within the community," Geingob was quoted as saying in the statement.
Ngatjizeko has been a member of parliament since 2000, and member of Cabinet since 2003.
He has served as director-general of the National Planning Commission, a position equivalent to that of a minister.
He also served as deputy minister of mines and energy, minister of labour and social welfare, minister of safety and security and finally minister of trade and industrialisation - until he moved to presidential affairs last month.
It is not known whether Ngatjizeko also relinquished his parliamentary seat.
Swapo Party chief whip Evelyn !Nawases-Tayele said she has not received any official communication concerning him.
She said the decision would only be taken when he [Ngatjizeko] communicates his resignation to the Speaker of the National Assembly, Peter Katjavivi.
Photo: The Guardian
By George Opara
Abuja — The Senate committee on Public Account yesterday announced the uncovering of $100 million allegedly spent on four airport terminals.The former Minister of Finance and Coordinator of the economy, Ngozi Okonjo- Iweala, was claimed to have obtained the loan.
According to the committee, the credit was expended without the approval of former President Goodluck Jonathan.The airport terminals are those in Port Harcourt, Lagos, Kano and Abuja.This revelation followed an investigative hearing organised by the committee to ascertain the $650 million balance of Eurobond with the Transmission Company of Nigeria (TCN).
Also included is that of the Nigeria National Petroleum Corporation (NNPC), with Debt Management Office (DMO) and the Aviation Ministry in Abuja.The Chairman of the committee, Senator Matthew Urhoghide, representing Edo South, affirmed that the then minster and the DMO boss, acted without due process.He alleged that they: "made payments to chains of company and the letter on page 12 signed by one Haruna Mohammed only indicated that, the ministry had written to the president informing him on how the money would be spent.
"What the minister considered to be an approval was not so. The letter that was submitted was for the issue of meter and based even on the $100 million."Urhoghide added that the committee discovered that the former president only noted the letter, which the ministry took to be an approval from him.He said the minister never asked the former president for an approval, but the DMO boss acted on the letter as directed.
In her reaction, the DMO Director General, Patience Oniha said: "Some high level discussions took place that made the ministry to take the decision.She added that Okonjo-Iweala knew about the letter by Mohammed.
By Business Correspondent
International investors will get a chance to consider the vast investment opportunities in Zimbabwe's growing mining sector at a mining indaba to be held from 27 to 28 February 2018 at The Meikles Hotel in Harare.
The conference is hosted by the London-based MiningReport in conjunction with the Chamber of Mines of Zimbabwe and the Mines and Mining Development Ministry.
President Emmerson Mnangagwa will officially open the indaba, which has attracted interest from over 20 countries. He has pledged to make economics and trade cooperation, rather than politics, his government's main priority "in order to catch up with the region".
Over 300 high profile decision-makers representing local, regional and international players involved in Zimbabwe's mining sector are expected to attend the two-day event.
Liberation Mining, who are the conference's lead sponsors, will be represented by CEO Victoria Tskhovrebov, while co-sponsors African Chrome Fields will be represented by their national project director, Ashruf Kaka.
In a statement, lead sponsors Liberation Mining said: "Liberation Mining, together with its partners, has a long-term commitment to Zimbabwe's economy and social development, welcomes current changes in the country's business environment and is looking forward to further investing in its growth and the prosperity of the people of Zimbabwe".
Speaking to journalists in Harare on Wednesday, Mines and Mining Development Minister Winston Chitando said: "The event will be officially opened by His Excellency, President E.D Mnangagwa and has attracted interest from over 20 countries and we are excited to have engagements with the Zimbabwean mining industry and international investors."
With the new government's key message to international investors being "Zimbabwe is open for business", government officials will address the ease of doing mining business, showcase investment opportunities and discuss mineral value addition, among other issues.
Zimbabwe is endeavouring to be among the most attractive and safest mining investment destinations with clear and predictable investment policies and incentives. In his December 2017 budget statement, Finance Minister Patrick Chinamasa said the 51-49 per cent local-foreign shareholding structure shall only apply to diamonds and platinum, allowing foreign investors to now own up to 100 per cent in all other mineral projects.
In a statement, conference hosts MiningReport said: "We are bringing together mining companies, government stakeholders and a broad range of investors including sovereign wealth funds, and the media. Make sure you join us to connect with these key stakeholders. Zimbabwe is on a path to becoming one of the leading mining investment destinations in Africa."
Zimbabwe's 800 mines have capacity to earn US$18 billion per annum but were only turning out about US$2 billion annually since 2009. This represents about a tenth of the sector's full potential and translates to an incredible opportunity for investors, and the government has pledged to create an enabling environment for investors.
The country's vast mineral wealth includes the second largest platinum and chrome deposits in the world, and the country is the fifth largest producer of lithium in the world.
"We have over 40 different minerals in the country, including diamonds, gold, platinum, chrome, copper, nickel, iron ore and lithium. The country also has rich coal deposits and many other minerals. Research shows that Zimbabwe has six out of 10 of the world's most valuable minerals.
"This massive resource base creates lucrative opportunities for investors in exploration, mining and beneficiation. So, we are open for business," Minister Chitando told a mining conference in Cape Town, South Africa, earlier this month.
Zimbabwe has many emerging producers as well as exciting exploration, brownfield and operating projects starved of capital that represent an outstanding opportunity for investors to move in now to reap the rewards in the future.
The mining sector has great scope for growth with the potential to attract USD$12 billion over the next 5 years. Mineral export receipts of $2,5 billion are projected for 2018, up from $2,3 billion in 2017.The mining industry contributes around 13 per cent of gross domestic product and 68 per cent of Zimbabwe's total export receipts.
Conference video: https://youtu.be/MMlamfavBEM
For more details on the conference, including bookings, please visit www.miningreport.co/zimbabwe.
Striking mineworkers at Gupta-owned Optimum Coal Mine have demanded to know the "truth of the sale" of the mine.
Workers downed tools on Wednesday morning, saying there was uncertainty over their jobs and the future of the mine.
A large group of mineworkers gathered at the main gate of the mine early on Thursday morning, insisting that management briefs them.
Optimum Coal CEO George van der Merwe received a memorandum from them.
In the memorandum, they demanded to know if they would be paid and asked to be informed of plans to pay outstanding debt to creditors.
Van der Merwe said he and his management team would go over the memorandum before they respond.
"The truth that we will give you won't always be what you wanted to hear, but it will be the truth. The situation that we are in today is not as a result of only our own making, but the result of external forces," Van der Merwe said.
On Wednesday, general manager Howard Pyoos said the Department of Mineral Resources was not aware of any possible sale of the mine because they had not filed for its transfer yet.
The sale of mining rights requires approval from the minister.
Pyoos told the workers that Swiss-based Charles King, which wanted to buy the mine, had already paid a deposit.
"A portion of that memorandum... required a deposit and, if the sale does not go through, that deposit must be given back to the buyer," Pyoos said.
Rapport reported on February 11 that Ajay Gupta was spotted at Optimum on Tuesday, February 6.
Ajay landed in a helicopter at the mine with Ronica Ragavan, the chief executive of the Guptas' holding company Oakbay Investments, who was arrested by the Hawks during raids at Gupta properties last week, in relation to a case involving the Estina dairy farm.
She was later released on bail.
According to the Hawks, Ajay is currently a fugitive from justice in an unrelated case.
News24
By Lahja Nashuuta
Windhoek — Defence Minister Penda ya Ndakolo admitted to fellow lawmakers in the National Assembly this week that he did not inform President Hage Geingob, who doubles as commander-in-chief of the country's armed forces, about the military's decision to purchase the N$45 million Oropoko farm.
The reason for failing to inform President Geingob ahead of the purchase, said ya Ndakolo, was because of Geingob's heavy schedule.
"At the time of the purchase of Oropoko farm, His Excellency the President of the Republic of Namibia and commander-in-chief of Namibian Defence Force, was not briefed due to his heavy schedule. He has however now been properly briefed on the matter," ya Ndakolo told the National Assembly.
The purchase of Oropoko farm, situated some 60 kilometres north-west of Okahandja, caused alarm when it first appeared in the media especially given its costs and at a time the defence ministry was reportedly sending soldiers home to cut operational costs.
This prompted Geingob to publicly remark: "I hope what I read is not true, that the Ministry of Defence bought a farm for N$45 million while they are sending troops home. I do not know if it was done last year. Minister, we need to talk, because I do not see the urgency, while we are sending people back (home)."
In his address to the National Assembly, ya Ndakolo said not only was farm Oropoko purchased in March 2017, but it was also purchased after abandoning an approved and budgeted spending of setting up a shooting range at farm Etiro in Karibib area, at a cost of N$2,37 billion.
That spending, he said, was registered with the National Planning Commission to take place in phases. with the first phase costing N$500 million. The first phase design was to accommodate 300 soldiers.
"While pondering on the huge costs of the base [at Etiro farm], an offer to purchase Oropoko farm was given," says ya Ndakolo. He maintains that Oropoko is suitable for the base that was to be set up at Etiro farm.
"Oropoko has well developed infrastructure such as accommodation facilities for up to 300 soldiers, aircraft landing strip, helicopter pad, shooting range, swimming pool, laundry, conference centre, a mechanical workshop, independent water infrastructure and besides being connected to the national electricity grid, it has a local electricity generating capacity," says ya Ndakolo.
He also insists that at N$45 million, the costs of purchase are much cheaper when compared to the original asking price of N$69 million and the N$500 million that was planned for the development of the same base at Etiro farm.
Ya Ndakolo maintained that although he failed to inform Geingob on the matter, all procedures were followed. "The purchase contact was negotiated through the necessary legal processes, including passing through the Office of Attorney-General. The settlement of the contract was also done through the Ministry of Finance as per State Finance Act and was signed between the owner and the permanent secretary of Works and Transport which is the custodian of government properties," he said.
The minister said despite the financial crisis, there exists the need to purchase the farm due to lack of infrastructures to accommodate national defence force as most of the infrastructures built during the colonial era where made from the prefabricated material and have since dilapidated, while some where turned into private properties after independence.
"The purchasing of Oropoko farm is not only a gain to the Ministry of Defence but it is also a benefit to the government and to Namibian people in general," he said.
By Prince Mukuna and Sibongile Maruta
A Harare filling station shut down its operations on Tuesday after it emerged that its petrol was contaminated with water. Engen Petroleum at the corner of Kaguvi Street and Robert Mugabe Road had to stop serving customers following complaints by at least four motorists that contaminated petrol had caused mechanical problems to their vehicles.
The vehicles failed to start after they had received petrol with water, which led to the filling station to stop serving fuel, only to reopen on Wednesday.
The Zimbabwe Energy Regulatory Authority (ZERA) confirmed the development, saying a team of investigators had been dispatched to the filling station.
ZERA head of the petroleum department Engineer Andrew Guri said his team established that the fuel was indeed contaminated and that the operator was now in the process of cleaning the tanks.
Eng Guri said ZERA had not received an official complaint from the motoring public, hence no charges were preferred against the Engen Petroleum branch.
"We conducted some tests and they were positive. ZERA is mandated to prosecute retailers who sell contaminated fuel knowingly. In Engen's case, the proprietor is working on resolving the issue and they had already stopped serving fuel," he said.
"No motorists filed complaints with us and when our team arrived at the scene, there were no motorists being served neither were there complaints by any affected customers."
A fuel attendant at the filling station confirmed that some vehicles' engines had been affected by the contaminated fuel.
"Four vehicles failed to start after we had served petrol, only to find out that the fuel was contaminated," said the attendant. A motorist, Mr Brighton Maboda, was on Tuesday complaining that his Volkswagen Polo had been affected by the contaminated petrol.
"I tried to start the engine just after buying petrol, but it failed to start. I called my mechanic to check on it and he concluded that it had been affected by the contaminated fuel. Engen staff is denying liability and are refusing to assist me," he said.
By Larry Ngala
Home player Erick Ooko completed a four rounds total of six under par 282, to claim the fourth leg of the Kenya Open qualifying series at Royal Nairobi Golf Club on Thursday.
Ooko, who led from start to finish, fired two under par 70 in the final round, win by a six shots margin from Nyali's Njuguna Ngugi.
"My game has been good since we started the series as I am driving well, chipping and putting well though I think it's because I'm mentally stable at the moment due to the training we went through recently," said Ooko.
It was his first and second holes birdies in addition to a third one at the fifth which propelled him to the four under par score.
"I dropped a shot at the par five-15th but that was basically the only hole I did not play well. I will continue working hard as we approach the Kenya Open where I really want to play well so that I get a chance of travelling for other international events," added Ooko.
On the other hand, the Coast-based Ngugi bogeyed two holes at the front nine where he only birdied at the par five-second.
The Glo-sponsored African Voices on Cable News Network (CNN) will this week feature Africa's Athletes who have taken the world by storm and are conquering competitions.
The 30-minute magazine programme which comes up at 11.30a.m. on Friday is also repeated at 7a.m. and 4.30p.m. on Saturday and at 12.30a.m., 4.30a.m. and 8p.m. on Sundays. The show will also be aired at 5a.m. on Monday and at 10.30a.m. on Tuesday.
In a press statement in Lagos, Globacom said the weekend's edition of the programme will focus on the activities of three of the continent's athletes who are dominating their respective sports across the world.
Those to be featured on the programme, according to CNN, include Winnie Okoth, Othmane Choufani and Tiranesh Dibaba.
A Kenyan, 26 -year old Winnie Okoth is a coach at CrossFit Kwetu. She is redefining and forging a path in weightlifting, a field dominated by the opposite sex. She was crowned fittest woman in Kenya 2017. Winnie's ambitions are to empower the young generation to stay fit by embracing weightlifting and to bring home medals when she represents Kenya at the Olympics 2020.
The second guest is Othmane 'Hotman' Choufani, a big wave professional surfer from Agadir, Morocco. 23-year-old Othmane has participated at Mavericks, Teahupoo, Jaws, and Puerto Escondido.
Tirunesh Dibaba is an Ethiopian athlete who competes in long distance track events and international road races. She is the 5000 metres (outdoor track) world record holder and has won three Olympic track gold medals and five World Championship track gold medals, amongst other titles.
"This email, together with any attachments, is for the exclusive and confidential use of the address(es) and may contain legally privileged information. Any other distribution, use or reproduction without the sender's prior consent is unauthoriSed and strictly prohibited. If you have received this message in error, please notify the sender by email immediately and delete this message from your computer without making any copies.
Globacom is a Limited Liability Company with registration number 439916 and address at Mike Adenuga Towers, 1 Mike Adenuga Close, Off Adeola Odeku, Victoria Island, Lagos, Nigeria. Globacom Limited is registered to deliver Telecommunications services."
Desiree Ellis has been appointed permanent head coach of the Sasol-sponsored Banyana Banyana with immediate effect.
SAFA President, Dr Danny Jordaan made the announcement in Johannesburg on Thursday, 22 February 2018.
"We are glad to announce the appointment of Desiree (Ellis) as Banyana Banyana coach; she fully deserves the appointment as she has come through all the ranks of our national teams.
"Desiree has three tasks to achieve; qualify for AFCON 2018 in Ghana, qualify for FIFA World Cup and the Olympics. I am confident Banyana Banyana will be up to the task," said Dr Jordaan.
Ellis has been in charge of Banyana Banyana on an interim basis since 2016 - after the Rio Olympic Games and takes over from former coach Vera Pauw.
At the time, the former Banyana Banyana captain was the assistant to the Dutch-born Pauw.
"It is still sounds unreal; I honestly can't believe it is really happening. It has always been a dream of mine to be the head coach of Banyana Banyana; nothing comes bigger than this. Being in the acting role since 2016 has probably prepared me for the most daunting task of them all in women's football. I have always believed, and now it is a reality," said Ellis.
"I will be failing in my duties if I did not thank the South African Football Association (SAFA) for entrusting me with this job, even in the acting capacity. This appointment can only mean we are doing something right in women's football, and I hope it becomes a symbol to many girls and women out there that if you dream it, you can live it. I will do the best of my ability to make sure we continue on growing this beautiful game."
Her first assignment as head coach will be the Cyprus Women's Cup, a tournament she is very familiar with.
Banyana Banyana depart for Cyprus on Friday, 23 February and will play their first match on Wednesday, 28 February against Slovakia.
The other nations in Group C are Korea DPR and Hungary.
The 54-year-old Ellis is well aware what is at stake.
"Banyana Banyana has a very hectic 2018, and this Cyprus Cup could not have come at a better time. Because of the nature of the tournament, we are unable to win it but will instead use every opportunity to get ready for the upcoming AFCON qualifiers and the tournament proper - which also doubles up as a World Cup qualifier. But we are confident we will not disappoint as I believe we have a very solid team that will do the business," added Ellis.
"I will also like to take this opportunity to thank everyone who has supported me on this journey - all the players, the coaches, colleagues. I also need to make a special mention about Vera Pauw, from whom I have so learnt so much, as well as our proud sponsor Sasol, without whom we would not be here today. I believe with South Africa behind Banyana Banyana, 2018 is going to be a great year for all of us. We have a lot of work ahead, but I am confident we will get to our destination, which is qualifying for the World Cup in France."
Ellis has been in charge of Banyana Banyana in 15 matches, starting with the friendly international clash against Egypt (22 October 2016), which ended with South Africa winning 3-1 at the Dobsonville Stadium.
In total, she has won eight encounters, drew two and lost five. Her side has scored 27 goals and conceded 15 in the 12 away and three home matches.
Ellis is the only person to win the COSAFA Cup as both player and coach, and during her acting role, Banyana Banyana was voted the 2017 CAF African Women's Team of the Year.
South Africa finished fourth at the CAF African Women's Cup of Nations in Cameroon in 2017.
Banyana Banyana Matches under Ellis:
vs Egypt (Friendly)
22 October 2016
SA won 3-1
vs Zimbabwe (Friendly)
10 November 2016
SA won 3-0
vs Zimbabwe (AFCON)
19 November 2016
Drew 0-0
vs Cameroon (AFCON)
22 November 2016
SA lost 1-0
vs Egypt (AFCON)
25 November 2016
SA won 5-0
vs Nigeria (AFCON)
29 November 2016
SA lost 1-0
vs Ghana (AFCON)
2 December 2016
SA lost 1-0
vs France (Friendly)
17 January 2017
SA lost 2-0
vs Lesotho (COSAFA)
14 September 2017
SA won 3-0
vs Namibia (COSAFA)
15 September 2017
SA won 3-1
vs Botswana (COSAFA)
17 September 2017
Drew 1-1
vs Zambia (COSAFA)
21 September 2017
Drew 3-3 (SA won 5-3 on penalties)
vs Zimbabwe (COSAFA)
24 September 2017
SA won 2-1
vs Burkina Faso (Friendly)
22 October 2017
SA won 4-0
vs Sweden (Friendly)
21 January 2018
SA lost 3-0
P W L D GF GA
15 8 5 2 27 15
DESIREE ELLIS FACT FILE:
54 years old
Born and bred in Cape Town
Played netball, hockey and participated in athletics at Salt River Senior Secondary School
Played for Spurs Women's FC until 2004
Captained at club, provincial and national team level
Former member of the SAFA Western Province Coaching Committee and Convener of Girls U15 side in 1999
Former coach of the Provincial Girls U15 side at the Nike Premier Cup - third place in 1999 and second place in 2002
Head coach of the SAFA Western Province U19 Girls for the Inter-Regional Tournament in 2001
Head coach of Spurs WFC between 2004-2016 in the Vodacom and Sasol Leagues
INTERNATIONAL EXPERIENCE
Vice-captain of Banyana Banyana in 1993
Scored a hat-trick on debut when beating Swaziland 14-0
Captain of Banyana Banyana from 1994-2002
32 appearances
6 goals
Won the 2002 COSAFA Cup (last game for Banyana Banyana)
Assistant coach of Banyana Banyana between March 2014 and August 2016 (including at the Rio Olympics and 2016 Cyprus Cup)
Interim head coach of from October 2016 - to February 2018
Got 4th position at the 2017 AFCON in Cameroon
Won the 2017 COSAFA Cup
Became the first person (male or female) to win the COSAFA cup as player and coach
Presided over Banyana Banyana when named 2017 CAF National Women's Team of the Year.
Click to share on Facebook (Opens in new window)
Click to share on LinkedIn (Opens in new window)
Click to share on Twitter (Opens in new window)
Click to share on WhatsApp (Opens in new window)
Click to email this to a friend (Opens in new window)
By Sulayman Bah
City Girls are the team to beat in the Gambia Football Federation second tier women's division. City boss the standings on eight points ahead of Kintehs who've garnered fifteen points in a possible thirty.
Brikama United occupies the next slot sharing it with Jeshwang United with Berewuleng and Jam City at fourth and fifth respectively. Last weekend's schedules ended with Brikama overcoming Jeshwang while Kintehs walked over Berewuleng 2-0 and leaders City Girls spanking Jam City 2-0.
Nene Jallow of City Girls is the leading scorer on seven.
WEEK TEN
TEAM P W D L GF GA GD PTS
CITY GIRLS 10 7 2 1 14 6 8 23
KINTEHS 10 4 3 3 14 11 3 15
BRIKAMA UNITED 10 4 2 4 12 9 3 14
JESHWANG UNITED 10 4 2 4 11 10 1 14
BEREWULENG 10 1 5 4 4 11 -7 8
JAM CITY 10 2 2 6 4 12 -8 8
60 22 16 22 59 59 0 82
Trump-Russia: New charges for Paul Manafort and Rick Gates
These are external links and will open in a new window

Copy this link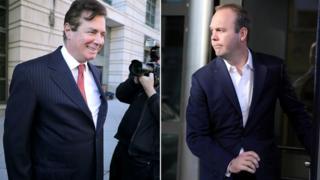 The special counsel investigating claims of Russian political meddling in the US has filed new charges against two former aides to Donald Trump.
Robert Mueller indicted Mr Trump's former campaign chairman Paul Manafort and business associate Rick Gates on multiple counts of tax and bank fraud.
Both were charged in October with conspiracy to launder money.
But there are no criminal allegations of collusion with Russia, the justice department investigation's main thrust.
A spokesman for Mr Manafort said he was innocent of the latest charges. Mr Gates lawyer is yet to respond to requests for comment, Reuters reports.
Mr Manafort resigned as chairman of the Trump campaign in August 2016 after being accused over his dealings with pro-Russian politicians in Ukraine.
The seasoned political operative has worked on several Republican presidential campaigns, beginning with Gerald Ford's in 1976.
What are the new charges?
Thursday's 32-count indictment alleges that Mr Manafort and Mr Gates conspired to hide more than $30m (£22m) in Mr Manafort's personal income from tax officials.
It also claims that Mr Gates concealed more than $3m of his own income.
The money "flowed through" a $75m offshore account controlled by them, according to the indictment filed by a federal grand jury in Alexandria, Virginia.
It is also alleged the two defendants filed tax returns to the US authorities from 2010-14 that they knew to be factually incorrect.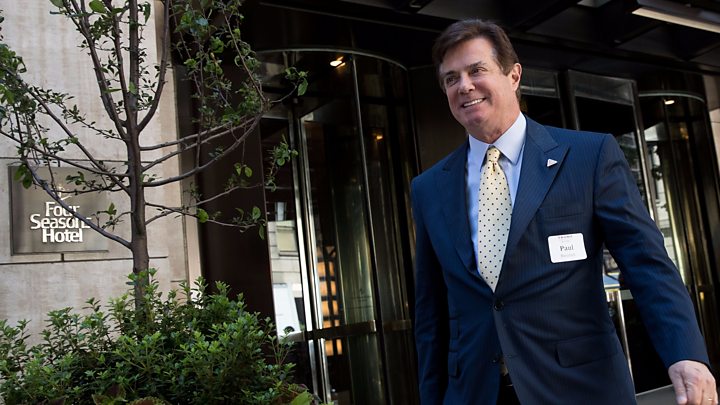 Mr Gates is accused of using his share of the cash to pay for "personal expenses, including his mortgage, children's tuition" and re-decorating his Virginia home.
Earlier on Thursday a court denied Mr Manafort's request to modify the terms of his house arrest.
The judge ruled that Mr Manafort's pledge to use his properties in Virginia and New York as bail collateral was "unsatisfactory".
The special counsel had opposed the bail application.
Mr Mueller's team argued the Manafort properties were related to "additional criminal conduct" and could be confiscated in the event of foreclosure.
How many people has Mueller charged?
Nineteen people, including four former Trump advisers, have been indicted by the special counsel.
But as President Trump has repeatedly pointed out, the ongoing inquiry has filed no charge that any of his associates colluded with an alleged Kremlin plot to influence the result of the 2016 presidential election.
Mr Manafort and Mr Gates pleaded not guilty last October to 12 counts including money laundering and conspiracy against the US, relating to the pair's Ukrainian business dealings.
Michael Flynn, a former US national security adviser, pleaded guilty to lying to the FBI over meetings he had with the Russian Ambassador, Sergei Kislyak.
George Papadopoulos, a former Trump campaign adviser, admitted lying to the FBI about his contacts with Russians.
Last week, 13 Russians were charged with tampering in the 2016 US election and a California man, Richard Pinedo, admitted an identity theft charge.
This week a London-based lawyer, Alex van der Zwaan, pleaded guilty in court to making false statements when questioned about his work for Ukraine's Ministry of Justice.
Dutch MPs vote to recognise disputed Armenian 'genocide'
These are external links and will open in a new window

Copy this link
The Dutch parliament has passed a motion recognising that the mass killing of Armenians by Ottoman Turks during World War One was a "genocide".
Armenians say up to 1.5 million of their people died in the atrocities of 1915. Turkey says the toll was much lower and rejects the term "genocide".
The move is likely to heighten Dutch-Turkish tensions at a time when they are already strained.
Turkey condemned the vote, saying it was not valid or legally binding.
"The politicisation of 1915 events by taking them out of historical context is unacceptable," a spokesman for the Turkish foreign ministry said.
Only three Dutch MPs opposed the motion, which includes sending a cabinet-level representative to the Armenian capital, Yerevan, for a commemoration event in April.
But the government has stressed that it will not change the Netherlands' official policy.
"The government will not follow the judgment of the parliament," Foreign Minister Sigrid Kaag told Dutch television before the vote.
"This cabinet wants to be very careful about relations with Turkey, which have been better," she added.
who wanted to hold rallies ahead of a referendum in Turkey on expanding the president's powers.
Since then, relations have deteriorated and earlier this month the Netherlands formally withdrew its ambassador to Turkey.
The vote in parliament is unlikely to alleviate these tensions, but other countries have tabled similar motions in the past.
More than 20 nations, including France and Russia, as well as Pope Francis, have recognised the 1915 killings as genocide.
Turkey denies that there was a systematic campaign to slaughter Armenians as an ethnic group during World War One. It also points out that many Turkish civilians died in the turmoil during the collapse of the Ottoman Empire.
Armenian genocide dispute
Hundreds of thousands of Christian Armenians died in 1915 at the hands of the Ottoman Turks, whose empire was disintegrating
Many of the victims were civilians deported to barren desert regions where they died of starvation and thirst. Thousands also died in massacres
Armenia says up to 1.5 million people were killed. Turkey says the number of deaths was much smaller
Most non-Turkish scholars of the events regard them as genocide - as do more than 20 states including France, Germany and Russia, and some international bodies such as the European Parliament
Turkey rejects the term "genocide", maintaining that many of the dead were killed in clashes during World War One, and that many ethnic Turks also suffered in the conflict
Syria war: Russia says no agreement on ceasefire resolution
These are external links and will open in a new window

Copy this link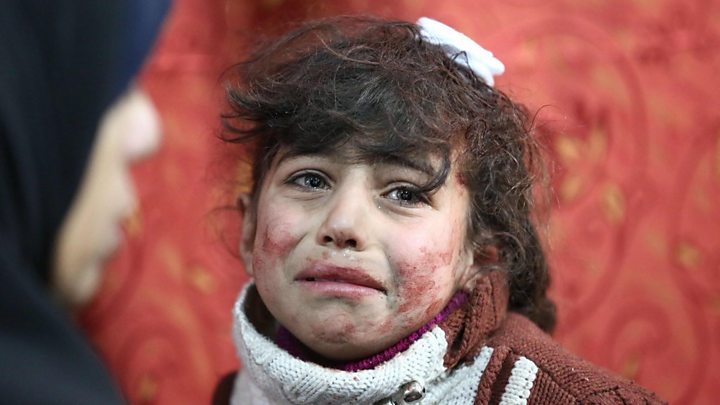 Russia says it wants changes to a UN Security Council resolution for a ceasefire in Syria amid growing outrage over civilian deaths in a rebel enclave under Syrian government bombardment.
Russia's UN ambassador called for "feasible" not "populist" action.
But Western diplomats say Russia is stalling for time and France said failure to act could spell the end of the Security Council itself.
Activists say 400 people have been killed in Eastern Ghouta in five days.
The UN body in New York is due to vote on the resolution on Friday at 11:00 local time (16:00 GMT).
Russia, one of five powers that can veto a resolution, is a key backer of Syria's President Bashar al-Assad in the civil war. Western powers suspect that Moscow wants to give its ally time to deal a final blow to rebel forces.
The United States, the UK and France are calling for the resolution to be approved without delay.
What does the resolution say?
The draft, put forward by Kuwait and Sweden, calls for a 30-day nationwide truce to go into effect 72 hours after the resolution is passed.
Medical evacuations and aid deliveries would start 48 hours after that. The draft says 5.6 million people in 1,244 communities across the country are in acute need.
Russia says it has presented amendments to the draft resolution - but Sweden's UN ambassador Olof Skoog told the BBC that getting aid to the Eastern Ghouta was the main objective.
"I think that without the pressure coming from a united Security Council things are not happening the way they should on the ground," he said.
"So I think for the council it's a little bit less about the details and more about giving a political pressure to ensure that this happens."
France's UN ambassador François Delattre said the UN's inability to help Syrian civilians would result in a devastating loss of credibility.
The draft resolution also calls for all parties to avoid establishing military positions in civilian areas, including schools and hospitals. Sieges of populated areas should be lifted.
What are the Russian objections?
Under the terms of the resolution, any ceasefire would not apply to the Islamic State group, al-Qaeda and the al-Nusra Front.
But Russian Foreign Minister Sergei Lavrov has made clear that Hayat Tahrir al-Sham, an al-Qaeda-linked alliance that has a presence in the Eastern Ghouta, must also be excluded.
Mr Lavrov said he also wanted to exclude rebel groups in the enclave who are "co-operating" with Hayat Tahrir al-Sham and shelling nearby government-held areas.
Russia's UN ambassador Vassily Nebenzia stressed the need for a resolution that would actually work.
"What we need is not symbolism, not decisions for the sake of decisions, but rather measures that are undertaken that are commensurate with conditions on the ground," he said.
How bad is the situation in the Eastern Ghouta?
For the fifth day running, Syrian government forces carried out a wave of air and artillery strikes.
The number killed since Sunday has risen to at least 403, the Syrian Observatory for Human Rights monitoring group says, as 46 more died on Thursday.
Barrel bombs and shell fire have rained down in what the UN has described as "hell on earth" for the 393,000 people trapped there.
The Syria Civil Defence, also known as the White Helmets, said , first from ground-to-ground rockets and then government and Russian jets.
Spokesman Siraj Mahmoud said the organisation was being deliberately targeted by government aircraft, with four rescuers killed since Sunday night. "Everyone knows it is an extermination," .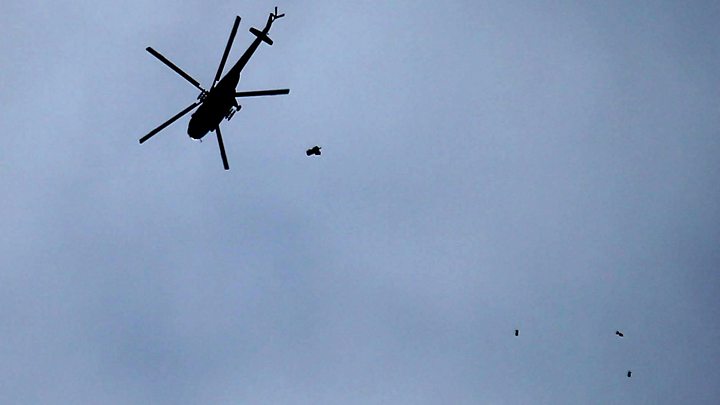 The Syrian state news agency meanwhile reported that . Army units responded with "precision strikes", destroying a number of rebel positions and inflicting heavy losses, it said.
The UN humanitarian co-ordinator for Syria, Panos Moumtzis, echoed calls for a ceasefire.
Referring to the harrowing images coming out of the Eastern Ghouta, he said: "If this is not going to convince [UN security] council members, council states, of the need for a ceasefire, honestly we don't know what is it that would convince them."
The Syrian government has denied targeting civilians and insisted it is trying to liberate the Eastern Ghouta from "terrorists" - a term it has used to describe both jihadist militants and the mainstream rebel groups that dominate the enclave.
Aid groups report dozens of hospitals being put out of action since Sunday.
Médecins Sans Frontières (MSF) said the government's siege was also preventing medics from obtaining essential life-saving supplies, warning that its facilities had completely run out of supplies of blood bags, general anaesthetic drugs and intravenous antibiotics.
Argentina foils diplomatic luggage cocaine plot
These are external links and will open in a new window

Copy this link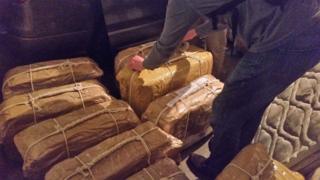 Argentina's security ministry says it has foiled a plot to use the Russian embassy's diplomatic courier service to smuggle cocaine to Europe.
Police seized nearly 400kg of the drug from diplomatic luggage in an embassy annex after being told about it by the Russian ambassador in December 2016.
They then mounted a sting operation, replacing the drugs with flour and adding tracking devices.
The operation has led to arrests in Argentina and Russia, officials say.
Argentine Security Minister Patricia Bullrich said the cocaine found in the Buenos Aires embassy was worth 50 million euros ($62m; £45m) and was of very high purity.
She said it was destined for Russia and probably also Germany.
Ms Bullrich added that the alleged mastermind of the smuggling operation was in Germany and she expected this person to be arrested by German police.
Two people have so far been arrested in Argentina and three in Russia.
Russian security services had helped in the investigation and one of those arrested in Argentina was a serving police officer in Buenos Aires, she said.
You might also like:
Maputo — The Japanese government has promised to finance a further three community projects in the Mozambican provinces of Maputo and Sofala, budgeted at about 153,000 US dollars.
An agreement on this funding was signed on Friday by Japanese ambassador Toshio Ikeda, and by representatives of the beneficiary institutions. The grants form part of Japan's Programme of Assistance to Community Projects and Human Security.
"I am pleased that we can begin a further three projects in cooperation with NGOs", said Ikeda. "The three projects cover agriculture, health and education, and it is hoped they will have a great effect on improving the living conditions of the local people".
The largest of the grants, for 79,400 dollars, is for a project to reactivate the Namaacha Agricultural Institute, in Maputo province. In charge of the project is the Italian NGO Progetto Mundo Mlal, which will be giving professional training courses in the agriculture and livestock areas. The project also includes installing a kitchen and canteen, building workshops and purchasing assorted technical equipment.
The Institute is being reactivated in partnership with the National Directorate of Technical Education in the Education Ministry, and the Catholic Archdiocese of Maputo, and it should be operational in 2019.
A grant of 56,335 dollars has been allocated to a project of the Portuguese NGO Medicos com Africa-CUAMM in the Sofala provincial capital, Beira, for the installation of Adolescent and Youth Friendly Serices (SAAJ) in the Inhamizua and Mascarenhas health centres, in the outlying, densely populated peri-urban area.
The SAAJ are intended to provide sexual and reproductive health services to young people in a friendly environment. The initiative is part of the general strategy of CUAMM to support the authorities in the fight against HIV/AIDS. It is expected to benefit about 18,000 people.
The final project is the rehabilitation of the Combatentes-Mafarinha Primary School in the town of Dondo, also in Sofala. This project, budgeted at 17,500 dollars, seeks to improve condition at the school by building two new classrooms, a storehouse and a surrounding wall. It will benefit at least 1,200 students.
Asmara — At a meeting held on 15 February at the Orrota Hall, the Ministry of Health designed a Road Map that will spearhead in the realization of the 2030 Sustainable Development Goals.
The Road Map that was designed in collaboration with the Ministry of Health and the WHO was aimed at successfully implementing the second health sector strategic development plan to meet health related Sustainable Development Goals.
Indicating that "Leaving no One Behind" is the motto of the Sustainable Development Goals, Mr. Delanyo Dovlo, Director of Health Systems and Services in Africa, expressed on the importance of designing viable policies for realizing the SDG, early preparation for meeting challenges, as well as raising awareness on the 2030 Sustainable Development Goals.
Mr. Berhane Gebretensae, D.G. of Health Services, representing the Minister of Health, said that the Sustainable Development Goals presents a unique opportunity for a shift in perspective and approach and that requires a serious multi and inter sectoral engagement. Mr. Berhane also said that Eritrea has already developed the Health Sector Strategic Development plan that runs from 2017 to 2021 focusing on health security and achieving universal health coverage.
The representative of the WHO in Eritrea, Ms. Josephine Namboze on her part underlined that Eritrea has done very well in meeting the SDGs and making it a good candidate for the new approach.
The Sustainable Development Goals have broader scope comprising 17 goals with 169 associated targets.
By Wakuma Kudama
Ethiopia is endowed with high young population. Evidences indicate that among the 100 million population of Ethiopia, the number of the young people is estimated to be more than 34 million. It is certain that they play key roles in the economic, social and political progress of the country. It is believed that the youth, if properly directed and empowered, contribute a great deal in accelerating the ongoing development. Thus, careful investment in the youth through meeting their socioeconomic needs determines the future of the nation.
Cognizant to this, the Ethiopian government in collaboration with development partners has been providing health services for the youth. Among the development partners, DSW, a global development organization that focuses on the needs and potential of the largest youth generation in history, has been playing significant roles in improving the lives of the young people. Recently, it has evaluated its last year's performances at its Bonita Training Center, Bishoftu town in Oromia State. The organization has been working with the youth associations and other stakeholders in order to improve the lives of several young people.
Bishoftu Town Deputy Mayor Dr. Alemu Gonfa said that capacitating the youth with all the necessary knowledge and skills that would help them to improve their lives is one of the best ways to lay proper foundation for the future of the nation. "As a result," he added, "we have been working with DSW in the last 13 years at our town. Through providing series of training on issues that address the youth, we have equipped them with proper understanding concerning reproductive health."
According to Dr. Alemu, DSW has carried out significant activities that made the youth beneficiaries. "It has been implementing varies projects to support the youth associations through equipping them with essential life skills. Since the organization has been working according to the established strategies and policies, the attitudes of our youths, concerning issues related to reproductive health and others have significantly been improved."
DSW's Country Director Feyera Assefa on his part said that the organization has been accomplishing its mission of empowering the young people through promoting an enabling environment and fostering meaningful and inclusive participation. "One of the best ways to empower the youth is to establish proper reproductive health services. Realizing the necessity of making certain proper health services, our organization, in the last 17 years, has been carrying out activities that solve problems related to reproductive health of the youth in addition to playing significant roles in reducing the prevalence of HIV/AIDS."
The Country Director added that DSW has been contributing its considerable shares in supporting the ongoing development through capacitating the productive citizens that can play significant roles in economic growth. The organization has been working with 70 youth associations in different areas such as Oromia, Amhara, Southern Nations Nationalities and Peoples' State as well as Addis Ababa. "In the last 13 years, the organization has trained several youths at Bonita Training Center, Bishoftu Town. The training manuals were carefully prepared and tested for its authenticity and effectiveness by experts. As a result, the lives of the trainees immediately improve after the training. After taking the training, they are requested to train others in the youth to youth programs," Feyera added.
According to Feyera, more than four thousands youths have been trained on leadership, entrepreneurship and reproductive health in the last 13 years at different training centers. Those youths have significantly influenced other youth associations and federations through sharing their knowledge and skills in youth to youth programs, he stated.
Wogeyehu Ayele is a Chairman of Sodo Selam Youth Club in Woloyita Sodo Zone, Southern Nations Nationalities and Peoples' State. According to him, his club, which consists of more than 50 members, was established 28 years ago with four young men with the purpose of working together for voluntarily services. "In the last six years, we have been working together with DSW in strengthening our club. Most of our members have taken series of trainings at DSW on leadership, reproductive health, and entrepreneurship that helped them support other young people in the woreda. I think the training on how to manage small groups is very useful. We have learned how to work together and cultivate one another," he added.
Tenaye Alemu is a Chairman of Bukaya AntiAIDS and Reproductive Health Association at Bahir Dar, Amhara State. The training she took at Bonita Training Center, Bishoftu enabled her to own better life skills, according to her. "The trainings on leadership, managing small groups, entrepreneurship and reproductive health have significantly shaped our world views and life styles. We also gave the trainings for other youths and prostitutes who have experienced complete change in their life styles as a result of the trainings. Through sharing the skills we acquired from DSW, we also saved other youths from the damaging consequences of addiction, sexually transmitted diseases, negative influence of peer pressure and the like," she stated.
Ethiopian Youth Federation Vice President Tsigereda Zewdu on her part said that since the youth are considered to be the resources, the nation ought to properly invest in them to cultivate thier skills. The outcome of these productive forces is determined by the way the nations handle them. "These days, the youth are struggling from several challenges like cultural conflicts, lack of direction and peer pressure. In order to withstand the consequences of globalization and the like, it very essential to cultivate the skills of the youth through trainings.
"In this regard, the government in collaboration with development partners such as DSW has been investing in the lives of the youth through encouraging them to organize themselves in the associations so that they can get access to financial resources," she added.
In short, the effort the government has been demonstrating to capacitate the youth can have considerable outcome to improve their livelihood; encouraging the youth to organize themselves in groups so that they can easily finance and necessary trainings is one of the prudent strategies the government has been implementing. Nevertheless, a lot has to be done in order to properly equip the young generation to the extent they can handle the challenging situation of the world.
analysis
By A Staff Reporter
Most of the time Ethiopians that participate in small scale trades are not seen charting out business plans, according to experts in the field and elites. And those who have the bent to plan are pron to copying. What is the reason behind the problem? How could it be solved?
The experts indicate that it is hard to tell whether most citizens engaged in business activities run their business with a plan or not. A question mark hangs over small scale enterprises ' habit of conducting studies and planning.
Instructor of Management at Addis Ababa University(A.A.U) Dr Mathewos Ensermu told EPA journalists that there are some businessmen that start job with a well defined and well organized business plan, while others blindly gets into it without chalking out the plan they conjured up in their heads.
Most of the plans here are traditional ones that mirror each other. Their being on the right track is subject to doubt. Owing to this problem, the reality on the ground is a far cry from what is dictated by modern business.
Those Ethiopians that engage in small scale business most of the time do not have plans. Nor have they an organized plan that takes timely and key information into account.
According to Federal Urban Job Creation and Food Security Agency's Enterprise Development Director Belete Bala, as per the Small and Micro Enterprises development strategic plan set in motion in a refined way since 2011, enterprises organized in group or individually are actively engaging in business ventures preparing business plans.
He seconds Dr Mathewos. Some use plans, while others copy and submit others business plans to secure loan, working shades and shops . Those individuals who run business alone do not seem to have an inkling about business plan and their engagement is divorced from planning.
Business plan begins to enjoy credence in our country in tandem with the strategic plan of Small and Micro Enterprises (SMEs)came into life,for the framework also embraces actors of small scale trade.
Yet many are remiss from observing business plan. He attributes the problem to wide information gap pertaining to the importance of business plan. They lack the knowledge needed to prepare the plan and they harbor doubt regarding the pros of business expertise. Besides the expertise sometimes prove shallow. Lack of experience compounds the problem. Dr Mathewos indicates the absence of quality and uptodate data to set a plan and star business. No wonder business plans prepared in such way could be highly dubious. The business industry is at its embryonic stage. The fact that some business men have become profitable working without planning has made others to take business minus planning workable.
Tewabe said if technical support and counseling are given parallel to the sensitization work the culture of running business with plan will develop. There is a call for conducting a thorough research why the businesses in our country are not divided in sectors. Citizens who want to engage in a business venture must enjoy easy access to much -needed information so that they could prepare a business plan.
Begging to differ from Dr.Matheios's point he says starting business arbitrarily and without plan is far from profitable. Citizens engaged in petty trade without plans soon get out of market as they lose their profit too. Aside from wasting their labor and time they will wither away before rendering to their country the required support.
In order to let people engaged in small scale business run their task with plans there is a call for conducting research beforehand on the economic milieu of the country, according to Dr.Mathewos. As the market economy system is still at the embryonic stage here in our country there is a need to conduct a probing research on the changes the business sector is experiencing and facts evidenced these days. Not the necessary data is available on those businesses not permanent.
He is optimistic that registering the required data and doing awareness deepening work, it is possible to let the country's small scale business activities led by plan. Regarding the sensitization work Belete Shares Mathewo's point.
On the government's side the Ethiopian development and research center is conducting studies on job creation mentality or entrepreneurship and on business plan. This move will flicker light to policy makers which path to choose.
Stakeholders in general and universities in particular must support the sensitization work on the preparation of business plan and job creation.
Belete notes that if a business is divorced from plan, product and service's quality could deteriorate. The absence of quality in product and services competitiveness is unthinkable. This will negatively impact the country's economy.
By Ugo Aliogo
In order to meet the demand for competent and professional software engineers, Aboluwarin David and Mofesola Banjo co-founded DevCrib. In this report, Ugo Aliogo, examines the technology startups
"We have great talents in Nigeria and companies like ours are grooming these talents to global standard. We work closely with global and local corporations (Microsoft, Code.org, SeedDev, and ODSG) that support us with tools and resources needed to get our Devcribbers effectively trained. An important factor that has helped us is that our engineers live and work together, thus, learning is faster and good human relationship qualities are acquired."
The above statement captures one of the goals of DevCrib, a technology startup hub. The startup was founded by David Aboluwarin and Mofesola Banjo. Aboluwarin is also the Co-founder of Planet Nest, a technology startup hub based in Akure, Ondo State. He is a graduate of Computer Engineering from the Federal University of Technology Akure (FUTA). The story of Aboluwarin is not only amazing, but one imbued with moral courage and hope. Aboluwarin is one of those few privileged individuals who could be described as having a happy childhood, one where children had access to some of the best things of life. He was detached from the rumble and tumble of daily grind.
Growing up, the father emphasised two things; every child in the family must learn how to play a musical instrument and operate a computer system to the full knowledge of it. This helped Aboluwarin to develop a strong liking for technology at an early age. His father's personal passion and commitment to the values of good parenting helped to build the touchstone which shaped the future for every child in the family. His father ensured that the children were enrolled in schools that had a computer laboratory.
At the age of five, Aboluwarin was already exposed to operating a computer system, an experience which has helped him find his feet in the scheme of things. Like every child at infancy, he had an inquisitive mind, therefore questioned everything around him especially computer gadgets in order to understand how they were built and if there was a need to improve on them.
"I began my journey into technology by playing with computers and learning to know how a game was created. When I play a game, I want to know how the game was created. Then I went online to learn coding," he noted.
When he finished secondary school in 2007, he stayed back for three years, honing his skills in computing. While staying back at home, his father introduced him to a Professor friend who gave him unrestricted access to the computer system in his office. During his sojourn with the Professor, he often spent long hours at night browsing and learning about various software issues. To further his dream in computing, he went to Lagos to undergo a year professional training in Java, a programming language. After the training he decided to focus on being a java programmer.
In 2010, he secured admission to FUTA to study Computer Engineering. In the first one month in the university, Aboluwarin met a friend who later became his partner. They both had a similar story. He also has been involved in coding since 2007 and building chat applications.
This partnership became something rewarding for the two friends as they decided to put their heads together to work on the particular project. They also realised that in the technology space, new languages and technology were developed daily; therefore there was a need for them to keep up with trends and improving knowledge base as developers.
They embarked on training their friends, working on projects and representing the school at competitions. From their first to fifth year in the university, they won 15 national competitions in software challenges for the university.
They also did works for the school "especially in the virtual reality laboratory, where an individual can navigate through the school from a room. We were the technical team that built it for the school. We also took part in building software solutions for the other projects which the school was working on."
In 2015, after graduation from FUTA, Aboluwarin and his partner decided to setup DevCRIB, an arm of Planet NEST which is a social enterprise focused largely on building a skilled Africa.
Their focus is to groom talents across Africa in a residential programme on their campus in Akure (a vibrant and fast growing technology ecosystem). These talents will have the opportunity of learning from world class engineers and growing steadily to be able to work remotely or onsite with global technology corporations in solving problems. It is important to know that it is a paid programme.
With the increasing demand for competent and professional software engineers in the world, DevCrib has realised that there is need to fill this skill gap by building a skilled Africa, through talent development and training of young professions.
Despite the potential and opportunities present in the continent of Africa, the perception often times from the Western media is not favourable. There is always the picture of an impoverished Africa. The narrative is narrow gauged. However, Aboluwarin is of the view that the pocket of successes recorded from the technology ecosystem in the continent can used positively to change this ugly narrative.
According to him, "We have great talents in Nigeria and companies such as ours are grooming these talents to global standard. We work closely with global and local corporations (Microsoft, Code.org, SeedDev, ODSG) that support us with tools and resources needed to get our Devcribbers effectively trained. An important factor that has helped us is that our engineers live and work together, thus, learning is faster and good human relationship qualities are acquired.
"I think Africa needs to come up with more globally relevant solutions; this creates the awareness that we are doing stuff in Africa. When we have these globally relevant solutions, we will have more experts and global companies will respect us for the value we can offer.
"For us to be a force to be reckoned with we need massive collaborations, more technology ecosystems where people are forward thinking and building globally relevant solutions. Also, technology startups require flexible policies that would help them bootstrap before gaining enough financial strength.
"All our engineers and developers participate in creating solutions for the local community; one of such is http://ballot.live an election monitoring platform that was piloted at the last Ondo State gubernatorial elections. Our engineers are our greatest products; we have artificial intelligence engineers that have experience working with European and American companies. A number of junior engineers already work remotely for local and international companies."
Accessing the growth of technology startups in Africa
Aboluwarin explained that in terms of technology hubs in Africa, the hubs have helped to get people what they want and accelerate ideas, and also bring people together such as the Co Creation (CC) hub in Lagos, PlanetNEST in Akure, ventures hub in Abuja, Nhub, Slatecube, Advancement hub, Impact Hub, Leadspace and others.
He argued that these hubs have really helped to access quality information in terms of building and developing some of the startups present in the country. He hinged his argument on the premise that these hubs provide access to some of the best forms of exposure and experiences that individuals won't get anywhere else.
He explained that these hubs help leverage on the experiences of people who know what the market wants and get to prepare them for the global market, "we have a lot of hubs all over Africa from Nairobi, Kampala, Kigali, Nigeria, Ghana and a whole lot of others trying to match up globally."
He added: "The sector we address is a very large one, we do the best we can to skill up Africans and present them to the world. We have a strong learning culture and we place our engineers to work alongside world class senior engineers across the globe, however, Africa needs more NEST and DevCRIB and across all technological sector and not just Software engineering as that's the skill we focus on.
"In the area of funding, we have bootstrapped this long as all funds have been put in by founders. We train, house and pay our engineers and it has been great so far, we have few local investors interested in what we do, we are open to investors and investment that is the direction, we are looking into. Our software application is global, we get request for remote software engineers from different part of the world and our engineers work with these amazing companies."
Government efforts in supporting technology startups
Aboluwarin is hopeful that if government supports startups in the country, especially by putting in place policies to favour the growth of startups, it would help the technology ecosystem to grow at a phenomenal rate.
He noted that the country has enough entrepreneurial zeal, but lacks funding opportunities, "the government should act as a facilitator for the upcoming startups by giving an access to seed funding and also develop incubation centres."
Aboluwarin added: "I believe another major setback is the lack of infrastructure. Government should look into setting up world class accommodation space for startups and Small Medium Scale Entreprises (SME).
"Fund raising is an important aspect which is one drawback for most startups to go global; Government should create an easy relationship for VCs to enter into the tech ecosystem. Government should spend on improving the quality of skilled personnel in the country by investing in hubs around to train citizens.
"Often times the talents groomed by the technology hubs get drafted into the private sector. For effective flow, the private sector should partner with the technology hubs to source for the right talents. Because for every technology solution they want to drive the private sector needs they need the right talent from the forward thinking technology hubs to push ahead. The technology hubs will also help train, and this will give the private sectors the right pool of people to choose from."
analysis
By Yared Gebremeden
Experts in the fields of Science, Technology, Engineering and Mathematics said that STEM Synergy in Ethiopia has been making a lot of investment to promote innovation across the country.
STEM Synergy Country Director Getachew Gezahegn told The Ethiopian Herald that STEM Synergy has about 14 stem centers across the nation, Science Museums operating in Addis Ababa, Science and Technology University (AASTU), Axum, Mekelle, Bahir Dar, Gonder and Hawassa Universities.
The Country Director highlighted that shared science high school campuses are providing top quality education for children, he said adding that "the Science Fairs by the Synergy is also scaling up from regional to national level in a manner of contributing to sector's GTP II targets."
Getachew added that the visualized computer labs which are installed on a large scale towards computer literacy nationwide are also giving high tech services that are cost effective and less energy consuming computers to promote literacy program.
Mentioning the motto 'Inside every child, there is a scientist', the Director urged every healthy, sustainable community to create equitable and inclusive opportunities for high quality Science, Technology, Engineering and Mathematics Education by empowering all students' especially girls.
Coordinator of Bishoftu's Foka Science and Engineering Center Anteneh Fisseha also said that the program is highly benefiting students of the area. And those students who are trained from the Center are creating a lot on the stream and are becoming effective in their higher learning carrier as well.
The Center has a free access to latest technologies and materials which are donated and funded by the Gelfand Family Charitable Trust. In turn, many students and experts are getting practical hands on practice on Science, Technology, Engineering and Mathematics subjects on the ground.
Abate Kassa, Electronics and Electricity Coordinator with the Center said that many students are benefiting from the hands on training given by the Center.
He suggested that teachers at various levels need also to use this opportunity to gain practical experience to their theoretical knowledge as many of them learn in situations where there are no sufficient labs for practical demonstrations.
STEM Synergy has developed six effective models for STEM in Africa: STEM Centers, Science Fairs, Science Museums, University STEM Outreach programs, Virtual Computer labs, Science Shared Campus and Robotics Competition. Moreover, the Synergy has also intended to commence science TV series which is currently on the track to production.
Airbnb is an international shared economy start-up that has built its presence in Africa without a lot of hoopla. At the end of last year, it released a progress report on where it had got to so far and set itself some ambitious targets for working with townships and rural communities. Russell Southwood spoke to its Regional Marketing Consultant (Southern Africa) Velma Corcoran about where it's headed.
Velma Corcoran is Airbnb's Regional Marketing Consultant (Southern Africa). She started her career in advertising before spending five years heading up the marketing department at Cape Tourism.
According to its report, Overview of the Airbnb Community in Africa - which came out late last year - it has 100,000 listings in Africa. But I asked Corcoran, how does that break down?: "There are 44,000 listings in South Africa and the next biggest after that is Morocco with just over 20,000. Then there's a big gap and you get Kenya with 6,000. We're seeing the business become more and more significant and I'm excited by the opportunity Africa presents. We want a world where anyone can belong anywhere."
The report says that: "The typical Africa host on Airbnb earns $1,500 yearly and the typical listing on Airbnb is shared for 18 nights per year. The average age of hosts in Africa is 43 and the host community is evenly split at 51 percent women and 49 percent men".
"In Nigeria, one of the newest Airbnb communities in Africa with 730 active listings, the typical host earns $1,000 and the typical listing on Airbnb is shared for 13 nights per year". As Corcoran told me: "In some markets, the key to building trust is the quality of the listings and the quality in Lagos and Nairobi has improved considerably over the past year. The other thing that builds trust is the review system which is relevant across the platform."
Also when it launched Airbnb Experiences, which is a set of pay-for events run by locals, in 2016 in 10 cities, two of these cities - Cape Town and Nairobi - were in Africa: "The events are aligned to a passion. If you're going to a place and you're into say music and the arts and you want to connect to a local who is passionate about the same things, this is a way to do it. You find things you wouldn't be able to find on your own. For example, if you're a foodie, you might get to meet with chefs or wine-makers."
Airbnb's pitch is that 97 percent of what's charged for accommodation stays with the listing owner and 42% of guest spend is in the local neighborhood. Over the last five years, there have been over 2 million visitors and hosts have earned US$139 million.
On competitors, Corcoran argues that it has its own niche: "We're investing and experimenting to carve out this unique space. 40% of guests in South Africa would not have come to Africa without Airbnb".
It has launched a US$1 million initiative over 2 years to develop tourism in Africa and it wants to see the "democratization of travel". The sharp end of these nice words has been a pilot programme run in 2017 - together with local partners - to support training in hospitality and technology for residents from townships across the Western Cape. It is expanding this programme to 15 more townships across South Africa and will scale the programme to other African countries in 2019.
"We worked with people in the townships or rural communities with a room or small B & B business. We gave them the skills to host and the tech skills to use the platform to participate in the sharing economy."
And what about overall expansion plans?:"From the local team point of view, the focus is going to be on inclusive tourism. That's the only real way to grow sustainably. We're focused on long-term growth and I like to think of South Africa as an incubator for other (African) markets."
By Daniel Anazia
Committed to the development of the continent on all fronts, the African Development Bank (AfDB), and the Egyptian Government are championing a new push for Africans to work together towards building a new Africa driven by innovation and technology.
The two parties, who spoke at the opening ceremony of the third Africa Science, Technology and Innovation Forum (Africa STI Forum) in Cairo, Egypt, called for greater investment in higher education, science, technology and innovation, and the commercialisation of research outputs.
AfDB as part of its programmes in promoting science, technology and innovation is co-hosting the third Africa STI Forum with the theme: 'STI for Private Sector Competitiveness and Economic Transformation in Africa'.
Speaking, AfDB President, Akinwumi Adesina, emphasized the bank's deep commitment to the establishment of an Africa Education Fund, together with the Association for Development of Education in Africa, the Islamic Development Bank and the Government of Japan.
Stressing why Africa needs to promote a culture of innovation driven by Africa's youth population, Adesina said: "The youth are Africa's most important sovereign wealth. With Africa projected to have over 840 million youth by 2050, the continent will brim with the youngest population on earth," he told the over 300 delegates at the Forum."
"We are literally in a race against time. In the context of the fourth industrial revolution, with rapid growth in artificial intelligence, robotics, nanotechnology, biotechnology, genetic engineering, and big data analytics, it's clear that Africa needs to do more not to be left behind," he added.
According to him, the continent must promote regional cooperation in science, technology and innovation, establish more regional centres of excellence and innovation hubs, and facilitate researcher mobility and joint research and development activities across regions.
"To move faster and with quality, Africa must include and provide greater opportunities for women, especially women scientists, and accelerate the enrolment of girls in science, technology, engineering and mathematics," Adesina stated.
Speaking about the AfDB's strategic partnership with Egypt and how elated the bank is working with the government, the AfDB chief pledged the bank's commitment to work with the country in its efforts to make Egypt Hepatitis-C free.
"That's what happens when science, technology and innovation meet up with strong political will: things change! Our investments here (in Egypt) total about $3billion. The Bank has always been there for Egypt," he said.
Representing President Abdel Fatah al-Sisi, the Minister of Higher Education and Scientific Research, Khaled Abdel Ghaffar, pledged the government's willingness to work with the Bank, and other African countries to build a continent driven by knowledge and innovation.
He assured delegates that Egypt would continue to support young African researchers and increase scholarship opportunities for students from other African countries.