News
By Socrates Mbamalu
Today we celebrate remarkable news from South Sudan. Meet Amel Ajongo Mawut, South Sudan's second female pilot at just 20 years old. We wish her all the best.
Amel Ajongo Mawut is South Sudan's second female pilot. The 20 years old's remarkable achievement is a giant step towards shattering the country's aviation glass ceiling, and surely encourages young girls in the country to reach for their dreams. Earlier this year, we celebrated South Sudan's first female pilot Aluel Bol Aluenge who became a Captain. Captain Aluel was flying for Delta Air when she became a Captain.
Ajongo attended the Kenya School of Flying for two and a half years at Nairobi's Wilson Airport. In an interview with Hot in Juba, Ajongo while relieving her experience at the flying school said, "I think female pilots face essentially the same challenges that male pilots face. The overall difficulty is the stress of training. For instance, during my training we were eight ladies out of a class of 11 when we started out but unfortunately as we proceeded I came to be the only lady in the class. There is little sex discrimination in the aviation field but gladly there are increasing numbers of professional female pilots."
Currently without any specific airline she hopes to fly for, Ajongo regrets not being able to fly her father who supported her "financially and morally." Ajongo is the daughter of the former Chief of Defense Forces, General James Ajongo Mawut who died after a short illness in April this year.
In her message to women Ajongo said, "I believe that women in time will do great things. Don't limit yourself. Don't dream of success, just work for it and keep in mind, discipline is key."
The news of Ajongo gaining her wings comes at a time when young women in Africa are setting the pace in technology and innovation. We wish her all the best in her future endeavours.
Photo: Kane Farabaugh
Ilhan Omar addresses supporters after her historic primary election victory to represent Minnesota's 5th District in the U.S. Congress in Minneapolis
By Kane Farabaugh
The foundation of Democrat Ilhan Omar's historic primary election win to represent Minnesota's 5th District in the U.S. Congress was built on a simple campaign message.
"I am a millennial with student debt," the 35-year-old state lawmaker told an audience in a crowded auditorium at the University of Minnesota's Hubert Humphrey School of Public Affairs during a pre-election forum with two of her competitors, both of them older.
"And a renter," she added, someone who isn't ready, or can't yet afford, to purchase a home.
It was a simple yet effective message by Omar, conveying that — despite her origins in Somalia and the hijab upon her head — she was just like the many younger, progressive and liberal voters she needed to court in the Congressional district she seeks to represent.
It was ultimately a winning message, both now… and two years ago when she first made history in her election (which her campaign says saw increased voter turnout by 37 percent) to the Minnesota state House of Representatives.
"Before Ilhan, I think a lot of us didn't know what type of government we had, but now that she was elected, a lot of us started paying attention," says 25-year-old Somali American Khalid Mohamed. "She represented us at the state level and we saw how productive she was."
Mohamed is just one of the tens of thousands of Somali Americans who voted on this primary election day for Ilhan Omar, who is one step closer to making history as the first elected refugee from the African continent — and the second Muslim American woman — to join the body. She follows in the footsteps of Keith Ellison, the first Muslim American in Congress, who currently represents this Minneapolis Congressional District, but stepped down to pursue the state's Attorney General's office — an election which he too also won the same night as Omar.
"Around America it might seem odd that one of the whitest states in the country would be sending its second Muslim to Congress," says University of Minnesota Professor Larry Jacobs. "But not so in Minnesota," a state that is home to the largest number of Somali refugees in the United States. But Jacobs says their votes are only part of Ilhan's success story.
"That is not enough to prevail in a district in which Somalis really numerically are not a large number and in this race were split with another Somali candidate," Jacobs told VOA. "What Omar has been able to do for the second time now in a few years is build a broad coalition that includes progressives who agree with her Bernie Sanders light agenda and people who believe the Democratic Party needs to become more diverse and welcome in new voices."
New voices that have new — and old — challenges to face.
"Right now I am well equipped to organize against an administration that is using the politics of fear to further their divisive and destructive policies at a time when our nation is at a dangerous crossroads," Omar explained to the crowd during the candidate forum. She is the Democrat's Assistant Minority leader in the Minnesota House of Representatives, and has spoken out against family separations at the U.S. border. She is also a critic of the Trump administration's so-called "Muslim Ban."
Khalid Mohamed agrees with Omar's policy positions, and hopes her personal experience coming from a Kenyan refugee camp will shape the ongoing debate in Congress over U.S. immigration policy.
"As a refugee," says Mohamed, "she had experienced the struggles of being a refugee, and the vetting process, and something Donald Trump has not understood quite well."
"In my last race I talked about what that win would mean for that eight year old girl in that refugee camp," Ilhan Omar emotionally explained to the jubilant crowd gathered for her primary election night victory party, acknowledging her improbable journey from Kenyan refugee camp to the doorstep of the U.S. Capitol. "And today, I still think about her. I think about the hope and optimism, of all those 8 year olds out of the country. And around the world."
Many in Minnesota's Somali Muslim American community are refugees like her, and Omar's election represents an opportunity to change public perceptions — and misperceptions — about their circumstances, and their faith.
"Often our community are deemed as not very supportive of in terms of gender, especially towards females or women," says 25-year-old voter Khalid Mohamed. "It would show the world and everyone in the state of Minnesota, that we often uplift and encourage Somali women, Muslim women, to run for offices… to be part of the democracy that we have here in America... to participate and also to vote. It will showcase that often the media portrays us that we oppress our women as a Muslim community - we always tell them what to do and they don't have a freedom - but that would totally tell a different narrative today."
Mohamed also believes that Omar's election sends a message of hope to not just a larger religious community, but an entire continent.
"For her to be the first African born congresswomen, I think it's a big deal on the continent," he said. "It sends a message to everyone from Africa… that you might be a refugee, you might have come here as an immigrant, but you have rights, and you can be whoever you want as long as you put the work in."
Work that begins for Omar after a November general election that she is also likely to win, as the district she seeks to represent heavily favors Democratic candidates.
analysis
US President Donald Trump reintroduced and expanded the Global Gag Rule to curb access to abortion services. A decision taken in far-away Washington has dire implications for African women.
The so-called "Global Gag Rule" requires foreign organizations receiving US aid not to have anything to do with abortion. It restricts such organizations from providing abortion services, information, counseling or referrals, or advocate for abortion legislation - even if these are paid for by non-US funds.
The rule, which is also known as the Mexico City Policy, has been enacted by every Republican US president and rescinded by every Democratic president since 1984. When President Donald Trump reenacted it in 2017, however, he went a step further than his predecessors.
He expanded the Global Gag Rule to cover the US's global health assistance - some €9.36 billion ($10.6 billion) in health funding in 2017 - whereas previously it only affected family planning aid worth €536 million.
The US is the world's biggest global health donor and its aid covers a wide range of essential health services, from vaccinations and nutritional supplements to treatment for HIV/AIDS and malaria.
Health providers forced to chose
Because of the sheer scale of US health aid, when a clinic in Africa has to chose between losing US funding or providing reproductive health care - it often chooses to stop offering abortion services.
Alternatively, facilities that decide not to comply with the US restrictions lose much-needed foreign aid leading to cuts in other services, such as access to contraceptives or cervical cancer screening.
Either way, the Global Gag Rule is negatively affecting women in Africa, especially the poorest of the poor, say reproductive rights organizations.
"Young people and women living in rural areas at the lowest levels of poverty are the most impacted for not being able to access services," said Suzanne Ehlers, President of Population Action International, a Washington-based reproductive health organization.
Clinic closures in Ethiopia, rising fees in Kenya
In a fact-finding mission to Ethiopia earlier in 2018, Population Action International found that adolescents and youth, people living with HIV/AIDS and sex workers in the country were directly affected by the closure of health clinics previously supported by the US.
An estimated ten sex and reproductive health clinics and 21 youth sexual health clinics have closed in Ethiopia as a direct result of the US restrictions, said Dereje Wondimu from Ipas, an international reproductive rights organization.
This means close to one million women a year in Ethiopia will no longer have access to sexual and reproductive health services, Wondimu told DW.
Fees for basic health care have skyrocketed in some areas of Kenya, says Caroline Nzandati, reproductive health coordinator at the Kisumu Medical and Education Trust.
"For example, there was a facility that was charging $3 for cervical cancer service, immunization cost $2, family planning about $5. So if you added that up, a woman can't afford it and they would rather not access the service," explained Nzandati.
Previously, women would only pay $2 for the whole package, she said.
Unplanned pregnancies on the rise
The rate of unintended pregnancies has increased - partly because of decreased access to contraceptives and partly because of cuts to abortion services.
Such unplanned pregnancies can have a range of knock-on affects, such as "ending a girl's education, contributing to child marriage, resulting in health complications, or putting a woman's life at risk," according to Human Rights Watch.
The numbers of unsafe abortion have also increased, driving up the maternal rates of mortality in many African countries, Ehlers said.
Ehlers believes the current policy won't change as long as President Trump is in the White House. But she says it is still important for reproductive rights groups to keep up the pressure.
"What we need to do is work in partnership with groups around the world, to make sure that they really understand the policy, they understand what they can do and what it doesn't let them do," she said.
"I think we also need to continue to cooperate with governments both in Africa and donor countries to make sure they put additional resources towards this."
Additional reporting contributed by Kate Hairsine
15.08.2018
guest column
By Ifeanyi Nsofor
An Ebola outbreak in the eastern part of Democratic Republic of Congo (DRC) is once again straining Africa's medical resources.
Prospects for progress are due in large part to lessons learned from the 2014-2016 outbreak in West Africa, which caught global health officials off guard and killed 11,000 people. One lesson that became clear was that foreign expertise cannot protect African communities from Ebola or other outbreaks of infectious disease. African health capacity and expertise is essential.
I was a member of the EpiAFRIC team that evaluated the response of the African Union (AU) to the West African epidemic. The AU had recruited over 800 volunteer medical experts from across the continent to combat the epidemic raging across Guinea, Liberia and Sierra Leone. In its wake, we travelled extensively through the affected areas, interviewing medical personnel, community leaders and people who had lost loved ones to the disease.
In Guinea, we found that 84 percent of AU volunteers were from the DRC, which had already dealt with eight Ebola outbreaks of its own. One doctor told us how they had turned around a desperate situation. The AU team was volunteering at an Ebola treatment center built from scratch, only to have it sit empty. At the height of the epidemic, families kept the sick and dying home, even as the disease spread.
Then, one day, a desperately ill woman was carried to the center. Despite her dire condition, the doctor believed she could be saved. He rallied the medical team to provide the best possible care – medication, food, hydration, compassion – and the woman slowly recovered.
It was a turning point. People began to bring their loved ones to the center. And when they did, they saw health workers who looked like them. They were not foreigners, but Africans who understood their cultures, who delivered expert care and who they could trust.
More on This
It was clear to me that African capacity and expertise were crucial to containing and ultimately ending the worst Ebola outbreak in history. Today, the head of the AU's 2014 Ebola medical mission is on the ground fighting the outbreak in the DRC. The World Health Organization has also mobilized quickly to contain it.
Yet, even such an urgent response may not prevent another Ebola disaster—either with this outbreak or with the next. What we need is not only boots on the ground when a crisis hits, but greater African health care capacity embedded into our health systems.
Although there were early signs that the rapid response to the current DRC outbreak is helping to contain its spread, the World Health Organization worries about complicating factors such as security for health workers – including vaccinators - in an area of conflict.
Prevention is the best solution. The best way to build preventive capacity is through implementation of Universal Health Coverage (UHC).
UHC removes financial barriers to quality healthcare and encourages equity. It means that individuals and communities can receive the basic health services they need, without economic hardship. It includes the full spectrum of essential services: health promotion, prevention, treatment, rehabilitation and palliative care.
Health-care access for all will save lives – but also money
Of course, it will be costly. But in the end, it will not only be life-saving, but also cost-saving. African governments and the global health community spent over US$3.6 billion to end the West African epidemic and hundreds of millions of dollars more are now being directed to the current epidemic in DRC.
Although DRC is a member of the UHC2030 Partnership, the government must show enough political will to take UHC to impoverished rural communities.
The first known case of the 2014 Ebola outbreak was a child in a poor, remote village in Guinea. If this infected child had had access to a clinic or hospital, medical personnel could have taken a laboratory sample, identified the disease and initiated treatment. They also could have reduced Ebola's spread by identifying contacts of the boy and providing continuous information on good basic health practices, such as hand washing and hygiene.
This is how things work in countries with UHC – including the United Kingdom (UK), Rwanda, Thailand, Japan and China.
In the UK in 2015, UHC enabled medical professionals to quickly identify a cluster of tuberculosis within immigrant communities, treat those infected and prevent its spread.
Rwanda is one of the few African countries with UHC. Today, more than 97 percent of infacns in Rwanda are vaccinated against infectious diseases such as measles, polio and rubella, keeping cases close to zero.
Achieving UHC may seem like a Herculean task, but experience in countries as diverse as Rwanda and the United Kingdom show that it works. And, in addition to preventing and containing dangerous outbreaks, UHC could help keep them from becoming global pandemics. Today, an undetected pathogen can travel from a remote village to major cities across the world in less than a day.
Dr. Tedros Adhanom Ghebreyesus, Director-General of the World Health Organization, recently said, "Universal Health Coverage and global health security are two sides of the same coin."
The DRC has declared its intention to put in place UHC. Egypt and a growing number of other countries have done the same. To make good on those intentions, countries and their global partners must identify appropriate financing mechanisms that would provide the safety nets needed to strengthen health systems and prevent the emergence and spread of infectious diseases.
Dr. Ifeanyi Nsofor is Director of Policy & Advocacy for Nigeria Health Watch, CEO of EpiAFRIC and a 2018 Aspen Institute New Voices Fellow.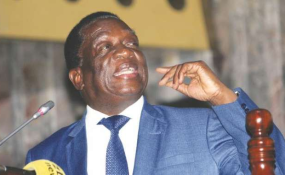 Photo: The Herald
President-elect Emmerson Mnangagwa.
By Zvamaida Murwira
President Mnangagwa yesterday scoffed at the decision by the United States of America to renew illegal sanctions against Zimbabwe. He implored newly-appointed US Ambassador to Zimbabwe Mr Brian Nichols to have a correct appreciation of events here.
Government, the President said, would remain focused on developing the country and safeguarding peace.
President Mnangagwa made the remarks at State House while addressing journalists after holding a meeting with Mr Nichols, who had paid him a courtesy call.
The meeting came a few days after US President Donald Trump signed into law the amended Zimbabwe Democracy and Economic Recovery Act aimed at renewing illegal sanctions against Harare.
Asked what his views were on Mr Trump's decision to renew sanctions, President Mnangagwa said: "Should I concern myself about what is happening in Washington? Do they concern themselves about us?"
President Mnangagwa said Mr Nichols, who presented his credentials last month, should have a proper understanding of political developments in the country.
"These discussions are necessary. He is an ambassador from the United States to Zimbabwe. He must have correct appreciation of the environment in the country. He came into the country to have that appreciation.
"We were able to share his views and my views on the current situation in the country and we are moving forward as a country," said President Mnangagwa.
"We would want our people, yourself to be peaceful, to convey the message of peace, tranquillity and unity. Only when the country is stable and people are peaceful, can development thrive, not when we are throwing stones at each other. That is the message you people must convey."
Earlier on, Mr Nichols said Zimbabwe had registered positive developments over the past nine months, but bemoaned violent incidents that occurred on August 1, 2018.
Six people died while property worth thousands of dollars was destroyed in the MDC-Alliance-orchestrated violence.
"The events of August 1 to the present had been deeply troubling to the international community and my Government in particular. President Mnangagwa's commitment to transparency in investigating those events is very important for my Government," said Mr Nichols.
Commenting on the signing of Zdera last month, Mr Nichols said the law was meant to update a number of provisions.
"This brings it in conformity with the reality and advocates for reforms in the area of democracy, human rights, economic reforms and rule of law. These are all important steps which I know President Mnangagwa is committed to and Nelson Chamisa is committed to. We believe that this provides a framework of our cooperation with Zimbabwe," said Mr Nichols.
Political observers accuse Washington of harbouring a pre-conceived view by renewing illegal sanctions before the harmonised elections which have since been endorsed by local and international organisations, had been held.
"Zidera deals with loans and arrears to international financial institutions, it does not deal with individuals. What it calls for are investigation into past human rights abuse, reforms to the judicial system, promotion of rule of law, it calls for economic reforms, land tenure, and I am sure these will be debated vigoruously in the next Parliament," said Mr Nichols.
He denied allegations that his country was sympathetic to the MDC Alliance as Washington had failed to condemn the wanton destruction of property by supporters of the opposition.
"We do not support any particular party or persons or political figure in Zimbabwe," he said.
Mr Nichols claimed his country was concerned by reports of intimidation of opposition party members and assault of people in high density suburbs.
This is despite a meeting by Foreign Affairs and International Trade Dr Sibusiso Moyo with diplomats dismissing such claims.
"The violence of August 1 2018, which resulted in death of six people, intimidation of opposition polling agents, violence in the densely populated suburbs around Harare has always been issues of concern, the Zimbabwe Human Rights Commission has put up a statement which addresses, their view and concerns are things my Government share," he said.
Mr Nichols said he was encouraged by the commitment by President Mnangagwa's administration to set up an independent investigation into the violence that rocked central Harare.
He said the Constitutional Court should prove to the people of Zimbabwe that it was impartial when it hears a presidential election challenge lodged by Mr Chamisa who lost to President Mnangagwa.
"That is a question (of impartiality) that would be answered by the performance of the court and not by me or any other person giving their opinion."
By Muideen Olaniyi and Abubakar Auwal
The number of aspirants seeking to get the ticket of the Peoples Democratic Party (PDP) is set to rise as Senate President Bukola Saraki said he is considering running against President Muhammadu Buhari.
Saraki, who is in a faceoff with the All Progressives Congress (APC) after defecting to the PDP, gave the indication in an interview he granted to Bloomberg at his Abuja residence.
"I am consulting and actively considering it," Saraki said, adding that "I believe I can make the change."
Daily Trust reports that if Saraki decides to run, he will vie for the PDP ticket along with at least 10 other contenders.
They include former Vice President Atiku Abubakar, Senator Rabiu Musa Kwankwaso, former governors Sule Lamido (Jigawa), Ahmed Makarfi (Kaduna), Ibrahim Shekarau (Kano), Attahiru Bafarawa (Sokoto), as well as governors Aminu Tambuwal (Sokoto) and Ibrahim Hassan Dankwambo (Gombe).
There are also former Minister of Special Duties Kabiru Turaki, founder of Baze University Senator Datti Baba-Ahmed, among other contenders, some of whom have not formally declared interest but were expected to do so before the party's primary election likely coming up in October.
Daily Trust reports that Saraki's visit to former President Olusegun Obasanjo and former military President Ibrahim Babangida earlier may all be part of the consultations the senate president said he was making.
Saraki said investors and citizens had lost confidence in the president, who won election in 2015 after three previous attempts, thereby putting an end to 16 years of PDP rule.
He however said that "The PDP has learnt its lesson from the loss in 2015, and I think unfortunately the APC did not learn from their victory."
While negotiating with the PDP "we listed a number of issues. We talked about how to sustain and improve the fight against corruption; the issue of providing more powers to the states; inclusion and having a more nationalistic approach on things we do; to continue to improve the environment that will ensure investments. We listed a number of items during the discussions with the PDP, and there is a written agreement to that. We trust that we can hold them to that."
"We would ensure that the party is strong on security. The APC too have not done well on the issue of security. We have the opportunity with the right kind of presidential candidate and president to provide the leadership for the party. The party has a good opportunity to lead the country in the right direction."
We're not afraid of Saraki, others- APC chieftain
Daily Trust reports that there was no immediate reaction from the ruling APC to Saraki's hint at running for president, but a chieftain of the APC and the Director General of Voice of Nigeria (VON), Mr Osita Okechukwu, said yesterday that the party was not afraid of any presidential aspirant, including Senate President Saraki.
Okechukwu, in a phone interview, said President Buhari who remained the presumptive consensus presidential candidate of the APC was ready for any challengers.
He said the party would present its massive infrastructural development and the feat achieved in the fight against corruption and insecurity.
He said, "We are not afraid of anybody, as from today in Nigeria, who will defeat President Muhammadu. Whoever wants to challenge him, we are waiting for the person. The little we know is that we are going to present the facts. We are going to present massive infrastructural development going on across the country - 5000km of federal roads, 5000km of rail lines, 5000 additional megawatts of electricity and the target for self-sufficiency in food production.
"It's the most ambitious and massive infrastructural development in the history of Nigeria as an independent nation. It has three, five years completion cycle. That is what Mr President has on the table.
"We are have to present the fight against corruption and insecurity. So, we don't know who become the candidate. But we are waiting.Our happiness is that President Buhari today is the presumptive consensus presidential candidate of the APC. We are waiting for anyone of them to come."
Other party leaders as well as top government officials, including the Secretary to Government of the Federation (SGF) Boss Mustapha, APC national chairman Adams Oshiomhole and leader Asiwaju Bola Ahmed Tinubu, had all said recently that no defections or gang up will stop Buhari from winning re-election in 2019.
Buhari too old to lead Nigeria - Tambuwal
Sokoto State Governor Aminu Tambuwal yesterday said there was mounting pressure on him to declare for presidency.
He said though President Muhammadu Buhari is a man of integrity, he should be voted out because he is too old to lead Nigeria.
The governor said this in Sokoto yesterday while addressing different associations of students and youths as well as residents who paid him solidarity visit.
Alleging that some cabals had hijacked Buhari's government, he dismissed the insinuations that he was the president's enemy.
"We love President Buhari and that was why we supported him in 2015 unconditionally and while doing that we are too sure that he will seek for re-election after his first term but when things are wrong we have to tell him.
"We still believe in his integrity, patriotism and courage, but these are not enough for a leader. We all know that there is a vacuum in government occasioned by his disposition probably because of his old age or health condition that is why Nigerians are yearning for younger ones to lead this country.
"The country needs somebody who will respect the rule of law and who will not be selective in fighting corruption," the governor said.
Tambuwal also disclosed that there was mounting pressure on him to declare for presidency.
"I have been receiving advice and encouragement from our leaders, peoples across the country and even from abroad to contest for presidency and this pressure is being mounted. It is not my making, but the quantum of pressure from everywhere because of leadership gap in the country," he said.
The governor said he would make his position public on the matter "in days to come".
Earlier, leader of the groups, Bashir Gorau, pledged their support to Tambuwal's presidential ambition.
'Tambuwal has been declared missing'
A Presidency source yesterday night asked our correspondent to find out, where is Tambuwal speaking from.
The source who do not want to be named said information available to the Presidency is that Sokoto People have declared their governor missing from the day he announced his decamping from the APC.
"We heard this announcement on FRCN Kaduna's missing persons program. Where is he? His people are looking for him," the source, a top aide said.
Incumbent President Ibrahim Boubacar Keita of Mali has won a landslide victory in the West African nation's presidential runoff election.
Official results announced Thursday reveled Keita won 67 percent of the vote from Sunday's second round, soundly beating challenger and opposition leader Soumaila Cisse. Turnout in the runoff vote was an abysmally low 34 percent, as voters stayed away due to threats of violence by jihadist militants.
The government stepped up security for Sunday's run-off, deploying 6,000 troops in addition to the 30,000 who already were on duty.
But despite the added security, a polling station president was killed in the northern Timbuktu region and the polling station there was burned.
The 73-year-old Keita took 42 percent of the vote in a field of 24 candidates in the first round of voting, compared to 18 percent for the 68-year-old Cisse, who also lost the 2013 election to Keita.
Cisse accused Keita's government of fraud in the first round of voting, but the constitutional court upheld the result.
The earlier round of voting was marred by armed attacks blamed on jihadists, including some linked to al-Qaida and Islamic State, and ethnic violence that closed several hundred voting places.
Maputo — Samora Machel Junior (known as Samito), the son of Mozambique's first President, Samora Moises Machel, on Tuesday entered the race for Mayor of Maputo, as an independent.
Machel is head of the list of candidates for the Municipal Assembly submitted by "Ajudem", a coalition which has been set up by a variety of Maputo civil society organisations.
Machel had hoped to be the candidate of the ruling Frelimo Party, the Party which his father had led to victory against Portuguese colonial rule in 1974, but his name was not included on the short list of three candidates, drawn up by the Frelimo Maputo City Committee.
His exclusion, and that of other relatively young Frelimo members, such as the actor Gilberto Mendes, from the short list, led to an outcry, with accusations that the City Committee had behaved in a non-transparent manner.
The civil society organisations in Ajudem asked Machel to head their list (and thus become their mayoral candidate) at a meeting last Friday.
He asked for some time to think the matter over.
"I am going to consider this very carefully", he said at the time, "because I put the people first".
His definitive answer is now known - and the Frelimo leadership cannot say it was not warned. When the City Committee drew up its short list in July and sent it to the Party's Political Commission, Machel warned that he might run as an independent.
The short list consisted of a former mayor and former Finance Minister, Eneas Comiche, former Tourism Minister, Fernando Sumbana, and Razaque Manhique, the Deputy Chairperson of the Maputo Municipal Assembly.
Out of these three, Comiche won the nomination. He certainly has experience - he was mayor of Maputo from 2004 to 2009. He was well respected for his competence and integrity - but there were those who were made uncomfortable by Comiche's drive against corruption, and in 2008 he did not win the Frelimo nomination for a second term. Instead, the former Minister of Youth and Sport, David Simango, won the nomination and was elected mayor in 2008 and 2013.
Now, at the age of 79, Comiche, who is a member of the Frelimo Political Commission, is making a comeback - but in a context where the support for Frelimo in the capital, has fallen sharply. In 2008, Simango became mayor with about 85 per cent of the vote - but in 2013, his share of the vote fell to 58 per cent.
Machel's decision to head the "Ajudem" list could throw the mayoral contest wide open. The magic of the name of Samora Machel may well win many voters to Ajudem. The Ajudem list also means that many disillusioned supporters of Frelimo now have somewhere to go other than the established opposition parties, Renamo and the Mozambique Democratic Movement (MDM).
The Renamo candidate is Venancio Mondlane, who in a highly publicised act of betrayal, defected from the MDM (which had already chosen him as its mayoral candidate) and joined Renamo instead.
But some MDM members believe that Mondlane may not be eligible to head the Renamo list. This is because a law passed earlier this year, and accepted by all three parliamentary groups, including Renamo, states that someone who has resigned from an immediately prior term of municipal office may not run again in the following elections.
In 2013, Mondlane resigned as head of the MDM group in the Maputo Municipal Assembly, in order to stand as an MDM parliamentary candidate.
His opponents say that this means that the National Elections Commission (CNE) should disqualify him.
Others claim that the 2018 law is not retroactive, and so Mondlane's 2013 resignation is irrelevant.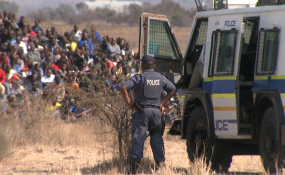 Photo: Miners Shot Down
Police keeping watch on the striking miners (file photo).
analysis
By Mia Swart, Human Sciences Research Council
The 2012 Marikana massacre in South Africa's North West Province, in which 34 miners were killed by the police, remains an unhealed scar in post democratic South Africa. Two of the most important unresolved issues involve accountability and reparations.
Organisations such as Amnesty International have long called on the South African government to ensure that all those suspected of criminal responsibility for the killings are prosecuted. This is about more than justice. It speaks to the heart of the government's credibility and legitimacy.
As academic and political analyst William Gumede has argued, if democratic institutions aren't responsive and accountable, ordinary people will increasingly look to new ones, including populist groupings. Alternatively, they will seek answers in violence.
Accountability for crimes committed by the state is crucial for upholding the rule of law and restoring trust in government.
President Cyril Ramaphosa told Parliament in February 2018 that "the Marikana tragedy stands out as the darkest moment in the life of our young democracy".
And in his maiden state of the nation address he promised a new spirit of accountability on his watch.
It's vital for his credibility that these words be followed by action. Initiating prosecutions would show that he is serious about his intention to strengthen accountability.
More on This
Ramaphosa has also pledged that government must finalise reparations for the families of striking miners killed by police. Although a settlement of R100 million was recently reached with the families, it can be argued that much more remains to be compensated. The protracted negotiations have left families financially and emotionally frustrated.
Accountability
In the six years since the massacre, the findings of the 2015 Farlam Commission of Inquiry can be described as the main form of accountability. The commission laid the blame squarely at the feet of the South African police.
The establishment of the commission was always supposed to be only the first step on the road towards accountability. Government's follow up actions on its findings were dismally disappointing. It took until early this year for criminal prosecutions to be initiated. Six senior police officials now face charges, among them murder, attempted murder, and obstructing the ends of justice.
The fact that the prosecutions followed hot on the heels of Ramaphosa's statements in Parliament suggests that the National Prosecuting Authority is finally taking heed of his call for accountability.
The initiation of the prosecutions has been positively received by South African civil society, as well as by international groups. The newly appointed acting national head of public prosecutions should move to prioritise more people responsible for the massacre.
Reparations
There's no doubt that the R100 million settlement for victims' families is a positive development. But families of the victims have said that reparations should include a formal apology from the police minister, criminal charges against the police and financial compensation.
In 2015 the families of 37 mine workers filed a civil claim against then police minister Nathi Nhleko. At the time, people expressed hope that the minister would consider an out of court settlement.
Two years later the government concluded a loss-of-support settlement of R3.9-million with the family of one of those killed in the massacre. But to date, most of the settlement agreements have yet to be finalised.
What next
Ramaphosa's words earlier this year were encouraging. He is showing that he intends to uphold the Constitution and the rule of law.
There's a great deal at stake for the president. Though he was exonerated by the Farlam Commission, he was personally implicated in the shooting that investigated the massacre given his role at the time as a non-executive director at Lonmin's platinum mines. He wrote a series of emails in which he called for stronger action from government to bring the strike to an end.
Ramaphosa has been repeatedly attacked by opposition parties, most notably the Economic Freedom Front, for his stance during the strike. He has denied responsibility although he's never explained the exact nature of his involvement.
But he does, finally seem, to be acknowledging the ongoing exploitation of miners. It's hoped that this will lead to policies that won't only compensate the families of Marikana's victims, but also result in a more humane living standards for mine workers.
By Business Daily
The Kenyan Cabinet has approved the construction of a Ksh4.1 billion ($40 million) cable car project to ease movement of passengers between Mombasa Island and the mainland.
A Kenyan and Austrian company, which will fund the project, will be expected to charge commuters a fee before ceding the investment to the government after 25 years.
The cable cars will reduce the existing journey the ferry makes across the 500-metre Likoni Channel from 10 minutes to two minutes and will be able to carry up to 11,000 passengers an hour.
The only cable cars in sub-Saharan Africa are in Nigeria and South Africa.
"Cabinet approved a privately initiated investment proposal to develop a cable car system to address the human traffic challenges across the Likoni Channel," read the communication from Cabinet.
The express link will have 22 cable cars, which will carry 38 passengers per cabin.
The cars will carry 11,000 commuters per hour in both directions, a total of 180,000 people daily.
Conservative estimates indicate that some 300,000 people and 6,000 vehicles use the channel daily.
The C&C Construction Company, which will be in charge of erecting two 90-metre masts and building the landing stations, will construct the cable car system.
The firm will work alongside the Austrian technology company, Doppelmayr Group, which will provide the cars and ropes.
According to the initial communication, the operator will be the Likoni Cable Express, a subsidiary of the Kenya Ferry Services (KFS) and Tropos, a Nairobi-based aerial transit development firm.
The KFS is banking on the cable cars to give commuters using the Likoni channel a long-term solution to transport hitches through cable cars and better maintenance of the rickety ferries.
Currently, commuters use four ferries namely MV Jambo, MV Likoni, MV Harambee, and MV Nyayo to cross the channel.
analysis
By Leigh Ann Winowiecki And Tor-Gunner Vågen
The state of the earth's biodiversity - the world's variety of living organisms - is in crisis. About one third of the world's land has been severely degraded from its natural state. Some of the worst forms of degradation include deforestation, soil erosion, loss of soil fertility, declining water quality and pollution.
This has a huge negative impact on poor rural people whose livelihoods depend heavily on natural resources, like pastoralist communities and smallholder farmers. Land degradation is also devastating for land animals - in about 40 years vertebrate species populations have dropped by more than half.
This crisis has attracted international attention, and efforts to restore degraded lands are underway. For instance, the Bonn Challenge commits countries to the ambitious task of restoring 350 million hectares of degraded lands by 2030. African nations committed to 100 million hectares. This entails the enormous task of planting trees and ground cover and restoring soil fertility - all actions which also help increase the soil's ability to absorb water and reduce erosion.
But with such large areas in need of restoration, and the persistent problem of limited resources, how and where should efforts be deployed?
In our recent publication we show how the Land Degradation Surveillance Framework could solve this problem by systematically measuring and tracking indicators of land health. It includes very precise maps, which show how degraded land is, and how well it can recover. This helps to prioritise land restoration over huge areas. It's already being applied to restore degraded lands in many parts of the world including East Africa, the Sahel, the Peruvian Amazon and India.
Our study focused on the drylands of Kenya, where the framework is being used. We found that key indicators of land and soil health vary. This meant that consistent and robust monitoring methods are needed to prioritise and inform investments. Specifically, indicators that are science based, can be measured, are fast, based on varying scales (plot, field, landscape, region) and are representative of the complex processes of land degradation in landscapes.
The Land Degradation Surveillance Framework ticked all of these boxes.
Testing in Kenya
To start with, field data is systematically collected to provide a baseline for biophysical properties like; soil fertility, soil organic carbon, vegetation cover and biodiversity, land use and land degradation. The field data is combined with data from earth observation platforms - like NASA's Landsat and the European Space Agency's Sentinel 1 & 2 which create images from satellites - to map processes of land degradation.
We then apply these maps to assess the effectiveness of rehabilitation options like tree planting, improved rangeland management, agroforestry practices and erosion control.
By providing information on indicators of land degradation - like soil erosion - in the form of maps, it helps to target rehabilitation efforts. It will show how degraded the land is, and how well it can recover.
We used the 200 square kilometre Mpala Research Centre in Laikipia County, Kenya, as a test case. This was done to compare plots to each other, assess the level of degradation in each and to create maps of it.
Over a month we took soil samples, described and measured vegetation and recorded erosion levels from 160 plots within a 100 square kilometre area. These were taken to labs in Nairobi to analyse the soil's physical and chemical soil properties.
For a portion of the samples, we did conventional soil chemical analysis and combined these data with results from spectroscopy - which uses infrared light to analyse for multiple soil properties. This gave us an indication of soil health in the study area as it examines the soil organic carbon, sand content, and pH.
Finally, using these data we created predictive maps of soil characteristics and land degradation. This provides a clear visualisation of the areas in most need of attention, for instance where erosion is high and soil organic carbon, an important indicator of land health, is low. We also used a combination of predictive maps to identify the areas with the greatest chances for successful habitat restoration, and to get a sense of the urgency and level of effort required for restoration on Mpala.
The approach is innovative on several levels:
First, by using mid-infrared spectroscopy we significantly reduce the time and cost of analysing soils
Second, the highly precise models used to predict soil characteristics allows us to take enough soil samples to accurately account for variation across the landscape
Third, by integrating all the data we were able to expand the scale of our projections and mapping to the landscape and regional levels.
Although we only mapped a 200 km2 land area, the approach has the potential for mapping land rehabilitation needs for much larger areas. This will assist national and regional level decision makers on how to invest scarce funds to restore productivity to the land, and help bend the trajectory of declining nature.
Margaret F. Kinnaird, Practice leader, Wildlife at WWF International and Timothy G. O'Brien, Senior Scientist, Conservation Measures at Wildlife Conservation Society, contributed to the writing of this article.
×
WINDHOEK - Large numbers of young people in Southern Africa do not attend school and at least 675 children under the age of 15 years from poor families are forced to work to contribute to household income.
According to the SADC Gender Protocol Barometer report launched this week hundreds of children aged between seven and 14 work in SADC.
Malawi has the highest proportion with 95 children aged between seven and 14 reported to be working, denying them an education.
The Democratic Republic of Congo (DRC) recorded 83 children of whom 44 are female and 39 are male.
Zambia is reported to have 75 children in the same age category who are employed. Out of this, 40 are female and 35 are male. Tanzania recorded 34 females and 35 males, while Mozambique has 28 females and 27 males.
Comoros has 28 females and 26 males, Madagascar has 27 females and 29 males, Angola has 25 females and 22 males, while Lesotho has 21 females and 25 males, while Zimbabwe has 14 females and 12 males.
Namibia has 12 females and 15 males, eSwatini has nine females and 15 males, and Botswana has the lowest at seven females and 11 males.
The statistics obtained from the World Bank were updated in April 2018, according to the SADC Gender Protocol Barometer report. Data was not available for Mauritius, Seychelles and South Africa.
Progress to eliminate child labour has stalled in many parts of Sub-Saharan Africa, according to the report.
The International Labour Organisation (ILO) found that child labour increased between 2012 and 2016 due to economic and demographic changes as well as crisis and state fragility.
"Most children work in the agricultural sector, often for members of their own family," according to information provided in the SADC Gender Protocol Barometer report.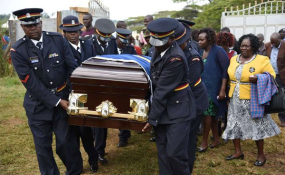 Photo: Jared Nyataya/Daily Nation
Police carry a casket bearing the remains of the late Nicholas Bett, former World 400m hurdles champion, on arrival at their home in Simat, Uasin Gishu County, as Bett's wife Gladys Bett second (right) and mother Esther Boit follow on August 15, 2018.
By Bernard Rotich and Dennis Lubanga
Elite and upcoming athletes Wednesday morning converged at the Eldoret Hospital mortuary to escort the body of former 400m hurdles world champion Nicholas Bett.
Bett, who died last week following a tragic road accident, will be buried at his Simat home in Uasin Gishu County on Thursday.
Among those who have arrived at the morgue to pay their last respects to Bett, 28, include Olympic marathon champion Eliud Kipchoge, former World 1500m world champion Asbel Kiprop, former 800m world champions Janet Jepkosgei and Eunice Sum, Sally Kipyego (marathoner), former 5000m world junior champion Augustine Choge among others.
Bett, who was a police officer based at the Kondele Police station in Kisumu County, will be accorded the ceremonial police send off by his former comrades.
Dressed in their ceremonial attire, the officers arrived on Wednesday morning at the morgue to escort the deceased.
Bett's body was escorted in a state of the art hearse.
By the time of going to press, it is not yet confirmed whether Deputy President William Ruto will be among top government officials who will attend the burial.
The burial of Bett was brought forward from Friday to Thursday following a request from the family.
Athletics Kenya Central Rift Branch chairman Abraham Mutai said the family had confirmed the change of burial date.
Bett had landed a deal with Fenerbahce Istanbul in Turkey.
He went to Simat Primary School before joining Paul Boit High School where they were transferred to Cheptil High School before getting an opportunity to serve in the National Police Service.
By Salem Solomon
After winning the silver medal in the men's marathon at the 2016 Olympic Games in Rio de Janeiro, Brazil, Feyisa Lilesa spent two years in self-imposed exile in the United States. Now, he's returning home.
Feyisa will return to Ethiopia in the coming weeks with his wife and children after two athletics groups notified him that he would receive a hero's welcome upon arriving.
Ashebir Woldegiorgis, the president of the Ethiopian Olympic Committee, told VOA Amharic that the call for Feyisa to return is meant to better the country.
"He can teach his exemplary ways to other athletes and teach strength to our youngsters. That's the main call, so he can come back to participate in the sport he loves and pass it on by running and by advising to elevate Ethiopia's sport," Ashebir said.
Show of protest
Feyisa made international headlines when he raised his crossed wrists above his head at the finish line, and again on the podium, at the 2016 summer games.
The gesture showed his support for people protesting in the Oromia region of Ethiopia, raised international awareness of human rights concerns in Ethiopia and made Feyisa a target.
At the time, the country was heading into a state of emergency, and violent protests were spreading across Oromia, its largest region. Ethnic Oromos were speaking out against marginalization and oppression, and the gesture Feyisa used in Rio became a symbol of solidarity with protesters, many of whom were young students.
Shortly after the games, Getachew Reda, then the information minister of Ethiopia, congratulated Feyisa and assured him it was safe to come home.
But the decorated athlete felt differently and, after the games in Rio, used a special-skill visa to come to the U.S., where he settled in Flagstaff, Arizona. He spent six months alone, before his wife, son and daughter joined him.
Taking a stand
After the Olympics, Feyisa made occasional statements to raise awareness of the situation in Ethiopia, and he continued training.
"There were times when things were happening, and I wrote things from my inner thoughts, not because I have skills, but people take my message and share it," Feyisa told VOA's Afaan Oromoo service, speaking in Amharic.
"But I am an athlete, and I am not that appealing. But when I write what I feel and people share, I am happy with it," he added.
Haile Gebrselassie is a retired Ethiopian runner and twice won Olympic gold medals. He's now with the Ethiopian Athletic Federation and told VOA that the decision to invite Feyisa back reflected his willingness to take a stand.
"He was born fearless. I knew him personally, and I was close to him. And he questions why people should be oppressed. He stands up for his people."
Feyisa was willing to raise his voice at great personal cost, Ashebir added. "I like heroes. I respect people who stand up and speak up."
Reconciliation
Feyisa isn't the only Ethiopian to whom the country has been extending an olive branch.
Since a fresh state of emergency was lifted in June, Ethiopia's prime minister, Abiy Ahmed, has reached out to the country's many political and ethnic groups to create more space for constructive dialogue.
The government has removed several groups from its list of terrorist organizations, and, in a sign of continued thawing, a delegation of Oromo Liberation Front members visited the capital, Addis Ababa, Tuesday after agreeing to end hostilities with the government last week.
For his part, Feyisa said he doesn't have ambitions beyond running. "My skill until now is athletics, and I want to work hard and return back to my previous capacity," he said.
"I just want to share my gratitude. I would like to thank our citizens who sacrificed their lives … all of the young people and the elders who participated in the struggle," Feyisa said.
Tigist Geme, with VOA's Afaan Oromoo service, contributed reporting from Washington. Eskinder Firew, with VOA's Amharic service, contributed reporting from Addis Ababa.
By Duro Ikhazuagbe
Nigeria's Victor Moses has announced his retirement from international football at the age of 27.
The Chelsea winger played 37 times for Nigeria, scoring 12 times since making his debut in 2012.
He had previously represented England up to Under-21 level, while coming through the ranks at Crystal palace.
"I have experienced some of the best moments of my life wearing the Super Eagles shirt and have memories with me that will last a lifetime," he said.
"However, I feel that now is the right time to step away in order to be able to focus fully on my club career and young family, as well as to allow the next generation the opportunity to step up and to flourish.
"Thank you for the memories and good luck to the team for the future."
Moses won the Africa Cup of Nations with Nigeria in 2013, and represented the nation at two World Cups, in 2014 and 2018.
Super Eagles were knocked out at the group stage in Russia this summer, having beaten Iceland but suffered defeats by Croatia and Argentina.
By Tunde Eludini
Chelsea winger, Victor Moses, has announced his retirement from international football.
Moses who switched allegiance to play for Nigeria after initially featuring for the English Youth teams, said on Thursday that he would like to focus on his club career now and his young family.
In a statement on his official twitter handle, Moses admitted that he enjoyed wearing the Green and White jersey of Nigeria but he was quick to add that he would want to bow out to see the new generation take over.
Moses said he has already told the Super Eagles coach Genort Rohr about his decision. He thanked the NFF and all that made his stay with the national team worthwhile.
Aside helping Nigeria win the Africa Cup of Nations in 2013, Moses featured for Nigeria in two FIFA World Cups in Brazil and Russia.
The player's full statement reads, "I would like to announce that after much thought, I have made the decision to retire from playing international football. I have experienced the best moments of my life wearing the Super Eagles shirt and have memories with me that will last a lifetime. Nothing will ever compete with what it felt like to represent Nigeria on behalf of our country.
"However I feel that now is the right time to step away in order to be able to focus fully on club career and my young family as well as to allow the next generation of Super Eagles stars the opportunity to step up and to flourish. We are blessed as a nation to have so many exciting players coming through, and now is their time.
"There are so many highlights that stand out for me over the years; from making my debut to playing in two World Cups, and being part of the team to win the African Nations Cup for first time for our nation since 1994 being just a few of them.
"I have already spoken to the manager by telephone, and would like to say thank you to him and his staff, the NFF and all of my teammates for all of their supports over the years.
"Most importantly, I would like to say thank you to the Nigerian people for believing in me and supporting me over the years. It means a lot to me and my family and I will always be a proud Nigerian supporting the team. Thank you for the memories and good luck to the team for the future."
This might be because you typed the web address incorrectly. Please check the address and spelling ensuring that it does not contain capital letters or spaces.
It is possible that the page you were looking for may have been moved, updated or deleted.
Please click the back button to try another link.
Or
28 September 2017

From the section

Europe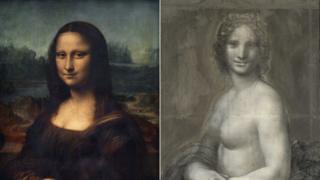 A charcoal drawing housed in another art collection for more than 150 years may have been a sketch for the Mona Lisa, a French art expert says.
The charcoal portrait of a nude woman, known as the Monna Vanna, was previously attributed only to Leonardo da Vinci's studio.
But experts have found enough clues to suggest the artist worked on both.
After tests at the Louvre Museum in Paris, curators believe the sketch is "at least in part" by Leonardo.
It has been held since 1862 in the collection of Renaissance art at the Conde Museum at the Palace of Chantilly, north of the French capital.
Leonardo da Vinci (1452-1519) was one of the great painters of the Italian Renaissance, and his Mona Lisa oil painting (also known as La Gioconda) remains one of the world's most recognisable and valuable works of art.
It is believed to have been a commission from cloth merchant and Florentine official Francesco del Giocondo for a portrait of his wife, Lisa Gherardini.
Hidden portrait 'found under Mona Lisa'
'Earlier Mona Lisa' goes on display
'New' da Vinci sketch valued at $15.8m
Poland buys famed artworks at discount
But was Leonardo right-handed?
"The drawing has a quality in the way the face and hands are rendered that is truly remarkable," curator Mathieu Deldicque told AFP news agency.
"It is not a pale copy. We are looking at something which was worked on in parallel with the Mona Lisa at the end of Leonardo's life.
"It is almost certainly a preparatory work for an oil painting."
Louvre conservation expert Bruno Mottin confirmed it dated from Leonardo's lifetime at the turn of the 15th Century and was of a "very high quality".
The Chantilly Estate posted a photo of the work being done on the sketch.
Among clues proffered by Mr Deldicque:
The hands and body are almost identical
The portraits are almost the same size
Small holes pierced around the figure suggest it may have been used to trace its form on to a canvas
However, Mr Mottin pointed out that hatching on the top of the drawing near the head had been done by a right-handed person while Leonardo drew with his left hand.
"We must remain prudent," he told AFP, as work continued.
"It is job that is going to take some time," he said. "It is a very difficult drawing to work on because it is particularly fragile."
Rohingya crisis: UN chief warns of 'humanitarian nightmare'
28 September 2017

From the section

Asia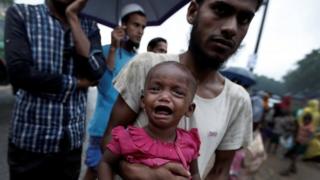 Violence in Myanmar has spiralled into the "the world's fastest-developing refugee emergency" and a "humanitarian nightmare", the UN chief has warned.
Secretary General Antonio Guterres called on Myanmar to end its military operation, which has sparked the exodus of over 500,000 Rohingya since August.
He also demanded "unfettered access" to the region to deliver humanitarian aid.
Earlier, at least 14 Rohingya, all women and children, drowned after their boat capsized off Bangladesh's coast.
Survivors say the boat overturned after apparently hitting a submerged object near the coastal city of Cox's Bazar.
In the past 48 hours, about 2,000 Rohingya have arrived in Bangladesh by boat, fleeing violence in Myanmar's Rakhine state.
In Thursday's briefing to the UN Security Council, Mr Guterres said: "The situation has spiralled into the world's fastest developing refugee emergency, a humanitarian and human rights nightmare."
"We have received bone-chilling accounts from those who fled - mainly women, children and the elderly.
"These testimonials point to excessive violence and serious violations of human rights, including indiscriminate firing of weapons, the use of landmines against civilians and sexual violence."
Mr Guterres also warned that "the failure to address the systematic violence could result in a spill over into central Rakhine where an additional 250,000 Muslims could potentially face displacement".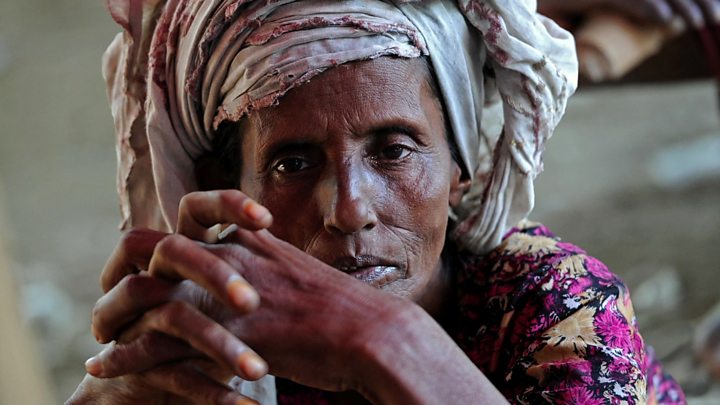 UN aid personnel were forced to leave Rakhine when the military began a crackdown on Rohingya militants behind attacks on security personnel in August.
Fleeing Rohingya - the majority of whom are Muslim - accuse Myanmar's military, backed by Buddhist mobs, of trying to drive them out with a campaign of beatings, killings and village burnings.
Images and reports from journalists confirm many villages have been razed.
But the military say they are targeting only militants.
'New Baghdadi tape' posted by Islamic State group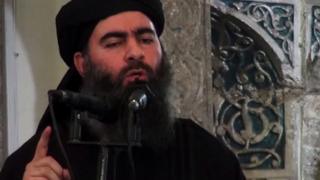 Islamic State militants have released what appears to be an audio recording of their leader, Abu Bakr al-Baghdadi.
A speaker who sounds like the IS leader seems to refer to recent North Korean threats against Japan and the US.
He also talks of battles for IS strongholds like Mosul, which was regained by Iraqi forces in July.
Baghdadi, who has a $25m (£19m) US bounty on his head, has not been seen in public since July 2014, leading to much speculation about his fate.
The last time he appeared was to preach at the Great Mosque of al-Nuri in Mosul after IS overran the city and a "caliphate" was proclaimed.
Asked about the audio, a spokesman for US forces fighting IS, Ryan Dillon, said "without verifiable evidence of his death, we have continued to assume that he is alive".
A defence department spokesman told the BBC: "We are aware of the audio tape purported to be of Abu Bakr Al-Baghdadi and are taking steps to examine it. While we have no reason to doubt its authenticity, we do not have verification at this point."
The militant Sunni Muslim group IS, which earned notoriety for its brutal violence towards civilians and prisoners, has been steadily pushed back in Iraq and Syria this year.
The 46-minute recording was posted by a website with links to the group and is the first such speech to appear since November.
As well as Mosul, the speaker refers to battles in Raqqa and Hama in Syria, and Sirte in Libya, saying the bloodshed would not be in vain. He also talks of Russian-brokered peace talks on Syria. Much of the tape consists of religious references.
Baghdadi may be hiding in territory still controlled by IS along the Iraqi-Syrian border.
Less than a handful people would know his whereabouts, Hassan Hassan of the Tahrir Institute for Middle East Policy wrote in a recent article for BBC News.
That makes it hard for the US, which has dedicated special forces constantly on the look-out for him.
In June, Russia reported that it was "highly likely" Baghdadi had been killed in a Russian air force strike on Raqqa on 28 May, and an Iranian official asserted he was "definitely dead" shortly afterwards.
However, claims of his death had been made before and the reports were treated with scepticism by US officials.
---
Analysis: A morale boost for IS
By Frank Gardner, BBC security correspondent
So the IS leader al-Baghdadi is still alive, or at least it appears he was still alive at least as recently as August.
This concurs with the views of western intelligence agencies and Iraq's government, which were always sceptical of Russian claims to have killed him an air strike.
His apparent survival to date will give some small morale boost to the beleaguered IS fighters still clinging on in Raqqa, but it is unlikely to make any strategic difference.
Like the al-Qaeda leader Dr Ayman al-Zawahiri, the IS leader is so circumscribed by the need to keep his location secret that he communicates rarely, and is unlikely to be in a position to personally direct any ongoing operations - other than to give them his blessing.
An estimated 78 million babies - or three in five - are not breastfed within the first hour of life, putting them at higher risk of death and disease and making them less likely to continue breastfeeding, say UNICEF and WHO in a new report. Most of these babies are born in low- and middle-income countries.
The report notes that newborns who breastfeed in the first hour of life are significantly more likely to survive. Even a delay of a few hours after birth could pose life-threatening consequences. Skin-to-skin contact along with suckling at the breast stimulate the mother's production of breastmilk, including colostrum, also called the baby's 'first vaccine', which is extremely rich in nutrients and antibodies.
"When it comes to the start of breastfeeding, timing is everything. In many countries, it can even be a matter of life or death," says Henrietta H. Fore, UNICEF Executive Director. "Yet each year, millions of newborns miss out on the benefits of early breastfeeding and the reasons - all too often - are things we can change. Mothers simply don't receive enough support to breastfeed within those crucial minutes after birth, even from medical personnel at health facilities."
Breastfeeding rates within the first hour after birth are highest in Eastern and Southern Africa (65%) and lowest in East Asia and the Pacific (32%), the report says. Nearly 9 in 10 babies born in Burundi, Sri Lanka and Vanuatu are breastfed within the first hour. By contrast, only two in 10 babies born in Azerbaijan, Chad and Montenegro do so.*
"Breastfeeding gives children the best possible start in life," says Dr Tedros Adhanom Ghebreyesus, WHO Director-General. "We must urgently scale up support to mothers - be it from family members, health care workers, employers and governments, so they can give their children the start they deserve."
Capture the Moment, which analyzes data from 76 countries, finds that despite the importance of early initiation of breastfeeding, too many newborns are left waiting too long for different reasons, including:
Feeding newborns food or drinks, including formula: Common practices, such as discarding colostrum, an elder feeding the baby honey or health professionals giving the newborn a specific liquid, such as sugar water or infant formula, delay a newborn's first critical contact with his or her mother.
The rise in elective C-sections: In Egypt, caesarean section rates more than doubled between 2005 and 2014, increasing from 20% to 52%. During the same period, rates of early initiation of breastfeeding decreased from 40% to 27%. A study across 51 countries notes that early initiation rates are significantly lower among newborns delivered by caesarean section. In Egypt, only 19% of babies born by C-section were breastfed in the first hour after birth, compared to 39% of babies born by natural delivery.
Gaps in the quality of care provided to mothers and newborns: The presence of a skilled birth attendant does not seem to affect rates of early breastfeeding, according to the report. Across 58 countries between 2005 and 2017, deliveries at health institutions grew by 18 percentage points, while early initiation rates increased by 6 percentage points. In many cases, babies are separated from their mothers immediately after birth and guidance from health workers is limited. In Serbia, the rates increased by 43 percentage points from 2010 to 2014 due to efforts to improve the care mothers received at birth.
Earlier studies, cited in the report, show that newborns who began breastfeeding between two and 23 hours after birth had a 33% greater risk of dying compared with those who began breastfeeding within one hour of birth. Among newborns who started breastfeeding a day or more after birth, the risk was more than twice as high.
The report urges governments, donors and other decision-makers to adopt strong legal measures to restrict the marketing of infant formula and other breastmilk substitutes.
The WHO and UNICEF-led Global Breastfeeding Collective also released the 2018 Global Breastfeeding Scorecard, which tracks progress for breastfeeding policies and programmes. In it, they encourage countries to advance policies and programmes that help all mothers to start breastfeeding in the first hour of their child's life and to continue as long as they want.
* Among countries with recent data (2013-2018).
By Kingsley Adegboye
Majority of the global population now living in cities and their numbers growing daily, which have made cities inclusive, sustainable, resilient and safe as currently observed, is critical to achieving the 2030 Agenda and the Sustainable Development Goals SDGs, a high level UN meeting has noted.
The event was led by the UN Sustainable Development Group, UNSDG, last week at the High-level Political Forum, focused on how the cities of the world are accelerating progress towards the SDGs, as well as showcasing how SDGs' implementation in cities can contribute to transformation towards sustainable and resilient societies.
The chairperson of the meeting, UN Deputy Secretary-General and UNSDG Chair, Amina Mohammed, revealed that "Cities are economic powerhouses with an estimated global GDP share of 88 per cent by 2025.
"However, cities are also locus of complex and interconnected challenges, producing more than 50 per cent of the world's greenhouse gas emissions and using 80 per cent of the world's energy. We need to get urbanisation right to achieve the 2030 Agenda," she stated.
The event provided a unique opportunity for member-states, city authorities and non-state actors to come together to showcase their own innovative work, and to illustrate how the UN system can support these efforts.
Bahrain's Housing Minister, Mr. Basim Bin Yacob AlHamer; the Mayor of Bangangté, Cameroon, Ms. Célestine Ketcha Courtès, New York City's Commissioner for International Affairs, Ms. Penny Abeywardena, the President of United Cities and Local Governments, Mr. Parks Tau, and the Chair of the international women's grassroots network Huairou Commission, Ms. Violet Shivutse, discussed how cities and local actors are championing the sustainable urbanisation agenda.
UNDP Administrator and UNSDG Vice-Chair, Achim Steiner, highlighted inequality within cities on issues like income, health, and education but said cities had enormous potentials in addressing climate change where they were already leading by example.
He called on the international community to unleash the power of cities to help solve global challenges. Executive Director of UN-Habitat, Maimunah Mohd Sharif, told the meeting that cities are "in the front lines of nearly every global challenge we currently face, and they need to be at the centre of our strategy to solve them. Looking ahead requires new approaches - the "urban development of yesterday will not suffice," she added.
In Kenya, floods and landslides killed around 100 people and displaced nearly 300,000 between March and May 2018. Smallholder farmers along the Upper Tana River basin are now investing in bamboo trees to curb floods.
Many of the Kenyan communities affected by floods and landslides this year were already struggling to recover from the 2017 drought - a result a failed rainy season in 2016 and unusually high temperatures.
"The rainfall patterns have completely shifted. We are receiving more torrential rains of high intensity, accompanied by flooding," Catherine Muthuri, a research scientist at the World Agroforestry Center in Nairobi, told DW.
Degraded soils vulnerable to erosion reduce soil fertility in farmlands and decrease yields, thus intensifying hunger and poverty. Additionally, floods wash away massive amounts of sediment into the rivers.
Smallholder farmers along the Upper Tana River basin in central Kenya have turned to bamboo trees in a bid to reduce sediments flowing into rivers, repair the riparian areas alongside the rivers and stabilize land that is prone to landslides.
"We are promoting bamboo trees in flood and landslide-prone areas to help stabilize the soils. We aim to help restore and repair the riparian [areas] already destroyed by floods, and reduce sedimentation flowing into the rivers," said Anthony Kariuki, general manager of the Nairobi Water Fund.
Protecting soil and water
The Upper Tana River basin covers approximately 17,000 square kilometers (4,200,785 acres) and is of critical importance to the Kenyan economy. Home to 5.3 million people, its water provides half of the country's hydropower output. It supplies 95 percent of Nairobi city's water, according to the Nairobi Water Fund. Kariuki clarified that a bamboo-rooting system helps retains water in the ground, binds the soils and helps filter out sediments, thereby reducing the amount of sediments that flow into the rivers downstream.
"Bamboo covers the soil through its canopy, reducing evaporation, hence rehabilitating highly degraded areas faster. Depending on the species it forms a canopy (shelter) within the first four years compared to other trees that can take about 15 to 30 years," Peter Kung'u, who is in charge of bamboo propagation at the Kenya Forestry Research Institute (KEFRI), told DW.
The International Network for Bamboo and Rattan (INBAR) highlights bamboo as a core development resource that can help create a wealth of practical solutions while reducing the negative effects that changing climate patterns have on millions of rural communities.
INBAR says bamboo is critical in building climate resilient communities and can help the poor control flooding while protecting the environment, biodiversity and the ecosystem.
A 'woody grass'
Of the more than 1,400 different species of bamboo trees found globally, about 14 species are found in Africa, according to Kung'u. While three are found in mainland Africa, 11 species are located on the island of Madagascar. Bamboo has existed for hundreds of years in Asia, Latin America and parts of Africa.
Known as "the wonder grass," bamboo is a fast growing woody grass naturally found in diverse climates. Plants usually grow three to five feet (0.9 to 1.5 meters) high annually. Their stems range from one mm to 30 cm (11.8 inches) which is why they are sometimes called "bamboo trees." After harvesting, new shoots appear from the roots every year. In four to five years, these shoots grow to harvestable size.
"Bamboo plays a valuable environmental role. Its complex root system acts as an efficient water filter, removing nutrients and dangerous poisons such as heavy metals before they get into the food chain," Kung'u said.
"Additionally, its ability to grow faster than many hardwoods makes bamboo ideal for absorbing greenhouse gases [such as carbon dioxide], compacting desertification and global warming," he added.
Carbon dioxide (CO2) is an important heat-trapping gas, released through human activities such as deforestation, and the burning of fossil fuels.
In 2015, the Paris Agreement formally recognized the key role played by landscapes and resilient forests in reducing the global average temperature to less than two degrees Celsius above pre-industrial levels.
Farmers need to see the benefits
While research scientist Muthuri agrees that bamboo is one of the plant species that can help tackle climate change, she underlines the need to combine it with other crops.
"Bamboo is attractive to rehabilitate areas that are deforested. We have a wide range of species, adaptable to every place, but it's not a one fit situation," Muthuri warns. "They take time to establish but once established they take very little time to grow."
Muthuri sees bamboo's potential along river banks and farm borders as a buffer and water filter "but it's not an attractive species for the farmlands unless [there is an] economic incentive for the farmers."
Smallholder farmers along the Upper Tana Basin have planted about 65,000 bamboo seedlings since last year across the watershed, according to Kariuki.
The Nairobi Water Fund is training them in bamboo-farming practices and linking them to markets "as an incentive to improve their economic livelihoods through selling bamboo products such as firewood, charcoal, animal feeds, building and fencing materials."
This comes after Kenya issued a logging ban for its forests earlier this year. It has also embarked on evicting communities illegally settled in its indigenous forests.
By Berhane Hailemariam
The government will upgrade additional 136 health posts
The government is investing 360 million Br to construct 100 health posts across nine regional states and in one city administration.
The Ministry of Health will undertake the project with financing from the government's budget and pledges from development partners. The ministry will also invest 7.41 million Br on 136 existing health posts by upgrading, equipping and providing medicine supplies.
Under the new project 100 new posts will be built, replacing an equal number out of the existing 17,187 health posts spread throughout the country. The posts designated for replacement were constructed poorly and provide inadequate facilities and services, according to ministry officials. Another 136 posts will be upgraded, equipped and supplied with medicine, while the remaining old posts are planned to be rebuilt by regional health bureaus over the next ten years.
The pilot project is part of the second generation health extension programme launched in 2015, which includes: upgrades of health extension packages by adding mental health and non-communicable diseases, such as diabetics and hypertension, to the list of 16 other services; upgrading health extension workers' skills from level three to level four nurses; two-year courses for workers on health extension packages and a Certificate of Competence; and the replacement of the rest of the posts located in different parts of the country by new facilities.
This second generation program aims to increase health-related awareness in the community, makes provisions for quality and equitable health care services, treats patients for non-communicable diseases and provides emergency medical services according to Temesgen Ayehu, director of the Health Extension Programme and Primary Healthcare at the ministry.
"Locations of the new health posts are based on formula made by the parliamentary body, House of Federation," said Temesgen.
The largest shares will go to Oromia Regional State with 34 posts, Amhara Regional State with 22, and Southern Nations, Nationalities, and Peoples' Region (SNNPR) will receive 20. In addition, Ethiopia Somali Regional State will get 10, Tigray six, Afar Regional States three, and Benishangul Gumuz two. Harari, Gambella, Afar Regional States and Dire Dawa city will each get one.
Each of the new 100 health posts is expected to cost the government about 3.6 million Br. The buildings were designed by in-house architects of the ministry and will include maternity wards, vaccination and outpatient rooms, restrooms, storage facilities and living quarters for health extension workers.
In addition, 54,480 Br will be allocated for upgrading, procurement of medical equipment and supplies and worker training for each of the 136 existing posts.
Currently, there are close to 40,000 health extension workers in rural areas of the country. The tuition fee for each worker will be 8,316 Br a year and is covered by the regional health bureaus.
"The design of the new posts will enable them to provide delivery and post-delivery services for women," said Netsanet Sorri, senior architect of the Ministry, "this was previously offered at the health centre levels only."
The first generation health extension programme was launched in 2003 in rural areas and was later expanded to urban and pastoral areas. It focused on hygiene, sanitation, family health, disease prevention and health education.
The health extension programme has played a significant role in the health status of women and children in the past decades, according to a report by the Demographic Health Survey, where child mortality was reduced to 88 per 1,000 from 123 per 1,000. The contraceptive acceptance rate has increased from 15pc in 2005 to 29pc by 2011, according to the survey.
Ansha Nega (PhD), a lecturer and researcher at Addis Abeba University, School of Public Health for the last 16 years, also recognises the positive outcomes of the health extension programme. Hence, she believes the project has lacked some additional packages.
"The package should be more inclusive, integrating the unseen rural as well as urban communities," she said.
Community-Based Rehabilitation, a basic rehabilitation service for disabled persons, occupational safety, employee workplace health and safety packages for the informal sector has to be included in the extension packages, according to Ansha.
Three among 11 Nigerian secondary school students have qualified to participate in this year's World Adolescent Robotics competition, which holds this month in China.
The China Association of Science and Technology has reached out to the three students who will be representing Nigeria at the competition.
The students, Tawakalitu Giwa, Oluwaseun Omotayo and Ayomide Adetunji, were members of Team Nigeria to the First Global Robotic Olympics in Washington DC, in the United States(US) in 2017 and they were sponsored by Aramex and Doculand Nigeria.
Their performance at the Washington competition earned them the opportunity to be invited by the China Association to participate in this year's competition.
The students were picked based on their outstanding performance at the First Global Robotic Olympics where Nigeria placed 25th out of the 163 teams from 157 countries, emerging third out of the 41 African countries in attendance. The three students left Nigeria for China recently.
Similarly, five secondary school students will be representing Nigeria at the next First Global Robotic Olympics coming up in Mexico City this August, while another three students will be representing Nigeria at the Pan African Robotic Competition holding in Senegal this week.
Founded by philanthropic inventor, Dean Kamen to inspire a passion for science and technology leadership and innovation among the world's more than two billion youths, FIRST Global provides the framework for an Olympics-style robotics event that drives home the importance of obtaining the Science, Technology, Engineering, and Mathematics (STEM) skills needed by future leaders to overcome the greatest challenges facing the world today and tomorrow.
National Coordinator, of the programme and CEO, Roboglobal Educational Consulting, Mrs. Remi Willoughby, said: "Without any doubt Nigeria is slowly but gradually establishing herself on the map of technology developed nations. This may not be presently evident; however, it is an indication that progress is being made."
According to her, "we have the right talents to compete successfully on the global stage and move Nigeria to a technology advanced nation, but we need the right support and encouragement and to do this, we need to quickly address the evident deficit in science, technology, engineering and mathematics in our educational system."
press release
Remarks by President Cyril Ramaphosa at the Science, Technology and Innovation Dialogue, CSIR International Convention Centre, Pretoria
Your Excellency, President Xi,
Ministers and Deputy Ministers,
Ambassadors,
Scientists from China and South Africa,
Distinguished guests,
Ladies and gentlemen,
It is a great privilege to address this groundbreaking dialogue between scientists and innovators from China and South Africa.
I wish to express our sincere appreciation to the Chinese Ministry of Science and Technology under the leadership of Minister Wang and the South African Department of Science and Technology under the leadership of Minister Kubayi-Ngubane for organising this event as part of the State Visit of President Xi Jinping.
This event demonstrates South Africa and China's shared commitment to invest in and leverage science, technology and innovation as instruments for growth and development.
It is further proof of the strong bilateral cooperation in this domain and should serve as a platform for enhanced cooperation.
Science, technology and innovation is an integral part of South Africa's National Development Plan, both as a means to bolster economic growth and competitiveness, and advance social development.
Fostering a vibrant knowledge economy and a culture of entrepreneurship is at the heart of Government's agenda.
Our efforts are focused on developing and supporting a dynamic national system of innovation by strengthening relations between public research and technology organisations, universities, industry and civil society.
These efforts include developing South Africa's human capital, addressing demographic imbalances, increasing research output, and using knowledge for economic and social development.
Democratic South Africa has much to be proud of in the domain of science and technology.
Through funding more than 200 research chairs and 15 centres of excellence at South African universities, we have significantly increased South Africa's research output.
The big policy challenge remains to ensure an effective translation of research outputs into new products and services.
Investment in science and technology to beneficiate South Africa's raw materials has, for example, led to the development of an ambitious hydrogen fuel cell technology programme.
Scientific advice to improve natural resource management and decision-making is benefitting from the South African National Space Agency's Earth observation programmes.
South Africa is at the cutting edge of drug and vaccine development for infectious diseases such as HIV, malaria and tuberculosis.
While discussion of the Fourth Industrial Revolution has been focused on manufacturing and the implications for global supply chains, it is important to have a holistic perspective of the impact of these disruptive new technologies on all aspects of human endeavour and well-being.
South Africa is determined to respond effectively to the Fourth Industrial Revolution.
The danger is that an inappropriate response would reinforce South Africa's dependence on primary resources and on imported technology.
South Africa already has some of the components necessary to play a role, especially in its universities and innovative companies.
Disruptive technologies will open up new industries and will change existing industries, processes and services.
Focused investment in well-funded programmes is essential for success - hard choices must be made in where and how to invest.
The development of skills and expertise underpins all preparation for and participation in the Fourth Industrial Revolution.
International cooperation will be crucial.
It is an imperative for all nations seeking to progress in science, technology and innovation.
The frontiers of human knowledge are expanded through joint investments, the pooling of resources, and the sharing of experience and expertise.
Major societal challenges such climate change, disease and food security will only be effectively met through strong international cooperation in science and technology.
South Africa's hosting of the global Square Kilometre Array radio telescope is an excellent example of successful international cooperation in science.
A project of the scale of the SKA, which will be the flagship frontier science project of the 21st century, cannot be undertaken by any nation alone.
In addition to providing a better understanding of our universe, the SKA will drive innovation in crucial technology areas such as high performance computing and high-speed data transmission networks.
We wish to acknowledge China's crucial contributions to the SKA project as a valued partner.
I also wish to express my appreciation to President Xi Jinping for China's commitment to cooperation in science, technology and innovation.
This evidenced in many ways, including the two Action Plans to establish joint research centres, in crucial economic sectors such as mining and forestry, and to promote the exchange of young scientists between the two countries.
There is great potential to further develop cooperation between the two countries, for example, in fostering partnerships related to the establishment of science parks, which in turn can facilitate the investment by China's leading technology intensive enterprises in South Africa.
We also wish to thank China for its commitment to African development and the inclusion of a science, technology and innovation component in the Forum on China-Africa Cooperation (FOCAC).
I wish this Dialogue well in its deliberations and look forward to the outcomes of the various discussions.
These outcomes will serve to inform the South African Government's policy thinking notably with regard to the Fourth Industrial Revolution and its strategic cooperation with China.
There are several important intangible benefits of international cooperation in science, specifically the impact on building networks, friendship and solidarity across differences of culture, language and nationality.
I am certain that this Dialogue will achieve all of these benefits and more.
I thank you.
Issued by: The Presidency
A robot platform known as the "Monster" is one of the technologies that the Council for Scientific and Industrial Research (CSIR) hopes will improve safety in mines.
This is according to the CSIR, which on Tuesday showcased the technologies that would aid the country's mining sector at the Mandela Mining Precinct in Johannesburg.
Principal researcher at CSIR Dr Shaniel Davrajh said robotic technology in mines would be able to reach areas not easily accessible during an incident.
"A robot equipped with safety inspection sensors will enter the mine during a safety period. It becomes very difficult and dangerous for humans to enter into the mine after an incident," Davrajh said.
Davrajh said the Monster also has the ability to assess and identify risks in underground mines.
Other technology that was showcased was a ground penetrating radar (GPR). The radar is used for rock mass stability investigations.
40% of fatalities caused by fall of ground
Geophysicist Dr Michael Van Schoor said the GPR would provide valuable information regarding immediate hanging wall integrity.
He added that there was a need for reliable rock mass stability determination in mining.
"Managing health and safety risk in a mine requires real-time monitoring and quantification of the underground hazards and the exposure of personnel and equipment to such hazards," Van Schoor said.
He said 40% of mining fatalities were caused by the fall of ground, a statistic which could be reduced by GPR technology.
Glass rock technology was also showcased. According to the council, the technology will allow miners to see through rock faces where reefs are located.
Van Schoor said most of the technologies were still early experimental prototypes that would first need to be proven effective and then commercialised before being eventually taken underground.
CSIR Mining technologies: Ground Penetrating Radar (GPR) technology (Sesona Ngqakamba, News24)
Mining companies 'positive'
"Some of the technologies like the GPR are very much more mature. In fact some mines are already using GPR technologies," Van Schoor told News24 during the exhibition.
He added that the organisation was working on improving the technologies every day. "Because it's not that easy to use these technologies, some mines will buy it and use it on a needs basis. But we encourage mines to implement these under routine basis. In order to do that we have to modify them," Van Schoor added.
He said the council would probably, for the next decade, work towards finding more solutions that would help the mining industry.
"There are different programmes for different technologies. Some focus on safety and others on production improvements," Van Schoor said.
He added that mining companies were positive towards the technologies that would improve safety.
CSIR Mining Technologies: The robot platform, also called the "Monster" presentation. (Sesona Ngqakamba, News24)
Spate of mining deaths
"Many years ago, mines were a bit careful to just bring any technology to the mine, which is understandable, because you cannot just take anything underground, it must be proven, safe and must add value to them," he said.
Van Schoor added that mining companies were, however, now more excited about and interested in most of the technologies.
The CSIR believes that the technologies it has developed can play a major role in mitigating fatalities in mines.
In the latest spate of mineworker deaths, six workers died after a fire broke out at the Palabora Mining Company mine in eastern Limpopo this month.
Meanwhile, the death toll at Sibanye-Stillwater's operations this year alone stands at more than 20 - close to half of the fatalities in the entire mining industry.
News24
By Joseph Thompson | @josephthompson | Aid:Tech
One person is forcibly displaced every two seconds as a result of conflict or persecution.
According to the UNHCR, as of today, there are over 68 million people displaced, over 25 million of whom are refugees - people who have been forced to flee home, and sometimes their country, as a result of war, violence or persecution.
The refugee crisis has almost always been a topic high on the humanitarian and development agenda, especially in the context of how support can best be provided in the short and medium term in a decent and dignified manner.
Ensuring refugees access to critical services is key. But how can accessibility be improved, especially in the areas of healthcare, education and financing? When forcibly displaced from their homes, many refugees lose exactly this access to vital, everyday support.
As they cross borders into new jurisdictions without formal identification, the lack of legal identity results in millions of refugees being denied or delayed from accessing services that many of us in the developed world often take for granted. However, leveraging blockchain technology to deliver digital identities can deliver the much-needed solution to the refugee identification crisis.
Blockchain For Good
Blockchain can be thought of as an incorruptible ledger that stores transactions which are replicated across multiple computers on a decentralized network (this could be hundreds, thousands or even millions of computers). Each computer plays a role in making the ledger tamper-proof, thus increasing the strength of the network. This digital ledger maintains security and traceability, while cutting out unnecessary intermediaries.
Organisations working hard to improve the lives of refugees can utilise blockchain-enabled digital identity solutions as a means of understanding how resources are distributed, as well as to cut down on identity fraud and data mismanagement, while allowing organisations to reduce their burden around costs and resources.
Digital identities function as the basis for refugees accessing entitlements such as aid, welfare, remittances, donations, and healthcare. With every activity immutably recorded, a blockchain solution provides transparency and traceability to the process of recordkeeping. As data builds on the blockchain, information accumulates and the technology effectively provides a de facto foundation where information can be structured, reviewed and utilised. When refugees use their digital identity to receive aid and support, they are also capturing data of their activities - building a social and economic history.
Possibilities Beyond the Crisis
Blockchain aids in the resettlement of refugees, providing greater security and transparency in the immigration process, and allowing them to focus on life after conflict. With a permanent, cross-border identity record, blockchain can be used for work permits and asylum application processing. The technology could also greatly increase a refugee's ability to work and give them the ability to legally access basic services, including banking, healthcare and welfare.
Blockchain ensures a refugee's identity is not stolen, forged or duplicated by hosting their personal information on a decentralized ecosystem. Stored on "blocks" that are continuously verified and secured through cryptography, blockchain is critical in protecting a refugee's data from being exploited. The documentation of these refugees could make a huge difference to their lives especially as it might alter the public's perception of them.
While no technology should be considered a silver bullet that solves all ailments, there is little doubt that blockchain has the capacity to affect significant, positive change for the future of refugees and humanity. Blockchain will not only emerge as the integral infrastructure capable of revolutionising assistance during a refugee crisis, but also as the mechanism that has the potential to eradicate it.
Joseph Thompson is the CEO and Co-Founder of AID:Tech, the world's first company ever to deliver international aid using blockchain technology.
Any views expressed in this article are those of the author and not of Thomson Reuters Foundation.