Algeria has increased its oil output but urged fellow OPEC countries and other crude producers not to heed calls by US President Donald Trump to place more oil on the market to drive down prices.
THE average hotel occupancy rate in the first quarter of 2018 for Bulawayo hotels rose by 44%, up 15 percentage points from the levels recorded in the same period last year, industry officials have said.
Angola plans a new system for selling rough diamonds as part of President João Lourenço's efforts to increase investment, production and government revenue, a draft decree shows.
The Ethiopian Prime Minister Abiy Ahmed and Eritrean President Isaia Afwerki have announced on Sunday 8 July 2018 at a meeting in Asmara, Eritrean, that the two countries would re-establish diplomatic and trade ties. A signal that "war and talk of war must end" has really ended after almost 18 years.
Cameroon's economy is expected to grow 4 percent this year, up from 3.2 percent in 2017 due to the start of natural gas production and construction work for an upcoming soccer tournament, the International Monetary Fund (IMF) said.
Moroccan Minister of Foreign Affairs Nasser Bourita has refused any action from the European Union to outsource migrant reception centers to Morocco, emphasizing that this suggestion is an "easy solution."
The Chairperson of the AU Commission Mr. Moussa Faki Mahamat has charged African Union member states to commit to dialogue to resolve conflicts, pointing to countries like the Central African Republic, Western Cameroon, Western Sahara and Central Mali where he said people are "paying the price for violence".
Vienna – The "Voices of Migration" concert, the first ever musical event of its kind to be held at the United Nations, took place in the Rotunda of United Nations Vienna International Center on 28 June 2018, showcasing the richness of culture and art that migration brings.
The new immigration, asylum and integration bill officially approved by the French Senate, includes strict measures against illegal immigration which is targeting Algerians directly as they are second nationals who live in an illegal situation on the French soil with a population of more than 10,000.
The Directorate of Studies and Financial Forcasts in the Ministry of Economy and Finance, represented by its Director, Mr. Mounssif Aderkaoui, took part in the 10th plenary session of the OECD initiative on global value chains, held in Paris from June 26 to 27 2018. 
Further to its announcement of 27 April 2018 in respect of freezing orders filed against Mutanda Mining Sarl ("Mutanda") and Kamoto Copper Company SA ("KCC"), subsidiaries of Glencore plc, by Ventora Development Sasu ("Ventora"), a company affiliated with Mr. Dan Gertler,  Glencore has carefully considered its legal and commercial options in connection with its dispute with Ventora and Africa Horizons Investments Limited ("AHIL"), also a company affiliated with Mr Dan Gertler, and its obligations to its various stakeholders, including its shareholders, customers and the communities in which it operates in the Democratic Republic of the Congo ("DRC").  
Seedstars World 2018 Africa tour is now in Accra, Ghana, where ten of Ghana's best seed-stage startups will compete on 13 July to represent the country at the annual Seedstars Summit holding in Switzerland where winner can win up to US$ 1 million in equity investments and other prizes.
Kinshasa – The Government of Japan has given US$1m.  to  the IOM to expand the Democratic Republic of the Congo's (DRC) national Ebola response to other provinces – Kinshasa, Mai Ndombe, Tshopo and South Ubangi – and scale up the response in Equator province according to IOM release.
President Uhuru Kenyatta today warned Kenyans against politicising the renewed efforts to rid the country of corruption and economic crimes.
Art Basel's renowned talks series, will once again bring together leading artists, gallerists, collectors, art historians, curators, museum directors and critics from across the world. Programmed for the fourth year by Mari Spirito, Founding Director of Protocinema, Conversations provides a platform for dialogues and discussions on current topics, offering diverse perspectives on collecting and exhibiting art and the wider artworld ecosystem.
The 3rd edition of the LAFF Festival (Lausanne Afro Fusions Festival), the first Afro-positive festival in Switzerland, will take place from 19 to 22 July 2018. We expect between 10,000 and 20,000 people. With the beautiful Place de l'Europe in Lausanne, in the district of Flon, this edition will be dedicated to local and international discoveries.
UK – Gisa Fuatai Purcell, a national of Samoa has been appointed as Director of ICT Development Department of the Commonwealth Telecommunications Organisation (CTO). The Director of ICT Development, who reports to the Secretary-General is responsible for overall strategic direction of the operational divisions of Capacity Development, Events and Technical Support and Consultancy.
A new report, released by the Human Science Research Council, into HIV prevalence and incidence in South Africa, has shown a significant decline in new infections in 2017, compared to a similar survey five years ago.
But more concerning for researchers was the occurrence of risky behaviour among respondents.
It found that consistent condom use was low, early sexual debuts before the age of 15 had increased among males, and more than a third of young women had sexual relationships with older men.
"It is concerning to find very little behaviour change seems to have occurred since 2012," said Dr Mpumi Zungu, from the HSRC's HIV/Aids, STIs and TB (HAST) Research Programme, and a co-principal investigator (PI) of the survey.
"This suggests that most of the reduction in new infections was likely due to the impact of the expanded ARV treatment programme," she said.
Decline in incidence rates
The survey was based on interviews with 33 000 people between January and December 2017, with 24 000 of them agreeing to be tested for HIV.
The survey found there had been a significant decline in incidence rates, but that there had been an estimated 231 100 new HIV infections in SA in 2017.
The researchers said, although still high, it was a significant decline compared to 2012.
The survey found that the HIV incidence rate was higher among females aged 15 - 24 years old, where it was three times that of their male counterparts.
Dr Sizulu Moyo of the HAST Research Programme, and one of the co-PIs of the study, said the survey had found that more than 60% or an estimated 4.4 million people living with HIV (PLHIV) were on antiretroviral treatment (ART).
She said the study had also found that viral suppression was 87.3% among PLHIV who were on ART, with females generally being more likely to be virally suppressed than males among those aged 15 to 64 years old.
"This suggests that progress is being made in increasing ART coverage, however, more needs to be done to link those who test HIV positive to care as soon as they are tested, in line with the current policy of test and treat," Moyo said.
The survey did, however, find that social and behaviour change communication campaigns - such as those implemented by Soul City, Centre for Communication Impact (CCI), LoveLife and Community Media Trust campaigns - were reaching South Africans.
The study found that people who were highly exposed to these campaigns reported higher HIV testing, condom use, and correct knowledge of HIV compared to those who had lower or no exposure.
Source: News24
By Deus Ngowi in Arusha
HEALTH experts from universities and research centres in the United Kingdom, USA and some East African countries, are embarking on an extensive study on the challenges posed by antibiotic resistance in Kenya, Tanzania and Uganda.
The move was announced in Arusha yesterday by the Director of Quality Assurance in the Ministry of Health, Community Development, Gender, Elderly and Children, Dr Mohamed Ali Mohamed.
In his remarks while launching the three-year research mission here yesterday, he said the ability of bacteria and other microorganisms to resist the effects of an antibiotic was becoming a global problem whose reasons the scientists were determined to pinpoint and to come up with a lasting solution for.
Mr Mohamed said the experts would be looking at several issues, including whether patients use antibiotics without proper prescriptions, doctors overdose patients and patients using prescribed drugs along with those lined up for livestock.
They will be making follow-ups of particular cases deeply to come up with the right answers and solutions.
"Antibiotic resistance could be due to several reasons; these experts under the 'Hatuua Project' are interested to establish what causes it in East Africa. Such situations prompt the use of very expensive high-level drugs.
The Ministry has issued directives that are to be adhered to by all medical practitioners before issuing prescriptions to patients," Mr Mohamed said.
Dr Wilber Sabiiti from the University of St. Andrews in Scotland, said he was happy to see the consortium starting off the project that targets fighting the resistance in East Africa.
He related it to the spirit of Founding President Mwalimu Julius Nyerere, focused on uniting the country, noting that what the experts were doing was to sustain the spirit for better health for the people.
The Ugandan medical practitioner said the research findings would then be presented to respective authorities and the public would be made aware of them, to facilitate observance ensuing advices.
Professor Blandina Mmbaga, the Director of Kilimanjaro Clinical Research Institute (KCRI), said that in Tanzania, the institute would work with Bugando Medical Centre and Mbeya Zonal Referral Hospital and would specialize on Urinary Tract Infection (UTI) and establish what microorganisms caused it.
She explained that they would also be engaging communities such as pastoralists, to establish diseases that were transmitted from livestock as well as establishing the antibiotics they used.
There will be transplanting of parasites and genes as experts would be going deep to root out the causes and get solutions, she said.
Professor Matthew Holden from the University of St. Andrews, who is the chief investigator, said antibiotic resistance had become a global problem but over the next three years, they would be focusing on East Africa to establish how patients accessed antibiotics and use.
They would also probe the operations of pharmacies operated, as some could be issuing drugs without prescriptions or incomplete doses.
"As time unfolds, records show that diseases are becoming harder and harder to treat. We will want to know how people obtain the antibiotics and use them.
In brief we want to establish what is going on in this part of the world in relation to antibiotics use and what kind are available here, so that we eventually stop bacteria being resistant or influence the people to change behaviour," the professor said.
Dr John Stelling from Boston Centre said many people were suffering due to antibiotics resistance, for which solutions would be derived from the findings of the study.
By Paul Obi
Abuja — The federal government yesterday said it had changed the structure of healthcare funding in the country, with primary healthcare gulping about 64 per cent of the funds in the health sector.
The new funding structure indicates an increase in the funding from 18 per cent to 64 per cent, according to official report.
The rise in funding, according to the report, is linked to several interventions by the federal government on polio, vaccination, Primary Healthcare Centres (PHC), nursing and midwifery among other programmes.
Speaking at the launch of Technical Support Programme (TSP) for the National Primary Health Care Development Agency (NPHCDA), Minister of Health, Prof. Isaac Adewole, said it was imperative in focusing on the primary health care sub-sector given the challenge of accessibility and affordability in rural areas.
He said: "We need to turn things around to focus on primary health care where our people go to and that is the facility closest to our people.
"So investing in PHC is the right way to go. Over the last two years, we have changed the funding structure and the ED will testify to the fact that the agency is gulping the largest chunk of our allocation.
"When we started, it was from 18 percent, and the last moved to 64 per cent. So the ED, you are the prime centre of attraction, and I pray that you continue to deliver."
The Executive Director, NPHCDA, Dr. Faisal Shuaib, decried the increasing cases of shortage of technical support across the 36 states and FCT.
Shuaib explained: "Today, states continue to struggle with cold chain maintenance and delivery of vaccines in the right quantity to the right place and at the right time; shortage of human resources for health among others.
"The persistence of these challenges clearly highlights the need for the NPHCDA to improve on the delivery of its mandate to provide policy direction, technical and logistics support to states and local government areas (LGAs) to implement PHC services across the 36 states and FCT."
An official of the Bill and Medlinda Gates Foundation, Jenny Segueira, also tasked government to improve its tracking mechanism in the implementation of PHC programmes.
By Sakeus Iikela
The health ministry contravened the value added tax law after it paid close to N$1 billion to suppliers who were not registered to pay VAT.
This was revealed in auditor general Junias Kandjeke's report on the ministry's accounts for the 2016/17 financial year, submitted to parliament last month.
The report states that the auditors noted with "serious concerns" that the ministry had paid out an amount of over N$980 million "inclusive of Value Added Tax" to four companies that were not registered for VAT, but yet charged the ministry VAT on their invoices.
The VAT charged on the supply of goods and services by registered companies is paid to the inland revenue department in the finance ministry.
Kandjeke said the ministry contravened the Value Added Tax Act of 2002 and ordered the ministry to ensure that "suppliers only issue the ministry with proper tax invoices if they are registered for VAT and thus entitled to levy VAT on the supply of goods and services".
The health ministry's acting permanent secretary, Petronella Masabane, could not explain, nor provide the names of the companies which illegally charged the ministry VAT yesterday.
She said she would "interrogate" the matter, and respond.
"I have no comment at this stage as I need to interrogate the matter more. I will revert [to you] once I have established that it is warranted to release such information in the public domain," she added.
Apart from the VAT issue, the report also revealed how the ministry was reckless with vehicle records, and money used to buy vehicles.
According to the report, the acting permanent secretary reported that the ministry had 1 910 vehicles as at 31 March 2017.
It said 60 vehicles were purchased during the year under review, and that no car was auctioned, written off or donated.
The report further stated that the ministry reported that it spent about N$49 million to purchase the 60 vehicles, but the auditors found that N$62,5 million had been spent, which amounted to a N$13,6 million difference.
At the same time, about 100 ministry vehicles were also unaccounted for in the 2015/16 financial year.
In her comments contained in the report, Masabane said 34 vehicles were written off during the year under review, despite stating in the document submitted for audit purposes that no cars were written off.
The acting permanent secretary also claimed that a calculation error concerning vehicle records was responsible for the difference between the purchase price of the 60 vehicles and the general ledger amount, which she said represented money used to purchase "medical devices for other ambulances".
Besides, the report also revealed how the ministry overspent for the year under review by over N$280 million.
The ministry also overspent in the 2015/16 year by about N$340 million.
Despite registering to overspend, auditors found that about 30 ministry accounts had outstanding balances at the end of the financial year.
According to the report, 13 of the accounts had debit, and 17 had credit balances.
This includes the trade account of the Central Medical Stores, which had an outstanding balance of over N$69 million at the end of the financial year.
However, this account was also not reported in the ministry's financial statements for the year under review, even though it was still active.
The report furthermore revealed that the ministry had outstanding liabilities of about N$9,5 million and that the ministry has had no audit committee in place for the past three years.
By Tendai Rupapa
First Lady Auxilia Mnangagwa has facilitated the construction of a health centre and drilling of boreholes for the Doma community in Kanyemba, barely two months after visiting the remote area.
She opened the health post which is already equipped and handed over self-help projects that include fish farming and an orchard.
The First Lady visited Masoka, Angwa, Chagurika, Mariga and Chapoto villages in May and interacted with the communities, which raised a number of issues pertaining to their welfare.
These included shortage of health facilities, food and school stationery.
The First Lady, who is the maternal and child health ambassador, appealed to the relevant authorities and brought a new lease of life to the Chikunda-speaking community.
Addressing the gathering, the First Lady urged the 25 villages to put to good use the projects for sustainable development.
"I am happy that we are gathered here again today," she said.
"When I came here recently, I heard of all your challenges and needs. I then appealed to the relevant authorities for assistance."
"Ndinokumbira kwamuri zvinhu zvauya izvi ndezvedu saka ndinokumbirisa kuti nzvimbo idzodzo dzichengetedzwe zvakanyanya. Let us keep our boreholes clean and also do not allow thieves to come and steal your taps and the solar panels."
The First Lady handed over the two fish ponds to the community and Mariga school for them to start fish farming.
"I want you to learn how to do fish farming so that when I come back next time there will be more fish ponds," she said.
"Also fruits from the newly established orchard will help in sustaining your families. You can sell some of the fruits and keep some for your own consumption.
"The community garden has been fenced so you can now do your gardening without fear of animals eating your vegetables.
"Ndauya ndichifara kuti chokwadi hupenyu hwedu hwachinja kuno kuKanyemba."
After handing over the projects, the First Lady then donated assortment of groceries to the community that include rice, maize, cooking oil and kitchen utensils.
She also donated stationery, toys and shoes to school children.
The First Lady also brought a medical team who were offering their services for free to the community.
Minister of State for Mashonaland Central Advocate Martin Dinha applauded the First Lady for rescuing the community and described her as a listening mother.
"We would like to thank the First Lady for what she has done. Words are not enough to describe how grateful we are," he said.
"Her coming to this province has brought new life to the Kanyemba community. We were here two months ago and look at what she has done for us. A clinic, orchard, fish ponds and a fenced community garden to protect the vegetables from goats and animals such as buffaloes and bush bucks. All these projects will benefit the community a lot."
Member of Parliament for Mbire Constituency Cde Douglas Karoro said the Mariga village did not have a clinic before.
The nearest clinic is 12 km away.
"What Amai has done for us will linger in our minds for a long time. We want to thank her for remembering us," he said.
The Standards Organisation of Nigeria (SON) has stated that while high level of residue on farm products make them unsafe for consumption, it was also a part of many reasons why exported produce originating from Nigeria were being rejected.
According to the Standards body, using quality pesticides while also adhering to global best practices remain important in enhancing the acceptability of Nigerian products abroad.
The Director General, Standards Organisation of Nigeria (SON), Osita Aboloma, during a one-day sensitisation workshop organised for farmers and agro-chemical dealers in Kano, said the reason why most farm produce are rejected at the global market is due to the high level of residue on farm products making them unsafe for consumption.
Speaking on the "Dangers of using sub-standard, adulterated pesticides", Aboloma noted that the move by SON was to help eradicate the level of neglect of Nigeria's farm produce at the international market.
"This is why we are sensitising our farmers on the need to always produce to meet global best practices while also driving the non-oil export sector," he said.
He explained that the Federal Government has directed SON, other regulatory agencies and Department of Agriculture in the country to strengthen the regulatory approach on the manufacture, sales and distribution of unwholesome pesticides in the market.
He stated that the directive was also to get rid of the criminal network involved in the trade malpractice of adulterated pesticides and other related products.
The DG who was represented by the Director of Operations in the agency, Felix Nyado, added that SON would continue to monitor the performance and sale of the products in the markets to guarantee the safety of farmers using them, consumers of the farm produce as well as to protect the environment.
He pointed out that producing more food from the increasingly depleted soil was a major concern, not only to farmers but also to large food production companies and governments in the country.
According to him, the workshop was aimed at sensitising farmers and agro-chemical dealers across the country on the need to boost agriculture.
"Current worldwide trend shows an increase in the sale of pesticide products that are sub-standard contain contaminated contents or do not contain active ingredients).
"Therefore, investigation by the SON on the agro-chemical product markets, confirmed Nigeria is not immune from the above global trend," he said.
analysis
By Quentin Williams
The Cape region of South Africa has long had a vibrant tradition of protest hip-hop music. Cape hip-hop culture has had much to protest about: Colonialism, apartheid, inequality and monolingualism - the use of one, usually dominant, language. For rap groups like the deeply political 1990s crew, Prophets of da City(POC), the challenge was always to present an accurate picture of where they came from, and what their own and their people's struggles were.
Since colonialism, monolingualism has been the preferred way to define communication in South Africa. This has been tied to the practice of racialising (mainly) black, coloured, and Indian citizens along lines of race, language purity and fealty to the state. The justification for this was that multilingualism - the use of more than two languages - would confuse and complicate everyday communication, particularly the linguistic goals of colonialism and the apartheid state.
POC became the first rap group on the Cape hip-hop scene to sign a recording contract with a major South African record company, Teal Trutone. They came to prominence in the deeply violent late 1980s as well as early 1990s as the count down to the end of apartheid was beginning.
Early on, POC realised they had to make a strategic linguistic decision - to perform multilingual lyrics and music, versus monolingual lyrics and music, which at the time (and given the political climate of the apartheid government) would threaten to block out potential listeners. As POC rapper Shaheen Ariefdien put it in an interview in the early 1990s with academic Adam Haupt:
Hip-hop took the language of the 'less thans' and embraced it, paraded it, and made it sexy to the point that there is an open pride about what constituted 'our' style... to express local reworkings of hip-hop.
POC embraced the multilingual practices of the "less thans", the downtrodden. In particular they celebrated languages such as such as Black South African English, Cape Flats English, Cape Coloured English, and especially Kaaps, a black township version of Afrikaans. Kaaps is a working class tongue that stems from the same language roots but is distinctly different to the mainly white Algemeen Beskaafde Afrikaans which was the official language of the ruling class under apartheid.
At first, the group's rap music was set to Kaaps lyrics and a local variety of English, but later gradually expanded to an isiXhosa and Jamaican patois, peppered with various accents. This was an inclusive form of multilingualism, a signal what could be possible if the multilingualism of the "less thans" was taken into consideration.
Apartheid censorship
POC's debut album was called Our World (1990), followed by Boomstyle (1991), Age of Truth (1993), Phunk Phlow (1994), Universal Souljaz (1995) and Ghetto Code (1997).
The group's early music was produced under the turbulence of apartheid censorship. At the time POC revised their linguistic strategy and began in earnest to paint an authentic and truly multilingual picture of marginalisation in South Africa.
Take their song "Slang 4 your Ass" (from Universal Souljaz). Rapper Ariefdien takes his imagined listener on a lyrical journey as he draws different languages and cultural expressions of what it is like to live in a multicultural and multiracial township.
Alles in die haak broetjie, tjek 'it ja. (Everything is in order brother, check it yes.)
Solang die ding ruk is dit tzits ounse (As long as its moving along, it's ok guys)
Is mos soe my broe'! (Just like that my brother!)
Djy wiet dan (You know).
Phashaz, hola ghanzaan (I'm ok, how are you?)
Sien djy my broe (You see my brother)
die bra kick 'n ander flavou' uit my broe' (That brother kicks a different beat my brother).
The lyrics open up to the outsider how typically multilingual greetings are performed in the township. Multilingualism is celebrated and an array of voices, suppressed by the apartheid government (thankfully unsuccessfully), are given permanence, on wax and in song. It is the sound of inclusivity.
Language, lyric and rhyme
The main protagonist of the song then colours in the picture to the listener through language, lyric and rhyme:
I'm walking around with a head full of thought
Mixting it with my Township Talk
Like
hoe issit? (how are you?)
is djy alright? (Are you alright?)
ek is (I am)
en tjek (Check it out)
dialect into the mic
djy kry? (You see?)
Then I flex it the other way
making them wonder what is going on
Where could this man be from?
Well we get to that later.
Ariefdien takes the listener through the ghetto, and showcases what multilingual skills were needed to interact with multilingual speakers.
The message is that you can't box identities that have been forged through multilingual living in the ghettos of South Africa. The lyrics celebrate ghetto culture, but also protest stereotypes that seek to harm.
Variety of tongues
The multilingual tradition in Cape hip-hop continues today. Like Prophets of da City back in the 1990s, rappers still protest in a variety of tongues, often in the same song. It was heard when rap artists added their voices to the recent growing student protests and against the failings on democracy by the African National Congress government.
This music legacy goes unnoticed by mainstream media although it's given a lot of attention on social media. An example is "20 Years of Democracy/ Demockery" featuring Crosby, Teba, Spencer, Youngsta CPT, Trenton, Mthunzi, Leandro, Mkosi, Cream, Hipe, Sammy Sparks, Whosane, Clem Reuben and Emile YX?. This release brought together a powerful multilingual ensemble of voices and styles of speaking. Add to that "Must Fall" by Emile YX? featuring Java, Linkris the Genius, Black Athena, Daddy Spencer, Crosby and Khusta, and it's clear Cape hip-hop will continue to speak loudly to power.
Quentin Williams, University of the Western Cape
For several years women have been excluded systematically on art and anything major. History was mainly written by man in the public sphere, politics, war and administration. In the art sector exclusion was due to a myriad of factors.
Some of the factors were that art forms like textiles and what is called the "decorative arts" were often dismissed as craft and not "fine art".
Many women were kept from pursuing a general education, let alone arts training; and finally the men who dominated the discipline both in practice and history often believed women to be inferior artists.
The National Gallery of Zimbabwe has been working tirelessly with the regards to redressing social injustices and gender imbalances.
It is important to note that for many decades, women have been actively involved in art making, whether as creators and innovators of new forms of artistic or as expression, patrons, collectors, sources of inspiration, or significant contributors as art historians and critics. It is in this vein that the National Gallery of Zimbabwe on the 23rd of August will host a women's exhibition.
Themed the "Equality of Women" the exhibition will attract a sizeable number of female artists exhibiting. The Equality Women of exhibition will be co curated by the National Gallery of Zimbabwe's executive director Doreen Sibanda and assistant curator Valerie Sithole.
The artworks to be exhibited illuminate unspoken words, emotional states, and elations and marginalisations. They show will present topical issues from the Zimbabwean perspective such as cultural suppression, patriarchy, matriarchy, physical and emotional abuse, inheritance and economic dependency, inequality, lack of empowerment and social marginalisation.
Moreover, positive leadership attributes of breaking glass ceilings, success at multi-tasking; stepping into roles previously preserved for men, and choosing to live life on their own terms will also be explored.
Some of the artists to exhibit include Doris Kamupira, Agnes Mupariwa, Grace Nyahangare, Charmaine Chitate, Portia Zvavahera, Virginia Chihota, Helen Teede, Maud Mariga, Davina Jogi, to mention but a few.
Born in 1968, Agnes Mupariwa is a stone sculptor. She started as a stone washer at the Chitungwiza Art Centre which ignited her passion for stone sculpting. She began to carve professionally in 2000.
She specialises in spring stone, opal and fruit Serpentine. Her resilience has seen her succeed in a male dominated stone sculpture industry. She has participated in local and international exhibitions. She won the second prize for originality and creativity by Grove limited in the Decade of Achievements exhibition in 2002 and an honorary mention in the 2017 Brock awards in Chitungwiza.
Born in Mutoko, Doris Kamupira studied art at the then British American Tobacco (BAT) Visual Art Studio now called the National Gallery School of Visual Art and Design. She holds an honors degree in Fine Arts from the Chinhoyi University of Technology. Her work takes a critical view on social, political and cultural issues. Kamupira uses her work as a means for expressing her inner most feelings and for interrogating situations where answers are supposed to be more developmental trends in dimensional changes. Her recent works are mixed media paintings that involve embroidering on canvas and pasting up pieces of cloth or paper.
Meanwhile, Grace Nyahangare is a talented young woman artist bound to make a difference in the society with her body of work creating unity. Printmaking and photography enables her to communicate about her personal life and the world at large.
The Women's month is a month when women are recognised for their achievements without regard to divisions, whether national, ethnic, linguistic, cultural, economic or political. The E-quality of Women is about work that comments on the perceived or actual parity of women in all spheres of achievement and activity; while offering an opportunity to reflect on the qualities that constitute women from a variety of perspectives.
It will present a layered conversation about how women are, their spheres of freedom and containment and equality. These are interrogated through the work of individual artists. In addition, the exhibition will feature women that have contributed to the development of the world, Africa and Zimbabwe.
This will take the form of a photographic image presentation. Various films produced by women will be available to view during the show in addition to the staging of films for the International Images Film Festival (IIFF) for women scheduled to run from the 24th to the 31st of August 2018.
Various conversations will take place exploring the topic and one event will be the Ladies the Lunch event scheduled for Friday August 31 at the National Gallery of Zimbabwe.
The National Gallery continues to be a hub of art as it has been the voice of reason for the marginalised female artist. Artists are given equal opportunity to exhibit regardless of their gender.
By Kennedy Nyavayaa and Sindiso Dube
Dancehall star Winky D has released a cheeky political statement challenging the current political status quo through a single titled Parliament, which found its way to the internet on Friday morning.
Known for subtle socio-political commentary in songs like 25 and Dzemudanga released in 2016 and last year respectively, the nifty lyricist pairs the Elders Riddim with clearer political sentiments.
Within 2 minutes 55 seconds of the song produced by T-man of Mt Zion Records, the Gafa as Winky D is affectionately known, hints that the country needs a change of political players as it heads towards harmonised polls on July 30.
"PaGhetto tateketera panematsutso, mazhinji vanenge marechera Dambudzo," Winky D metaphorically says the youths in the ghetto are suffering because of the same political players who bring the problems (Dambudzo) an ironic reference to President Emmerson Mnangagwa's middle name.
Winky D lamented the idea of allying with political party ideologies.
"Vamwe vati ita chiIndependent candidate. Hapachadi zvema pato pakuda solo zhet, Tombomira kusimbisana pakuda shanduko," he sang suggesting a "Zambuko (crossover)".
The song, which already has thousands of views on his winkyonline YouTube channel and other online platforms, is generating interest, especially from seeming MDC Alliance sympathisers who feel the hook "Gafa chete chete" resonates with their election tagline "Chamisa Chete Chete".
The idea is not far-fetched though as one would wonder why Winky D deliberately used Gafa Chete Chete in a political sphere currently pervaded by multiple slogans, including the ruling Zanu PF's ED Pfee.
"Subtle endorsement #CCC," noted Livingstone Masango in the comments section.
One Mumford Chinzou said the multi-award winner was representing the majority of struggling youths.
"I respect you, Ninja President. You are the voice of the ghetto yuts [youths] from day one up to now. you shun bootlicking, but say it as it is," he said.
Some had cautionary messages warning the talented musician against dabbling in politics.
"He is an artiste, a very crafty one for that matter and he knows better than to become a politician and risk dividing his fan base. He has to tread carefully though, for he is now treading on thin ice. Many have lost their lives for the same cause," was Quintessential Martin's message.
Winky D has over the years positioned himself as the mouthpiece for the less privileged that stay in the ghettos, but has consistently maintained undertones when it comes to politics.
His latest song is in the same dish as Chimurenga music legend Thomas Mapfumo's Chauya Chauya and Jnr Maskiri's (Tronnixx) Garwe Ngaridzokere Mumvura.
Of late, musicians have been finding their voices in the political sphere, which was for long a no-go area, which attracted state repression resulting in critiquing musicians like Mapfumo going into exile.
Legendary musician Oliver Mtukudzi seems to have fallen in love with South Africa, amid reports that the music superstar is reconnecting with his erstwhile manager Debbie Metcalfe whenever he crosses the Limpopo River.
Sources said Tuku and Metcalfe "reunited" when the musician performed in Cape Town last month.
"There is no bad blood between the two [Tuku and Metcalfe] as people may want to think. When Tuku performed in Cape Town recently they were reunited in dance and song on stage," said the source.
"It was love hugs and kisses among Tuku, Debbie and Daisy on stage."
Metcalfe, who is credited for resuscitating Tuku's music career at the turn of the new millennium before her unceremonious departure in 2008, has always described working with Tuku as the most rewarding spell of her career.
The now South Africa-based manager was also instrumental in making Tuku's dream of taking local music internationally a reality.
"It seems Tuku has found a "new home" here in South Africa and you cannot rule out a reunion with Debbie," said a source.
Meanwhile, Tuku returns to South Africa next month where he is billed to have a number of shows, courtesy of local promoters Xtratime Entertainment, Ngoma ne Hosho and South Africa's Bassline Live.
Xtratime Entertainment is famed for organising Mtukudzi gigs in South Africa under the Tuku Birthday Concert banner. All the shows were sold-out, making Tuku one of the prominent foreign performers in South Africa.
According to the itinerary released by Xtratime Entertainment, on August 4 Tuku performs in Johannesburg before he flies to Durban for another gig on August 10. A day later the superstar will grace the Oppikkopi Festival in Limpopo province. On September 24, Tuku will return to South Africa for the annual Tuku @ 66 Cape Town Concert in Johannesburg.
Tongai Mbidzo of Xtratime Entertainment confirmed to The Standard Style that Tuku will spend the better part of August in South Africa for a series of shows.
"Xtratime Entertainment, Ngoma neHosho and Bassline Live are working flat out with Tuku keeping him busy in South Africa," he said.
"In the past few months, Tuku has performed three times in Cape Town, twice in Johannesburg and once in Port Shepstone. All the shows were sold-out proving that the superstar is still maintains huge following in South Africa."
Mbidzo said apart from Tuku, the shows will have some Zimbabwean flavour in young artistes who will share the stage with the veteran singer.
"We try by all means to accommodate upcoming artistes from Zimbabwe to be part of Tuku's shows. Last time he was accompanied by Sylent Nqo, Bryan K and Pro Beats and we hope to keep on promoting these young artistes," he said.
Mbidzo said their relationship with Tuku was out of this world.
"It's been great working with Tuku's new management team led by Walter Wanyanya and we will continue to work with them as talent deserves to be exposed," he said.
Wanyanya could not be reached for comment yesterday.
Musician Jah Prayzah will for the second year running celebrate his birthday with his legions of followers when he performs at the One Big Party event at Padziva along Kirkman Road on July 28.
Born Mukudzeyi Mukombe, Jah Prayzah was born on July 4, 1987 and it has become his tradition to celebrate his life among his followers, thanks to Jive Zimbabwe under its #OneBigParty franchise.
Last year Jah Prayzah gave a scintillating performance when he performed at a similar event that was held at Alex Sports Club in the capital.
The #OneBigParty concept is meant to bring artistes, businesspeople and entrepreneurs together, according to Jive Zimbabwe director Benjamin Nyandoro.
"#OneBigParty is a franchise established by Jive Zimbabwe that seeks to bring together people celebrating their birthdays, anniversaries, milestones, achievements, awards, anything that made your month every month," he said.
"Our vision is to have this day on the same day everywhere where people come together to celebrate. We have activities lined up for each month and on July 28 we are at Padziva with Jah Prayzah.
"It's a family affair. Jah Prayzah is officially celebrating his birthday at the One Big Party. We have come a long way. It's an honour to have him at Padziva."
Jah Prayzah will make his debut performance at PaDziva in Dzivaresekwa on July 28 at the One Big Party event.
One Big Party has brought life to Dzivaresekwa as many artistes have performed at the venue that is fast becoming popular with merrymakers.
The party brings together celebrities and fans that would be celebrating their birthdays in a certain month.
Jah Prayzah turned 31 on July 4 and he will be celebrating with fellow musicians and fans at the big party. All people that were born in July are free to attend the event and be showered with gifts and presents.
PaDziva owner Benjy Nyandoro said all is set for the big day.
"We have done the groundwork and many people from the area are happy with the move. We have done several shows before, but this one will be our biggest event. We want to bring best entertainment to PaDziva and we know Jah Prayzah will make a big statement," said Nyandoro.
"For a long time, people from Dzivaresekwa and surrounding areas did not have an outdoor place for fun. PaDziva has brought that facility and it is exciting to note that most of the popular musicians will have performed at the place by the end of the year."
Jah Prayzah's manager Keen Mushapaidze said they are planning a big celebration with fans.
"We did not have a big show to celebrate Jah Prayah's birthday. The July 28 show will be the party and people should come in their numbers to have fun with their icon.
"All music lovers that were born in July should come to the event. We will have fun on the day and we will bring the best as usual. It is our first time to perform at the place and we promise the best," said Mushapaidze.
The impact that a South African programme has made on the education of children has earned it a prestigious international award.
Partners for Possibility, the flagship programme of Symphonia for South Africa, was one of six winners in the World Innovation Summit for Education (WISE) awards, which recognises and promotes innovative projects across the world that aim to address challenges in education.
The programme, founded by Dr Louise van Rhyn, aims to improve the quality of education by capacitating principals at under-resourced schools and building their leadership skills by partnering them with business leaders.
Participants in the programme go through a 12-month leadership development programme while tackling the challenges their schools face, together with their partners.
Van Rhyn said to date, her initiative has benefited 1 630 principals and business leaders, while 625 000 pupils have benefited.
"To be recognised as the winner of the 2018 WISE Awards is a very special achievement," Van Rhyn said.
"It means that the Partners for Possibility programme meets the criteria of being a creative solution to a pressing educational challenge, that is, reducing the inequalities in the South African education system," she said.
"We are humbled to have a global platform to share the insights and solutions of the programme, as well as the opportunity to shed light on how its innovations can be applied to other industries and countries."
The five other 2018 WISE Awards winners are Safe Spaces Clubs for Girls in Nigeria, One Village One Pre-School in China, Generation in the USA, Technology-Based Deaf Education in Pakistan, and 1001 Nights Life Skills and Citizenship Education Program in Canada.
Other educational issues that entrants to the 2018 WISE Awards attempted to address include projects for girls' education, early childhood education, the refugee crisis, cultural exchange, citizenship values, youth employment, entrepreneurship in disadvantaged communities, deaf education, and stimulating critical and creative thinking.
News24
The trial of Bonginkosi Khanyile, the controversial leading figure in KwaZulu-Natal's Fees Must Fall movement, is expected to resume in the Durban Regional Court on Wednesday.
A 40-minute video that purportedly captured violence during the Fees Must Fall protest in 2016 will apparently be screened in the court on Wednesday as part of evidence against him.
Khanyile graduated this year with a Bachelor of Technology in Public Management at the Durban University of Technology (DUT) after his suspension from the institution.
He faces a string of charges, including inciting public violence, the possession of explosives, the contravention of the Gatherings Act, possession of a dangerous weapon, failure to comply with police orders, common assault and hindering traffic.
The majority of these relate to his leadership during protest action at DUT on September 27, 2016.
On Tuesday, Warrant Officer Shaun Robins, a police videographer who works out of the public order policing division in Marianhill, testified that he captured the violence on video.
"They pulled the main gate closed behind them and started pelting us with stones. There appeared to be building rubble and bricks that they threw at us. They were also using slingshots to attack police."
Khanyile was previously denied bail on several occasions and was only released after he took the case to the Constitutional Court.
News24
By Vincent Obia
United States Consul General F. John Bray disclosed yesterday in Lagos that Nigeria had the highest number of students from sub-Saharan Africa studying in the US and ranked 12th among the over one million foreign students in the country. Bray spoke at the Consulate General in Lagos during a pre-departure orientation for Nigerian students heading to US to study.
He said 35,364 of the international students in the US were from sub-Saharan Africa.
According to Bray, "There are currently 11,710 students from Nigeria studying in the United States. 49.5 per cent undergraduate; 36.2 per cent graduate students, 2 per cent are non-degree candidates, and the remaining 12.3 per cent are on Optional Practical Training.
"Compared to last year, this represents a 9.7 per cent increase. The number of Nigerians studying in the US has been going up for the past seven years."
He said students from Nigeria attended about 800 institutions in each of America's 50 states. "The most popular state is Texas, with 1,540 students, while the most popular college/university is Houston Community College, with 220 students."
Bray said the US Department of State had granted scholarships to about 250 Nigerian students from the Lagos centre of its EducationUSA programme to study at institutions in the US. He explained that EducationUSA was a US Department of State network of over 425 international student advising centres in more than 175 countries promoting higher education in America to students around the world by offering accurate, comprehensive, and current information about opportunities to study at any of the over 4,700 accredited post-secondary institutions in the US.
"EducationUSA is your official source on US higher education," the consular general stated. "To date, about 250 student-members of the Lagos EducationUSA Center studying at U.S. institutions in the fall of 2018, have received scholarships from US institutions totalling over $4 million."
He added, "One-12th grader got a full ride scholarship to Harvard to study Political Science. Many of the graduate students with whom EducationUSA worked were admitted to fully funded doctoral programs in the STEM fields.
"Six Opportunity Fund Program grantees will be going for their fully funded PhD programs in STEM fields.
"I am very proud of EducationUSA Lagos for reaching approximately 25,000 students this year, through various means, such as at the centre, on-line, at fairs, etc. information on studying in the US (Source: EducationUSA Lagos)."
Students at the University of Fort Hare have been unable to write their exams due to a strike by members of the National Education, Health and Allied Workers' Union.
On Tuesday, mid-year exams at the university were disrupted after Nehawu members protested outside exam venues at the Alice and East London campuses.
The union is demanding an increase of 8% and a notch progression of 1%, while the university says it can only offer 7.5%.
Nehawu provincial secretary Miki Jaceni said, until the university came up with a better offer, the strike would continue.
"We are convinced that there is a way that the university can look into this situation, in terms of the monies issued to the university [by the Department]," Jaceni said.
Fort Hare University spokesperson Khotso Moabi said a meeting between the institution and the union had deadlocked last week.
He said, if the university was to meet the demands of the workers, it would infringe upon a directive from the Department of Higher Education.
"Meeting Nehawu demands would firstly put us at odds with the Department of Higher Education, in terms of their directives of salary costs not exceeding 62% of the operational budget. If we were to accept the 8%, we would be infringing the directive of the department," he said.
Moabi added that, while exams remain postponed, the university would meet with the Student Representative Council to discuss their concerns.
"We are also meeting with the SRC, because it would appear at face value that they want to support the Nehawu strike. We are going to meet with them and find out what exactly their challenges are," Moabi said.
Last month, students at the university were forced to wait for the second semester to complete their exams, after lecturers and other staff members embarked on strike action.
Moabi said examinations would remain suspended for the safety and wellbeing of students, as the institution continued to engage with the union.
Source: News24
analysis
By Rebecca Davis
Makangwane Secondary School in Limpopo is in such a derelict condition that in January 2018, a classroom's corrugated iron roof blew off and nearly injured pupils. The Department of Education admitted that the school is "uninhabitable", yet took no action to improve it. With schools reopening now for the third term, pupils are being taught in mobile classrooms that have only arrived because a court ordered the government to provide them. On Tuesday, the Bhisho High Court postponed judgment on a matter that may prevent future cases like that of Makangwane.
"When I was in Grade 10 the wooden beam from the roof fell in," says 18-year old Petronella Hlako.
Conditions in Limpopo's Makangwane Secondary School would only deteriorate further - to the point where lessons had to take place under trees outside.
"We didn't even have a chalkboard to write on. When we sat down we didn't have desks to write on, and our papers would be blown around by the wind, other learners would be making a noise and there are animals roaming around."
Hlako, captured in a video by advocacy group Section27, says:...
By Chris Gilili
Mid-year exams at the University of Fort Hare have once again been halted by students. On Tuesday exams were supposed to resume, but students chose not to write while university staff remain on strike and there is a police presence on the East London campus.
Last month, university staff downed tools after talks over wages deadlocked between union and management. Staff disrupted examinations at the East London and Alice campuses.
National Education Health and Allied Workers Union (NEHAWU) shop steward, Bulelani James, said, "We were demanding a 15% wage increase but they [university management] were not willing to offer that. We came down to 8% and they are only offering 7%. ... We are told the vice chancellor is on leave and attending the Mandela centenary celebrations. Management told us nothing can be decided until the VC is back."
Speaking for the Student Representative Council, Dumisa Maputi said, "The students are ready to write, but the strike is the issue. We hope the union and university management can reach an agreement very soon, because this will hinder our future as students. Some of us should be graduating in September, but that cannot happen without results. Some have to look for jobs but that will also need our results. Students are the most inconvenienced by this," said Maputi.
A university spokesperson said, "No agreement has been reached yet between union and management. Unfortunately the exams will not continue until there has been a meeting and a solution reached."
Asmara — According to the Joint Declaration of Peace and Friendship signed by the Governments of Eritrea and Ethiopia on 9 July in Asmara, the Ethiopian Air Lines will start its inaugural flight tomorrow Wednesday, 18 July.
According to the information from the office of the Air Lines, families that have been separated for many years are expected to reunite again.
It is to be recalled that, the five points Joint Declaration of Peace and Friendship was signed by Presidents Isaias Afwerki and Prime Minister Dr. Abiy Ahmed during the Prime Minister's official visit to Eritrea at an invitation of President Isaias.
One of the three pillars of the agreement is "Transport, trade and communications links between the two countries will resume; diplomatic ties and activities will restart".
Telecommunications service between the two countries has already reopened starting from July 10.
The Eritrean Embassy in Addis Ababa that was closed for two decades has been reopened by President Isaisa Afwerki at a ceremony held on 16 July in the presence of Prime Minister Abiy Ahmed.
It is to be recalled that President Isaias Afwerki conducted officaila visit to Ethiopia from 14 to 16 July at an invitation of Prime Minister Dr. Abiy Ahmed of the Federal Republic of Ethiopia.
By Andrew Muvishi
Government has initiated youth empowerment programmes aimed at ensuring their participation in the tourism sector, a Cabinet minister said yesterday.
Speaking at a youth in Tourism Preparatory Meeting in Harare last week, Tourism and Hospitality Industry Minister Prisca Mupfumira said the development of the nation could only be achieved through allocating resources to youths and women with potential.
"This can only be true if we empower our young men and women accordingly, across all sectors of the economy, including tourism, she said.
She added that globally, youths are regarded as special vehicles for both social and economic development.
Minister Mupfumira applauded President Mnangagwa for empowering youth through the Empower Bank.
"Recently, President Mnangagwa launched the Empower Bank barely a week after the launch of the Zimbabwe Women Micro Financing Bank."
"This is a clear indication that the Government is seriously committed to empowering both young men and women of this country.
"It is indeed the vision that His Excellency, the President, has set for us as a nation going forward," said Minister Mupfumira.
"Tourism policies and frameworks are already in place to support and encourage youth participation in tourism projects."
"The National Tourism Master Plan, which was launched by Vice President Chiwenga in May this year, clearly points out areas of potential development."
"This is supported by the National Tourism Sector Strategy that gives direction to tourism development over a period of time. These policy documents are all at your disposal, young men and women, to play a meaningful role in the tourism sector, in particular, and our societies in general," said Minister Mupfumira.
"The Government does not just recognise the potential of young people as leaders of tomorrow, but is also cognisant of their role as positive change agents for socio-economic development."
"We need to nurture our youths to play a critical role in eradicating poverty and participate fully in the development of societies through different platforms."
"We should also look at the rural youth, there is more tourism out there, we must start at the grass root by implementing eco-tourism."
By Enacy Mapakame
Hospitality group, Meikles Limited, intends to expand its Victoria Falls Hotel in the resort town as it positions itself to capitalise on the anticipated boon in the tourism sector driven by the expected economic growth.
The group is also embarking on massive refurbishment of the hotel and its other properties across the country.
This comes as both the Victoria Falls Hotel and Meikles Hotel have enjoyed growth in occupancy during the first few months of the new financial year.
"A refurbishment programme for the Victoria Falls Hotel will commence before the end of 2018. However, of greater significance is a project to enlarge the hotel with additional accommodation which is currently in the initial stages of planning and implementation which need to be expedited," said executive chairman John Moxon in a statement accompanying the group's financial results for the year to March 30, 2018.
Zimbabwe's tourism sector is on a major rebound buoyed by a change in Government policy that has helped to market the country as safe investment destination. This has resulted in many tourists also visiting the country as buttressed by hotels that have recorded bookings until the end of the year.
The group, however, closed its Mega Market and 'M' stores, partly in the later months of the year and partly in the early months of the current financial year. At an EBITDA loss of $4,2 million, the segment was badly affected throughout the year by the absence of funds to the group from Government, a position which was still prevalent in the early months of the current financial year.
Management indicated the segment will now focus on retail offering that is compatible with the forward requirements of the smaller but more specialised retail offering.
"In this context, a renovation of Barbours will be a priority," said Mr Moxon. The Barbours refurbishment project is expected to be completed in this financial year.
According to Mr Moxon, the other stores are expected to adopt the same merchandising methodology as Barbours, but physical renovations will coincide with the redevelopment of the group real estate properties in which retail will be located alongside other tenants. The group also anticipates to capitalise on the commercial retail properties that are well positioned across major cities.
Mr Moxon said the properties were being analysed for redevelopment along a similar concept to that achieved at the Village Walk in Borrowdale.
"It is anticipated that these projects, when completed will generate substantial rental revenue for the group," he said.
By Bankole Orimisan
The insurance industry has lost a whopping N240 billion premium income from the non-insurance of an estimated eight million tricycles and motorcycles which ply Nigerian roads between 2000 and 2017, The Guardian has learnt.
This figure, according to finding, is only N10 billion less than the total premium income generated by insurance companies in the year 2016, which was put at N250 billion, following a drop in insurance renewals, with only few new covers recorded and the preference for quarterly and monthly premiums as a result of the current economic recession.
The development shows lack of enforcement of insurance laws on the one part, and huge revenue leakages for the sector, which are also taxable to boost government's non-oil revenue status on the.
Further investigation showed that the industry now loses about N40 billion on a yearly basis to uninsured tricycles and motorcycles, as virtually all of them have no third party motor insurance cover, which is N5,000 under the Third Party Motor Insurance Act.
Since 2000, there have been influx of tricycles, popularly known as Keke NAPEP and motorcycles, commonly called Okada, as means of transportation in most urban and rural areas across the federation, following rising unemployment, with a lot people eking out a livelihood through them.
Despite this influx, insurance operators have been unable to sell their products and services to these transporters as the owners refuse to buy insurance cover.
The reason for the continuous neglect of insurance cover by these transporters, findings show, is because the law enforcement agencies are too lenient with tricycle and motorcycle owners, as they rather focus on motor vehicles for insurance enforcement.
Even the few tricycles and motorcycles that have insurance cover, findings show that they are mostly fake insurance papers.
With no enforcement, the riders do not care about having an insurance cover, especially as they are unaware of the benefits of insurance.
A commercial tricycle operator who shuttles between Cele-Express to Ikotun area of Lagos State, confided in The Guardian over the weekend that he and his colleagues do not bother about insurance papers because they had never been disturbed by any official over it.
A check carried out within the Lagos metropolis at the weekend shows that the Vehicle Inspection Officers (VIOs) only stopped vehicles with incomplete vehicle documents, insurance inclusive, but did not stop Keke NAPEP and motorcyclists, who passed their checkpoints freely.
The Deputy Commissioner, Technical, National Insurance Commission, Sunday Thomas, who also spoke on development, attributed it to low insurance awareness in the country, pointing out that lack of enforcement is a major problem.
He, however, confirmed that Keke NAPEP and motorcycles were covered under the Insurance Act.
"On the motor vehicles, we still have the majority not having genuine insurance, not to talk of millions of Keke NAPEP and Okada across the country. They are all motor vehicles under the Third Party Motor Vehicle Insurance Act. They are also expected to get cover, but the capacity of the law enforcement agents again might be responsible," he said.
Thomas urged law enforcement agencies, comprising the Federal Road Safety Corps (FRSC) and Vehicle Inspection Officers (VIOs), among others, to assist the insurance industry to implement the insurance policy as the industry cannot enforce it by itself.
"It's about sensitisation- creating the awareness. First and foremost, start with the awareness before you start to enforce," he pointed out.
Insurance analyst who also spoke on the basis of anonymity, affirmed that the inability of law enforcement agents to enforce the purchase of insurance by tricycle and motorcycle owners had continued to deny insurance operators billions of Naira yearly.
He noted that insurance companies parade good products for Keke NAPEP and Okada riders, but that the lack of enforcement had made both parties not to patronise the products.
According to him, when the laws were enforced, the parties were buying the products, but now they operate with no insurance cover because they are not compelled to buy.
He urged the government to support the insurance industry by enforcing the procurement of compulsory insurance cover, adding that the insurance operators cannot sell the products and at the same time, carry out enforcement.
When asked whether they aware that most tricycles and motorcycles have no insurance cover, one of the patrol teams of VIO in Obalende, said his inspectorate would conduct an investigation into the matter to establish and address the matter. "They are equally covered by law. We will do our investigation on this," one of them retorted.
The President of Progressive Shareholders Association of Nigeria (PSAN), Boniface Okezie, urged insurers to reach out to them and encourage them to buy insurance as it would enhance the premium base of the industry and by extension, shareholders' returns.
Section 38 of the National Insurance Act 2003, currently in use, states that Third Party Motor Insurance is required as part of the minimum amount of auto cover as a road user, while penalties for non-compliance can include a fine of up to N250,000 and/or one-year imprisonment.
The Guardian had exclusively reported that the insurance industry was losing a whopping N60 billion every year as only 25 per cent, translating to four million of the estimated 16 million vehicles on Nigerian roads, have genuine third party motor insurance policy.
The Federal Government of Nigeria on Wednesday announced that the name of the proposed new National Carrier is 'Nigeria Air'.
The Minister of State for Aviation, Hadi Sirika, disclosed this while unveiling the airline to investors at the ongoing Farnborough International Air Show in UK.
The colour is green white green.
Details later... .
Cape Town residents have been advised to avoid the water off Clifton beach because there has been a sewage spill.
Safety and Security mayoral committee member JP Smith said on Wednesday that the spill was at Clifton 1st Beach, in the vicinity of 40 Victoria Road.
"The spill emanated from a sewer blockage at a nearby property and the City's teams are hoping to repair the blockage as soon as they're able to gain access to the property," he said.
"Any form of full-contact recreational activity such as swimming, diving, water skiing, surfing, paddle skiing and wind surfing may increase the risk of gastrointestinal problems, as well as skin, eye, ear and respiratory irritations."
People should use the sea at their own risk.
"City Health will erect signage to warn the public about the situation and will inform the public once the spill has been resolved and this area of the beach is safe again."
Clifton Surf Lifesaving Club manager Geoff Bolton said some people were in the water, although it was relatively quiet.
"We still have our regular water users here."
He said there were no warning signs up yet.
Smith told News24 that environmental health officials had committed to placing the signs and they would be up soon.
Source: News24
By Ibrahim Oruko
Ugandan opposition leader Kizza Besigye is expected in Nairobi on Monday to preside over the launch of a book on Kenya's last General Election at the Intercontinental Hotel.
Mr Besigye will give the keynote address at the launch of the book titled: Kenya: The Failed Quest for Electoral Justice.
Journalist John Onyando authored the work through a grant from the Kenya Human Rights Commission (KHRC). The human rights group invited Mr Besigye to Kenya to preside over the launch.
Other speakers at the launch will include former Chief Justice Willy Mutunga, political leaders and lawyers who handled election petitions.
According to a summary provided by the author, the book examined political events around the 2017 election within a historical framework and concluded that what should have been Kenya's freest vote turned out to be its most tainted in the multiparty era.
"The elections were so flawed that their true account would be established only through an independent audit such as the one led by former South African judge Johann Kriegler into the 2007 elections," Mr Onyando said in a statement to the media.
By Victor Otieno
An author has launched a children's book based on former US President Barack Obama's visit to his native K'Ogelo village.
The book titled Obama's Bed, which calls for cohesion among Kenyans, was launched yesterday at K'Ogelo Resort Centre. The centre is located a few metres from the Sauti Kuu Foundation Sports, Resource and Vocational Training Centre that Mr Obama will open today.
The writer, Mr Andrew Maina, said he launched the book during Obama's visit to ensure the message of cohesion reaches many people.
"The book has a powerful message about cohesion, which we wanted to reach as many people as possible. So we were looking at how best to make people know about it," said the author.
While children are the book's main target audience, Mr Maina noted that it can also be read by adults. He said he was motivated by last year's disputed general election that left the country divided. In the book, a young girl named Wanjiku from Mt Kenya together with others from different regions set off for a visit to Mama Sarah Obama's home under a programme she runs. They make several stopovers interacting with people from other communities.
Mr Maina said through the book, he intends to expose learners on the importance of togetherness at a young age, hoping that the message will bring long lasting unity among Kenyans.
"People have stereotyped other communities and put them in certain boxes. We want to bring them out of these boxes and spread the good will that no matter where you come from you can live everywhere in the country," he said.
Former U.S. President, Barack Obama, has recommended Chinua Achebe's "Things Fall Apart" and Chimamanda Adichie's "Americanah" among six books for the 2018 Summer reading list.
Obama took to his Twitter handle to announce the six all-African authored books ahead of his first visit to Africa since leaving office on Jan. 20, 2017.
The visit would take him to Kenya and South Africa.
Obama wrote: "Things Fall Apart by Chinua Achebe is a true classic of world literature.
"This novel paints a picture of traditional society wrestling with the arrival of foreign influence, from Christian missionaries to British colonialism.
"A masterpiece that has inspired generations of writers in Nigeria, across Africa and around the world.
"Americanah by Chimamanda Ngozi Adichie: From one of the world's great contemporary writers comes the story of two Nigerians making their way in the U.S. and the UK, raising universal questions of race and belonging, the overseas experience for the African diaspora and the search for identity and a home".
The other books suggested by the former U.S. leader included "A Grain of Wheat" by Ngugi wa Thiong'o and "Long Walk to Freedom" by Nelson Mandela.
The first Black U.S. president born to a Kenyan father, described Africa as "a continent of wonderful diversity, thriving culture and remarkable stories".
He also announced the launch of a civic leadership programme by the Obama Foundation after selecting 200 rising leaders from 44 African countries, holding on July 14 in Johannesburg, South Africa.
"This week, I'm travelling to Africa for the first time since I left office - a continent of wonderful diversity, thriving culture, and remarkable stories.
"I was proud to visit sub-Saharan Africa more times than any other sitting President, and I'll return this week to visit Kenya and South Africa.
"In South Africa, the Obama Foundation will convene 200 extraordinary young leaders from across the continent and I'll deliver a speech to mark the 100th anniversary of Nelson Mandela's birth.
"Kenya, of course, is the Obama ancestral home.
"I visited for the first time when I was in my twenties and I was profoundly influenced by my experiences - a journey I wrote about in my first book, 'Dreams from My Father'.
"Over the years since, I've often drawn inspiration from Africa's extraordinary literary tradition.
"As I prepare for this trip, I wanted to share a list of books that I'd recommend for summer reading, including some from a number of Africa's best writers and thinkers - each of whom illuminate our world in powerful and unique ways," the 44th U.S. president said. - NAN
By Boniface Chimedza
All is set for the book launch of author and gospel minister Liberty Mwariwangu entitled "The God's Hustler" today at Batanai Gardens in Harare.
The book, which is his second publication, focuses on teaching practical entrepreneurial skills poised to equip readers with useful business skills.
A public speaker, "faithpreneur" and inspirational consultant, Mwariwangu said he was inspired by God to groom readers to be successful entrepreneurs in their various businesses.
"I am called by God and commissioned to serve him. God began to reveal to me the principles of business and inspired me to stir people's hearts to pioneer business and become titans God's way. This book is brewed from instruction and not from inspiration," Mwariwangu said.
The author expressed confidence that his book is going to revolutionise how people define money and teach them to view their challenges as opportunities as opposed to problems.
"I believe I have a passion in helping people maximise their potential. When I minister I use biblical standards but I minimise it in a way that conforms it to my targeted audience. I believe I am wired for this. I am created for this. I want to raise titans in the marketplace," said Mwariwangu.
The inspirational consultant said the publication equips his followers with the ability to be spiritually alive, physically disciplined, intellectually alert, socially adept and professionally competent.
Mwariwangu said that the book has much to do with his life personal experiences and regards it as the coaching of divinity, coming directly from God.
The dynamic life coach emphasized that God is not confined to the church set up like most people believe, adding that God does not bless the prayers of our lips, but he blesses the works of our hands.
Endowed with prophetic insight and healing grace, Mwariwangu bemoaned the fact that people theoretically train for success but they lack the practical know how of tackling day to day challenges, saying that the book seeks to bridge that gap. The author said plans are in the pipeline to have both publications translated into vernacular and foreign languages, to widen their readership and desired impact.
Mwariwangu is the founder of Spirit Culture Churches Worldwide. "Dare Your Dreams - Challenge Your Limits", his first publication, was released in July 2017.
By John Mutua
Longhorn Publishers has appointed Maxwell Wahome its new Acting Group managing director effective Thursday last week.
The move follows the resignation of Simon Ngigi, who the firm's board says will continue serving the book-maker for the next three months as it undergoes the leadership transition.
"The board takes this opportunity to thank Ngigi for his dedicated service to the group during his tenure as the Group Managing Director and wishes him well in his future endeavours," the company said in a statement from chairman Francis Nyammo.
Mr Wahome is faced with the immediate task of rebounding the publisher from last year's 24 per cent drop in sales that led to a dip in after-tax profits by 16 per cent in the six months to December.
Longhorn attributed the profit fall to a prolonged electioneering period and a tough economic environment.
He joined the firm in September 2016 and has been serving as the chief operations officer until last week's appointment to head the company in an acting capacity.
Mr Wahome is a career accountant, having previously worked in the Assurance Practice of PricewaterhouseCoopers (PwC) in its Nairobi and Johannesburg offices for 11 years.
He will be in charge of Longhorn's Kenya business as well as its subsidiaries in Uganda, Tanzania and Rwanda. In line with its Africa expansion strategy, the NSE-listed publisher has entered into strategic partnerships in Ethiopia, Senegal, the Democratic Republic of the Congo (DRC), Malawi and Zambia.
Dr. Seedy Drammeh, Acting Deputy Director HR & Admin at the Gambia Revenue Authority, has Published a new book title, Rethinking Irregular Migration: Causes, Course, Consequences and Corrective Measures. It adds to previous 29 publications, making it 30 books. The book examines the causes of irregular migration with particular focus on the mass movement of Gambian youth and others from other parts of the world, crossing the dangerous Sahara desert and the Mediterranean Sea, to reaching the Europe. Investigation shows that poor economic and political situations in many developing countries, together with the uncontrollable unemployment rate among the youth, as well as insecurity, is the root causes of this precarious journey. Conversely, the book proposes good governance characterized by the equitable distribution of resources as the antidote to the plague that irregular migration has become, for the entire world.
Looking around the causes of irregular migration, you will know how the families of the poor would-be migrants are getting poorer, while their children embark on journeys in search of a better life. It is a fact that most people who embark on this dangerous journey through the "backway", either sold their lands, animals or even jewelry of their parents. It is sad that among the factors that forces young men and women to embark on the perilous journey, was lack of job opportunities in their countries. Africa has the fastest growing population and young people form the largest percentage of the population. Most of these youth have completed secondary and tertiary education but remain unemployed. And because they cannot get employment, they are forced to embark on this dangerous journey, in search of a better life.
While the book urges young people to stay away from embarking on the dangerous journey, the author urges African society to change their view of the poor, to enable everyone live in dignity. It is a fact that poor people are despised in their communities, while people with wealth are respected and listened to.
The author thanked the International Organization for Migration (IOM), for standing by migrants around the world, and for speaking on behalf of vulnerable people who are in search of their economic well-being, development and protection. He also thanked Amnesty International for advocating for the freedom of people.
"My profound appreciation goes to the Diplomatic and Consular Corp. in The Gambia, for providing support towards the evacuation process of the migrant returnees, and working with Government to ensure that the returnees from Libya, were accorded dignity," he concludes.
The book is available at Timbooktu bookshop in Bakau and with the Author, where you can get a copy.
By Esseye Mengste
In Ethiopia's education setup, females have been largely marginalized for long (since the inception of modern education to the last few decades). As a consequence of the patriarchal socio-cultural system, female students' had no equal right to participate in schooling.
Education is a key priority area of the government's development endeavors over the last two decades with the strong conviction that quality education and skill based training are the basics for achieving human development and critically linked to broad-based economic growth and democratic governance.
These days, more females in Ethiopia have access to better education than ever before. The enrollment rate and the number of fields of studies and disciplines in higher education institutions have significantly increased as compared to the previous years.
Promising results have also been registered in improving the quality of education through implementing General Education Quality Improvement Program (GEQIP). Establishing a transparent, accountable and efficient system at every educational hierarchy is given due attention and as a result; encouraging achievements have been recorded over the years.
Participation of female student has been increasing from time to time. As different research outcomes depict, some factors are highly contributing for the aforesaid results. In the previous days, females' education enrollment was very minimal due to early marriage, low awareness of the community towards female education, among others. Females themselves were not effectively fought for the respect their rights.
So far, the ministry of education is working aggressively to address the existing problems and to increase the involvement of female students in higher education. According to Elizabeth Gesesse, Gender Directorate Director at the Ministry, nowadays participation of females in higher education is showing great progress as compared to previous days. But, there remains a lot to be done and the society should encourage female students through providing them with financial and moral support.
She further noted that there are many factors contributing to gender disparity. "Our culture does not encourage women to participate in every social aspect. The same is true when we come to female education enrollment. Early marriage, low awareness of the society about the role of female education in improving social wellbeing, the presence of few women role models, girl's expectation, extensive household chores, and religious indoctrination are some of the factors that contribute to low female school enrollment rate."
The other point that should be raised here is political and institutional factors, including limitations in empowering women, policy implementation and other interventions.
Low quality of education and teaching learning process, poor school culture, and distance from home to school and teachers' attitude towards female students are also mentioned as major factors in schools that contribute to low female school enrollment rate, especially in rural areas. What is more, females have domestic work burden than males. All these factors make female students not to be competitive with their male counterparts in schools, she underlined.
Harassment is also another factor that contributes to low female school enrollment. From home to the social environment, female students are forced to terminate their education.
The other hindrance is directly related to economic factors. Inability to cover school expenses, prospects of low economic return and parental investment behavior are some of the factors that should be mentioned here.
So, in every community, members have a burden to avoid such attitudinal, cultural, political and economic barriers and encourage females to go to schools, she stated.
The communities should develop sense of belonging to address females' existing problems and enable them participate effectively in the education sector. Females also should withstand existing challenges to become equally competitive with males, she added.
The Ministry is also working aggressively to avoid the negative attitudes in various communities towards females' school involvement through facilitating various platforms.
On the other hand, relatively, higher education female students' participation is increasing when compare with the result attained with last year's same period.
"There are critical issues that require extraordinary efforts to improve female students' enrollment in higher education. The Ministry fully understands the scope of challenges confronting the education and training system and is working with greater zeal and commitment focusing on improving the learning outcome of female students, skill training and employ ability of the female students as well as quality and relevance of higher education," she said.
She further said that by the year 2014/15, some 253,057 female students were enrolled in higher education institutions. The majority, i.e. 84.8 per cent, of these female students were enrolled in government institutions, whereas private institutions cover 15 per cent. The later may need greater enhancement.
The share of the regular program from the total undergraduate enrolment is 54 percent. Totally undergraduate female students in higher education were 34.14 percent. In 2015/16 totally 265,851 female students were graduated, she said.
Female student enrollment has shown dramatic change over the years and promising progress has been recorded in narrowing gender gap at schools. By and large, at this critical time, higher education female students' enrolment hit 35 percent but this does not mean that it is sufficient, Elizabeth said.
As the saying goes, 'One single hand can't clamp,' without the participation of females, it is unthinkable to ensure sustainable economic development. Thus, all stakeholders working in the area should support female students so as to enable them contribute their share to the ongoing development.
By Heba Kanso
Beirut — Rights group say black women face racism, sexism and discrimination, stemming from a "dehumanising" sponsorship system
Black women working in Lebanon routinely face racism, sexism and discrimination stemming from a "dehumanising" sponsorship system, rights groups said on Monday, after a Kenyan migrant worker who suffered a mob attack was deported.
Lebanese authorities sent Shamila back to Kenya on Sunday because she lost the right to be in the country after leaving an employer that had failed to pay her in full, according to the Anti-Racism Movement (ARM), a local non-government organisation.
"Because of the kafala system she was deported - her basic human right to defend herself is being violated," said Shamila's lawyer Nermine Sibai by phone from Beirut, referring to the system that binds migrants in Lebanon to one employer.
Earlier Shamila, whose full name has been withheld, was arrested after she was involved in what authorities apparently termed a fight, but which her lawyer said was an unprovoked attack on her and another migrant worker.
Local media quoted Salim Jreissati, the justice minister, saying footage of the attack circulated online was "shocking" and "abhorrently racist".
An official with General Security, Lebanon's intelligence agency, declined to comment on Shamila's deportation.
Rights groups say the kafala system used across the Arab world exploits workers and denies them the ability to travel or change jobs.
"The kafala system contributes to dehumanising Shamila and 300,000 other women in her situation in Lebanon. It denies them their most basic human rights," said ARM.
"Shamila's experience of racist, sexist, classist assault is definitely not an isolated, nor a singular, account of unprovoked violence against black migrant women in Lebanon," said the group.
Lala Arabian, executive manager at Insane Association, a local non-profit fighting for human and migrant rights said she is "ashamed and angry" over the lack of human rights for migrants in Lebanon.
"Migrant women are being deported even when they make claims that they were physically abused, raped, years of unpaid wages, etc," she told the Thomson Reuters Foundation in a statement.
(Reporting by Heba Kanso @hebakanso, Editing by Claire Cozens. Please credit Thomson Reuters Foundation, the charitable arm of Thomson Reuters, that covers humanitarian news, women's rights, trafficking, property rights, and climate change. Visit www.trust.org)
By Andre van Wyk
Cape Town — A 43-minute documentary by BBC Africa crime reporter Golden Mtika on the prevalence of rape in Diepsloot has shocked social media users. "This is one of the most dangerous places in Johannesburg," Mtika says during the film. "If you are found to be walking at night, you risk your life 100%. Rape is something that is very common, and it can often end in murder too".
Twitter users condemned the self-confessed rapists Mtika interviewed, while others hailed the reporter on his exposure of the level of criminality:
@tshidi_lee
Bra Goldi!!!! Such a treasurer this man!!!! He is the reason I survived Diepsloot and fell in love with it's reception
@thatchic11
I would really love to see some action being taken after this. Golden is a resident of Diepsloot. Surely he needs to show the SAPS this video.
Some took the documentary as proof of Diepsloot being one of South Africa's worst locations:
@eyebrowpapi_
it's complete anarchy in diepsloot, bra. oh my god. the rapists who get caught are killed by the community and their bodies are dumped in the open. man, imagine being a 3rd grader walking to school and casually walking past a corpse. nah dawg, that ain't life.
@EarlCraig06
Watched a very disturbing documentary about serial rapists in Diepsloot, possibly the rape capital of South Africa. The interviewer has known David, the serial rapist since childhood and saved him from mob justice one time. He tracked David down to find out why he keeps raping.
@NeoDinero
Diepsloot is the worst place on earth.
Others were more skeptical:
@Michelle_Tumi22
Honestly, so is every other place. People get raped in high security gated estates, some get robbed and killed, every now and then people get hijacked right in front of their gates in these nice "suburbs". Just that Diepsloot is very dirty they like to write about it. Anyway....
@OwaFlopo
BBC always has these Diepsloot stories that can hardly be verified locally. They also did the Maleven story and it had Diepsloot. They also had another one about Diepsloot mob justice
By Tariro Washinyira
A 32-year-old gay woman from Khayelitsha said she recently tried to marry her partner at the Khayelitsha Home Affairs office but the official refused, claiming her partner's ID had expired. The official also asked her who was the top, who was the bottom?
The couple then went to the Cape Town Home Affairs office. "The marriage officer wasn't going to help us without answering her questions first." The couple were registered in the end, but only "after a long discussion and debate" said the woman, who did not wish to have her name made public.
Section 6 of the Civil Union Act allows designated marriage officers to refuse to conclude same-sex unions.
On Tuesday, the Legal Resources Centre (LRC) and Free Gender hosted a discussion on the section. About 60 activists and members of civil organisations attended. The LRC and Free Gender have made submissions to Parliament to repeal section 6 on the basis that it is discriminatory.
"The two organisations sought to jointly utilise their expertise in ensuring that the values and rights enshrined in the Constitution are reflected in both the laws enacted and the realities of LGBTI persons in South Africa especially when seeking to conclude marriages at DHA [Home Affairs] offices," the organisations said in a press release.
One of the panellists at the discussion, which was held at the Centre for the Book in Cape Town, Zethu Matebeni of Free Gender, said the organisation had received numerous complaints from couples who have experienced difficulties trying to have same-sex marriages at Home Affairs.
She said officials made lame excuses, postponed or referred gay couples to other Home Affairs offices. Sometimes officials agreed on paper to officiate, but then refused to conduct the civil ceremony.
"If they later get officiated the experience is traumatic. No happy moments for the newlyweds ... Officials also make remarks, like 'so between you two who should sign the husband or wife column?'" she said.
Phumeza Runeyi, who does advocacy for Free Gender, said she knew of a gay couple who started the registering process at Home Affairs in February but only got married in April. "On the day they finally got married they had to answer questions like 'Why are they getting married?'" she said
Home Affairs did not respond to GroundUp's questions. When GroundUp phoned Home Affairs in Khayelitsha to ask if gay people could be married at its offices, the official said yes and that an appointment should be made, where the process would be explained.
By Anne Robi
POLITICIANS in Mara Region have been blamed for contributing to the continued practice of Female Genital Mutilation (FGM), when seeking votes in the area.
An anti-FGM crusader from Tarime District, Ms Robi Samuel said that the politicians in the region have been entering into agreements with traditional leaders, promising to protect them as they practice FGM as a way of seeking political mileage.
"Politicians are to blame for continued FGM in the region. They use the traditional leaders as their champions in attracting voters a move that requires them (politicians) to protect the traditional leaders in the FGM practices," she said.
Ms Samuel who is the Director of Safe House Tanzania was speaking during an event that was lined up by Champions Active to end FGM.
The event was also organised by the United Nations Population Fund (UNFPA). The activity also saw the screening of the internationally acclaimed film titled 'In Name of Your Daughter' Ms Samuel urged the government and the rest of the anti-FGM advocates to work together and come up with a decree that would require the politicians to be in the forefront in the fight against the brutality against women and girls in the country.
She said most of the traditional leaders in Mara Region would love to stop FGM practices but due to economic constraints they resist the acts since they are earning money and other rewards so they carry out FGM.
"We have had several traditional leaders who had stopped completely but they have gone back to the practices because they miss the money and the rewards they used to earn from the people who took their daughters to them for genital mutilation," she said.
She called for economic support to the traditional leaders who are abandoning the practice in order to enable them to engage in other income generating activities to get rid of FGM practices.
Assistant Director (Family Unit) at the Ministry of Health, Community Development, Gender, Elderly and Children, Ms Grace Mwangwa, said the government is committed to eliminate traditions and cultural beliefs that lead communities into engaging in FGM practices.
"The main challenge is the traditional norms and beliefs among the people which prompt them to engage girls and women into the violence (FGM)," she said.
She said the government has various initiatives lined up to see to it that gender-based violence including FGM is ended come 2030.
"We have initiated various plans to ensure we end the GBV. One of them is the National Forum that will be held ahead of the International Girl Child marked in October," she said.
She added that the forum will bring together government officials and stakeholders to discuss how to stop the FGM and other forms of violence against women and girls.
Speaking during the event, Deputy Representative UNFPA, Dr Hashina Begum, said that there was a need for the government and stakeholders to work together to challenge traditions and cultural beliefs that foment FGM practices.
"We will continue to support the ministry concerned to activate the national FGM task force and to ensure that laws and policies on FGM are implemented," she said.
By Maria Amakali
Windhoek — Young women from the minority San want an end to discrimination and victimisation that targets them. They spoke at a two-day training and consultation workshop held at Epako Women's Centre in Gobabis by Women's Leadership Centre (WLC) on the United Nations Convention on the Elimination of All Forms of Discrimination Against Women (CEDAW).
During the workshop, young San women participants learned about their rights and shared their experiences of how their rights are violated through discrimination, humiliation, marginalisation and exclusion by staff of government agencies including education, health and the police.
They called for an end to the discrimination of San parents serving as board members of various schools. The participants raised the issue of police brutality and relationship of police officers with San girls.
Furthermore, they called for an end to the victimisation against San young women leaders who have started to speak out for their rights. The attendees demanded for mother tongue education in early childhood development programmes and primary education.
"Train and utilise San learners with Grade 10 as support teachers in schools. Stop the discrimination against San parents serving on school boards," said one of the participants.
Another issue raised was police brutality that targeted San girls.
A call for adequate housing, access to water and sanitation, and a strategy for participation by San communities, including San young women, in all development efforts, including proper data collection for monitoring the impact of programmes was made too. Lack of health facilities has also been a concern with attendees asking for more clinics and mobile clinics to visit remote areas.
"Include social workers to provide counselling and provide translators to assist San people access state services," noted another participant.
Councillor Ignatius Khariseb, Chairperson of the Omaheke Regional Council acknowledged that more needed to be done to overcome the many challenges the San young women and their communities are facing in Omaheke Region.
"I recognise the courage of San young women leaders who are speaking out for their rights in their communities," said Khariseb. The councillor invited the WLC to present the CEDAW research project of 'Speaking for Ourselves - Voices of San Young Women programme', with all the regional councillors so that they can support the initiative in their respective constituencies.
By Alex Monye
Former Super Eagles coach, Christian Chukwu, has stated that the fact France won the Russia 2018 World Cup with more blacks in the team is an indication that Africa has the potential to win the Mundial in the nearest future.
Speaking with The Guardian yesterday, Chukwu noted that the bane of Africa and Nigeria football is over reliance on government for funding of the sport on the continent.
The former Harambee Stars of Kenya manager said that if structures and quality organisation had been put in place for the domestic league and academies in the past, Nigerian football would have been competing with the best nations in the world at the moment.
Chukwu, who wondered why soccer was not taken as a serious business in the country, said that the continuous control of football administration by politicians has demeaned the growth of football in Nigeria.
He, however, advised the warring parties in the Nigeria Football Federation (NFF) to sue for peace, and start building back the growth of the nation's football.
Chukwu also urged stakeholders of the game to fashion out modalities that would eradicate the bad system of football administration in the country and bring out ideas that would help Nigeria catch up with the big nations names in the world of football.
"France parading mostly African players and winning the tournament in Russia is an indication that Africa can win the World Cup.
The problem is that we lack organisation in our entire system of running football in the continent.
"In other climes where things are taken seriously, soccer is taken as big business.
Communities, companies and individuals fund football very well so as to bring out the best in their leagues and academies.
They also use professionals who understand the knowledge of the game."
Chukwu added: "The Nigerian football has been bedevilled by politicians, as funds for the growth of the game is provided by government. Then, how do you think football would grow."
press release
Launched in 2012, the fund I&P Afrique Entrepreneurs 1 (IPAE 1) closed its investment phase in 2017 with two investments in Malian companies, bringing to 29 the total number of African SMEs in portfolio. The publication of the sixth ESG & Impact annual reporting is the opportunity to review the main impacts of the fund and of the portfolio companies, while the successor fund IPAE 2 makes its first investments.
Measuring and maximizing the impacts of a portfolio engaged on social and environmental issues
IPAE 1's portfolio counts 29 companies, characterized by a great diversity of sectors (Agribusiness, Construction, Microfinance, Education, etc.) and a strong presence in Least Developed Countries and fragile countries.
Each year I&P collects around 100 indicators from portfolio companies to measure their impacts in lights of the fund's key objectives: fostering African entrepreneurship, creating decent jobs, providing basic goods and services for local populations and promoting sustainable growth. I&P also gives increasing visibility to gender issues, with the overall objective of fostering female entrepreneurship and promoting gender parity at all levels of the company. (Read more)
I&P's ESG & Impact team also analyses annually companies' progress on key social and environmental issues, including health insurance policy, employee working conditions and carbon footprint reduction.
KEY FIGURES OF THE REPORTING
About 80% of our partner companies are led by Africans
1 company out of 5 is managed by an African woman
More than 4,500 jobs have been created or maintained since 2012 and over 30,000 persons are impacted in the household (average household of 6.5 people according to Global Data Lab)
We observe 41% direct employment growth on average since IPAE's investment
93% of our companies provide health assurance, and 50% of them have implemented or upgraded their system since IPAE's investment
An impact fund dedicated to African SMEs and recently certified B Corp™
2017 was marked by a major event for I&P and all the funds under management: the B Corp™ certification, an independent label gathering mission-driven businesses globally that meet the highest standards of social and environmental performance, transparency and accountability.
"The annual publication of the ESG and Impact Reporting meets this requirement for transparency and accountability, which is absolutely necessary to ensure the credibility of the emerging impact investing market" says Jean-Michel Severino, CEO of Investisseurs & Partenaires. "Ensuring high ESG performance and creating positive social and environmental impacts are not merely an option for us: they are the surest route to high financial performance and are the core of the principles that drive our overall mandate".
ABOUT INVESTISSEURS & PARTENAIRES
Investisseurs & Partenaires is an impact investment group dedicated to African Small and Medium Enterprises. Since its creation in 2002, I&P has invested in more than 80 companies, located in 15 African countries and operating in various sectors of activity (health, transport, microfinance…). These enterprises create local added value and long-term employment, and generate important social, environmental and governance impact.
I&P provides capital, technical and strategic support to meet the growth needs of its portfolio companies. The team develops long term partnerships with entrepreneurs, sharing management expertise and knowledge that is useful for improving business strategy, structuring, and success. I&P manages four pan-African funds – IPDEV 1, IPDEV 2, IPAE 1 and IPAE 2, which represent a total of €125 million – and sponsors five African impact funds – Comoé Capital (Côte d'Ivoire), Miarakap (Madagascar), Sinergi Burkina, Sinergi Niger and Teranga Capital (Senegal).
Created by Patrice Hoppenot in 2002 and headed by Jean-Michel Severino since 2011, the I&P team comprises about forty collaborators in Paris and in its seven African offices in Burkina Faso, Cameroon, Côte d'Ivoire, Ghana, Madagascar, Niger and Senegal.
To read more on our activities, please find us on www.ietp.com
Contacts
Emilie Debled – PR and Business Development Director
+33 (0)1 58 18 57 11 – This email address is being protected from spambots. You need JavaScript enabled to view it.
Elodie Nocquet –ESG & Impact Director
+33 (0)1 58 18 57 16 – This email address is being protected from spambots. You need JavaScript enabled to view it.
By Eldon Opiyo
An open access database on education research conducted by Africa-based researchers has been launched to raise the visibility and impact of such research.
The database, which has about 2,000 education research including theses and working papers on 49 African countries, resulted from the collaboration between the Research for Equitable Access and Learning (REAL) Centre at the UK-based University of Cambridge and the Education Sub-Saharan Africa , a charity with a mission to transform educational outcomes on the continent.
The database is searchable by country, research methods and keywords such as access to education, early childhood education, higher education, school feeding and literacy.
"There are some existing inventories and databases for specific contexts but no central location to access [education] publications by African-based researchers, which has contributed to a lack of visibility and use of this research," says Rafael Mitchel, a researcher at the REAL Centre. "We hope that the database will facilitate greater use of research written by those in African universities and research institutions to ensure it is drawn upon and cited, and to be used to influence policy and practice. "This should also help to ensure that research by African-based researchers is taken into account in global debates. There is a lot of important work done by researchers in the region that is currently overlooked and undervalued."
Wisdom Harrison K. Hordzi, the Ghana coordinator of the Educational Research Network for West and Central Africa, agrees and tells SciDev.Net, "The database will help researchers and others to know what education research has already been conducted on Sub-Saharan Africa and identify gaps for more research."
Hordzi adds that the database could make people appreciate the contribution of African education researchers.
"People think that education researchers in Africa are not doing anything. The database will help others know that at least we are doing something," explains Hordzi, a senior lecturer at the Ghana-based University of Education, Winneba.
According to Mitchel, it will help researchers and others to identify where future research is likely to be most urgent.
"Our preliminary analysis indicates that a large amount of research is on higher education, around 30 per cent of the publications. Yet, in Sub-Saharan Africa, less than one per cent of the poorest reach higher education," she says.
Only around three per cent is on early childhood education, which suggests that limited evidence is available that can inform policymakers on how to address disadvantage in education from the early years, Mitchel explains.
The database was launched last month (15 June) at an event hosted by the French Development Agency in France.
The creation of the database started in May 2017. The first phase was completed by May 2018, with the launch of the database the following month but the process is ongoing as more research can and will be integrated, according to Mitchel.
It is being funded by ESSA - Education Sub Saharan Africa. To finance the two research positions at the REAL Centre, University of Cambridge, ESSA has raised funds from individual donors. The Jacobs Foundation, Zurich also joined this endeavour as a partner, providing funding for the second year of mapping project.
Mitchel tells SciDev.Net that the database - the first of its kind in Africa - could provide greater opportunities for research funding in areas of priority to Africa researchers and research funders. Beatrice Muganda, director, higher education programme at the Kenya-based Partnership for African Social and Governance Research, says there is a dearth of literature on Africa written by Africans on issues affecting them.
"Scholars, researchers and students are persistently searching for relevant case studies and empirical evidence that speaks adequately to the local context," Muganda tells SciDev.Net. "Any effort made to address this gap is laudable."
But Muganda says that although the database could help researchers, open access repositories are hardly the right platforms for helping policymakers to access research.
She calls on researchers to make education research findings accessible to policymakers through active outreach initiatives.
This piece was produced by SciDev.Net's Sub-Saharan Africa English desk.
opinion
By Topher Hegngi
France's World Cup 2018 winning team featured no less than 15 players with African roots.
Moscow, Russia - Luzhniki Stadium: With a 4-2 win on Sunday, July 15th, France stepped over Croatia onto the podium for their 2nd ever World Cup title. The historical win marks their first major tournament win since 2000 when they won the European Championship, just two years after their legendary and inaugural World Cup win in 1998. And just like in '98, France's current batch of champions features a generous amount of immigrants. That first wave of the Golden Age graced the world with multinational French talents such as Marcel Desailly, Patrick Viera, and even Zinedine Zidane. For France, '98 marked an unveiling of sorts of a talent pool so rich that for the tournament, then coach Aime Jacquet only selected three Parisians in his World Cup roster. The previous '84 Euro-winning team had just one. The youth of Africa had created a new formula for the French.
Where was this infamous talent pool located? You'd have to go back to the late 1940s-50s when France was rebuilding the country after the destruction of WWII. By 1965, almost 3 million of France's population were immigrants. By 1975, after a second wave of immigrants came to France from West Africa and the Caribbean, due to an economic shift and a country-wide labour shortage, 35% of France's immigrants were African. These immigrants would often relocate on the outskirts of major cities such as Paris, Lyon, and Marseille, and in recent decades, these cities have become home to the children and grandchildren of these African immigrants. These cities are separated from Paris only by a single highway that circles around the city like a cage.
Thierry Henry, a youth product of Clairefontaine thrived in World Cup '98 for France...
Timing, they say, is everything, but rarely a coincidence. During this same period of time, France were experiencing by far their least successful era in international football. Through 1960-1975, their men's national team failed to qualify for two separate World Cup tournaments and a European Championship. In 1975, with the "How the f!@# do we get better?!" question creating pressure amidst the FFF (French Football Federation), then president Fernand Sastre created Clairefontaine, an academy for the country's youth elite. At the time, Clairefontaine was regarded as arguably the finest footballing academy on the globe, as it produced some of the most gifted French players of the budding French Golden Age like Thierry Henry, Nicolas Anelka, and William Gallas. The rest is, what you call, history.
Today, France's championship-winning World Cup team featured 15 players African roots, including the young man of the hour Kylian Mbappe, who was born to a Cameroonian father and an Algerian mother. Defender Samuel Umtiti was born in Yaoundé, Cameroon, before emigrating with his family when he was two years old. Fellow defenseman Adil Rami, was born in Corsica to Moroccan parents and is the only player in the squad with North African descent. Midfield general N'Golo Kanté is also of Malian heritage. It has been wonderful for the world to get to see the entire team of heroes as well as their African sports icons embraced for bringing honor to the nation they have chosen to represent.
Mbappe finished the tournament with 4 goals and World Cup's best young player honors.
During the 2010 World Cup, the team encountered many discipline issues. Instead of an investigation into the dysfunction that had led to such a situation, the criticism was focused on questioning the players' loyalty to their country since they had roots abroad.
I hope that this national pride continues. It was not too long ago, when in 2011, the French Football Federation and then France manager, Laurent Blanc, faced accusations that they had secretly discussed limiting the number of places for players from ethnic minorities at their headquarters in Clairefontaine that would have seen players as young as 12 passed over in order to make room for their white counterparts." In 2000, a poll indicated that around 36 percent of the French population thought that there were "too many players of foreign origin in the French football team." Though the newfound celebration of their multi-racial national team is a positive, it is even more essential that this respect extends to the non-sports playing immigrants in the country who are still dealing with racial and ethnic discriminations based on the color of their skin or the countries they may be migrating from.
Steven Nzonzi, a French midfielder for Sevilla, is born to a Congolese father.
A fan of the game myself, it has been rather enjoyable to watch the world celebrate the Boys from the Banlieue. Like you, I have read the articles, Facebook posts, and Twitter comments celebrating the French team as the last standing African team in the tournament. As a Cameroonian, these statements have been relatable. A lot of us share a sense of pride when we see moments of African excellence such as this. And while I congratulate France for adding a second World Cup star to their jersey, this is not a hate piece against the country, but rather a challenge to the African football federations. While even the harshest critic would admit that luck was not on the side of the five African nations representing the continent in the 2018 World Cup, the reality has still been a bitter pill to swallow for most. Out of these countries, none made it past the group stage of the tournament. This marks the first time since 1982 where an African team hasn't progressed to the Round of 16 in World Cup competition. AFCON 2019 will represent a chance for the continent to celebrate its culture, and the teams, especially the ones who missed out on Russia, an opportunity at redemption. The question that will be looming over many heads at CAF and the Ghana's, Nigeria's, and Cameroon's of the world is how can we not only retain but continue to improve the youth talent pool in our African countries?
By Evelyn Lirri
As undergraduate students at Makerere University, Brian Gitta and his classmates regularly missed classes because of malaria.
Even when they went to a health facility, the diagnosis wasn't always as fast as they had expected because malaria was sometimes misdiagnosed.
It was such experiences that made the group of six friends --four pursuing degrees in Computer Science, one studying Information Technology and another doing Electrical Engineering -- to think of the idea of developing a low cost and reusable device that could be used to test for malaria instantly.
"We became determined to turn what was a health challenge for us into a solution," said Brian Gitta, one of the innovators.
The device known as Matibabu, a name derived from the Swahili word "treatment," is unique in many ways.
Unlike current testing methods that require a person's blood to be drawn first and put under a microscope or through a rapid diagnostic test (RDT) to establish if they have the malaria parasite, Matibabu tests for malaria without drawing blood.
Instead, the device is clipped onto the finger of a person and using light and magnetism, a red beam of light scans the finger to detect changes in colour, shape and concentration of the red blood cells -- all of which are often affected when the malaria parasite is present in the body.
The result is then produced within a minute and sent to a mobile phone which is linked to the device. Another unique feature of the device is that it does not require specialised training for a person to operate it.
For these reasons, Mr Gitta and his team believe Matibabu is the answer to addressing late diagnosis of malaria in low-income settings like Uganda.
"Matibabu offers prompt, accurate diagnosis and reduces challenges of power blackouts, the need for trained personnel and time spent on diagnosis," said Moris Atwine, a co-innovator of the device.
Matibabu won first place $29,000 at this year's Africa Prize for Engineering Innovation -- an award dedicated to engineering innovation on the continent, which was announced last month.
"It is a perfect example of how engineering can unlock development -- in this case by improving healthcare. Matibabu is simply a game changer," said Rebecca Enonchong, the Africa Prize judge while announcing the winners.
For the team behind Matibabu, innovations like these are important for countries such as Uganda and the continent at large as they struggle to address their high malaria burden.
Over the years, malaria has had a huge economic, health and social burden on Africa, with a 2018 report from the UN Children's Fund-Unicef showing that the disease costs the continent 1.3 per cent of its GDP.
An estimated 216 million cases of malaria were registered in 2016 alone, according to the most recent data from the World Health Organisation (WHO).
These cases resulted in about 445,000 deaths, with sub Saharan Africa contributing at least 90 per cent of people who die of malaria globally.
Children under the age of five and pregnant women disproportionately carry the biggest burden of malaria deaths on the continent.
Caused by parasites that are transmitted to people through bites of infected female anopheles mosquitoes, malaria can also be easily prevented and cured with timely interventions.
Health experts say prompt diagnosis and treatment of malaria patients is the most cost effective way to ensure that mild cases of the disease do not become severe and lead to death.
Early diagnosis also helps to reduce the rate of transmission from one person to another through bites of infected mosquitoes.
Across sub Saharan Africa, there are several prevention interventions being promoted to reduce the burden of malaria, including the use of Long Lasting Insecticide Treated Nets, indoor residual spraying with insecticides and the use of preventive medicines.
However, coverage of some of these interventions is still low across the region.
According to WHO, in 2016, just about 54 per cent of people at risk of malaria in sub Saharan Africa were sleeping under a mosquito net -- the primary method of prevention.
"This level of coverage represents a considerable increase since 2010 but is far from the goal of universal access," WHO said in its 2017 state of Malaria report.
Uganda is one of the countries that have undertaken mass mosquito net distribution campaign aimed at ensuring universal access. Under the chase malaria campaign, so far 23 million nets have been distributed since 2009.
The target is to distribute at least 25 million nets -- two nets per household by the end of 2018.
Health Minister, Dr Ruth Aceng said earlier this year at the launch of the mass net distribution campaign that mosquito nets are being promoted because they are considered low-cost intervention to prevent malaria and are user-friendly.
She said currently 95 per cent of households own a mosquito net compared to 47 per cent in 2009.
The first ever malaria vaccine is also currently being tested under a pilot programme in Kenya, Ghana and Malawi.
It is targeting children aged five to 17 months old. Experts say interventions such as a vaccine would have the potential to save thousands of lives in Africa and contribute in meeting the 2030 global targets of reducing case incidence and mortality rates by at least 90 per cent by 2030.
But to achieve this goal, WHO says a minimum global investment of $6.5billion will be required annually by 2020.
"The $2.7billion invested in 2016 represents less than half of that amount," said WHO.
Just like Matibabu, there has been a number of promising innovations emerging from the continent -- all aimed at finding a lasting solution to the malaria problem.
In 2013 for instance, two students from Burkina Faso and Burundi won the Global Social Venture Competition Award for developing a low cost mosquito repellant solution called Faso Soap.
Developed from natural herbal ingredients sourced from Burkina Faso, the solution can be added to locally manufactured soap, which when used can repel the malaria-causing mosquitoes.
In 2015, a Nigerian innovator also developed a urine malaria test, which uses a dipstick technology similar to the one used for a manual pregnancy test.
The dipstick is dipped in urine and within 20 minutes, it can give a diagnosis. The Matibabu team hopes to have the device on the market within the next two years. They hope to sell it to hospitals across the continent for between $100 and $200.
But this price will depend on a market survey they will undertake before the product hits the market.
For now, they are working with Mulago National Referral Hospital to test and validate the reliability of the device if used against the current microscopy and rapid diagnostic test methods among malaria patients.
"We want to obtain information that will be used to improve the device and eventually roll it out to the market," said Mr Atwine.
analysis
By Thomas Lewton, Alice Mccool & Charity Atukunda
A Christian-infused programme is urging prison inmates to look beyond traditional gender roles. But is a godly masculinity better than a toxic one?
Kamiti Maximum Security Prison's reputation precedes it. Located on the outskirts of Kenya's capital Nairobi, several anti-colonial leaders were executed here during the struggle for independence and it has long known for its brutal conditions.
This afternoon, however, a group of inmates beyond the foot-thick metal-reinforced wooden doors have spent the last couple of hours laughing and smiling. Most dressed in striped prison uniforms, around twenty men - many convicted of murder, armed robbery and rape - have been behaving more like excited children at Sunday school than hardened criminals.
Sitting in the sunshine of the prison courtyard, one of the men speaks up. "My name is George, and I am born again", he says, beaming. He is wearing sunglasses and the blue jumpsuit given to the best behaved prisoners.
"It is now my 18th year in prison and I came in for murder... I came in a very bitter person, someone who was ready for revenge. I even thought of taking my own life."
George, 50, goes on happily to explain that he now sees things differently and has learnt to empathise with others.
Anthony, who was convicted of murdering his brother in a family dispute, tells a similar story. He says he was also often violent on the outside, especially towards women, but says his understanding has now changed.
"I saw myself as I giant," he says. "Men are known as the kings, so when a man has no funds for the family he feels low esteem, and that makes him enter into crime".
These inmates are participating in Man Enough, a ten-week programme that, according to its website, "seeks to restore the honor of manhood". The initiative began in churches about eight years ago, but has since been rolled out in schools, corporate workplaces and prisons.
According to Simon Mbevi, a pastor and the project's founder, Man Enough is a direct response to a crisis of masculinity facing Kenyan men today as societal norms and roles have shifted. "Lots of men have wives and girlfriends who are earning a lot more than them and struggle with that because they think that what you earn is what gives you power," he says. "They say 'this woman has more power and so she won't respect me'. What we have been saying is that we don't respect each other because of the positions or the roles we play, but because we are human beings".
Man Enough attempts to teach participants to move beyond traditional gender roles. "What we will be teaching them is that both of us are providers," says Mbevi. "You do your part, they do theirs. We work together as partners."
80% of Kenya's population is Christian and the religion is central to Mbevi's idea of positive masculinity. He has said previously that we are beginning to see a "responsible, godly masculinity rising up across East Africa".
Christianity may not be known for its gender progressive ideals, but the pastor argues that his programmes work because they operate within a framework most Kenyans support and understand. He says that even those of other religions such as Muslims would respect a Christian programme more than a secular one.
"The church still has a lot of integrity in the community," he says. "I think the credibility of the church and church leaders should be used to speak openly against negative masculinities." He believes that religious leaders should talk more about gender equality and notes that some even encourage domestic violence rather than condemn it.
The Man Enough programme therefore uses religion to promote a new kind of masculinity. Yet at the core of its vision of a "godly masculinity", there remain some highly conservative ideas. Almost all the inmates taking part at Kamiti prison, for instance, refer back to the biblical story of Adam and Eve as their basis for understanding relations between men and women.
"The role of a woman is to help a man because God himself during creation said it is not good for man to be alone, 'I will make him a helper'", says James, who is serving a life sentence for murder. Shadrack, inside for armed robbery, adds that the Bible has taught him that "a woman is only there to help me". He expresses shock and confusion at the end of our interview when he discovers that we are "not saved". "But you should be saved", he advises.
Mbevi's language of "Wounded Warriors" and "Heroes" is similarly tied to the macho expectations at the heart of Kenya's crisis in masculinity. Meanwhile homosexuality is, according to the Man Enough handbook, "something to be corrected".
In many ways, a godly masculinity has several similarities to a traditional toxic one. It may not pave the way for genuine and sustainable gender equality to take root. Yet in a country where the Bible remains the moral compass for most, Man Enough is a powerful tool for getting men to question some of their most damaging assumptions. And for inmates at Kamiti prison like George, it has helped them come to terms with their past behaviour.
"I've now been able to look at my actions from the perspective of another person", he says.
This story is part of Big Men, a European Journalism Centre project telling journalistic stories about men, masculinity and gender equality in East Africa.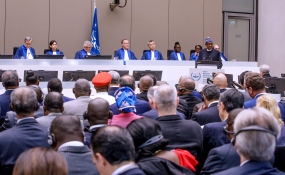 Photo: MBuhari/Twitter
President Muhammadu Buhari is the only President invited to grace the 20th anniversary of the adoption of the ICC Rome Statute.
By Johnbosco Agbakwuru
President Muhammadu Buhari has solicited the intervention of the International Criminal Court, ICC, to press it upon member countries not to obstruct the repatriation of illicit funds warehoused in their countries.
President Buhari who made the appeal on Tuesday while delivering a keynote address at the solemn hearing to commemorate the 20th anniversary of the Rome Statute of the ICC, in The Hague, Netherland also assured the international community of a free, fair and peaceful 2019 elections in the country.
According to him, "A strong and effective ICC can also act as a catalyst for other justice efforts, expanding the reach of accountability. These could include serious cases of corruption by state actors that severely compromise the development efforts of countries and throw citizens into greater poverty.
"These could also include cases of illicit financial flows where countries are complicit and obstruct repatriation of stolen assets. As the African Union Champion on Anti-corruption, these are issues dear to my heart."
While congratulating his countryman, the President of ICC, Judge Chile Eboe-Osuji and the judges of the court, he called on the States Parties to support ICC, with jurisdiction over serious cases of corruption and illicit financial flows by state actors.
He said, "As we know, the International Criminal Court was established twenty years ago as a global court, inspired by the Nuremberg trials of World War II war criminals, to hold people accountable for crimes against humanity, war crimes, crimes of genocide and aggression.
"In addition to preventing impunity, promoting adherence and respect for the rule of law and fundamental freedoms worldwide and to punishing those in leadership positions responsible for the most appalling crimes and atrocities, the ICC has given hope for justice to so many, by demanding strict adherence to the rules of international humanitarian law.
More on This
"With the alarming proliferation of the most serious crimes around the world, the ICC, and all that it stands for, is now needed more than ever, in ways that were unforeseeable to its founders. The ICC may have been created at a time of optimism that it would not need to be utilized frequently, but, unfortunately, the increase in international crimes has only increased the Court's relevance.
"Indeed, while limits on the ICC's jurisdiction mean that it cannot presently act with regard to some of the dire crises of the day in states that are not parties, by acting where it can, the ICC reinforces the demand for justice far beyond its own cases.
"A strong and effective ICC has the potential to send a powerful message about the international community's commitment to accountability, a message that will be heard by both victims and perpetrators. Equally, a strong and effective ICC demonstrates the international community's commitment to the rule of law.
"The Rome Statute created more than a court; it created the outline for a system of justice for horrific crimes rooted first in national courts doing their job, and where they fail to do so, the ICC stepping in only as "the court of the last resort"
"The ICC also needs increased cooperation and financial resources from its member states. State parties should express their commitment to increasing efforts in these areas, including pledging concrete assistance.
"The twenty years of the Court's existence have witnessed several challenges, some of which had threatened the very existence of the Court itself. Most notable were the withdrawals and threats of withdrawals of membership of the Court by some States, as well as accusations of bias in the exercise of the jurisdiction of the Court. Thankfully, the Court has addressed these challenges in a dignified and commendable way.
"Nonetheless, the Court needs to take on board all constructive criticisms and allay lingering fears and concern through targeted messaging, awareness raising and possible modification of some legal provisions. If properly articulated, communication and awareness raising would surely engender trust and encourage greater cooperation of Member States with the Court and even encourage non - Member States to decide to become Members. It must avoid even a hint of bias or political motivations.
"The goals and responsibilities of the Court are no doubt very challenging and daunting but with the cooperation of all, coupled with the high calibre of Judges and staff of the Court, the challenges are not insurmountable. I, therefore, urge all States not to politicize the decisions of the Court but to always bear in mind the rationale for the establishment of the Court in the first place.
"I urge all States that have not yet done so to, as a matter of deliberate State policy, accede to the Rome Statute of the International Criminal Court so that it can become a universal treaty.
"Nigeria has cooperated with, and supported the Court at all times. This, we have demonstrated by our full and transparent cooperation on matters on which we are being investigated and also in our several Country statements at the sessions of the Court. Our cooperation with the Court is borne out of our strong belief in the respect for the rule of law and human rights, and in our firm commitment to the sanctity of fundamental freedoms at international and domestic levels, as ingrained in the objectives for establishing the Court.
"Let me intimate you that Nigeria is preparing to conduct general elections in 2019. Contrary to the tragic incidents that characterized the 2011 general elections in Nigeria which necessitated preliminary investigations by the International Criminal Court, I assure you that all hands are on deck to prevent any recurrence of such tragic incidents. We shall do everything possible to ensure that Nigeria witnesses the conduct of free, fair and peaceful elections in 2019.
Photo: Ashraf Hendricks/GroundUp
Activists erected a shack at the official residence of Western Cape Premier Helen Zille in the early hours of the morning on Mandela Day.
By Ashraf Hendricks
At 3:30am on Wednesday morning, about 15 protesters built a shack outside Leeuwenhof, the official residence of the Premier of the Western Cape Helen Zille.
The activists arrived with building materials in a bakkie and within ten minutes a shack with two portable toilets was erected.
Mihlali Xalisile of the Housing Assembly Youth Collective said that because it was Mandela Day "we thought we should come and donate this shack to Helen Zille and a portable toilet".
Activist Monwabisi Dasi said they'd appreciate it if Helen Zille would spend her 67 minutes for Mandela Day "inside of it [the shack] using the same services we have to use everyday".
"We are sick and tired of living in these shacks," said Xalisile.
"This has been the experience of our parents and grandparents, dying in overcrowded backyards and informal settlements," read a media statement from the collective.
In a statement the youth collective demanded decent jobs and houses for all including those over the age of 18. In order to apply for an RDP house one has to be over the age of 21 and a South African citizen.
The protesters left at 6am, leaving the shack on the side of the street as a "gift" for the Premier.
The premier had not commented on the protest by the time of publication. She released a statement that she would be spending Mandela Day by taking part "in the annual LEAP Science & Maths Schools Mandela Day programme".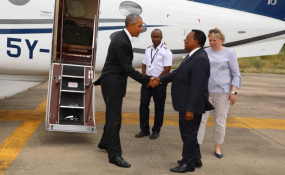 Photo: https://twitter.com/Mercy_Simba/media
Former US President Barack Obama shakes hands with Tanzania Foreign Minister Augustine Mahiga at the Kilimanjaro International Airport on Sunday, July 15, 2018.
Dar es Salaam — The coming of prominent leaders like former US President Barrack Obama and the President of the Switzerland, Mr Alain Berset, is a blessing to Tanzania's tourism, the country's chief tourism promoter has said.
The Tanzania Tourism Board (TTB) said yesterday that the coming of the two leaders had seen Tanzania shining prominently on the global tourism map, saying there was a need to publicise the trips further.
Mr Obama left Tanzania for Kenya on Sunday, July 15, after having spent several days in the Serengeti National Park. Mr Berset arrived in Tanzania on July 10, 2018 and is scheduled to leave after 15 days.
TTB managing director Devota Mdachi told journalists that in Dar es Salaam yesterday that world prominent people did not want their private visits to Tanzania's tourist attractions to be publicised and their requests were honoured by the government and the TTB.
"Tourists now know that Tanzania is not only safe, but that it has great tourist attractions, something they cannot find anywhere else on this planet," she said.
She was responding to a question by journalists who wanted to know why the arrival and the 8-day stay of President Obama in Serengeti National Park were kept a secret. "That was the family's request. We respect the wish of such personalities. We did not publicise the visit of the President of the Switzerland, Mr Alain Berset because that, too, was a private family visit to our attractions," she said.
The DG named other prominent world figures who had visited Tanzania's attractions as world-class footballer David Beckham, American film actor Will Smith and their families. "These personalities come here to rest and do not want their enjoyment and rest encroached upon --- and we ensure strictly that."
Ms Mdachi gave illustrative comparative figures to show the increasing number of tourist arrivals from the US and Switzerland.
opinion
By Bruce Whitehouse
It is hard to see how anything good, or different, will come from Mali's election on 29 July.
News from Mali just keeps getting worse.
More than five years after French soldiers ousted jihadi fighters from northern Mali and nominally restored central government sovereignty there, the country has grown ever more unsafe and fractious. The peace accord, signed amid great fanfare in 2015, has yet to be meaningfully implemented. A tally of incidents since 2015, recorded by Malilink, shows an alarming rise in violent acts and deaths by national and foreign militaries, jihadi groups, secular militias and criminals.
Most disturbing are recent ethnically-motivated killings carried out by Malian troops and "self-defence militias" in the Mopti region, which is at growing risk of "mass atrocities" according to the US Holocaust Memorial's early warning project.
In light of these unprecedented threats to Mali's security and integrity, the stakes would appear to be high for the country's presidential election, the first round of which is scheduled for 29 July. Here are three predictions.
1) Voter turnout will be dismal
Low voter participation would conform to precedent, with Malians consistently being West Africa's least likely voters since the 1990s. I have argued elsewhere that Mali's weak electoral participation is a clear sign of democratic distress. Turnout for presidential elections across West Africa averages 62%, but is only at 37% in Mali, where it peaked at 45% in 2013. The ongoing spike in violence will likely mean 2018's turnout is below that level, especially in the centre and north.
Then there's the problem of Mali's darkening public mood. The latest Afrobarometer survey, conducted in February 2017, shows Malians increasingly dissatisfied with their government. Most respondents expressed little faith in the state's capacity to reduce criminality, manage the economy, create jobs, or fight corruption. Nearly half feared becoming the victims of political intimidation or electoral violence.
Although most Malians continue to see democracy as the best form of government, most also view their own government as a poor democratic example. This was true prior to the events of 2012 and is even more so today.
2) The incumbent will win
With no sitting president ever having lost an election in Mali, President Ibrahim Boubacar Keita ("IBK") will almost certainly be elected to a second five-year term. While widely disliked, he enjoys the advantages of incumbency - such as control of state media, access to funds, and patronage networks - while low voter turnout will work in his favour.
Although he inspires little public confidence, it is doubtful that someone else in the field of two dozen candidates will prove any more inspiring. IBK's established rivals - such as Soumaïla Cissé, Dramane Dembélé, and Cheick Modibo Diarra - all ran against him in 2013 and lost. The remainder are outsiders or unknowns.
A recent profile in a French magazine dubs IBK Mali's "do-nothing king", a bright but vain figure who sleeps in late, keeps dubious company, and makes fine speeches while assiduously avoiding decisive action. He is portrayed as aloof from his government's corruption and administrative paralysis, to say nothing of the spiralling violence in the country's north and centre. Without French troops propping things up, an adviser to Mali's constitutional court warns the author that "everything will fall apart within two weeks".
Yet IBK keeps fiddling away like Nero as Rome burns around him. He might even garner a majority of first-round votes, thus rendering a run-off unnecessary.
3) It won't matter anyway
With so many grave dangers facing the Malian nation, how could anyone say the election won't matter? Well, prediction three is a corollary of the first two. Malians are increasingly alienated from the political elite, which has stubbornly resisted reform efforts since the country's political crisis began in 2012. The most crucial questions - such as how to curb violence, reimagine the state, and foster national reconciliation - aren't up for real discussion and IBK has shown zero interest in putting them on his agenda. As a unnamed Burkinabè presidential adviser put it a French diplomat in 2012: "Mali can collapse, and as long as Bamako remains, they will all squabble over scraps of power in Bamako."
Mali's present situation offers little cause for optimism and some analysts openly question its long-term viability. "There might not be any realistic scenario under which Malians could have a state that universally delivers basic public services and organizes collective action," wrote Catriona Craven-Matthews and Pierre Englebert earlier this year. "A condition of permanent receivership with internationally provided life support might be Mali's most likely foreseeable scenario." In 2013, this would have seen like unwarranted pessimism; these days, it's hard to be too cynical about the postcolonial Malian state.
It would be wonderful if none of these predictions - not to mention the "permanent receivership" scenario described above - came true. In the months before Mali's previous presidential election in 2013, dedicated civil society activists tried to make voting count for something and many believed that Malian leaders, having peered into the abyss, might be more accountable to the public and rescue the country from impending doom.
Today's outlook is quite different. As a recent editorial in Bamako's Le Républicain opined: "2018 is nothing like 2013, when no candidate needed 20 artistes [pop singers], the involvement of state services like the CMDT [state cotton company] and the mobilization of all the country's regions to fill a Bamako stadium. In short, the five-year term that's ending has been a missed opportunity for the people; let's hope that 2018 doesn't produce a definitive rupture."
This feeling is understandable. But then again, with the political status quo offering only public alienation, corruption, state dysfunction, and violence, a definitive rupture might not be so bad.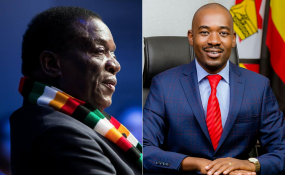 Photo: allafrica.com
President Emmerson Mnangagwa and Nelson Chamisa (file photo).
President Emmerson Mnangagwa could finally meet with his number one challenger Nelson Chamisa before the July 30 presidential election, if plans by a local church group to bring together all contesting presidential candidates are anything to go by.
The plans by the Catholic run Silveira House are aimed at both preserving and growing the prevailing peace in the country.
Silveria House, which is involved with peace building, is organising a multi-party interface where each one of the 23 aspiring presidential candidates in the 2018 election race will get a chance to address the same audience under one roof.
According to the organisers, a 3000 strong audience is expected to attend the gathering and the event will take place at Arrupe Jesuit University in Mt Pleasant, Harare.
This will be a second attempt to bring the presidential candidates under one roof after the National Peace and Reconciliation Commission (NPRC) tried it on the Peace Pledge signing ceremony where Mnangagwa and Chamisa sent representatives.
Addressing the media Tuesday, Father Fredrick Chiromba, secretary general of the Zimbabwe Catholic Bishops Conference said the objective of high profile meeting was to inculcate a sense of multiparty democracy and spirit of mutual respect in a context of differing political opinions.
This, he said, will lay a firm foundation for a meaningful development in the country.
"The presence of the presidential candidates in a single space with each one of them addressing the same audience will be of actual and symbolic significance, one that will imprint itself on the political psyche of those present and those following the event through the media," Father Chiromba said.
"The presence of presidential candidates sitting next to each other will serve to remind citizens of the value of peaceful coexistence irrespective of political affiliation."
He added, "We share the same aspirations of peace and prosperity for our country even if we may differ on how to be achieved."
He went on to say that they have already received confirmation from the majority of the Presidential candidates regarding their presence and participation in the planned event.
"It will be indeed an exciting moment for the electorate, a first for Zimbabwe," Father Chiromba said.
"They will also get a chance to respond to two pre-selected questions which they will be given before the event so as not to ambush them."
The first election to be conducted since the ouster of President Robert Mugabe last November has been widely described as the most peaceful since independence.
A meeting between two top presidential contenders and even more candidates vying for the same job was unheard of during Mugabe's rule.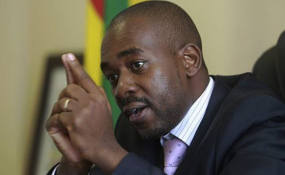 Photo: The Herald
MDC Alliance leader Nelson Chamisa (file photo).
MDC Alliance leader Nelson Chamisa Tuesday gave the Zimbabwe Electoral Commission (ZEC) up to this Friday to give in to the opposition's demands for poll reforms or they will escalate their grievances to SADC and AU.
At a media briefing at the Morgan Richard Tsvangirai House, Chamisa also said his party may explore internal solutions aimed at compelling ZEC to play ball if the external option fails.
The MDC is keen on seeing what it says should be a level electoral playing field before the July 30 elections.
Among its demands is an independently audited voters' roll, an opportunity to closely monitor the printing of ballot papers and more clarity on how ZEC was storing electoral data.
ZEC has adamantly refused to give in to some of the opposition demands insisting most of the main opposition's grievances were not provided for in the country's electoral laws.
Chamisa said Tuesday they were now considering the external option in attempts to have their grievances heard.
"ZEC has up to Friday this week to give us our demands. If it fails to do so, we will engage the SADC and the AU to try and resolve the matter but if all that fails, we will go back to the people of Zimbabwe and hear their views on the issues at stake," said the top presidential contender.
Previously, he has threatened to stop the holding of the election insisting the playing field was not even.
ZEC, on its part, has said only an "earthquake" could stand in the way of the holding of the first ever election since the November ouster of long serving leader Robert Mugabe.
On Tuesday, Chamisa did not want to reveal what strategies he had up his sleeves should ZEC stick to its guns.
"We will disentangle and untangle the farce. We will reverse the frontiers of the farce.
"You will see it. They are very clear (people) about what ,where we are going. Do not worry. You will see when we engage the people.
"The proof of the eating is in the pudding. Do not rush. Do not bite too much. We will pursue dialogue, if it fails, we will unleash instruments of peace," he said.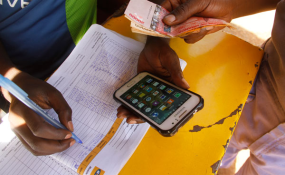 Photo: Daily Monitor
ICT and National Guidance Minister Frank Tumwebaze told a press briefing in Kampala on Tuesday that the decision meant that Uganda's drive towards achieving a cashless economy remained on track.
By Dicta Asiimwe
President Yoweri Museveni's government has agreed to drop three of four levies it had imposed on mobile money transactions -- depositing, sending, receiving and withdrawing cash.
Uganda's Cabinet, despite having been previously divided on the charges, on Monday agreed to remove some of the fees and revised the 1 per cent tax on withdrawals to 0.5 per cent.
The government has however retained the daily Ush200 ($0.05) Over The Top tax on social media services.
"Cabinet sitting on Monday approved the amendment of the Excise Duty Act, 2015 and directed the Minister of Finance, Planning and Economic Development in consultation with the Attorney General to prepare an Excise Duty (Amendment) Bill, 2018 to be laid before Parliament on Thursday July 19, 2018.
"The amendment includes the reduction of the tax payable on the value of mobile money transactions from 1 per cent to 0.5 per cent on withdrawals only," the ICT and National Guidance Minister Frank Tumwebaze told a press briefing in Kampala on Tuesday.
He said the decision meant that Uganda's drive towards achieving a cashless economy remains on track.
"If I send mobile money and transact digitally to pay utility bills, school fees or use my e-wallet to pay for any other service, there will be no tax," he said.
The mobile money and social media taxes, which came to effect on July 1 as the government seeks to widen its tax base, elicited a public outrage.
By Nume Ekeghe
The President of Dangote Group, Alhaji Aliko Dangote has retained his position as the Africa's richest man with a $12.4 billion networth.
Also, listed by Forbes is the Chairman of Conoil and Globacom, Chief Mike Adenuga, whose networth is $4.4 billion.
These figures were released on Forbes website yesterday.
The report showed that despite losing $1.7 billion in few months, Dangote has remained a strong brand, retaining his position as Africa's richest man.
Adenuga was also said to have lost $1.1 billion within the period.
According to Forbes, the founder of Amazon.com Inc, Mr.Jeff Bezos is the richest man in modern history.
Bezos's fortunes jumped from $112billion in March this year to $151.4 billion as at yesterday.
The Amazon.com Inc. founder's net worth cracked $150 billion in New York on Monday, according to the Bloomberg Billionaires Index.
That's about $55 billion more than Microsoft Corp. co-founder, Bill Gates, the world's second-richest person.
Bezos, 54, also has topped Gates in inflation-adjusted terms.
The $100 billion mark that Gates hit briefly in 1999 at the height of the dot-com boom would be worth about $149 billion in today.
That makes the Amazon chief executive officer richer than anyone else on earth since at least 1982, when Forbes published its inaugural wealth ranking.
Bezos crossed the threshold as Amazon was preparing to kick off its 36-hour summer sales event, Prime Day, which got off to a rocky start as glitches struck the firm's website and mobile app.
Shares of the company, which had climbed to a record $1,841.95 earlier Monday, pared gains on the news, closing up 0.5 per cent at $1,822.49.
Bezos's stay above $150 billion may be short-lived.
By Abbas Jimoh
The Environmental Rights Action/Friends of the Earth Nigeria (ERA/FoEN) has berated the federal government's plan to resume oil exploration in Ogoniland even when the cleanup of the Ogoni environment is yet to take off as recommended by the United Nations Environment Programme (UNEP) and accepted by the Federal Governemnt.
The spokesman of the organisation, Mr. Philip Jakpor, said in a statement on Tuesday that their position was due to reports that Ogoni elders petitioned the Vice President Yemi Osinbajo earlier this month, alleging that the delay in commencement of the Ogoni clean-up was because the Petroleum Minister was tying the clean-up process to resumption of oil exploration in Ogoniland.
According to him, the petition was said to have been signed by Rivers State Senator, Bennett Birabi, Dr. Desmond Nbete, Mr. Ledum Mitee, Mr. Baritor L. Kpagih, Prof. Johnson Nna, Chief Monday Abueh and five others.
He said that in the letter, the petitioners expressed concern that "two years after the much publicised flag-off ceremony for the clean-up of Ogoniland as recommended by the UNEP by the Vice President, the Minister of State for Petroleum Resources is now tying the expected commencement of the clean-up and remediation process to resumption of oil and gas activities in our land by his preferred company.'
Jakpor said the news is not surprising, as it had over the course of the last three years alerted that the cleanup process was mired in needless controversy and lack of clarity.
He also quoted the Executive Director of ERA/FoEN, Godwin Uyi Ojo as saying that: "It is very disturbing that the quest to shore up oil revenue has taken front seat in the Ogoni cleanup exercise while the cleanup proper which will restore the dignity of the people is now subject to needless back and forth."
Ojo said ERA/FoEN is in solidarity with the Ogoni people and Gbo Kabaari Ogoni that the clean-up of their violated environment should not be tied to resumption of oil exploration, even as he added that, "the Ogoni people are getting frustrated at the government's perceived lack of sincerity with the UNEP-recommended exercise"
"Resumption of oil exploration is a distraction and secondary for now because the critical cleanup has taken the backseat. What the Ogoni people require and demand as a right is the immediate commencement of the cleanup," Ojo said.
By Timileyin Omilana
The Nigerian government will unveil the name and logo of the new national airline on Wednesday.
The unveiling will be done at Farnborough Air Show in London.
The conference is the meeting place for aircraft manufacturers, engine manufacturers, aircraft leasing companies, aviation consultants and marketers.
The Minister of State for Aviation, Sen. Hadi Sirika said he would explore every opportunity available at the air show to attract more prospective investors into the Nigerian aviation environment.
Sirika explained that the show would provide an opportunity to establish a Maintenance Repair and Overhaul (MRO) facility in Nigeria, the concession of some airports in the country and other components of the Aviation Roadmap of the Nigerian government.
The Minister also added that by December 19, the first five aircraft of the airline would be delivered.
The minister had earlier tweeted: "Negotiating Aircraft orders with Airbus at Farnborough ahead of National Carrier unveiling on Wednesday.
A four-storey building under construction has collapsed at Owelle-Aja layout, Obosi in Idemili North local government Area of Anambra State with no casualty reported.
The structure, located off Tony Eze Street, was said to have collapsed around 7.30a.m. on Monday.
The News Agency of Nigeria (NAN) gathered that workers at the site had yet to resume work when the incident occurred.
A resident of the area, who preferred anonymity, alleged that the building was originally designed as a two-storey building before the owner decided to add two more floors.
The source also claimed that there were cracks on the walls of the building before the collapse.
Another resident, Obiageli Okaforuzu, said the building had been under construction for many years.
"We thank God that nobody died in the mishap; it would have been a different scene by now," she said.
In his reaction, the Chairman, Landlords Association of the area, Chuka Chukwudebelu, expressed regret over the incident and appealed to the state government to mobilise excavators to the site.
"I don't think anyone was trapped since the workers had not come to work by the time it happened," he said.
Similarly, the state Chairman of the Nigerian Institute of Town Planners, Joachim Ulasi, expressed concern over people's failure to obtain building approvals before embarking on projects.
Mr Ulasi blamed the collapse on the use of substandard materials.
He wondered why people preferred to patronise quacks in spite of several warnings by professional bodies and the government.
(NAN)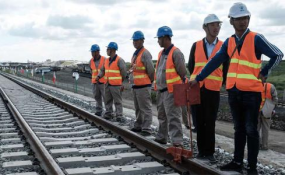 Photo: Daily Nation
Workers on the standard gauge railway (file photo).
By Patrick Lang'at
The Standard Gauge Railway (SGR) will still have Chinese workers until 2027 when local staff are expected to take over, the government has said.
The Transport ministry has defended the Sh1.7 billion-a-month cost of running SGR and has assured Kenyans that the line is making profit and will by 2020 pay back its loan.
Transport Cabinet Secretary James Macharia said the percentage of Chinese workers will reduce yearly, with the peak in 2027 when SGR will be run 100 per cent by Kenyans.
Mr Macharia also fought back allegations of racism and discrimination of Kenyans working at the SGR, promising to present a report to Parliament on Tuesday.
"If this investment is not a success, I wonder what will ever be," Mr Macharia told the National Assembly Committee on Transport.
RACISM
"We launched this service 30 months ahead of schedule. We will be doing a total of 16 trains on the track by end of the 2017/18 financial year, and we expect that to hit 28 by the end of June next year," he said, adding that the Ethiopian SGR did not have as many trains on the track and as much revenue as the Kenyan one.
In a document he presented before the committee chaired by Pokot South MP David Pkosing, Mr Macharia painted a rosy picture of the SGR, which has been in the news lately over claims of racism, huge costs of running the line and slow pace of skills transfer.
He backed the controversial rule gagging SGR staff from commenting on issues about the line on social media.
On racism, he cited the cafeteria, saying while there were no separate tables set aside for Chinese and Kenyans, a "failure in terms of cultural integration" was to blame. The staff have the same menu, he added.
Currently, there are 841 Chinese workers compared to 2,679 Kenyans, indicated data presented to Parliament by the ministry.
TRANSFER SKILLS
Media reports have suggested the figure could be as high as 5,000, with Mr Macharia insisting the report contained the names of those who left Kenya at the end of their duty in 2016.
Questions had been raised on the slow pace at which the transfer of skills at the SGR was being done, with further claims that the Chinese were being paid for non-skilled and skilled jobs that Kenyans can do.
But while the ministry said 76 per cent of the workforce was Kenyan, it is still notable that almost half of the 2,679 are outsourced jobs, with about 400 of them still undergoing training.
At least 650 of the 2,679 are outsourced security staff, and 394 pre-employment trainees at the Railway Training Institute.
A total of 1,635 "direct employees" are not classified based on what they do.
A question by a member of the committee on what percentage of the 841 Chinese workers are in management, or the unskilled force, went unanswered.
On the cost of running the project, Mr Macharia did a breakdown to the committee showing SGR will break even by June 2019.
By Sheefeni Nikodemus
Brave Warriors head coach Ricardo Mannetti admitted on Tuesday that he was feeling the heat as he announced preparatory plans for September's 2019 Africa Cup of Nations crunch qualifier against Zambia.
Following a dismal Cosafa Cup campaign in June, which included a 4-1 walloping by host South Africa in the semis of the Plate section, and having lost the opening Group K qualifier 1-0 to Guinea Bissau last year, Mannetti said he is under pressure to qualify the team to next year's Afcon finals.
On Tuesday he assembled a squad of 29 home-based players to begin preparing for the "colossal do or die" qualifier at home to the Chipolopolo on 8 September.
With Namibia's top-flight league only set for resumption in late September, Mannetti again had to find means to ensure that his Warriors are fit to face the 2012 Afcon winners, whose season runs from February to November.
Last year, Namibia qualified for the 2018 African Nations Championships (Chan) in similar circumstances when the Namibia Premier League was dormant for nearly two years, and Mannetti will hope for another backs-against-the-wall effort from his charges to secure passage to a third appearance at the continental showpiece.
"Cosafa definitely showed us that Zambia is not an easy opponent, and we need to make sure we beat them here at home. This means we have to train hard to match the opponent. We will go very hard. We will have a six-week programme that is complex," Mannetti explained.
Despite naming six under-23 prospects in the training squad, the gaffer said he will lean towards the old guard when he makes the final 23-man selection, which will include several foreign-based professionals.
The six youngsters who shone on a recent tour of China are included for the experience, which the returning quartet of Muna Katupose, Petrus Shitembi, Hendrik Somaeb and Larry Horaeb have in abundance.
"We are not going to experiment much. That is why I have decided to go for the tried and tested, players who know how to qualify, and who equal my mentality. Any coach in such a situation will do so," said the 43-year-old Cosafa Cup-winning coach, who is in the last period of a three-year contract that stipulates qualification for 2019 Afcon as the primary objective.
Mannetti singled out Katupose's return as crucial, having missed out on Chan in January through injury after his goals ensured qualification for that tournament. The veteran striker is also revered for scoring the goal that secured Namibia's place at Afcon 2008.
"Muna is a pressure player. He has been there and done that. So, why would I not want such a character in the team? We are under pressure, so players who can handle such pressure are the ones who can get us to qualify for Afcon," explained Mannetti. Namibia and Zambia have already met twice this year. The first encounter ended in a 1-1 draw at Chan in a dead-rubber group match with both sides already through to the quarter-finals in Morocco. Zambia won the second showdown, edging their neighbours 4-3 in a penalty shoot after their Cosafa Cup quarter-final ended goalless.
Vengeance and redemption will be the motivating factor for the Brave Warriors at Sam Nujoma Stadium in Windhoek when they meet again.
"This game, after the Chan, is most probably our biggest because we lost our first match against Guinea Bissau. We all know what my contract says. Reaching the 2019 Afcon is my mandate. It's the last tick. We won the Cosafa Cup, Cosafa Plate, and went to Chan, so this for us is a must-win game if we are going to realise that tick," Mannetti continued.
The final squad, including foreign-based reinforcements, will be named about two weeks before the match..
The training squad comprises Edward Maova (Civics), Abel Paulus (Life Fighters, u23), Ratanda Mbazuvara (African Stars), Donovan Kanjaa (Young African), Ferdinand Karongee (Tigers), Tusha Erasmus Ikeinge (Khomas Nampol), Larry Horaeb (unattached), Edmund Kambanda (Unam) and Emilio Martin (Black Africa).
Also in are Petrus Kamati (Pescanova, u23), Vitapi Ngaruka (Black Africa), Lubeni Haukongo (Eleven Arrows, u23), Ikuaterua Hoveka (Young African), Immanuel Heita (Black Africa), Dynamo Fredericks (Black Africa), Hiha Katjivena (Tura Magic, u23), Gustav Isaak (Tigers) and Aprosius Petrus (Eleven Arrows, u23).
Ronald Ketjijere (African Stars), Benyamen Nenkavu (Tigers), Petrus Shitembi (Tura Magic), Absalom Iimbondi (Tigers), Marcell Papama (Unam), Itamunua Keimuine (Tura Magic), Panduleni Nekundi (African Stars), Hendrick Somaeb (Unattached), Pinehas Willem (Eleven Arrows), Muna Katupose (Unam), Mcartney Nawaseb (Black Africa, u23) complete the training squad.
By Grace Chingoma
CAPS United have been linked with former Kaizer Chiefs forward Mitchel Katsvairo and ex-Dynamos striker Takunda Sadiki.
Katsvairo is looking for a club to revive his career while Sadiki was at Mutare City during the first half of the season. The duo are training with the Green Machine.
"The coach hasn't said anything regarding the two. Katsvairo started training today and Sadiki has been training but nothing has been said from the technical team," club chief executive, Cuthbert Chitima, told The Herald.
"We wait for recommendations, if there are any that will come, from the technical team." CAPS United face champions FC Platinum at Mandava this weekend.
Chitembwe says he is unfazed his troops haven't scored a goal in 180 minutes. The former champions appear to have lost some of their rhythm since the resumption of the league having stumbled in goalless draws against Harare City and Bulawayo Chiefs.
They last posted a victory in Gweru on June 18, beating Chapungu 2-0 at Ascot. This weekend, the Green Machine have a tricky date against champions FC Platinum at Mandava.
CAPS United have only lost once at Mandava against the champions after they crashed to a 1-2 defeat in 2014.
Last year, the two teams settled for a 1-1 draw. "As a coach you are not a statistician, but a coach. We want to score and at some point we will score, we know what's lying ahead of us," said Chitembwe.
The Harare giants have since parted ways with midfielder Oscar Machapa, goalkeeper Munyaradzi Diya and truant midfielder Denver Mukamba.
Fixtures
Saturday: Harare City v Chapungu (Rufaro, 3pm, ZTV), Bulawayo Chiefs v Bulawayo City (Luveve), FC Platinum v CAPS United (Mandava), Black Rhinos v Yadah (National Sports Stadium), Nichrut v Shabanie (Ascot).
Sunday: Dynamos v Ngezi Platinum (Rufaro, 3pm, ZTV), Herentals v ZPC Kariba (National Sports Stadium), Triangle v Highlanders (Gibbo), Mutare City Rovers v Chicken Inn (Vengere).
By Petros Kausiyo
Dynamos have ended weeks of speculation and named long-serving benefactor Solomon Sanyamandwe as their new club president.
The Glamour Boys have been without a president since Kenny Mubaiwa quit in a huff on June 7.
Sanyamandwe had resigned from his post as Dynamos vice-president at the start of the year citing some frustrations.
It emerged that after a series of meetings during which the board considered a number of names that had been eyeing the president's post, the Dynamos founding fathers decided to settle for Sanyamandwe.
Dynamos board chairman Bernard Marriot told The Herald yesterday that Sanyamandwe would now work with the recently-appointed new executive at the club and would, crucially, also be an ex-officio member of the board of directors.
He will now combine efforts with the executive chaired by banker Isiah Mupfurutsa in trying to restore some glamour at the former champions.
"At the end of June we sat as a board and considered the need to find a new president. We met again on Sunday to finalise the matter and we considered Solomon's contributions to the club and felt that he can take the club to dizzy heights," said Marriot.
"We had a number of people who were eyeing the post of president but as a board we settled for Solomon.
We also resolved that from now on the president will be an ex-officio member of the board and he will be the link between the executive and the board.
"This will help end some of the blame games that have happened in the past between the board and the executive.
"The board has also been doing a lot of consultations and considerations on strategies to strengthen the Dynamos brand and we will soon announce some sub-committees and personnel who will help us in that endeavour.
"On the supporters side we resolved to have some order and we have Benjamin Munzira heading the national supporters body that is tasked with mobilising all the chapters across the country".
Marriot said his board had also since formally written to their former president Mubaiwa and paid tribute to his service to the club, noting that Dynamos had won four successive league championships under his leadership.
"I must also say the board wrote to Mr Mubaiwa on 13 June to thank him for the invaluable services he rendered to the club since 2002 up to this year.
"The board also took note of the fact that he invested a lot of personal resources into the club's campaign, which campaign saw the club winning four league championships," Marriot said.
Sanyamandwe, whose romance with Dynamos has been spread over two decades, said yesterday he was honoured at being tasked to lead the country's biggest club. "I am humbled by this appointment and I would like to pledge to work hard together with the executive team to restore the Dynamos glory.
"We might not win the league title this year but we would want to use the remainder of this season to lay a firm groundwork to win the 2019 championship and we are aware that we have to plan for that now.
"We believe that Dynamos should be a vehicle through our sponsors NetOne must also be visible.
"It is also our belief collectively as the aboard and the executive that Dynamos should not only lead the log standings but should play a leading role in helping to chart a new direction our football should take."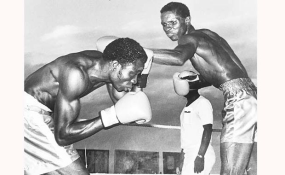 Photo: The Herald
Legendary Zimbabwean boxer Langton 'Schoolboy' Tinago (right) prepares to fire a big right onto the head of Nigeria's Safin Oke Badan during their showdown in 1981.
Zimbabwe's sporting fraternity was plunged into mourning yesterday following the death of boxing icon Langton "Schoolboy" Tinago.
Tinago, a three-time Commonwealth champion and acknowledged as the greatest boxer to come out of this country, died yesterday in Gweru at the age of 69.
The legendary boxer died at Gweru Provincial Hospital in the early hours of yesterday after having been taken ill on Sunday evening.
He was suspected to have suffered from pneumonia.
He is survived by his wife, seven children and several grandchildren.
Mourners are gathered at his mother's residence at No. 42 Nkenyani Road, Mambo, Gweru.
Burial arrangements for the boxer who got his name into the Guinness Book of Records are yet to be advised, but indications are that he will be buried in Gweru and not his rural home in Shurugwi.
Family spokesperson, Wellington Pombi, who is his brother, broke the sad news.
"He was taken to hospital on Sunday evening and passed away this morning (yesterday) at the General Hospital," he said.
"It is a shock to the family and his death is a great loss to the whole family, we looked up to him a lot.
"Burial arrangements are yet to be announced. I have talked to the Minister of Sports (Kazembe Kazembe), (Midlands) Minister of State (Owen Ncube), the boxing fraternity, among many other stakeholders and they are saying they want to take part in his burial.
"Remember he is an icon, a national hero and as a family we will give the nation the opportunity to mourn their hero.
"I have received a number of phone calls and it sounds like a lot of people are really concerned and are mourning with us.
"As a family we will be very happy if he is accorded a send-off that is worth his heroic status of being the only sportsperson to achieve the biggest number of accolades at his time.
"His death has really affected our mother, who is 86, if you remember our mum used to be with him wherever he was fighting."
Kazembe said the local sports fraternity had lost a pillar.
"It is a sad loss to Zimbabwe and Africa as a whole to lose a sportsperson of his stature, we needed people like him to help in the resuscitation of sport in the country," said Kazembe.
"Zimbabwe is pushing to get back into the Commonwealth and these are the people we were looking up to, especially his success in the sports fraternity.
"It is unfortunate we have lost him and he will be greatly missed. May his soul rest in peace."
Tinago died a very bitter man after spirited calls for Zimbabweans to help him eke out a living did not get the desired response.
In April this year, the boxer appeared to foretell his death.
"I know Zimbabweans are fond of passing glowing eulogies when someone dies yet they would have never bothered to check on him or her during the days when that person needed them the most," he told The Herald.
Zimbabwe National Boxing Control Board chairman Richard Hondo said the country has lost one of its greatest sports personalities.
"Langton is the greatest boxer to ever emerge from Zimbabwe. I am speaking from my heart when I say Tinago is the greatest boxer to ever come from Zimbabwe since regulated boxing started in Zimbabwe in 1956.
"Since that time, up to now, he has been the greatest one.
"The reason I am saying this is, if we start with the local scene Tinago was the dual national champion at lightweight and welterweight.
"He retired unbeaten on the local scene, that's how much he dominated the local scene," said Hondo.
Some of the boxers he used to battle out against include Joao Mapepa, Jack Schoolboy, John Fighter and Safui Oke-Badan.
The Gweru-based boxer was then under the stable of one of the best boxing trainers in Zimbabwe -- Dave Wellings.
Tinago's first Commonwealth title came soon after independence when he won the lightweight title after beating Nigeria's Hogan Jimoh in his backyard in Lagos.
"Soon after Independence he travelled to Nigeria to challenge for the Commonwealth title which was then held by Jimoh in Lagos and to beat the Nigerian at home was unthinkable those days.
"For Tinago, the downside was that they made him sign a contract which meant Jimoh had to be the first one Tinago had to defend the title first and he had to go back to Nigeria.
"This time it was even earlier, I think he stopped him in five or six rounds.
"He then met an Australian called Graeme Brooke, this fight took place at Granada Studios in Manchester, UK and I personally attended that one because I was away from work on a sabbatical.
"That was second time he became champion in the lightweight against Brooke, then he lost to a British boxer -- Mo Hussain -- six months later," Hondo said.
Tinago went on to fight in super featherweight division against Safui Oke-Badan and won the title to become three-time Commonwealth champion, with two titles coming from the lightweight division.
Boxing Board member Patrick Mkondiwa, who worked with Tinago, said he was a disciplined and humble person.
"Langton Tinago was a very humble person, down to earth, he was a legend in boxing, but he would ask for advice, especially from us administrators.
"He would call if there was something he was working on.
"He is one of the guys who pushed Gweru City Council to get a boxing licence and we used to have some tournaments there. Of course they were few, but he pushed for it, he did his part.
"It's a sad loss considering this guy has a record that is not yet broken at Commonwealth.
"He is someone who was nurturing other upcoming boxers. When you are talking of discipline he was the best," said Mkondiwa.
Wales captain Sam Warburton stunned the rugby world on Wednesday by announcing his retirement from the game.
"Unfortunately, after a long period of rest and rehabilitation the decision to retire from rugby has been made with my health and wellbeing as a priority as my body is unable to give me back what I had hope for on my return to training," he said.
"I cannot thank the Welsh Rugby Union and Cardiff Blues enough, who have gone beyond the call of duty, in providing the support I received to help me get back on the field, for which I will be forever grateful.
"Since I first played aged 10 at Llanishen Fach Primary School, then Whitchurch High School and Rhiwbina Juniors RFC, I always dreamed of playing for my hometown club the Cardiff Blues, Wales and the British and Irish Lions.
"To look back on my career, I'm extremely proud of what I managed to achieve. There are so many people who helped me along the way from schoolteachers, coaches, friends and family. I thank you so much for supporting my dreams and aspirations. I hope they too can take some pride from my career.
"I would like the make special mention of Warren Gatland. Without the faith he had in me and his unwavering support I would never have had the career I was able to pursue.
"Countless people work behind the scenes in professional rugby but I would like to thank to the fantastic medical teams at both WRU and Cardiff Blues who have looked after me throughout my career.
"To my amazing wife Rachel and my close family and friends who have endured the emotional rollercoaster of playing professional rugby, I am so lucky to have such a fantastic support network and loving family to help me get through all the testing times.
"Lastly, to all the many fans, with whom I've shared some fantastic memories with, from the bottom of my heart, thank you so much for all your support. From providing a random hug in a supermarket, or simply offering words of support and encouragement, to hearing a cheer after my name was announced at the national stadium, you are what makes playing professional rugby so special and such a privilege. It's been an absolute pleasure to represent you all and an honour I'll sorely miss.
"As one chapter finishes, another begins, which I'll enter with the same level of passion and determination as the last."
Source: Sport24
Cricket South Africa (CSA) CEO Thabang Moroe says that cutting costs at the organisation is one of his major mandates.
Moroe was on Monday unveiled as the new CEO having served in an acting capacity since the departure of Haroon Lorgat towards the end of last year.
While launching a lucrative T20 domestic tournament at the end of the year is one of the main priorities, that will tie into one of Moroe's bigger overall tasks: to save money.
"The one mandate was for the next four-year cycle, which is projected to be a loss-making cycle of R800 million, to make sure I bring that to below R500 million," Moroe explained at a press briefing on Monday.
"Luckily, through relationships I have built, we have managed to reduce that loss by over R400 million, so CSA is looking good.
"The personal target I have set myself is to totally scrap that loss. I think that is possible. I would like to leave CSA in a healthy financial situation."
The projected loss is due largely to the fact that the Proteas men's team has few blockbuster tours between now and the end of the 2022 season.
Moroe would go into too much detail in terms of exactly what his money-making plans were, but he assured the media in attendance, in jest, that they were all "legal".
The new T20 League, which will replace the flopped T20 Global League, is set to get underway in November or December and will see CSA and SuperSport join financial forces in getting it up and running.
That competition, as was always the plan under Lorgat, is designed to try and help CSA generate income that is not dependent on international cricket.
Moroe also confirmed that the Proteas Test team is on the verge of securing a major sponsorship deal, which the CEO is hoping to announce within the next couple of weeks.
Source: Sport24
press release
All over the world, rapid urbanization is forcing cities to face the realities of insufficient planning. Demands on city space and services often outpace the ability of planners to respond, resulting in poor mobility services.
From 26-28 June 2018, 230 participants from 31 countries and 61 cities came together for the third annual MOBILIZE Summit to share their perspectives and learn from the mobility lessons offered by the host city of Dar es Salaam. They discussed ways to make space for mobility in booming cities - focusing on innovative solutions to respond and adapt.
This year's focus was that in cities across the world, while many people rely almost exclusively on walking and cycling for their mobility needs, investors and governments alike continue to increasing the road space for cars. The summit gave change makers from around the world the opportunity to showcase how they are improving their cities for cyclists and pedestrians.
Sharing their work were countries part of the Share the Road Programme, a UN Environment Programme supported by the FIA Foundation which works with governments worldwide to increase investment in non-motorized transport infrastructure.
Christopher Kang'ombe, Mayor of Kitwe in Zambia, presented the city's pedestrian infrastructure project which is being financed by private sector contributions. "My vision for Kitwe is a city where all our residents can move around safely and conveniently, including our many pedestrians.", says Mayor Kang'ombe. "I look forward to working with the national government and the Share the Road Programme to develop the national non-motorized transport (NMT) policy for Zambia". The Share the Road Programme is supporting Zambia in the development of the policy, to be launched in December 2018.
The Lagos Metropolitan Area Transport Authority was also in attendance and shared their experience in developing an NMT policy for Lagos [with the support of the Share the Road Programme], which was approved in November 2017.
Dr. Jennifer S Musisi, Executive Director of the Kampala Capital City Authority, spoke during the summit's opening plenary discussion titled "Radical Solutions for Urban Growth". She spoke of Kampala's transformational journey of moving towards a sustainable mobility system, which included almost 5,000 streetlights and plans for a bus rapid transit. The Share the Road Programme also supported Uganda with the development of a national NMT policy in 2012.
The summit was a stark reminder that the needs of pedestrians and cyclists are often overlooked, and that motorized transport has hard hitting consequences for everyone. The transportation sector generates nearly a quarter of all carbon dioxide emissions and is the fastest growing contributor of greenhouse gasses. It also feeds air pollution which is responsible for the deaths of seven million people a year and contributes to health problems such as bronchitis, asthma, heart disease, and brain damage.
On a positive note, the summit highlighted that there are often very simple solutions designed for those who walk and cycle every day, and that we can reverse current trends and make rapid progress in designing and building cities for all.
The MOBILIZE Summit is organized annually by the Institute for Transportation and Development Policy (ITDP). Summit partners in 2018 included the Volvo Research and Educational Foundations (VREF), the Transformative Urban Mobility Initiative, and UN Environment.
By Hiroto Mitsugi
Millions of people depend on forests for food and income, but forests also soak up 2.6 billion tonnes of carbon dioxide each year, a third of the total CO2 released from burning fossil fuels.
Close your eyes and picture a tree: perhaps a sweet-smelling fir, a mighty oak, or a towering kapok tree. Maybe you remember a childhood tree fort, a favourite tree swing, or a fruit tree with a sweet windfall of apples or figs each year.
Now, imagine that tree as part of an immense forest, one of the many that together stretch across the globe and help to provide a path towards a sustainable future. Because that is the essence of what trees and forests do: they help provide the goods and services every human being needs for life on this planet -clean air, safe food and water, shelter, and medicines. Trees and forests have an essential role in any development plan, including the global 2030 Agenda for Sustainable Development with its call to action to end poverty, protect the planet and work towards peace and prosperity. Its 17 Sustainable Development Goals (SDGs) include ending poverty and hunger, protecting soil for agriculture, ensuring clean air and water, and fighting climate change.
Consider how the livelihoods of millions of people depend directly on their collection and sale of forest products, such as wood for fuel, timber, food items and plants to create medicines. Some 50 million Indian households rely on forest fruits for daily nourishment - which, by the way, is an example of how forests help to achieve zero hunger, one of the key Sustainable Development Goals (SDGs). Millions of others rely on wood fuel for cooking and heating water for cleaning.
Every one of us needs clean air to breathe and our world's forests, covering one-third of the Earth's entire land surface, provide natural carbon sinks, soaking up massive volumes of greenhouse gases -2.6 billion tonnes of carbon dioxide each year. That's about one-third of the total CO2 released from burning fossil fuels, all absorbed by the world's forests.
Indeed, it's easy to see how forests play a pivotal part in very relevant development issues such as preventing degradation and desertification of land and improving soil fertility and quality for more robust, productive agriculture (also linked to zero hunger and SDG 2). Let's not forget that forests are instrumental in preserving biodiversity, and host an extraordinary 80 percent of our planet's animal and plant species.
Forests contribute to the livelihoods of millions of women and are therefore important to gender equality (another of the SDGs) and to empowering women and girls. In West Africa, some five million women base their livelihoods on collecting, processing and marketing shea nuts from trees. And since women are very likely to spend their earnings on food and other goods for their families, their forest-based incomes help in attaining zero hunger, improving children's health and indirectly financing their education.
In urban settings, trees provide shade to cool hot climates and help clean the air. And most of us know how the presence of trees can help us to relax and breathe that fresh air. Additionally, one-third of the world's largest cities obtain a significant proportion of their drinking water directly from forested areas, and overall, forested watersheds supply 75 percent of the planet's accessible freshwater, subsequently used for drinking, household use and irrigation. Along coastlines, mangrove forests provide protection for the land from erosion while further inland, forests serve as a bulwark against floods and other natural disasters.
Despite all of these essential services provided by trees and forests, they face significant threats, including continued deforestation. In fact, deforestation rates in some regions, especially Africa and Latin America, are still alarmingly high. The good news, however, is that global rates of deforestation have decreased significantly in the recent past - from a net annual forest area loss of 7.3 million hectares (ha) in 2000 to 3.3 million ha in 2015.
And there is more good news. Projects like the Great Green Wall aim, among other measures, to plant a mosaic of green landscapes across North Africa, the Sahel and the Horn of Africa; and climate policy processes, such as Reducing Emissions from Deforestation and Forest Degradation (REDD+), are working to preserve forests as a carbon catch.
Our trees and our forests are essential to life on earth and to achieving a great many of the Sustainable Development Goals: objectives which engender hope for a brighter tomorrow.
Mr Mitsugi is the Assistant Director-General, Forestry Department, Food and Agriculture Organization of the United Nations, based at headquarters in Rome, Italy.
Any views expressed in this article are those of the author and not of Thomson Reuters Foundation.
Wednesday 18 July 2018 - 11:38 AM
Egypt presented its Voluntary National Review (VNR) on Sustainable Development Goals (SDGs) implementation during the 2018 session of the UN High-level Political Forum on Sustainable Development (HLPF).
The participants; representatives of 54 states, lauded the success of the economic steps taken by Egypt to improve its investment and business climate.
The Egyptian delegation to the forum includes Investment and International Cooperation Minister Sahar Nasr, Planning Minister Hala el Saeed, Environment Minister Yassmin Fouad and Egypt's delegate to the UN Mohamed Idris.
Nasr said the Egyptian government is working hard to encourage the private sector pump new investments through a package of economic reforms, the latest of which was the endorsement of a new investment law and amendments to the companies and capital market laws.
She said the development strategy in Egypt is based on economic growth, providing jobs to all citizens and protecting low-income brackets.
She talked about Egypt's investment plan that was drafted by the Investment Ministry in cooperation with other ministries and government bodies to cover different fields across Egypt.
She also expounded Egypt's Entrepreneurship Program aiming at encouraging investments in emerging companies.
Nasr said the government is also working for women empowerment to give a boost to the economy and encourage businesswomen to invest more in the Egyptian market.
MENA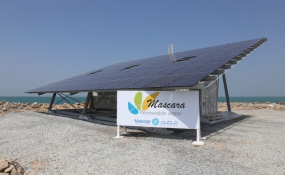 Photo: Hessequa Local Municipality
Solar panels at the Witsand plant in the Hessequa Municipality. It is the first solar-powered desalination plant to be built in the country and is being funded jointly by the Western Cape and the French governments.
The new solar-powered desalination plant under construction at Witsand on the southern Cape coast will produce water at a cost of only R7 to R8 a kilolitre. This is less than a quarter of the cost of water from Cape Town's temporary desalination plant at Strandfontein.
Water from the Strandfontein plant, which is powered by diesel, costs between R35 and R40 a kilolitre.
Water from Cape Town's storage dams costs about R5 a kilolitre.
If the R8.5m Witsand plant, which will produce 100 kilolitres of fresh water daily, proves successful, others may be rolled out throughout the province's water-scarce coastal towns, according to Western Cape Finance MEC Ivan Meyer.
No space
However, although the revolutionary French-designed plant is far more economical and climate friendly, it is unlikely that the solar-powered desalination plants will be built in drought-stricken Cape Town at this stage because of the large amount of space required for the solar panels.
A plant the size of the Witsand operation would need 3.5ha to accommodate the photo-voltaic (PV) panels.
Patrice Boyer, civil engineer and project manager of the Witsand desalination plant, said it was possible that at a later stage, PV panels to power desalination plants in Cape Town, where space is constrained, could be accommodated on rooftops.
The Witsand plant, in the Hessequa Municipality, is the first solar-powered desalination plant to be built in the country and is being funded jointly by the Western Cape and the French governments.
Boyer said the reason the Witsand desalination plant could produce fresh water at a quarter of the cost of the Strandfontein plant was two-fold: The first was that its fuel, the sun, was free, while diesel, used to power the Strandfontein plant, was expensive.
The second was that the Strandfontein and Monwabisi desalination plants were temporary, under contract to the City of Cape Town for only two years, and economies of scale made water produced under such a contract expensive.
Having no batteries at the Witsand plant also brought the cost down.
Brackish water
The plant's Osmosun technology is a world first, developed by French company Mascara Renewable Water and implemented in South Africa by TWS-Turnkey Water Solutions. It is the first reverse osmosis desalination technology to be used with solar energy using no batteries.
It can also be used inland to desalinate brackish water from boreholes.
Boyer said the big technological development was inventing a specialised "intelligent" membrane that was able to "soften" the impact of variations in solar power. Every time the sun went behind a cloud, the amount of solar power would drop, and would increase again when the clouds moved away.
Without this intelligent membrane, variations in the solar power could explode the reverse osmosis membrane.
No water
The reason Witsand was selected for the pilot plant was because the population of this small town at the mouth of the Breede River swells from 300 to 3 000 during the holidays and there is not enough water to accommodate the influx.
Meyer said he got letters every year from holidaymakers at Witsand complaining of the lack of water. As the provincial government had identified tourism as a driver of economic growth, tourist towns needed to be able to provide enough water to accommodate holidaymakers.
"A small investment can make a big impact," Meyer said.
The plant will also be connected to the electricity grid so that if necessary, it can be powered by ordinary electricity.
If it needed boosting during the holiday season, it would make use of the cheaper, late-night Eskom power.
However, it would run off solar power for at least 300 days of the year.
Diversifying water supplies
France's Minister for Ecology and Inclusive Transition Nicolas Hulot, who came to Cape Town this week for the launch of the Witsand project, said diversifying water supplies was the only way to deal with water scarcity in the face of global climate change, the biggest challenge of the century.
Desalination of sea water was one solution, he said, but if powered by fossil fuel, it came with a big cost.
"Because using fossil fuels will increase global warming," Hulot said.
"Water is becoming scarce. The news about the drought in Cape Town is known all over the world. Global warming is a serious problem for all.
Source: News24
The Ministry of Health and Social Services launched its Strategic Plan for 2017/18-2021/22 alongside partners, including UN Namibia, this week.
The plan outlines activities towards making the country healthy in line with national and international development agendas.
Speaking at the launch, the UN Resident Coordinator Rachel Odede reaffirmed the UN's support towards the MoHSS in implementing the Plan.
"Together, we can eliminate the barriers to quality health care access to ensure that no one in Namibia is left behind due to poor health," she said.
'Good Health' is part of the Social Transformation Pillar within the UN Partnership Framework (UNPAF) with Namibia. Specifically Outcome 2.1 speaks to ensuring that all people have access to and utilise quality integrated health care and nutrition services.
This is in line with Universal Health Coverage (UHC), which ensures that everyone, everywhere can access essential quality health services without facing financial hardship. Access and quality of service, critical elements of UHC, are reflected in the MoHSS's Strategic Plan.
World Health Organization Namibia's Dr. Charles Sagoe-Moses presented on UHC at the National Health Assembly, which was officially inaugurated after the launch of the Ministerial Plan.
This forum brought together stakeholders to chart the way towards improving health outcomes in Namibia.
press release
The Environmental Protection Agency of Ghana, with support from UN Environment and the Swedish International Development Cooperation Agency, drafted its Motor Vehicle Emission Standards and Regulations. The document was disseminated for review at a broader national stakeholder workshop from 20 - 21 June 2018 at the Institute of Environmental Studies in Amasaman, Ghana.
The objectives of the workshop, presented by Mr. Emmanuel Appoh, the Project Focal Officer and Deputy Director, Environmental Quality Department, Environmental Protection Agency of Ghana, were to:
Engage stakeholders on the draft vehicular emissions standards and regulations
Share experiences and best practices on implementing vehicular emissions standards and regulations in Ghana and the sub-region in general
Solicit inputs from the stakeholders to finalize the draft vehicular emission standards and regulations
Help disseminate the draft vehicle emission standards and regulations in Ghana
The first part of day one of the workshop consisted of a technical session with presentations on the project to disseminate the Vehicle Emission Standards and Regulations, followed by discussions. Presentations included:
"Efforts towards Motor Vehicle Emission Standards & Regulations in Africa" by Mr. David Rubia, UN Environment
"Motor Vehicle Emission Standards & Regulations in Ghana" by Mr. Emmanuel Appoh, Environmental Protection Agency of Ghana
"Impact of Clean Fuels on Implementation of Motor Vehicle Emission Standards and Regulations" by Ms. Alpha Welbeck, National Petroleum Authority
"Benefits of Implementing Motor Vehicle Exhaust Emissions Standards and Regulations" by Mrs. Esi Nerquaye-Tetteh, Environmental Protection Agency of Ghana
In the second part of day one, the participants were divided into two groups to deliberate on developing a roadmap and implementation strategies for the Motor Vehicle Emission Standards and Regulations as well as reviewing the adequacy of country logistics (i.e. modern equipment, capacities, and maintenance facilities/garages, emission testing duration, and testing frequencies, etc.) for smooth implementation.
During day two of the workshop, four groups were formed. Each of the groups was tasked to review specific sections of the main article for adequacy and propose improvements as well as implementation strategies.
All groups summarized the outcomes from their discussions and these were presented to the plenary. Some of the key recommendations proposed during the stakeholder's engagement workshop are as follows:
There is a need to involve all stakeholders or actors such as vehicle owners, dealers, testers, users of vehicles, policy makers, media, schools/institutions, transport unions and association groups in dissemination
The public awareness raising campaigns need to be very innovative. These can take the form of focus group discussions, workshops, animations, jingles, etc. The campaign should communicate benefits of emissions testing to road users especially commercial vehicle users
Capacity-building for personnel of the Environmental Protection Agency, Driver Vehicle and Licensing Authority, Ghana Standards Authority, and private test station operators on the standards and regulations, the use and calibration of the equipment, etc.
Institutional collaboration among all stakeholders was deemed paramount, such as the need for further consultation and engagement between key agencies on the modalities for implementation of the standards and regulations
There is a need to speed up full implementation of fuel quality standards (e.g. max 50ppm diesel sulphur content nationwide from local refining) to protect motorists through the fuel they buy
There is need to set guidelines/specifications for emission control systems on vehicles (i.e. exhaust gas recirculation, catalytic converters, diesel particulate filters, etc.) that would help meet and/or exceed the emissions requirements
Testing garages should be evenly spread across the country and not concentrated around major urban areas only. All testing equipment should be adequately calibrated and maintained. All testing data should be maintained and stored. Testing can be done for parameters not intended to be regulated - for example CO2 and O3 - so as to build a database for use in national planning
There was a robust discussion on emission testing offences and penalties for non-compliance, and power of arrest for emission officers
There is a need to identify funding needs for implementation
The workshop was attended by over 75 participants drawn from government agencies and ministries responsible for standards and regulation, environmental regulators, the media, and institutions involved in the transport sector. These included representatives from Office of Attorney General, Ghana Standards Authority, Environmental Protection Agency of Ghana, the Media, Ghana Ports and Harbours Authority, National Petroleum Authority, Ghana Atomic Energy Commission, National Road Safety Commission, Driver Vehicle and Licensing Authority, Ministry of Transport, Ministry of Environment Science, Technology and Innovation, University of Ghana, Ghana Road Transport Coordination Council, Toyota Ghana Limited, Daewoo Motors Ghana Limited, and UN Environment amongst others.
Mr. John Pwamang, Executive Director (Ag.) of the Environmental Protection Agency of Ghana officially opened the workshop and also gave the welcome address. The keynote address was presented by Mrs. Levina Owusu on behalf of the Hon. Minister of Environment, Science, Technology and Innovation. Goodwill statements were provided by:
Mr. David Rubia, Programme Officer Project Focal Point from UN Environment
Mr. Isaac Ofori Poku, Chief Executive Officer of Daewoo Motors Ghana Limited
Mr. Gabriel Adu Sarpong from National Road Safety Commission
Mr. Emmanuel Pink Dankwah Ghana Road Transport Coordinating Council
Mr. Isaac Mensah from Toyota Ghana Company Limited
Photo: SKA Africa
This image, based on observations made with South Africa's MeerKAT radio telescope, shows the clearest view yet of the central regions of our galaxy.
analysis
By Vanessa Mcbride, International Astronomical Union's Office of Astronomy for Development
Astronomy in Africa will take a giant leap forward with the unveiling of the 64-dish MeerKAT array in South Africa on July 13. The MeerKAT will be the largest and most sensitive radio telescope in the southern hemisphere until the Square Kilometre Array (SKA) is completed.
Why is this such a big deal? After all, Africa has many challenges more pressing than exploring the universe. But, as my colleagues and I recently argued in an article for Nature Astronomy, astronomy occupies a special place among the many efforts to address development challenges. It has a unique ability to stimulate thoughts of "what is possible" in the minds of marginalised communities, women and children.
Astronomy connects philosophical, cultural and inspirational elements with the cutting edge of science and technology. This affords the discipline a unique advantage to foster socioeconomic development. For instance, astronomy has been used in Sierra Leone to improve middle school pupils' literacy. It worked because they loved what they were learning.
Astronomy techniques are also used across sectors from conservation to medical imaging.
The International Astronomical Union's Office of Astronomy for Development uses astronomy to drive positive developmental change. It has ten regional and language centres. Three are in Africa, in Ethiopia, Nigeria and Zambia. The global coordinating office is situated in South Africa.
Our challenge as astronomers is not only to grow the discipline in Africa. We also need to ensure that this growth is accompanied by the educational, technology transfer and societal engagement initiatives that can drive the continent's development priorities.
Skills training
The funding we disburse has been used to run a number of programmes aimed at developing skills among school and university students.
One of these was the Madagascar Astronomy Python Workshop in 2017. It focused on practical coding in the Python programming language for university students and lecturers. The aim was to build on astronomy tools that participants can develop for their own research and teaching, not necessarily in the field of astronomy.
At school level the Girls Astronomy Camp was held in Abuja, Nigeria earlier this year. This not only dealt with education. It also tackled the large gender disparity in science, technology, engineering and maths fields, which can be a complex, socio-cultural issue in many regions.
It's crucial for educational interventions to address the fact that astronomy students often find employment outside the field. Students must learn science in a way that allows them to build their repertoire of transferable skills.
So the Office of Astronomy for Development has funded a number of Joint Exchange Development Initiative workshops in Namibia, Mozambique and Mauritius. These workshops focus on direct transfer of specific skills in an informal but intense learning environment. They're also excellent for data science skills, which are particularly important for economic growth and jobs in emerging markets.
To support this need and bridge the data science and astronomy communities, the Office of Astronomy for Development hosts a repository for data science resources and code examples.
Beyond disciplinary boundaries
Astronomy can also be put to use in perhaps surprising ways to boost development.
One of our projects, Accessible Citizen Science for the Developing World, has married health issues with astronomy skills through running a proof-of-concept type intervention. Retinal defects are common, but curable. Peek Vision, a social enterprise that works to bring better vision and health to everyone, developed a retinal imaging device that can be easily used, even in rural Kenya, with an Android phone.
But there weren't enough qualified ophthalmologists at hand to use the app to diagnose retinal problems. So Peek Vision teamed up with astronomers at a citizen science portal called the Zooniverse. In the same way that the citizen scientists had previously worked to classify thousands of galaxies, they were called on to learn how to identify retinal problems on the Zooniverse portal.
Such partnerships are quintessential examples of working together across disciplinary boundaries to achieve development outcomes.
Creating spaces
There are numerous other initiatives that contribute to development through astronomy. Large astronomical infrastructure investments like MeerKAT aim to stimulate the technology industry and advance the development of technical skills.
International aid initiatives with a science focus like Development in Africa with Radio Astronomy (DARA) and its sister project, DARA Big Data, are using the momentum generated through the SKA programme to develop skills and train more astronomy students for the continent.
Of course, the few examples illustrated in this article hardly begin to address the myriad challenges facing Africa and the world. Technology and science can only do so much: these challenges have solutions that are, at least in part, driven by human values.
That's why conversations that span natural and social sciences are key to making development progress on the continent. The Office of Astronomy for Development is one of the spaces hosting these conversations. We're challenging astronomers and other scientists to reach across the disciplinary boundaries to explore how their skills can help Africa meet its development goals.
Author's note: the article on which this piece is based first appeared in Nature and was co-authored by Ramasamy Venugopal, Munira Hoosain, Tawanda Chingozha & Kevin Govender.
By Akani Chauke
Johannesburg — ENGINEERS from sub-Saharan Africa have been encouraged to enter the fifth edition of the prestigious Africa Prize for Engineering Innovation.
The deadline for entries is July 23.
Founded by the United Kingdom's Royal Academy of Engineering, the Africa Prize is a six-month training programme which helps engineers become entrepreneurs through funding, bespoke mentoring and comprehensive business training.
The 16 candidates shortlisted for the accolade hailed as the biggest prize dedicated to engineering innovation will receive training to develop business plans and market their innovations.
The eventual winner is awarded £25 000. Runners up receive £10 000.
"The skills you get from the Africa Prize last a lifetime and help you reshape and rethink your business," said inaugural winner, Dr Askwar Hilonga.
Hilonga's NanoFilter business has expanded across Tanzania, with support from international agencies and organisations, making a lasting impact on people in the region by providing innovative water filtration systems to communities.
Africa Prize judge, Rebecca Enonchong from Cameroon, said engineering drove development and social change plus had the potential to significantly improve quality of life.
Enonchong said African engineers were already advancing technology in fields ranging from health and agriculture to education and energy.
"Developing entrepreneurial skills among those innovative engineers is the key to showcasing and amplifying the continent's considerable technological strength," she said.
Ugandan software engineer, Brian Gitta, was last month announced the fourth winner of the Africa Prize. He won for his innovation, Matibabu, a device which tests for malaria without drawing blood.
Other previous winners are Cardiopad founder Arthur Zang from Cameroon; and Godwin Benson from Nigeria for the education app, Tuteria.
By Régis Umurengezi
Jean Paul Ntezimana, a fresh graduate, had severally tried to find employment from both government institutions and private sector vain. This led him to contemplate new ways of making a living on completion of his tertiary education.
Having known that from starch in potatoes one can produce natural sugar led Ntezimana to start a small enterprise which manufactures wine, juice and biscuits from potatoes.
Ntezimana, 27, from Musanze District is an Agriculture and Food Processing graduate from IPRC-Musanze.
"I had sent a number of job application letters to various institutions but with no positive feedback. I then decided to approach individuals who owned different businesses requesting for a job but was still unsuccessfully." He told Business Times.
How he started out
The idea to start a small enterprise came when his school requested students to come up with proposals based on what courses taken in school.
"In February 2016, I had to think of a subject for my proposal which would be profitable not only to me but also to the general public and that's when I decided to exploit potatoes after through research. I carried out research on the internet and found it unexploited in terms of the making of wine or juice," he explained.
While learning more about potatoes, Ntezimana said he applied formulas from various books to ensure he comes up with quality products which is safe for human consumption.
"Normally starch from potato are very strong as they are bonded carbohydrates, therefore it requires me to put potatoes in warm water for a while and then grind them in a machine to produce glucose," he said. While explaining how he obtains the sugar which is among the top ingredients to manufacture wine and juices.
Making of wine and juices requires other ingredients apart from the sugar whereby Ntazimana uses pineapple and other fruits to come up with a concentrated product.
Ntezimana explained that 5kg of potatoes produces 15 litres of juice while the same input produces 1 litre of wine. He produces 33cl bottle of juice sold at Rwf500 and 75 cl bottle of wine is sold at Rwf4, 000.
His enterprise produces about 500 litres of wine per month and around 50 litres of red wine depending on the demand.
After producing juice and wine from potatoes Ntezimana then makes biscuits from the residue of potatoes. A box of his biscuits goes at Rwf500.
He says that makes at least Rwf1 million monthly from which he pays his four employees leaving him with a take home of about Rwf 500,000 which he considers as his salary.
Ntezimana said he is also carrying out research to establish possibilities of producing bio-oil out of potatoes' shell which can be used as an alternative to fuel.
The young innovator has also applied for the copyrights of his products in a bid to prevent the duplication and is also working to fulfil the requirements to get quality approvals from Rwanda Standard Board.
Ntezimana said he is still facing scarcity of modern equipment and machinery used in the production of juice and wine.
Ntezimana's project won the first place in the 2017 YouthConnekt Awards in Northern Province taking home a Rwf1 million.
Photo: SKA Africa
This image, based on observations made with South Africa's MeerKAT radio telescope, shows the clearest view yet of the central regions of our galaxy.
press release
Deputy President of the Republic of South Africa, Mr David Mabuza, today officially inaugurated the MeerKAT radio telescope. After a decade in design and construction, this project of South Africa's Department of Science and Technology has now begun science operations. At the launch event, a panorama obtained with the new telescope was unveiled that reveals extraordinary detail in the region surrounding the supermassive black hole at the centre of our Milky Way Galaxy. This is one of several very exciting new views of the Universe already observed by the telescope.
"We wanted to show the science capabilities of this new instrument", says Fernando Camilo, chief scientist of the South African Radio Astronomy Observatory (SARAO), which built and operates MeerKAT in the semi-arid Karoo region of the Northern Cape. "The centre of the galaxy was an obvious target: unique, visually striking and full of unexplained phenomena – but also notoriously hard to image using radio telescopes", according to Camilo. The centre of the Milky Way, 25,000 light-years away from Earth and lying behind the constellation Sagittarius (the "Teapot"), is forever enshrouded by intervening clouds of gas and dust, making it invisible from Earth using ordinary telescopes. However, infrared, X-ray, and in particular, radio wavelengths penetrate the obscuring dust and open a window into this distinctive region with its unique 4 million solar mass black hole. "Although it's early days with MeerKAT, and a lot remains to be optimised, we decided to go for it – and were stunned by the results."
"This image is remarkable", says Farhad Yusef-Zadeh of Northwestern University in Evanston, Illinois, one of the world's leading experts on the mysterious filamentary structures present near the central black hole but nowhere else in the Milky Way. These long and narrow magnetised filaments were discovered in the 1980s using the Very Large Array (VLA) radio telescope in New Mexico, but their origin has remained a mystery. "The MeerKAT image has such clarity", continues Yusef-Zadeh, "it shows so many features never before seen, including compact sources associated with some of the filaments, that it could provide the key to cracking the code and solve this three-decade riddle".
Yusef-Zadeh adds that "MeerKAT now provides an unsurpassed view of this unique region of our galaxy. It's an exceptional achievement, congratulations to our South African colleagues. They've built an instrument that will be the envy of astronomers everywhere and will be in great demand for years to come".
About MeerKAT
MeerKAT is a South African project, a precursor to the larger international Square Kilometre Array (SKA). It is managed by the South African Radio Astronomy Observatory (SARAO), where most of the specialised hardware and associated software was designed and built in cooperation with industrial partners. MeerKAT consists of 64 antennas (or dishes), each 13.5 meters in diameter, located on baselines (distances between antenna pairs) of up to 8 km. The dishes are of a highly efficient design with up to four cryogenic receiver systems operating in different bands of the radio spectrum. The first installed set of receivers operates between frequencies of 900 MHz and 1670 MHz. The vast amounts of data from the 64 dishes (up to 275 Gbytes per second) are processed in real time by a "correlator", followed by a "science processor", both purpose-built. After further offline analysis, images of the radio sky are generated. Eventually, MeerKAT will be incorporated into Phase 1 of the SKA-MID telescope.
Photo: SKA Africa
This image, based on observations made with South Africa's MeerKAT radio telescope, shows the clearest view yet of the central regions of our galaxy.
analysis
By Shaun Smillie
In the months and years to come, the data used to build a picture of the centre of the Milky Way will be analysed and academic papers written, as astronomers work at answering some of our galaxy's deeper secrets.
Fernando Camilo knew he had a kick-ass picture when he found everyone talking about it at the printing shop.
"I went to the store to pick up the banner, several people from that store in Cape Town were like saying, 'What is this? This is amazing'," recalls Camilo, chief scientist at the South African Radio Astronomy Observatory.
Camilo and his colleagues had realised that with the launch of the MeerKat telescope coming up, they had to show the world, the gathered politicians and media something special.
The idea was to take a snapshot of the centre of the Milky Way galaxy.
It had been done before, but no one had got it quite right. The spot is difficult to capture; there are clouds of gas and dust in the way that obscure it from ordinary telescopes.
"This is a really...
press release
President Nana Addo Dankwa Akufo-Addo on Tuesday said nations' rapid development is hinged on the imaginative, creative and innovative capacity of the youth.
Ghana could only be competitive and productive through enterprise, novelty and originality, he added. President Akufo-Addo said there was therefore the need to develop the capacities of young entrepreneurs for the progress of the country.
President Akufo-Addo said this when he presented cheques ranging from GH₵30,000 to GH₵50,000 to the 10 finalist of the maiden edition of the Presidential Pitch Programme, at the Jubilee House in Accra.
The Presidential Pitch, launched by the President last June, is a business ideas competition aimed to stimulate entrepreneurial revolution to drive economic growth.
The competition, which seeks to create and promote the conducive climate to support young indigenous businesses and start-ups, draws young people with creative business ideas, through a selection process, to compete through presentations, and the best supported with financial assistance and ancillary packages to actualize their ideas.
A 19-year old lady from Gwollu in the West Sissala District, Vanessa Aisha Limann, came top in the maiden edition and for this, she received GH₵50,000 and the President added GH₵25,000 to the amount for being the youngest among the contestants.
President Akufo-Addo commended the winners for their determination and creativity and encouraged them to continue to develop their talents and skills.
He said the finalists, in their presentations at the programme, demonstrated that they held the key to the future progress and prosperity of the country, urging them to develop new ideas, as this was the major tool for the development of the country.
The President expressed optimism that the contributions of the 10 would lead to more youth incubating ideas and developing them into Enterprises that would create jobs for the teeming youth of the country.
He said if they were able to attract the right market and further developed their ideas, they would be making meaningful contribution to the development of the nation and would feed into the vision of his administration to move Ghana from being an exporter of raw materials to that of a net exporter of value added goods and services.
Source: GNA
Photo: ISD (Patience Lartey)